Is Ivy League College Admission Counseling Worth It?
For high school students that are looking to make their Ivy League dreams a reality, there are many different ways to get ahead. Without a doubt, it has never been harder to get into schools like Harvard, Princeton or Yale. However, there have also never been more tools either. One such tool is known as college admissions counseling or college admissions consultant. But is Ivy League college admission counseling really worth it?
We at AdmissionSight obviously think so! Our team of committed admission counselors have helped countless students realize their admission dreams. In fact, 75 percent of the students we work with earn admission to either an Ivy League school or a different top-10 school in the United States!
But we're not here to convince ourselves of how valuable we can be, we're here to convince you! So, let's get started on breaking down whether or not Ivy League counseling is worth it for students who have the goal of attending an Ivy League school.
The value of an Ivy League coach
Going it alone as a high school student trying to apply to the most competitive and prestigious universities in the world can be an incredibly tough task. In fact, the entire high school process can be quite difficult to make the most of without any guidance.
That is why many of our students end up working with us for the majority of their high school experiences! Of course, the main meat of every admissions counselor's job will take place around the time that a student is actively applying to schools, but many students use their consultant's guidance for years.
But what is the true value that college consultants bring? Let's start out by going over everything college admissions consultants do, and how they help students achieve their goals.
Admissions consultants offer a clear strategy for success
Whether we are talking about consultants helping students navigate their high school years, or simply discussing admissions officers' approach to helping students complete their college educations, one thing is clear: They offer a clear strategy for success.
When it comes to consultants helping students throughout high school, they can offer valuable recommendations and tips in terms of what kinds of courses to take, what sort of extracurriculars to pursue, and when to start preparing for standardized test.
For many high school students, figuring out how to make the most out of their high school years can be really difficult. On top of that, the pressure is on them to start making Ivy League moves early on in high school.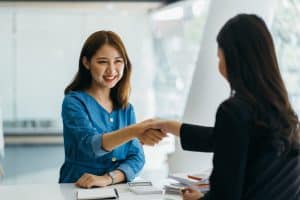 Those moves include enrolling in as many advanced courses as possible, paving the way to roles of leadership within their extracurriculars and getting involved in their community. Ivy League consultants can play a major role in steering students in the right direction in all of these important aspects thanks to their experience of helping young men and women get into top schools.
Beyond that, when it comes to the actual application process, Ivy League admissions counselors can – obviously – play a foundational role. They will help students master the personal statements and essays and help them earn fantastic letters of recommendations.
When it comes to students applying to top schools, you can practically guarantee that all of them will have nearly perfect GPAs and standardized test scores. For that reason, it is often the essays and letters of recommendation that can play a deciding factor in terms of which students get a letter of acceptance and which students, sadly, do not.
Admissions consultants can help students narrow down their list of schools
Sometimes, there can be a pretty dramatic difference when it comes to what schools students think they want to go to and what schools they would actually be most comfortable and most successful at.
Thanks to the years of experience that admissions consultants bring to the table, they can help high school students start to narrow down the list of schools that they want to apply to when the time comes.
No one knows better that going to college is a major investment for both the student and his or her family. For that reason, being sure that the student makes the right choice in terms of what school they end up going to is a very big decision to make!
Through working with many different kinds of students, and through knowing about the real experiences that students have once they get onto different campuses, admissions consultants can help the students that they work with narrow down their list of schools that they want to apply to.
Of course, a consultant will never steer away a student from the school that they have dreamt of going to for years, but they will be able to offer highly valuable insight on what kind of experience the student will have once they actually enroll.
Admissions consultants can offer tutoring for tests and classes
Students who are interested in attending top schools cannot afford to make the mistake of earning low grades or low SAT and ACT scores. In fact, the average numbers in both cases for students who get into schools like Columbia,
Dartmouth and Brown are pretty close to perfect. And no matter the intelligence of a student, sometimes opportunities can be missed that will ultimately have a strong impact. Luckily, top admissions consultants can make sure that the students they are working with get the help that they need in the form of experienced and specialized tutors.
Whether a student is hoping to get straight A's in a course load that is filled with honors, AP or IB courses, or is looking to boost their best SAT or ACT score, admissions consultants can help offer students the tools they need to do just that.
The truth is that when it comes to truly excelling in high school, few students can do it all alone. Having a tutor help out with a subject that doesn't come naturally to the student, or simply having a tutor to boost the student's preparedness and confidence can be all the difference between earning a GPA or standardized test score that is below the Ivy League average, or well above it!
Admission consultants can help fill the role of high school counselors
For many high school students, they hope to get valuable guidance and encouragement throughout their schooling from the high school counselors that are already on the staff at their school. Sadly, that hope is very often a realistic option.
Research shows that the vast majority of schools suffer from dramatic understaffing when it comes to high school counselors. That means that the majority of students won't be getting the kind of help that their parents might think they are getting when they are at school.
One way to successfully overcome that issue is to work with an admission consultant. In fact, admissions consultants are known to offer far more help to the students that they are working with, simply because they have the time and bandwidth that is really needed to commit to them.
Without a doubt, countless students have gotten through high school, and have gone on to attend fantastic universities and colleges, without the help of an admissions consultant.
However, there is also no doubt that working with one will markedly improve a student's chances of excelling throughout high school and earning a spot at one of the most prestigious and competitive schools in the United States.
Tips to getting the most out of your investment
Working with a college admissions consultant is one thing, but actually making the most out of that partnership is something else entirely. The unfortunate truth is that some people believe that simply working with an admissions consultant will lead to a student getting into the school of their dreams. The truth is that finding a consultant to work with is just the beginning.
There are some key ways to make sure that the student gets as much out of the circumstance as possible. Here are a few things to keep in mind to ensure that happens.
Make sure to research their results
There are a lot of great options out there when it comes to different admission consultant companies, and you want to make sure that you – or your student – will be working with the very best.
Make sure to take some time to research all of the companies that you are thinking about working with, and do some digging to learn about the acceptance rate for the students that they work with. This is a very good gauge of how successful they are at actually helping their students get into dream schools.
Secondly, you will want to take some extra time to research the firm overall. Ask them about their approach to advising and their previous experience. If you have more questions, you can even ask them to offer you the contact information for some of their past clients. Speaking with a couple of those individuals will also be an eye-opening experience for you.
Finally, if you have any more questions, don't hesitate to hop onto Google and do some searches for recent reviews of the company. You will likely be able to have any other questions answered through that.
Get to know them before you begin
Another really important thing to make sure you do before signing up to work with a specific consultant is to get your student and the consultant that they will be working with in the same room, or on a Zoom call. And make sure that you, as the parent, are present in the meeting for at least a portion of it.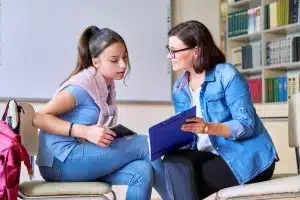 You want to see how the two individuals interact naturally. This will give you a pretty good indication of whether or not this will be a successful partnership. Afterall, even the best and most experienced consultants may have some issues connecting with a specific student for one reason or another.
Finding the best admissions consultant means finding the best consultant for your student, specifically. There should be a natural connection and rapport between the consultant and student, and the relationship should be built off of trust and mutual respect.
Understand their process fully
Another really important thing to keep in mind when choosing between different consulting options is to understand their process in terms of how they advise and help the students that they work with.
Make sure that any consultant you are seriously considering working with has a mapped out process in terms of how they connect with and approach working with their students.
A simple way to get a good idea of this is to ask them how their process works? How will they know what to do and when? How will they be able to address the student's specific strengths, weaknesses and needs and how will they respond to any potential issues further down the road?
It is also crucial to make sure that they are committed to staying current and connected within the admissions world. This will ensure that they will be able to form and reform a strategy that works best for the student to ensure that they are giving themselves the best chance at getting into top schools when the time comes to apply.
Beyond that, you will also want to make sure that the admission consultant has the time and bandwidth to give your student the level of personalized guidance and support that they need.
One of the best ways to ask this question is to confirm that they will be able to provide holistic and personal attention to every applicant that they work with. Their answer should either give you extra confidence or leave something to be desired. You'll have an easier job at making your final decision from there.
Make sure that the student knows their responsibility
As previously mentioned, some people wrongfully think that paying big bucks to an admissions consultant essentially gets them a free pass to the school of their dreams. That could not be further from the truth. Admissions consultants are not some magic spell that will be able to get a student with average grades and test scores into schools like Harvard or Princeton.
Instead, consultants should be seen as a valuable tool that can help a student accentuate their strengths and minimize their weaknesses.
In order for a student to make sure that they will be smiling when they start hearing back from the schools on the top of his or her list, they have to make sure that they put in just as much, if not more, work towards their classes and their activities out of school than they would if they were not working with an admissions consultant.
Consultants will only truly be able to do their job if they are working with students who are determined, driven and committed to getting into the top schools in the United States. This may be the singularly most important way to make sure that you and your student get the most value from working with an Ivy League admissions consultant.
Searching for the right Ivy League college consultant?
For students who are interested in attending a top university such as Harvard, Yale or Penn, the journey towards that goal must start very early on in high school. Truly, many students begin mapping out their strategy to creating as attractive an application profile as possible as early as their freshman year.
Whether or not that is the case for you or your high school student, working with an Ivy League admissions consultant will surely help in the goal of getting into a top school. From this quick breakdown of what admissions consultants offer, chances are good that you now have a much better idea regarding whether working with a consultant could be good for you.
Here at AdmissionSight, we have seen students dramatically improve their chances of getting accepted to top schools through working with us. Whether it was because we helped them enroll in and earn great grades in challenging classes, improve their SAT or ACT score, write powerful and inspiring personal statements or commit to the right kinds of extracurriculars, it is always a wonderfully gratifying experience to be a part. We know that every high school student is unique, and that is why we make sure to offer students guidance when and where they need it.
If you believe that working with a college admissions counselor could help you, reach out to us today so that we can set up a free consultation. We can't wait to get started on this exciting and rewarding journey with you!