Johns Hopkins Enrollment
How Many Students Are Enrolled At Johns Hopkins?
As a medium, four-year private institution, how many students are enrolled at Johns Hopkins? In total, there were 28,890 students that were part of Johns Hopkins enrollment for the academic year 2020–2021, with 6,331 undergraduate students and 22,559 graduate students making up the student body.
There are 14,652 full-time students and 14,238 part-time students enrolled, while the gender breakdown of the student body is 13,360 males and 15,530 females. There are currently 19,989 students enrolled in the online degree program that Johns Hopkins University is only providing to students who are pursuing their education from a distance.
What Is Johns Hopkins's Acceptance Rate?
The class of 2026 at Johns Hopkins was limited to 2,408 applicants, of whom 1,586 were accepted during the standard admissions round. Due to the COVID-19 pandemic, optional standardized testing, and an increase in the number of students applying to colleges, the majority of prominent universities have reported a decline in admission rates over the past three years. Johns Hopkins is no exception, ranking among the most difficult non-Ivy League institutions in the nation. Additionally, its admittance rates have dropped.
In December 2021, Johns Hopkins released its Early Admission Round I results for the Class of 2026. This esteemed university reported that 520 applicants were accepted, with a 21 percent early decision acceptance rate. This coincidentally matches the number of applicants who were accepted in the Class of 2025's Early Decision I round.
Between 2020 and 2021, Johns Hopkins University received a considerable increase in applications. This expansion is probably brought on by the epidemic and Johns Hopkins' decision to waive tests. The number of applicants and acceptances for the classes of 2025 and 2026 was quite close. The graphs below display the overall number of what is Johns Hopkins' acceptance rate during the previous three years.
| | | | |
| --- | --- | --- | --- |
| | Class of 2024 | Class of 2025 | Class of 2026 |
| Total Number of Applicants | 29,655 | 38,725 | 37,150 |
| Total Admitted Applicants | 2,604 | 2,476 | 2,408 |
| Total Admission Rate | 8.80% | 6.40% | 6.50% |
What GPA Is Required for Johns Hopkins?
Johns Hopkins accepts only students with extraordinarily high grades. Now, a lot may be curious "What GPA is required for Johns Hopkins?" The average high school GPA of Johns Hopkins University's admitted freshmen class was 3.92 on a 4.0 scale, showing that the majority of A- students are accepted and ultimately enroll.
The school has the second-highest average GPA in Maryland. Because Johns Hopkins is a very elite institution, meeting these GPA standards alone won't be enough to get you into the school.
What do these scores indicate?
| | | |
| --- | --- | --- |
| GPA in High School | Range | Competitiveness  |
| 4.0 | 65.81% | Average + |
| 3.75 to 3.99 | 23.88% | Average – |
| 3.50 to 3.74 | 6.53% | Reach |
| 3.25 to 3.49 | 2.84% | Reach |
| 3.00 to 3.24 | 0.60% | Reach |
Is Johns Hopkins Test Optional for 2023?
Several colleges decided to remain test optional in the coming years, so you might ask "Is Johns Hopkins test optional for 2023?" The school will continue to be test-optional through the 2025–2026 application year due to COVID-19's ongoing effects on testing accessibility and availability. This indicates that you won't need to submit test results if you're applying to be a member of the Johns Hopkins enrollment in the fall of 2023 to 2026.
The school does not disadvantage students who do not submit their test results. The focus of admissions evaluation has always been on how applicants manage their academic and personal situations. Johns Hopkins' all-encompassing approach emphasizes academic character, influence and initiative, and community fit.
Though, they accept any testing submission you choose to submit if you believe your test score—SAT, ACT, AP, IB, English language proficiency examinations, or another—reflects your academic competence.
What Are the Requirements for Johns Hopkins Enrollment?
Only a portion of the information in your application's essential components is accurate. Every applicant is given a thorough evaluation by the admissions committee based on their achievements, objectives, and potential contribution to the community. JHU is seeking students who can think outside the box, who do not view the word "impossible" as a barrier, and who will not only raise themselves but also those around them. Let's check what are the requirements for Johns Hopkins enrollment.
Take note, use the Coalition for College Applications or the Common Application to submit an application to Hopkins.
Deadlines
Early decisions I and II are due on November 1 and January 3 (the next year) respectively
Date of the Regular Decision deadline is on January 3
Transfers are due on March 1, 2022
Requirements for applications from undergraduates:
1. Application and Supplement
With a supplement or extra questions, the Coalition for College Application and the Common Application will be accepted.
2. Secondary School Report
Recommendation from the school counselor, academic record, and high school profile.
3. Two Teacher Assessments
Two teacher evaluations from who can offer insight about you and your work record.
4. ACT or the SAT Reasoning Test
Johns Hopkins University is test-optional through the 2025–2026 application year due to the ongoing effects of COVID–19 on testing accessibility and availability. We do not disadvantage students who do not submit their test results.
5. Mid-Year Report
Applicants admitted using the regular decision by the middle of February, Early Decision students must submit a Mid-year Report and an updated transcript (or as soon as they are available, if after the deadline). An updated transcript from the senior year must be included in the Mid-Year Report, which must be submitted by the school directly.
Information On Waivers of Application Fees
The Coalition for College Application and Common Application both offer fee exemptions. You will be questioned on the application platform to determine your eligibility for a fee waiver. The institution will accept an email from your high school counselor asking for the application fee to be waived if you don't satisfy the qualifying requirements and paying it will put you in financial hardship.
Test Results, GPA, and Class Rank
John Hopkins is test-optional this year in recognition that many applicants may not be able to take the SAT or ACT.
In typical years, the statistics show that the typical test scores for applicants accepted to JHU are as follows:
Middle 50% of the SAT: 1450–1560
Middle 50% of the ACT: 33–35
Average high school GPA: 3.92/4.0; 98% of applicants were among the top 10% of their graduating class.
Writing Supplement
In its writing supplement this year, Johns Hopkins only included one question.
"Founded in the spirit of exploration and discovery, Johns Hopkins University encourages students to share their perspectives, develop their interests, and pursue new experiences. Use this space to share something you'd like the admissions committee to know about you (your interests, your background, your identity, or your community), and how it has shaped what you want to get out of your college experience at Hopkins. (300-400 words)"
The three tasks in this prompt that you need to do: 1.) to show that you share Hopkins' ideals, 2.) to identify a trait of your own personality, and 3.) to link your interests with particular Hopkins programs.
Be sure to describe your specific interests and experiences and how Hopkins will support you in pursuing and expanding upon them. Mention any particular courses, instructors, or extracurriculars Hopkins offers. It will need some serious investigation, so plan to invest 45 to 60 minutes in finding particular information.
How To Get Into Johns Hopkins?
The University holds its undergraduates to a high standard. Hopkins was founded as a research organization. It placed a strong emphasis on preparing graduate students to be outstanding scholars and researchers. Such customs continue thus making Johns Hopkins enrollment a difficult challenge to succeed at. Still, if you want to study in this institution, it's important to know how to get into Johns Hopkins.
Think clearly about your chances.
It's crucial to remember that Johns Hopkins is a highly selective institution while thinking about how to get in. Over 30,000 applications were submitted to the university for the Class of 2023, with a 9 percent acceptance rate overall.
Investigate the typical admitted student profile and compare it to your own. For Johns Hopkins enrollment, like other prestigious colleges, bases admissions choices on factors other than test results. It is advised that you apply even if you don't meet their academic requirements but have an impressive extracurricular history or a compelling personal narrative that sets you apart.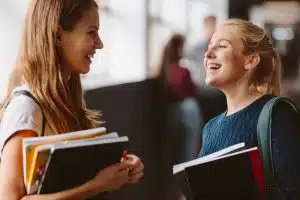 If your school uses Naviance, you can utilize it to compare your exact GPA and test results to those of other applicants from your institution. At Hopkins, applications are read based on academic discipline rather than school group, but school context is still important.
Be particular in your supplemental essays.
Understanding the distinctive characteristics of Johns Hopkins is a crucial first step in learning how to get in. Because of its emphasis on research, Hopkins is one of the most amazing colleges in the entire globe. It is a highly unique environment because of its emphasis on collaboration and research mentality.
This year's additional essay invites you to discuss a personal trait you'd like the admissions team to know about you. Some students don't give this essay nearly the attention it deserves since they take it for granted. Or, they choose a weakly formed concept or a dull subject that lacks any real impact. There is a connection between the concepts of ambition, self-challenge, discovery, and exploration. It describes the type of student Hopkins is seeking. Any additional essay that a school requests is done so for a specific purpose. They are directly relating their actions to the issues that are important to them.
Therefore, when you consider a location that values ambition, the exploration concept, and the idea that you won't be afraid of hurdles, it's all related to the types of kids who would flourish in that setting. The AOs don't care what category you discuss as long as it feels genuine and highly interesting.
Strategically consider your interests.
While Hopkins has one of the strongest reputations in medicine and attracts a lot of applicants, keep in mind that this is not Hopkins' primary strength. If you're wondering how to get into Johns Hopkins, keep in mind that the university offers more than 50 majors in numerous academic fields. Take advantage of this knowledge. At Hopkins, every program is exceptional. There will be opportunities for research and internship completion in every program. Each major will support your ultimate objectives and results.
Why not choose something unrelated to STEM or in an academic discipline that might not be the most popular at Hopkins as a lot of students apply to the medical field? Always follow your passions and interests, but it's acceptable to consider this process strategically.
Additionally, if you intend to apply to Hopkins as a pre-med student, please make sure you have a noteworthy and meaningful experience. Hospital volunteer or shadowing programs are insufficient. You must enroll in the most difficult classes, look for research opportunities, compose a compelling essay about your interest in medicine, consider how your extracurricular activities or work experience have fueled your desire, and consider how Hopkins can support you.
Be sure you fit the bill.
Johns Hopkins students desire to change the world. You cannot simply breeze through this for four years. You will be given many tools and chances to take something important to you, personalize it, and turn it into something amazing. If it appeals to you, Hopkins might be a good fit from a fit perspective. However, it's also fine if it doesn't sound like it's you, it sounds dangerous, or it's not something you want to get into. However, you need to be aware of what they're looking for in comparison to other places when you're going through the application process, writing essays, or submitting other parts of the application.
Learn what makes Hopkins special.
Given that they were the nation's first research institution, the foundation in research and not only the STEP perspective but also every major, every field, and department perspective is something that really appeals to students and really makes it different from other places.
Learn about the available internship opportunities and fellowships. First-year students have a unique opportunity to dive right into these academic experiences compared to many other institutions, which tend to concentrate more on graduate or upper-class students. Hopkins is a location where you can have the desire to accomplish something and be qualified to do it as well as have ideas. On-campus professors and other resources will provide you the chance to do it.
Avoid rookie mistakes.
Correctly spell the name. I'm not kidding! Far too many essays where students referred to John Hopkins University as "John" Hopkins rather than Johns. You could think that this is a little error, yet it reveals the applicant's level of commitment and focus. Additionally, it's a very simple method to make your application impossible to dispose of.
Be outstanding in your field.
Although this is true for all of the most elite colleges in the nation, showcasing excellence outside of the classroom will undoubtedly help you gain Johns Hopkins enrollment. Whatever your academic passions, there are ways to stand out. It will be crucial to make a difference in your community and at school. Participating in extensive study will be extremely beneficial if you have an interest in a STEM field.
Unconventional learning methods are viewed favorably even in the humanities and social sciences. Consider how you might pique someone's curiosity further. undertake an internship. Utilize your passion to benefit others and improve your neighborhood. Hopkins will be more impressed by your humanities research and will recognize your seriousness and dedication. Risk-takers and applicants who aren't afraid to be themselves are both liked by Hopkins. Consider strategies to pique your curiosity with real experiences as you learn more about your prospective college major.
Research about Johns Hopkins.
Johns Hopkins University does an excellent job of empowering its students to represent the school. Utilize these students as a resource to learn more about Hopkins than what you would discover online. Impressing the admissions staff with specifics about why you want to go is one way to stand out among other applicants who apply.
Some students will just apply to Hopkins because of its reputation and not because they have any genuine knowledge of the school, despite the fact that Hopkins is one of the greatest colleges in the nation. Don't apply like that! Use the many tools available even if you are unable to come so that you can fully comprehend why you would be a wonderful fit.
Views on standardized testing.
When you consider it statistically, 75% of the admitted students that take tests score between 1510 and 1520. When it comes to testing expectations, you must comprehend what it signifies. I have no doubt that they are trained to make decisions without consulting test results because of the test optional policy and the epidemic.
One of the largest changes is people in the office reviewing applications without test prejudice, which has nothing to do with how they are read. When you compare a student who has testing and is able to give testing its proper value while not giving it too much weight throughout the process to a student who has grades, letters of recommendation, and quality of writing, the former gives you confidence that the latter is willing to do well academically.
Overall, Johns Hopkins is a strong candidate to offer one of the top academic experiences in the world. JHU, which was founded more than 140 years ago, is now widely regarded as the first research university in America. Today, Johns Hopkins is home to not only eminent faculty members and first-rate facilities, but also a diverse community of students who are all working to advance their knowledge, find new opportunities, and ultimately improve the world.
If you would want to join this prestigious school, AdmissionSight is more than willing to help you. As discussed above, it's not easy to be part of Johns Hopkins enrollment. However, AdmissionSight can walk you through the process step by step. Book a consultation with us now.