Joining a Math Team: Navigating the World of Mathematics and Competitions
Mathematics is an intriguing discipline of study that provides mental stimulation and has numerous applications in the actual world. Participating on a math team may be a pleasant experience, particularly for students who enjoy tackling challenging problems and engaging in healthy competition.
By providing opportunities to compete against other people who share similar interests, being on a math team can help develop crucial skills such as teamwork, collaboration, and critical thinking.
What is a math team?
What exactly is a math team, then? Math teams are made up of a group of students who train together to participate in mathematical competitions. These competitions may take place on any level from the local, regional, national, or even international stage.
Students that have a high interest and aptitude for mathematics, as well as those who love the mental and physical challenge presented by difficult problems and riddles, make up the pack of math teams.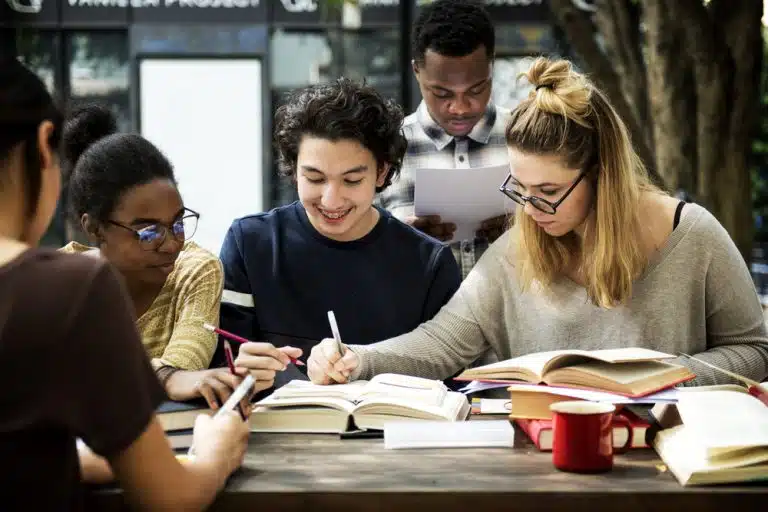 Mathematical contests can take many different shapes and guises. Some of the events are individual contests, in which students compete against one another to determine who can complete the most arithmetic questions in the allotted period of time.
On the other hand, several of the events are team-based and require students to collaborate in order to tackle increasingly difficult challenges or puzzles.
Math contests can be hosted in person or online, and the topics they cover can span a vast breadth of the mathematical curriculum, from algebra and geometry to calculus and beyond.
What are the benefits of being on a math team?
What are some of the advantages of participating in a math team? Participating in a math team can provide one with a variety of benefits, including the following:
Developing strong math skills
The members of the team can enhance their problem-solving talents and obtain a deeper understanding of mathematical concepts by taking part in mathematics competitions and interacting with other bright mathematics students.
Building teamwork and collaboration skills
Competitions are a great way to build cooperation and collaboration skills, as they demand effective communication, the ability to work together, and the ability to leverage each other's talents.
Students have the opportunity to develop vital skills in teamwork and collaboration by participating in math teams that will serve them well in future academic and professional pursuits.
Meeting like-minded individuals
Math competitions are a fantastic opportunity to meet other students who have a similar enthusiasm for mathematics and to make friends with people who have similar interests. They also have the potential to provide a sense of togetherness and team spirit, both of which can be quite rewarding to experience.
Enhancing college applications
Participating in math competitions and being a member of a math team can demonstrate a student's academic strengths and commitment to excellence, enhancing their college applications and increasing their chances of being accepted to top schools.
Boosting self-confidence
Students who participate in math competitions and are successful at doing so significantly boost their self-confidence, enabling them to feel more capable and confident in their mathematical ability.
In general, participating on a math team may be a challenging yet rewarding experience, one that can assist students in the development of important abilities and the establishment of connections with those who share similar interests.
How to join a math team?
How does one go about joining a math team? The following are some measures that you can take if you are interested in participating on a math team:
Talk to your math teacher or guidance counselor
There is a good chance that your school already has a math team or is familiar with local math tournaments in which you can take part. Your instructor or guidance counselor will be able to give you more information on how to join the group.
Do some research on the math competitions and organizations in your area
Do some web research to find local math competitions and organizations. On the websites of many mathematical organizations is a calendar that details forthcoming contests and activities.
Attend local math competitions and events
It is a great way to meet other math enthusiasts and get a feel for the atmosphere of a math competition if you attend local math competitions and events. This might also provide you with an idea of the level of difficulty and the format of the competitions that you will be participating in.
Practice and prepare
The best way to enhance your skills and get ready for competition is to put your knowledge into practice by working through various puzzles and arithmetic problems. Constructing a powerful team dynamic requires you to collaborate with other students who share your interest in joining the math team.
Register for competitions
Whenever you reach the point where you feel you are ready, you should register for various math competitions and activities that pique your interest. Because certain competitions require participants to register in advance, it is imperative that you verify the deadlines.
Keep in mind that participating on a math team demands a significant time commitment and effort. You may improve your math skills with practice and planning, establish crucial teamwork and collaboration skills, and have fun competing against other folks who share similar interests.
What are the best math teams in the US?
What are some of the finest math teams in the United States? In the United States, there are a great number of remarkable math teams, each of which has its own set of talents and successes. The following are a few of the most successful math teams in the United States:
Thomas Jefferson High School for Science and Technology
Thomas Jefferson High School for Science and Technology, which is located in the state of Virginia, is frequently ranked among the best schools in the United States when it comes to mathematical competitions.
They have taken home a number of national championships and graduated a large number of students who have gone on to find success in sectors related to mathematics and science.
Phillips Exeter Academy
Phillips Exeter Academy is a private high school located in New Hampshire that has a long tradition of success in mathematical competitions. The institution places a significant focus on problem-solving and collaboration among its students.
They have been victorious in a number of national championships and have produced a number of highly successful mathematicians, like John Nash, who was featured in the movie "A Beautiful Mind."
Montgomery Blair High School
Montgomery Blair High School, which is located in Maryland, is home to a formidable math team that has been victorious in several national championship competitions.
In addition, they place a significant amount of importance on outreach and being involved in the community by organizing math competitions and events for local elementary and middle schools.
Harvard University
The mathematics department at Harvard University, which is well-known for being one of the best in the country, boasts a formidable team that does well in both domestic and international contests.
They have achieved many victories at the Putnam Mathematical Competition, which is considered to be among the most prestigious mathematical competitions in the world.
Massachusetts Institute of Technology (MIT)
The Massachusetts Institute of Technology (MIT) is home to a respected mathematics education program as well as a formidable mathematics team that has taken home a number of national titles.
In addition, they run an annual math competition for high school students called the MIT Math Prize for Girls. The goal of this competition is to inspire more young women to pursue careers in mathematics and science.
It's important to note that there are many additional exceptional math teams across the country, and this is far from an entire list. Whatever math team you join, the most important thing is to enjoy the challenge and compete with other talented math lovers.
Finally, becoming a part of a math team can be a great experience for college-bound students who are interested in math and competition. Joining a math team can help you acquire critical abilities, display intellectual curiosity and a love of learning, and provide you with a competitive advantage in college applications.
If you're a high school student interested in joining a math team and want to learn more about how it can affect your college admissions journey, AdmissionSight can assist you to navigate the process. Call us today to find out more about how we can assist you in achieving your academic and personal objectives.