Know More About the Georgia Tech MBA Program
Founded in 1885, the Georgia Institute of Technology, known as Georgia Tech, has long been recognized as one of the nation's leading research universities. Yet, its dedication to innovation and entrepreneurship transcends these fields, as evident in its highly esteemed Scheller College of Business and its Georgia Tech MBA Program.
The Scheller College of Business was founded in 1912 as the School of Commerce before being renamed in 2012 in honor of Ernest Scheller Jr., a prominent alumnus, and benefactor. It is recognized for its blend of business and technology, emphasizing the interconnectedness of these disciplines in contemporary industry.
When considering Georgia Tech's Master of Business Administration (MBA) programs, the school's dedication to technology and innovation remains a cornerstone. The institution offers four distinct MBA programs to cater to diverse professional needs: the Full-Time MBA, evening MBA, executive MBA, and online MBA.
Georgia Tech Programs for MBA Students Offered
Full-Time MBA
The Full-Time MBA at Georgia Tech's Scheller College of Business is an intensive, two-year program for individuals seeking a comprehensive and immersive business education. Applicants typically possess at least two years of professional experience, although exceptions can be made for exceptional candidates. Prospective students should also hold an undergraduate degree from a recognized institution.
The curriculum is spread across four semesters, with a summer internship opportunity after the first year to apply learning in real-world contexts. In the first year, students delve into core courses that provide a solid foundation in essential business principles, including finance, operations, marketing, and strategy.
The second year is dedicated mainly to electives, allowing MBA students to tailor their education to their career goals. Specializations include Analytics, Operations Management, Finance, Marketing, Strategy & Innovation, and more. These specializations align with Scheller's strength in combining business and technology, preparing students for leadership roles in various sectors.
Evening MBA
The Evening MBA program at Georgia Tech's Scheller College of Business offers a flexible yet comprehensive business education that accommodates working professionals. This Georgia Tech Program requires applicants to hold an undergraduate degree from an accredited institution and typically have a minimum of two years of work experience.
The timeline of the Evening MBA is adaptable to each student's personal and professional commitments, with most students completing the program in about 2.5 to 3 years. The curriculum is balanced between core and elective courses, providing students with fundamental business acumen and the freedom to specialize in their areas of interest.
Core courses include subjects such as Managerial Finance, Marketing Management, and Strategic Management, while elective courses offer depth in various areas, including Analytics, Entrepreneurship, Operations Management, and others. This structure allows Evening Georgia Tech MBA students to tailor their educational journey to their career aspirations, gaining the necessary leadership skills in various business environments.
Executive MBA
The Executive MBA program at Georgia Tech's Scheller College of Business is a rigorous program designed for senior-level professionals and executives seeking to broaden their business acumen and leadership capabilities. Applicants typically have a minimum of ten years of professional experience, five years in a managerial role, and an undergraduate degree from an accredited institution.
The program spans 17 months, during which students usually attend classes every other weekend, minimizing disruption to their professional commitments. The curriculum is divided into Global Business and Management of Technology. These specialized tracks allow students to delve deeply into strategic, high-level global business or technology management aspects.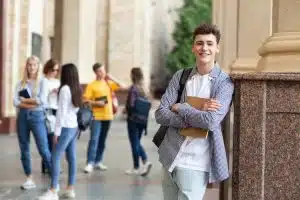 The Global Business track is designed for executives interested in international business. It includes an international residency, while the Management of Technology track focuses on the strategic management of technological innovation. Both tracks share a core curriculum covering essential business areas, including finance, marketing, strategy, and leadership.
Online MBA
The online Georgia Tech MBA program at Scheller College of Business offers a flexible and innovative approach to obtaining an advanced business degree. Suitable for those who prefer a virtual learning environment or have geographical or time constraints, this program maintains the same rigorous standards as its on-campus counterparts.
Prospective MBA students should have an undergraduate degree from an accredited institution and preferably have some work experience, although there are no strict professional experience requirements. The typical timeline for the Online MBA is approximately 2 to 3 years, but this can be adapted based on individual needs.
The curriculum comprises a mix of core and elective courses, mirroring traditional MBA programs' breadth and depth of learning. Core courses cover essential business areas such as accounting, marketing, finance, and operations, while electives allow for specialization in analytics, marketing, finance, or innovation. This flexibility lets students personalize their degrees to align with their professional objectives.
Georgia Tech Curriculum for MBA Overview
Core Courses
Core courses in Georgia Tech's MBA programs provide a solid foundation when discussing fundamental business concepts and skills. These courses are designed to impart a broad understanding of various aspects of business management. They typically cover accounting, economics, finance, operations management, marketing, strategy, business analytics, and organizational behavior.
For example, Financial and Managerial Accounting gives students a grasp of accounting principles and their role in business decisions, while Marketing Management delves into customer-focused strategies for value creation. The Managerial Finance course provides an understanding of capital markets and financial management, and the Operations Management course deals with producing and delivering goods and services.
Courses like Strategic Management and Business Analytics allow students to develop decision-making skills and leverage data in business strategy. Though rigorous, the Georgia Tech Core Curriculum is designed to equip students with the broad knowledge needed to excel in any business environment or industry.
Elective Courses
The elective courses offered in Georgia Tech MBA programs provide an opportunity for students to delve deeper into specific areas of interest and align their studies with their career aspirations. They offer breadth and depth in various business disciplines, allowing students to tailor their degrees to their professional goals.
For instance, students interested in finance might choose electives in investment banking, corporate finance, or financial modeling. Those interested in marketing could opt for courses in digital marketing, brand management, or customer relationship management. Students inclined towards entrepreneurship might choose electives related to startup strategies, innovation, and venture financing.
Additionally, electives like data analytics, artificial intelligence in business, or sustainable business practices reflect the intersection of business and technology, a hallmark of Georgia Tech. These electives and the solid foundation provided by core courses enable students to acquire a comprehensive, nuanced understanding of business and leadership in their chosen fields.
Immersive Track and Concentration options
Georgia Tech's MBA programs offer immersive tracks and concentration options that allow students to further focus their learning in specific business areas. The immersive tracks are experiential learning initiatives that provide hands-on experience in various industries, consulting projects, or entrepreneurial ventures.
They are designed to provide a real-world perspective, combining academic knowledge with practical applications. Examples of immersive tracks could include Innovation and Product Development, Leading Digital Transformation, or Corporate Finance.
On the other hand, concentration options allow students to specialize in a particular business area. These concentrations represent a deeper dive into subjects beyond the core curriculum, offering more specialized courses.
Options may include Analytics, Finance, Marketing, Operations Management, Strategy & Innovation, and more. By choosing a concentration, students can gain more in-depth knowledge and skills in a specific area of interest, preparing them for leadership roles in that field. Combining immersive tracks and concentration options provides a rich, multi-faceted learning experience tailored to each student's career goals.
Georgia Tech Admissions Process
Requirements
To be considered for admission into Georgia Tech's MBA programs, there are several requirements that applicants must meet. Firstly, applicants must hold a bachelor's degree from an accredited college or university, regardless of the area of study. International applicants may need to have their degrees evaluated to ensure equivalence with U.S. bachelor's degrees.
Secondly, professional work experience is typically required or strongly recommended, the extent of which may vary depending on the specific MBA program. For example, the Executive MBA program usually requires at least ten years of professional experience, with five years in a managerial role.
Applicants must also complete and submit an application form, official transcripts from all post-secondary institutions attended, a professional resume, letters of recommendation, and responses to essay questions. Standardized tests such as the GMAT or GRE are generally required, although some programs may offer waivers based on certain criteria.
A demonstration of English language proficiency may be necessary for international applicants, typically in TOEFL or IELTS scores. Prospective students need to check the specific requirements for the MBA program they are interested in, as requirements may vary.
Application Timeline
The application timeline for Georgia Tech MBA programs typically includes multiple rounds, providing applicants several opportunities to submit their applications throughout the year. Each round has its specific deadline, and it's usually advantageous to apply in the earlier rounds due to the competitive nature of the admissions process.
The process generally begins in the fall, with the first round deadline usually in October, followed by subsequent rounds roughly every two months until spring. After each deadline, the admissions committee reviews the applications, invites selected candidates for interviews, and then makes admission decisions.
Accepted students generally have a few weeks to accept their offer and pay a deposit to secure their place in the program. Prospective students should consider their preparation time, the specific deadlines of the MBA program they are applying to, and any potential advantages of applying in earlier rounds when planning their application timeline.
Tips for Success in the Application Process
Applying for an MBA program at a prestigious institution like Georgia Tech's Scheller College of Business can be competitive. Here are some tips to enhance your chances of success. First, start your application process early. This allows you ample time to gather all required documents, prepare for any necessary standardized tests, and craft thoughtful, compelling responses to essay questions.
Second, highlight your unique experiences and qualities in your application. The MBA admissions committee wants to see how you can contribute to the program's diversity and richness. Third, carefully tailor your application to the program you're applying to, clearly articulating why you are interested in that program and how it aligns with your career goals.
Fourth, strong letters of recommendation can significantly boost your application, so choose your recommenders wisely, ideally, individuals who can attest to your skills, achievements, and potential. Lastly, prepare thoroughly for interviews.
They are an excellent opportunity to prove your interpersonal skills, leadership potential, and passion for the program. Remember, the admissions process is about assessing your academic and professional qualifications and determining your fit with the program's culture and values.
Georgia Tech Tuition and Financial Aid
Cost of the Program
The cost of Georgia Tech MBA programs can vary depending on the specific program. Factors influencing the total cost can include tuition fees, additional mandatory fees, and expenses related to books, supplies, and living expenses for on-campus programs.
Tuition for the Full-Time MBA was approximately $29,000 per year for in-state MBA students and $40,000 per year for out-of-state MBA students, although these figures may have changed in the years since. Costs for the evening, executive, and online MBA programs can vary, so it is recommended to check the most current tuition and fees on the Georgia Tech Scheller College of Business website.
While pursuing an MBA represents a significant financial investment, it's also important to consider the potential return on investment in terms of increased earning potential and career advancement opportunities. Furthermore, various financial aid options, including scholarships, loans, and work-study opportunities, can help offset these costs.
Scholarships and Grants
Scholarships and grants are key resources that can help make an MBA program more affordable. At Georgia Tech's Scheller College of Business, various scholarships are available to MBA students, some of which are merit-based, and awarded to students based on academic or professional achievements.
Other scholarships may be based on specific criteria, such as the applicant's field of interest, background, or demonstrated financial need. These scholarships can significantly offset the cost of Georgia Tech Tuition and associated fees.
Grants, which, like scholarships do not have to be repaid, can also be a valuable source of funding. While grants are typically need-based, some may be available for students who meet certain demographic or academic criteria.
In addition to institutional scholarships and grants, prospective students are also encouraged to explore external scholarship opportunities. Numerous organizations, foundations, and corporations offer scholarships to graduate business students. Understanding the range of scholarships and grants available and the application processes for each can be an important part of planning for the financial aspects of an MBA program.
Loans and other Financing Options
Loans represent another significant financing option for students pursuing a Georgia Tech MBA at Scheller College of Business. Federal student loans, such as the Direct Unsubsidized Loan and the Direct PLUS Loan for graduate students, are commonly used options. These loans have fixed interest rates and offer flexible repayment plans. However, they do require a credit check and the completion of the Free Application for Federal Student Aid (FAFSA).
Private loans are also available through various banks and lending institutions. The terms and conditions for private loans, including interest rates and repayment plans, can vary greatly, so it's important to thoroughly research and compare these options.
In addition to loans, students may consider employer tuition reimbursement programs, where employers contribute towards the cost of the degree. Many companies offer such benefits to support their employees' continued education and professional development.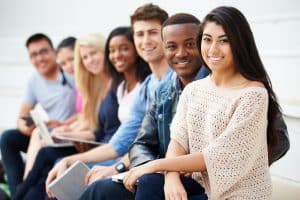 Finally, income-share agreements (ISAs) are another emerging financing option, where students agree to pay a percentage of their future income for a set period of time in exchange for funding their education. This can be attractive for students confident in their post-MBA earning potential.
When considering any financing option, it's crucial to fully understand the terms and obligations associated with the funding. Consulting with a financial advisor or the financial aid office can provide useful guidance in making these important decisions.
As you learn more about Georgia Tech, you should also prepare for college admission. If you wish for guidance in your journey, AdmissionSight will help you through the competitive admissions process. With their team of top experts, you can surely get accepted to the top universities in the world. Set up an appointment today at AdmissionSight and get the best help getting into a university.