Know More About the MIT MBA Program
The Massachusetts Institute of Technology (MIT) is a world-renowned private research university in Cambridge, Massachusetts. At the heart of MIT's business education is the MIT Sloan School of Management. The Sloan School was established in 1914. It is renowned for its innovative, intellectually rigorous management education and pioneering research that has produced numerous business theories and practices. Today, the Sloan School offers various degree programs, including its flagship two-year MIT MBA program.
The school's commitment to developing principled, innovative leaders who improve the world aligns closely with MIT's mission of advancing knowledge and educating business students to help the world in the 21st century.
MIT MBA Program Overview
Objective of the program
The primary objective of the MIT Sloan MBA program is to develop principled, innovative leaders who can make a difference in the world. The program's curriculum is designed to empower students with critical leadership and practical skills that they can apply in various settings, regardless of their industry or country.
It aims to cultivate a deep understanding of business fundamentals, foster an entrepreneurial mindset, and instill a global perspective among its students. The program seeks to inspire students to strive for academic excellence, foster innovative thinking, and drive positive change in the complex, ever-evolving business landscape of the 21st century.
Duration of the program
The MIT Sloan MBA is a full-time, two-year program. The academic calendar is divided into four semesters—two each in the first and second years, with an internship period during the summer between the first and second years. This structure allows students to gain intensive theoretical knowledge during academic terms and apply that knowledge practically in real-world situations during the internship.
The two-year duration is designed to give students adequate time for in-depth study, a comprehensive understanding of various aspects of business management, and the opportunity to choose a specialization in their areas of interest.
General structure and curriculum
The general structure of the MIT MBA program is designed to provide a well-rounded business education that balances theory and practice. The program commences with a core semester that includes foundational courses in economics, accounting, leadership, and operations management.
This provides a broad understanding of key business concepts and sets the stage for more advanced coursework. From the second semester on, MBA students can choose from various electives that allow them to tailor their education based on their career goals and personal interests.
The curriculum is further enriched by MIT Sloan's signature "Action Learning" labs, where students work on real-world business challenges with leading companies. This integration of coursework and practical, hands-on experience is a distinctive program feature.
In addition to these elements, the program encourages global learning experiences through international treks and exchange programs. As a result, the MIT Sloan MBA curriculum is comprehensive, flexible, and intensely practical, aimed at nurturing innovative leaders for the modern business world.
MIT Admission Process
Eligibility criteria
The eligibility criteria for the MIT Sloan MBA program are designed to identify individuals who demonstrate academic excellence, leadership potential, personal initiative, and a passion for making a positive impact. The program requires a bachelor's degree from an accredited institution in any field of study. While work experience is not strictly required, most successful applicants have several years of professional experience.
Proficiency in English, demonstrated by TOEFL or IELTS scores, is required for non-native English speakers. GMAT or GRE scores are typically expected, though MIT Sloan has introduced flexibility in this requirement in response to the COVID-19 pandemic.
Beyond these basic requirements, the admissions committee looks for candidates who can contribute to the diversity and vibrancy of the MIT Sloan community. They assess a combination of personal qualities and achievements, including leadership potential, innovative thinking, collaborative spirit, and a passion for generating solutions to real-world problems.
Application process
The application process for the MIT MBA program is designed to evaluate the holistic profile of each applicant. First, the required documents include an online application form, academic transcripts from all previously attended institutions, a professional resume, and a letter of recommendation. Applicants must also submit a cover letter and a 60-second video statement introducing themselves to their future classmates.
As for standardized testing, either GMAT or GRE scores are generally expected, but there has been some flexibility in recent years due to the COVID-19 pandemic. English proficiency test scores, such as TOEFL or IELTS, are required for applicants whose native language is not English.
Following the document review, selected candidates are invited for an interview. The interview is a crucial component of the evaluation process. It allows candidates to demonstrate their communication skills, leadership potential, problem-solving abilities, and alignment with MIT Sloan's values.
Members of the Admissions Committee conduct interviews and are typically behavior-based, focusing on the applicant's past experiences and achievements. The application process is competitive and thorough, ensuring that those who are admitted are well-suited to contribute to and benefit from the MIT Sloan community.
Tuition and fees
The tuition for the full-time MBA program at MIT Sloan was approximately $77,000 per academic year. In addition to tuition, students should consider other associated costs such as housing, meals, books and supplies, personal expenses, and health insurance.
These additional expenses can bring the total estimated cost of attendance to over $110,000 per year. MIT Sloan offers a variety of financial aid options, including scholarships, fellowships, and loan programs, to help students finance their MBA. Financial aid decisions are made separately from admission decisions, and students are encouraged to apply for financial aid as early as possible.
MIT MBA Curriculum
The core semester
The core semester at the MIT Sloan MBA program sets the foundation for the rest of the MBA journey. It takes place in the fall of the first year and involves rigorous coursework designed to give students a strong grounding in the essential disciplines of business. The core MIT MBA curriculum includes subjects like economics for managers, financial accounting, business analytics, leadership and organizational processes, and marketing.
This semester is designed to equip students with a solid understanding of the fundamental concepts, methods, and tools needed to succeed in business. Additionally, students participate in the MIT Sloan Innovation Period (SIP), a one-week experiential learning module held in the middle of the semester. It offers various leadership labs, workshops, simulations, and speaker series, supplementing the academic coursework with practical, hands-on learning experiences.
List of core courses
The MIT Sloan MBA program's core courses cover essential areas of business knowledge. They include subjects such as:
Economic Analysis for Business Decisions – This course covers the basics of microeconomics and provides a framework for business decision-making.
Data, Models, and Decisions – this focuses on using data and analytics in making strategic decisions.
Financial Accounting – This provides an understanding of financial reporting and using accounting information for decision-making.
Organizational Processes – This course focuses on understanding how organizations work and how to navigate them effectively.
Marketing Management – It covers fundamental marketing concepts and strategies.
Finance Theory I – This course provides an understanding of the principles of corporate finance.
Communication for Leaders – This course helps students develop the communication skills essential for effective leadership.
Operations Management – This course focuses on the design, analysis, and management of the operations side of a business.
The exact titles and content of core courses may vary slightly as the MIT Sloan curriculum continues to evolve in response to changes in the business world. It is advisable to check the latest course catalog for the most accurate information.
Overview of the 'Action Learning' Approach
The "action learning" approach is a hallmark of the MIT MBA program, setting it apart from other business schools. The concept is based on the belief that the most effective learning occurs not only through traditional classroom instruction but also through the application of concepts and theories to real-world problems.
In 'Action Learning' labs, students work on live projects with partner organizations that range from startups to large corporations and non-profits. These projects span various domains, including entrepreneurship, analytics, operations, sustainability, and global economies. Under the guidance of faculty mentors, students collaborate in small teams to tackle these complex, real-time challenges.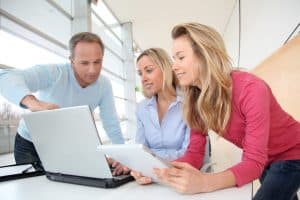 They apply classroom knowledge, develop innovative solutions, and present their recommendations to partner organizations. This experiential learning process enriches students' understanding of the subject matter and helps them build practical skills such as problem-solving, teamwork, and leadership. Ultimately, "action learning" prepares students for today's dynamic and often uncertain business environment.
MIT MBA Electives
Range of electives available
The MIT Sloan MBA program offers various elective courses, allowing students to customize their academic experience based on their career aspirations and interests. These electives span various disciplines such as finance, marketing, entrepreneurship, strategy, data analytics, healthcare, sustainability, and international business.
Examples might include courses like "Mergers and Acquisitions," "Digital Marketing and Social Media Strategy," "Healthcare Finance," "Global Entrepreneurship Lab," and "Sustainability-Driven Innovation." Beyond these, students also have the unique opportunity to take courses from other departments at MIT and even at nearby Harvard University, providing them with an incredibly diverse and interdisciplinary learning experience.
This broad selection of MIT MBA Electives allows students to delve deeper into familiar subjects or explore entirely new areas, equipping them with a comprehensive and versatile skill set for their future careers.
Specialization tracks
Specialization tracks in the MIT Sloan MBA program allow students to delve deeper into specific areas of interest and gain expertise that aligns with their career goals. Each track comprises a set of carefully curated courses, hands-on lab experiences, and, often, a capstone project. The program offered three specialization tracks:
The Finance track prepares students for leadership roles in the finance industry, covering topics like corporate finance, asset management, and financial markets.
The Entrepreneurship and Innovation track is designed for students aspiring to launch their ventures or innovate within existing companies, focusing on new venture creation, venture capital, and product development.
The Enterprise Management track equips students with the skills to manage and lead complex organizations, focusing on leadership, global strategy, and operations.
Students opting for these tracks gain a deep, specialized understanding of their chosen area, enhancing their credentials in a competitive job market.
MIT Global MBA Program
Exchange programs
MIT Sloan offers many exchange programs that allow MBA students to study at partner institutions around the world. These programs provide a unique global perspective and the chance to immerse oneself in a different culture and business environment. MIT Sloan partners with top-tier business schools in Europe, Asia, and Latin America.
Exchange programs typically occur during the fall semester of the second year, allowing students to spend a semester abroad without interrupting their course of study at MIT MBA Sloan. These experiences enrich students' understanding of global business practices and expand their professional networks, opening up opportunities for international collaboration and career prospects.
International internships
International internships are key to the MIT Sloan MBA program's global learning opportunities. They provide students with a hands-on experience of working in a different cultural and business context, which is crucial in today's globalized business world. Students typically undertake these internships during the summer break between the first and second year of the program.
The internships span various sectors, including finance, consulting, technology, healthcare, and non-profit organizations. Through these internships, students can apply the skills and knowledge gained in the classroom to real-world business challenges.
They also explore potential career paths, build a global professional network, and gain a deeper understanding of international markets and business practices. MIT Sloan's Career Development Office supports students in securing these internships, but students are also encouraged to seek opportunities independently.
Now that you know where to study computer science in the future, the next thing you should think about is your college admissions. To ensure that you get into the college you want, you can get help with AdmissionSight. With ten years of experience with college admission experts, AdmissionSight can help you get into the college of your choice. You can talk to our experts today to get an initial consultation.