Know More About the Rice University MBA Program
Rice University, founded in 1912, is a comprehensive research institution in the heart of Houston, Texas. Its business school, the Jesse H. Jones Graduate School of Business is home to the Rice University MBA program – a renowned program that reflects the university's commitment to quality education and research.
The program's significance lies in its strategic blend of rigorous academics, hands-on experiential learning, and a close-knit, collaborative community. The MBA program is designed to cultivate ambitious leaders with the knowledge and skills to create lasting value in an ever-changing business landscape.
With an emphasis on entrepreneurship, leadership, and a global perspective, the program offers a transformational educational experience that prepares students for various roles in diverse industries, fostering professional growth and personal development. In a world where business education is continuously evolving, the MBA program stands out for its commitment to students' overall development and readiness for the competitive business world.
Details of the Rice MBA Program
Duration of the course
The Rice MBA program, tailored to fit the specific needs of students, offers various formats, each with different durations. The Full-Time MBA is a traditional format designed for students who can dedicate two full academic years to the program. This format typically takes 22 months to complete, including time for an internship opportunity during the summer between the first and second years.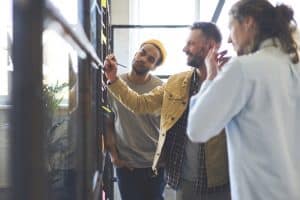 The Professional MBA, designed for working professionals, can be completed in approximately three years of part-time study. Lastly, the Executive MBA program is intended for professionals with extensive work experience and is structured to be completed in 22 months, with classes typically held on alternate weekends. Each of these formats ensures flexibility while retaining the rigorous, high-quality education for which the program is renowned.
Types of MBA programs offered
Rice University's Jesse H. Jones Graduate School of Business provides various MBA programs tailored to meet career goals and lifestyle needs. The Full-Time MBA is a two-year program designed for those who want to fully immerse themselves in their business education. It offers a wide range of electives and a summer internship opportunity.
The Professional MBA is a part-time program tailored to meet the needs of working professionals who wish to earn an MBA while continuing to work full-time. Classes typically meet in the evenings or on weekends, allowing for flexibility. The Executive MBA is aimed at seasoned professionals seeking to enhance their strategic management and leadership skills. It is designed to be completed in 22 months, with classes held on alternate weekends.
Overview of the curriculum
The curriculum of the Rice University MBA program is designed to provide a robust foundation in business fundamentals while offering flexibility for students to explore areas of interest. The core courses, which every student must complete, form the program's backbone. They cover essential areas such as accounting, finance, marketing, operations management, strategy, and leadership.
These foundational courses equip students with critical business competencies and prepare them to manage and lead in any business environment effectively. In addition to the core courses, MBA students have the opportunity to select from a variety of elective courses. These allow students to dive deeper into specific areas of interest or industry sectors, further tailoring their MBA experience.
The electives encompass various subjects, from entrepreneurship and innovation to international business, healthcare, and energy. This blend of core and elective courses ensures that students gain a well-rounded business education while also being able to specialize and shape their learning to align with their career goals.
Specializations and concentrations available
The MBA program offers a wealth of specializations and concentrations, allowing students to tailor their studies to match their specific career aspirations. These concentrations represent a curated selection of courses designed to provide deep knowledge in a specific field. For instance, students interested in launching their own venture might opt for the Entrepreneurship concentration, while those planning a career in the energy sector could choose the Energy concentration.
Other popular concentrations include Finance, Accounting, Marketing, Operations Management, and Strategic Management. Furthermore, there's a concentration in Health Care for students interested in healthcare, which provides a thorough understanding of the healthcare industry's unique challenges and opportunities.
Each concentration requires a certain number of courses to be completed, allowing students to build expertise in their chosen area while also benefiting from the broader, foundational business curriculum.
Rice MBA Admission Requirements
Academic qualifications
Academic qualifications play a crucial role in the admissions process for the Rice University MBA program. Prospective MBA students must hold a bachelor's degree from an accredited college or university, with degrees accepted from all disciplines, not only business.
Rice University does not prescribe a minimum GPA; however, the admissions committee reviews each applicant's GPA in the context of the rigors of their undergraduate institution and degree program. Successful applicants often demonstrate a strong academic track record, which indicates their ability to handle the rigorous curriculum of an MBA program.
In addition to undergraduate performance, other academic qualifications such as postgraduate degrees, professional certifications, and scores from the GMAT or GRE tests, where applicable, can strengthen an application. Nonetheless, the Rice MBA admissions committee adopts a holistic approach, meaning that all aspects of an application, including professional experience and leadership potential, are carefully evaluated along with academic qualifications.
GMAT/GRE scores
GMAT or GRE scores are typically a required component of the application process for the program. These standardized tests help the admissions committee assess an applicant's readiness for the program's academic rigor. They provide a standard measure to compare the academic aptitude of applicants from diverse educational backgrounds.
Applicants can submit scores from either the GMAT or the GRE, with no preference for one test. While there is no official minimum score requirement for these tests, high scores can enhance an application. It's important to note that the GMAT or GRE score is just one factor the admissions committee considers when reviewing applications.
The committee evaluates each application holistically, considering factors like professional experience, academic record, essays, letters of recommendation, interview performance, and the GMAT or GRE score.
English language proficiency
English language proficiency is a key requirement for the Rice University MBA program, as the course instruction and assignments are conducted in English. For non-native English speakers, proof of proficiency may be required. This can typically be demonstrated through standardized tests such as the TOEFL (Test of English as a Foreign Language), IELTS (International English Language Testing System), or PTE Academic (Pearson Test of English).
Each of these tests measures abilities in listening, reading, speaking, and writing English. The minimum score requirements may vary, so applicants are advised to check the current requirements. It's important to note that some applicants may be exempted from this requirement, particularly those who have earned an undergraduate or graduate degree from a university where English was the language of instruction.
Essays and Letters of recommendation
The application process requires the submission of essays and letters of recommendation, which provide the admissions committee with a more holistic view of the applicant beyond academic and professional achievements. Essays allow applicants to express their career aspirations, why they are pursuing an MBA, and why they are interested in Rice specifically.
They also provide a platform to highlight unique personal experiences or circumstances not apparent elsewhere in the application. The specific essay prompts can vary each year, but they generally seek to uncover the applicant's motivation, goals, leadership potential, and fit with the MBA program.
Letters of recommendation, typically from professional references, are another crucial component. These letters should ideally come from individuals who can speak to the applicant's professional skills, potential for leadership, work ethic, and ability to succeed in a demanding MBA program. Together, essays and letters of recommendation provide insights into an applicant's character, potential, and suitability for the program.
Work Experience
Work experience is a significant factor considered in the admissions process for the Rice University MBA program. The admissions committee values the diverse perspectives and experiences students with a solid professional background bring to the classroom. As such, applicants typically have several years of professional work experience, which provides context for the business concepts discussed in class and contributes to rich, collaborative learning experiences.
While the amount of work experience can vary among applicants, the quality, progression, and relevance of the work experience are particularly interesting. The committee examines leadership roles, impact, career progression, and how the experience aligns with the applicant's career goals.
For the Executive MBA, applicants are typically required to have more extensive work experience, often in managerial or leadership roles. However, the school considers all aspects of an application holistically, so exceptional candidates with less work experience should not be deterred from applying.
Interview process
The interview process is a vital part of the admissions procedure. It allows the admissions committee to get to know applicants on a more personal level beyond the information presented in their written application. Simultaneously, it allows applicants to ask questions and better understand the program.
The interview, usually conducted by a member of the admissions team or an alumnus, focuses on exploring the applicant's career goals, understanding their motivation for pursuing an MBA, and assessing their fit with Rice's culture and values. Additionally, the interview helps gauge the applicant's communication skills, leadership potential, and team-working abilities – all crucial for success in the MBA program and beyond.
Applicants must approach the interview as a two-way conversation rather than a one-sided interrogation. Though it can vary, the interview process is generally by invitation only, following an initial review of the submitted application.
Rice Financial Aid and Costs
Tuition and other costs
The tuition for the MBA program is a significant investment that reflects the high quality of the education and the prestige of the degree. The total tuition for the Full-Time MBA program was approximately $63,000 per year, but current rates may differ. It's important to consider that the total cost of the MBA program extends beyond tuition.
Other costs can include fees for services such as technology and student activities, textbooks, and living expenses such as housing, meals, and personal expenses. Additionally, students must budget for potential travel costs related to internships, global study opportunities, or job interviews.
As costs can vary widely depending on individual circumstances and lifestyle choices, it is advised that applicants review the most current and detailed cost information provided by the university when budgeting for their MBA program.
Scholarship opportunities
Rice University is committed to attracting a diverse and talented student body, and to achieve this, the university offers numerous scholarship opportunities to assist students with the cost of the MBA program. Merit-based scholarships are available and are awarded based on the overall strength of the application, including academic achievements, professional experience, leadership potential, and other distinctive characteristics.
These scholarships do not require a separate application; all applicants to the Rice University MBA program are automatically considered. Several named scholarships are sponsored by alumni, corporate partners, or other donors, some of which may have specific eligibility criteria.
In addition, fellowships may be available for students who demonstrate exceptional leadership and professional potential. Applicants are encouraged to explore all available funding sources and to apply early, as some scholarships may have early consideration deadlines.
Loans and grants
In addition to scholarships, Rice University offers other forms of Rice Financial assistance to help students fund their MBA. Federal and private loans are available to eligible students. Federal loans are only available to U.S. citizens and permanent residents and typically have more favorable terms and interest rates than private loans. On the other hand, private loans are available to all students, including international students, often with a U.S. cosigner.
The eligibility, interest rates, and repayment terms vary by lender, and students are encouraged to carefully research and consider their options. While grants, which do not need to be repaid, are less common for graduate studies, external organizations may offer grants for business education based on various eligibility criteria.
Additionally, students can explore opportunities for graduate assistantships, which typically involve working on campus in return for a stipend and/or tuition remission. It's important for students to fully understand their financial commitment and explore all available funding options.
Now that you have an idea about Rice, your college admissions to that university should be next on your mind. To ensure that you get into Rice, you can get help with AdmissionSight. With ten years of experience with college admission experts, AdmissionSight can help you get into Caltech. You can talk to our experts today to get an initial consultation.