Know More About the Vanderbilt MBA Program
Vanderbilt University is renowned for its pursuit of academic excellence. The Vanderbilt Owen Graduate School of Management, founded later in 1969, was named in honor of Lulu Hampton Owen and her husband Ralph "Peck" Owen, philanthropists and university supporters. The Vanderbilt MBA program is a testament to this tradition of excellence, designed to develop strategic and well-rounded business leaders ready to make an impact in their chosen fields.
The two-year, full-time program emphasizes a rigorous core curriculum complemented by various electives that allow students to customize their learning experiences according to their career goals. Further enriching the MBA experience, Vanderbilt offers many experiential learning opportunities, from immersion learning experiences to international study programs, ensuring a robust, practical, and globally relevant business education.
Vanderbilt Program for MBA
Core Curriculum
The Vanderbilt MBA program's core curriculum is designed to provide MBA students with a solid foundation in business essentials. Core classes span critical areas of business studies, including Managerial Economics, Financial Accounting, Operations Management, Marketing Management, Corporate Finance, Leading Teams and Organizations, and Business Strategy.
What sets Vanderbilt's approach apart is its emphasis on immersive and experiential learning. Students are frequently exposed to real-world business challenges and case studies, even within the core classes.
Additionally, the curriculum heavily emphasizes a team-based approach to learning, mirroring the collaboration and teamwork often seen in the business world. This combination of rigorous academic theory, practical application, and collaborative learning equips MBA students with the requisite skills to thrive in any business environment.
Electives and Specializations
The Vanderbilt program offers various electives and specializations, allowing MBA students to tailor their education to their career aspirations. Available specializations range across various business areas, such as Finance, Marketing, Operations Management, Human and Organizational Performance, Strategy, and Information Management.
Students may also choose a healthcare-focused track, recognizing Nashville's significant healthcare industry. These specialized courses delve deeply into each subject, providing comprehensive knowledge and skills. Meanwhile, electives offer opportunities to further customize the MBA experience.
Students can choose from many electives spanning emerging areas such as data analytics, entrepreneurship, sustainability, and traditional business disciplines. MBA students can shape their studies to fit their specific interests and career objectives through this mix of core, elective, and specialized courses, ensuring a truly personalized business education.
Immersion Learning and Experiential Opportunities
Vanderbilt's MBA program strongly emphasizes immersion learning and experiential opportunities. The immersion program is a significant part of the first-year curriculum, where students tackle a real-world business challenge in a chosen industry, providing them with unparalleled, hands-on business experience.
Students work in teams to analyze the situation, develop strategies, and propose solutions, simulating the process and pressure of strategic decision-making in a corporate environment. Besides the immersion program, the curriculum incorporates multiple other experiential learning opportunities.
These include case competitions, where students compete to develop the best answer to a business problem, and consulting projects, where students work with actual businesses to address strategic issues. Such opportunities allow students to apply their classroom learning to practical situations and develop critical skills such as teamwork, leadership, and strategic thinking, preparing them for success in their future careers.
Vanderbilt Admissions Process for MBA Students
Required materials for application
Applying to the Vanderbilt MBA program involves submitting several important materials to demonstrate a candidate's academic aptitude, professional accomplishments, and leadership potential. Required materials typically include an online application form, where candidates provide basic personal and professional information and academic details.
Applicants must submit the necessary official transcripts from all previous undergraduate and graduate institutions they have attended. Another critical application component is the Graduate Management Admission Test (GMAT) or Graduate Record Examinations (GRE) score, which indicates the candidate's academic abilities.
Applicants must also submit a professional résumé outlining their work experience and essays that reveal more about their career aspirations, personal qualities, and reasons for choosing the Vanderbilt MBA program.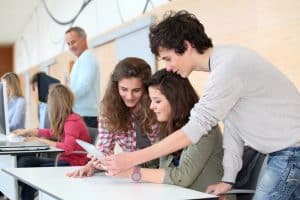 Additionally, letters of recommendation, preferably from current or former employers, provide third-party perspectives on the candidate's potential for success in an MBA program and subsequent career. An English language proficiency test, such as TOEFL or IELTS, may also be required for applicants whose first language is not English.
Overview of the admissions timeline
The admissions process for the Vanderbilt MBA program is typically organized into several rounds, each with a specific deadline. The first round generally begins in the fall of the year before enrollment, usually around October, and subsequent rounds follow at regular intervals, often concluding in the spring.
Once the application deadline for a round passes, the admissions committee reviews all submitted applications and invites selected candidates for interviews, usually within a few weeks.
Interviews play a crucial role in the admissions process, providing a more in-depth understanding of each candidate. Post-interview decisions, including offers of admission, are generally communicated within a few weeks.
Candidates are usually given a specific date by which they must accept or decline the offer. The dates can vary year to year, so prospective students are encouraged to check their official admissions webpage for the most accurate and updated information.
Information about the interview process
The interview process is a critical component of the Vanderbilt admissions process as it allows the admissions committee to get to know the candidates beyond their written applications. Typically, once a candidate's application has been reviewed and shortlisted, an invitation for an interview is extended.
These interviews can be conducted on, off, or virtually and are often carried out by admissions officers, alumni, or current students. Interviewers seek to understand the candidate's career goals, motivation for pursuing an MBA, particularly at Vanderbilt, leadership experiences, teamwork abilities, and interpersonal skills.
On the other hand, candidates can use this opportunity to ask specific questions about the program, showcase their enthusiasm, and further express how they could contribute to the Vanderbilt community. Interviews are generally conversational, aiming to foster an open dialogue rather than a one-sided interrogation. Following the interview, the admissions committee will consider the interview performance and the candidate's application materials to decide.
Vanderbilt Scholarships and Financial Aid for MBA Students
Overview of available scholarships for MBA students
Vanderbilt University is committed to helping its MBA students finance their education, and to this end, it offers a variety of scholarships. Scholarships are primarily merit-based and are awarded to students based on the strength of their applications, including academic achievements, professional accomplishments, leadership potential, and other unique skills or attributes.
Some of the available Vanderbilt Scholarships include the Dean's Scholars Award, the highest merit-based scholarship given by the university, and many additional benefits. Additionally, there are named scholarships sponsored by donors, alumni, and corporations, often aimed at students from specific backgrounds or with certain career interests.
These may include scholarships for underrepresented minorities, women in business, or students interested in certain fields like entrepreneurship or finance. It's worth noting that all admitted MBA applicants are automatically considered for available scholarships, so there is no separate application process. The exact scholarship details and offerings may change annually, so prospective students should check the official Vanderbilt MBA financial aid webpage for the most accurate and updated information.
Process for applying for financial aid and loans
Applying for financial aid and loans at Vanderbilt University is a streamlined process designed to help students explore various options to finance their MBA. To apply for need-based financial aid, students must complete and submit the Free Application for Federal Student Aid (FAFSA), which helps determine their eligibility for various federal and state aid programs.
This may include grants, work-study programs, or federally-backed student loans. Private loans may be a viable option for international students or those seeking additional funds beyond federal aid. These are available from various lending institutions, and eligibility, interest rates, and terms can vary greatly.
Vanderbilt's Financial Aid Office can assist students in understanding and comparing loan options. For students considering private loans, start the application process well ahead of time, as it may involve credit checks and require a co-signer. Remember that loans need to be repaid with interest, so they should be considered carefully, and students are encouraged to only borrow what is necessary.
Cost of attendance and return on investment considerations
The cost of attendance for the Vanderbilt MBA program includes tuition, fees, and estimated living expenses, including accommodation, meals, books and supplies, personal expenses, and health insurance. The exact figures vary annually, so prospective students should check the official webpage for the most accurate and updated information.
While the cost may seem substantial, viewing an MBA as a significant investment in your future is important. Many students see a substantial increase in their earning potential post-MBA, which can help offset the program's initial cost.
Moreover, the skills, network, and opportunities gained from a top-tier MBA program like Vanderbilt's can open doors in various industries and roles, providing a solid return on investment over the long term. Additionally, the availability of scholarships, financial aid, and loan options can help ease the financial burden and make the investment more manageable.
Now that you have an idea about Vanderbilt University, your college admissions to that university should be next on your mind. To ensure that you get into Vanderbilt, you can get help with AdmissionSight. With ten years of experience working with college admission experts, AdmissionSight can help you get into Vanderbilt University. You can talk to our experts today to get an initial consultation.