List of Colleges with the Best Libraries
Importance of college libraries
What is the importance of college libraries? Is there a list of colleges with the best libraries? Libraries play a crucial role in improving the educational process by giving students access to all the resources and services they require to increase their knowledge. Due to high university tuition, libraries must concentrate on meeting the needs of students.
Libraries offer many services that help students learn better, such as a place where they can find books, dictionaries, and encyclopedias; a place where they can relax and read or listen to music; a place where they can find international magazines and learn about current events around the world; and both independent study areas and collaborative learning spaces where students can work together.
Many university libraries also offer tutoring services to students. Libraries are the finest venues for students to get help with their queries and problems since they are calm settings that improve their learning experience.
Additionally, many libraries provide students the chance to utilize computers and interact with online resources that cover a variety of subjects. Students can swiftly find references, prepare tasks, and assess the degree of plagiarism in their written work by using computers. Here is a list of colleges with the best libraries.
Colleges with the best libraries
What are the colleges with the best libraries? You should always check out a college's library when selecting a school. Why? several factors:
Because a college's library organization can reveal a lot about the caliber of the institution.;
Because they provide the designated study spaces that every student occasionally needs;
Because some college libraries offer a better collection than others and you'll need to read a lot of books while you study; and
Because the top libraries are integrating cutting-edge methods and new technologies into education.
College libraries in America, however, are not all created equal. Some are incredibly out-of-date technologically. Others are too small to accommodate all the pupils that require study space. Others simply have a very small number of books available. That last point is quite important. Being a student is expensive, so you don't want to blow all of your money on books that ought to be available to you without further cost!
Fortunately, this list will draw your attention to the American institutions that have invested a lot of time and energy in their libraries. AdmissionSight prepared this list of colleges with the best libraries.
University of Pennsylvania
The University of Pennsylvania's Fisher Fine Arts Library is its most striking library structure. According to Business Insider, it is a national historic marker. The building's outside and interior are both magnificent, and its multiple arches give it a distinctive appearance.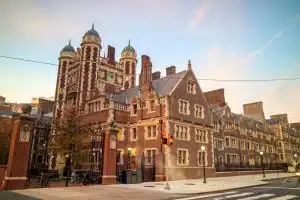 There are over 6 million books total in the college's collection. There are some amazing books on campus that are unique. For instance, France's King Louis XVI donated 100 books from his personal library to the library in 1784.
Princeton University
The Linderman Library structure, a masterwork of 1878 design, mesmerizes the public. The ultra-modern Lewis Library, on the other hand, receives wonderful reviews from library enthusiasts. These contradictory structures highlight Princeton's celebration of the past while steadfastly chasing the future.
And occasionally, the two coexist, like in the case of the 1948-built Firestone Library, which has been receiving a significant makeover since 2010. The combined book collection at Princeton's libraries also exceeds 7 million volumes, ranking it as the fourteenth largest in America.
Cornell University
The seventh-best college library in America, according to the Princeton Review, is located at Cornell University. It ranks as the thirteenth largest collection in the USA, with more than 8 million books. It is regarded as one of the colleges with the best libraries. And one of Cornell University's best features is its library division.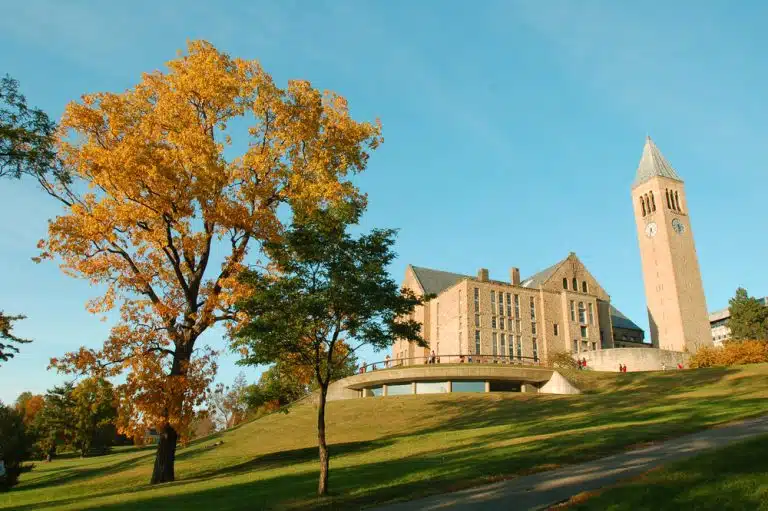 The college's own surveys show that "Cornell's graduating seniors routinely rank the library as the top service on campus," which provides evidence for this.
Yale University
The methodology sources demonstrate that Yale University's library offers both quality and quantity. With somewhat fewer than 13 million books, Yale boasts the third-highest collection of books among American colleges. According to Business Insider, Yale has one of the best libraries in the country.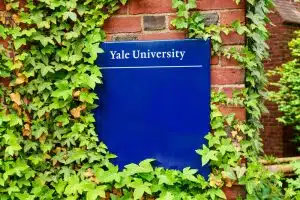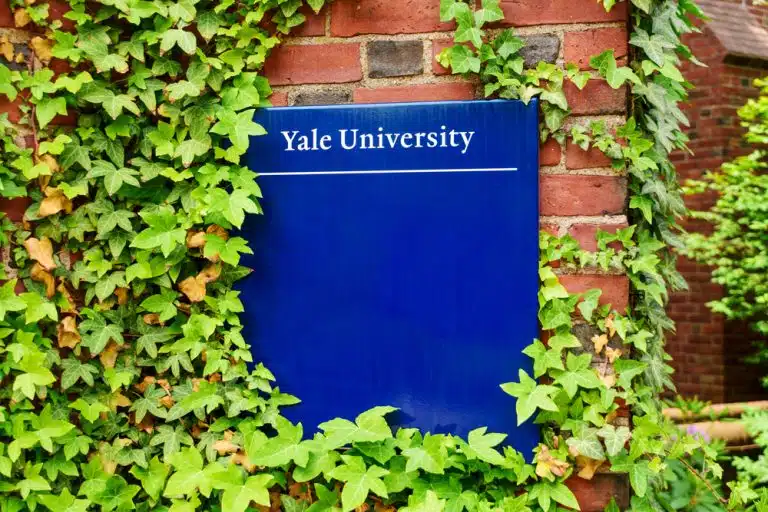 Yale is one of the colleges with the best libraries in America. The Beinecke Rare Book & Manuscript Library, "one of the world's greatest libraries devoted solely to rare books and manuscripts," is by far the Yale library that receives the most praise.
Columbia University
Columbia University ranks at the very top of the list of the greatest college libraries in the Princeton Review's student-generated rankings. With nearly 11 million books, the college boasts the fifth-highest collection in terms of quantity in all of America. And no matter how you look at it, the library resources at Columbia University are incredible.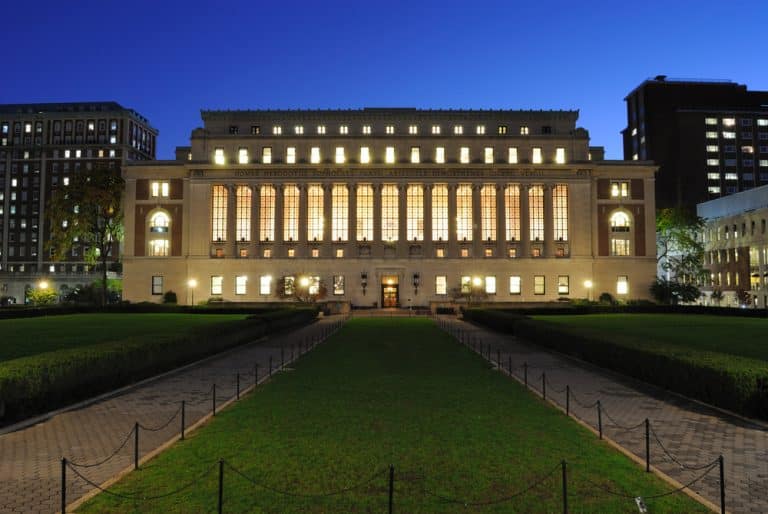 24 hours a day is study time for students. Access to an Oculus Rift is made available. It boasts more than 4,000 seats, and it even provides stress-relieving amenities like puzzles and therapy dogs.
University of Washington
With more than 7 million books, the University of Washington boasts the fifteenth-largest book collection of any collegiate library. And the Suzzallo Library resembles a cathedral more than a library in terms of appearance and atmosphere.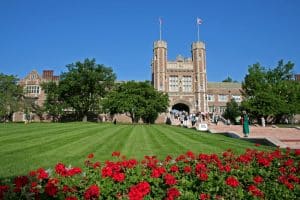 The University of Washington's library department, however, can be proud of a lot more than just one outstanding library. It has entire library complexes devoted to specific fields, like art, the built environment, or East Asia.
University of Chicago
The University of Chicago Library is mentioned in five of the eight methodology sources. With over 10 million books, it is America's eighth-largest collection. It is one of the colleges with the best libraries in America. Experts appreciate the architectural design of one of the campus libraries. It is ranked fourth in the student-generated rankings by the Princeton Review.
The current strategic priorities of the University of Chicago library department are to adapt to a changing global environment, empower faculty and students, advance digital scholarship, improve access to scholarly resources, and work with other institutions both on and off campus to broaden the college's impact.
North Carolina State University
The James B. Hunt Library at North Carolina State University is ranked as the second most wonderful library in the country. With more than 4 million books, this college's library department has the 37th largest collection in America, according to the Princeton Review. The James B. Hunt Library is a truly amazing location.
It's clear why North Carolina State University's website calls itself a library of the future. A robotic device that consumes one-ninth of the area of a conventional library system delivers books to pupils in a dazzling and useful way. This opens up more space for other uses, including workstations, auditoriums, art walls, cafes, and 4K video studios.
University of California, Los Angeles
The consensus across methodology lists is that UCLA has one of the greatest libraries in the world. With more than 9 million books, it ranks as the tenth-largest college library book collection in the United States. It is also noted that UCLA, which in 2011 converted an entire floor of its library into open seating, group study, and collaboration spaces, was a pioneer in developing the modern iteration of college libraries.
Laptops can be borrowed by students from the UCLA library. Additionally, about 100,000 students borrow these each year.
University of Michigan, Ann Arbor
The library at the University of Michigan in Ann Arbor has received praise from five separate methodology sources. This college boasts the sixth-greatest collection of books in America, with over 11 million book-related sources. This college boasts the sixth-greatest collection of books in America, with over 11 million books. One of the colleges with the best libraries and coolest libraries in America.
Experts say that the college's library is breathtaking. It may be one of the most magnificent Gothic structures in America. The college's Cook Legal Research Library, the most Harry Potter-like collegiate facility in America, receives the majority of the plaudits.
The University of Michigan is committed to providing a contemporary method to access its library, though. For instance, it just unveiled a new search system that combines a number of previously utilized technologies for its library database.
Colleges with the most beautiful libraries
No, we're not referring to cathedrals or museums when we talk about gothic architecture, stained glass windows, armor, and priceless artifacts. Universities from New York to Seattle have committed extravagant resources to erect cathedrals to higher learning for the sake of their students and professors, yet those components all belong to America's most beautiful college libraries.
Even though midterms and finals are some of the most stressful parts of college, students at these schools can take comfort in the fact that they are studying a work of art.
Bapst Art Library at Boston College
The imposing Gothic structure, which was initially built in 1928 as BC's primary library, now houses the Bapst Art Library. With its high arches, vaulted ceiling, and beautiful stained-glass windows, it looks like a medieval church.
The University of Washington Suzzallo Library
Suzzallo Library, widely regarded as a masterpiece of Collegiate Gothic architecture, is crowned with terra cotta statues of Homer, Dante, Galileo, Shakespeare, Da Vinci, and other luminaries. The reading room's bookcases have hand-carved friezes that show the natural plants of Washington State, if you look attentively.
Harvard University's Wider Library
The university's flagship library is properly distinguished in style as a tribute to Harry Elkins Widener, a scholarly young Harvard graduate who perished on the Titanic. Marble, carved wood, and antiques are everywhere in the classical structure, making it one of the colleges with the best libraries.
The Cornell University Uris Library
This Romanesque structure houses, not just Cornell University's oldest library but also a library within a library. Andrew Dickson White, the first president of Cornell, took ideas from European universities to make a beautiful place to store his rare book collection. He used stained glass windows, wrought iron stacks, and antiques.
Frederick Ferris Thompson Memorial Library at Vassar College
The Thompson Memorial Library at Vassar is a Gothic masterpiece. It has English stained-glass windows, a stone frieze with many university seals, and Flemish Gobelins tapestries from the 17th century that show Cupid and Psyche falling in love.
Riggs Library at Georgetown University
The most beautiful library in Georgetown is buried inside Healy Hall; up until 1970, it served as the school's primary library. You wouldn't recognize it from the outside. Riggs, one of the few cast-iron libraries left standing in the nation, still holds a collection of books and acts as a venue for events. That's why Georgetown University is one of the colleges with the best libraries.
Washington University Law Library
The Janite Lee Reading Room, which Hartman Cox Architects constructed in 1997, was modelled after one of the university's earliest study areas. It resembles something out of Tudor England with its large windows, wood paneling, and vaulted, beamed ceiling.
Hoose Philosophy Library at the University of Southern California
It's not necessary to be a philosopher to enjoy USC's Hoose Library. Just look at the elaborate columns in the Moorish style and the succession of mosaics that depict the subject's development from the ancient Near East to contemporary America.
The University of Chicago's Harper Memorial Library
The Harper Memorial Library at the University of Chicago is a study in nuanced contrasts, with one tower recalling King's College in Cambridge and another featuring Byzantine motifs. Armor coats are scattered around the tables and seats in the cavernous reading area.
George Peabody Library at Johns Hopkins University
The George Peabody Library, a part of the Peabody Institute of Music, is an exceptional example of the late 1800s cast iron construction. The library has evolved into one of Baltimore's most popular wedding locations thanks to its five floors of balconies, which end in a striking skylight.
It is equally crucial to discover how to attend school now that you are aware of the colleges with the best libraries and the significance of college libraries. You will receive the necessary guidance at AdmissionSight for that step. At AdmissionSight, you may acquire all the necessary advice from professionals. With a free consultation, you may begin your journey today.