Making The Most Out Of Your College Experience
You've just finished your senior year of high school, so you've tossed your cap, handed in your gown, and started packing up your room. And now, for the very first time in your life, you will be living on your own when you attend college. You are about to enter one of the most exciting and frightening periods of your life, and you want to ensure that your college experience in the next four years is as successful as possible.
There is no doubt that your time spent in college will be memorable. Thanks to the academic courses, conventional and unique extracurricular offerings, and travel opportunities available to you, you have the proverbial world at your disposal.
In light of this, you should strive to get the most out of your time spent in college. You don't want to go through life thinking things like, "I should have taken that class," "I wish I had participated in intramural sports," or "I can't believe I didn't travel when I had the chance in college." You don't want to live with regrets for not making the most of your college experience.
For you to make the most out of your time in college, it is essential to take advantage of everything the campus offers. On a college campus, one can find many new experiences, ranging from clubs and events to incredible opportunities for academic exploration, new friends, and even new acquaintances. Continue reading if you want to find out how to make the most out of your time in college.
Meet people in college
To meet people in college is the first and most important step you can take to improve the quality of your college experience. College is a great place to meet people who are entirely different from you, including people not only from other states but also from other countries. All of them have different points of view, different religions, and different areas of interest. Take the initiative and be the first to speak up because everyone else will be new and a little anxious.
If you aren't sure how to start talking to new people, try leaving the door to your dorm room open while at home and placing a bowl of candy outside your door to entice people to come over and say hello. This will help you get started. Plan a pizza and movie night on your floor and invite your neighbors. If you see someone sitting alone in the dining hall or on the quad, approach them and ask if you can join them there. Then start a conversation with them.
College dorm life
Most people first share a living space with someone not a member of their immediate family when they are in college and have a roommate. It presents several difficulties in addition to its advantages.
Your college dorm life is the pinnacle of your college campus experience. It is the ideal setting for getting to know other students, developing friendships with them over shared experiences, and spending late nights studying. If you and your roommate can get along, you can improve the quality of your life in the college dorm.
You might believe that moving into an apartment building will provide you with similar opportunities for life experiences, but in reality, this is not the case. Compared to students living in dorms, neighbors rarely share personal details.
If you are an upperclassman, becoming a Resident Assistant (RA) is a simple way to acquire this experience and obtain free housing for yourself. Some people find becoming an RA a huge part of their college experience as they meet more people in their building, not just their roommates.
College life and getting involved
Participating in extracurricular activities is another fantastic way to make the most of your time in college and meet new people. Almost any organization that a student wishes to found on college campuses will receive support from the campus administration. This indicates that a club on your campus is centered around your passions and is comprised of individuals who enjoy the same things that you do.
Expand your college life by checking out the different organizations, clubs, and Greek life available at your school. The time spent in college is ideal for either venturing into uncharted territory or delving deeper into an extracurricular interest.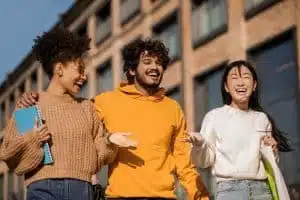 Investigate the possibility of joining a club on campus that focuses on writing, gardening, fashion, cooking, or knitting. Investigate joining a walking or running club, taking fitness classes, or participating in intramural sports if you are the more active type. And then, there are frequently academic fraternities, Greek organizations, campus religious organizations, and charitable organizations.
Ask for help
Transitioning from high school to college can be difficult on many levels, including academically and emotionally. When you find yourself in a position requiring assistance during this transition, you should never be afraid to ask for it. Feeling uncomfortable can still be a possibility during the whole college experience. But with the right help, you may find comfort.
Get in touch with the instructor of the class you're having trouble with and go to their office hours if you need help. They are there to assist you, and most of your teachers will be thrilled to see you in their office and assist you with anything you need.
Visit the counseling center at your school if you feel you are struggling with depression or anxiety. They can offer you free assistance in an environment that is free of judgment and explicitly geared toward assisting you.
Learn as much as you can about your teachers
You won't believe it, but most professors are pretty chill people. They have a high level of intelligence, are frequently recognized as experts in their fields, and are eager to impart all that knowledge to you. In addition, many teachers are currently engaged in fascinating projects that are connected in some way to the fields in which they teach.
Make it a priority to familiarize yourself with your instructors through activities such as office hours and in-class discussions. You may be surprised by how much you learn and how much pleasure you take in getting to know each of them as unique individuals.
Additionally, you might be asked to assist with the research or study they are conducting, which would look fantastic on your resume. Some students even go on to create a memorable college experience with their professors.
Attend campus events when you can
College campuses offer a diverse array of event opportunities, many of which you will likely never have the chance to experience again. There will be various exciting activities, such as competitions in various sports, exhibitions of works of art, concerts, lectures, and fun runs. If you still have the opportunity, make the most of these situations.
Read the college newsletter and stay abreast of what's happening on campus by doing so. Create a list of talks, displays, or performances that pique your interest, make it a priority to attend one of them, and invite a friend to accompany you. And during your time in college, you should make it a point to attend at least one major sporting event, regardless of whether or not you are a sports fan.
As you aim in enjoying your college life, it is also important to get into the college that you want. At AdmissionSight, we have over 10 years of experience guiding students in getting accepted to the best universities in the world. You can visit and set up an appointment today to book your initial consultation.