MIT Class of 2025 Statistics
How Many Applicants Did MIT Get for the Class of 2025?
How many applicants did MIT get for the Class of 2025? MIT Class of 2025 statistics were released last March 14. There were a record-breaking 33,240 total student applicants, however, only 1,340 students were selected for admission, making the overall admissions rate 4.0%.
There were 621 students accepted out of a total of 18,204 applicants for Regular Action, which results in an admissions rate of 3.4% for Regular Action candidates. Meanwhile, 719 students were accepted during Early Action out of a total of 15,036 applicants, which corresponds to an admissions rate of 4.8% for Early Action.
The overall admissions rate for the previous year compared to MIT Class of 2025 statistics was higher, coming in at 7.3%, and there were 1,457 students accepted out of 20,075 applicants. According to MIT Admissions, the overall number of applications received for the Class of 2025 was 66% higher.
In The Tech's news, Stu Schmill '86, Dean of Admissions and Student Financial Services, stated that the Class of 2025 will "be a bit larger than typical." This is because MIT plans to enroll 1,100 students from this year's applicant pool in addition to students from the Class of 2024 who deferred enrollment.
Schmill noted that he feels that the "permanent elimination of the SAT Subject Tests from consideration" in the process, as well as the suspension of the "SAT/ACT requirement," were the primary reasons for the increase in the number of applicants. This was done because of the epidemic.
Students who have been accepted must make a decision on their enrollment by May 3.
Schmill also mentioned that it has been an amazing year during which they have studied " every piece of every application" and provided it with the "same careful, holistic review we always have."
How Many Students Are Enrolled at MIT?
Since the beginning of the Covid-19 pandemic, one of the first significant events that MIT has hosted on campus is the ceremony that took place on September 1st last year. You may wonder "How many students are enrolled at MIT?" Despite the fact that the ongoing epidemic affected certain aspects of the event — most notably, masks were necessary for everyone who attended — the message that was delivered to the 1,184 members of MIT's Class of 2025 was one of appreciation, connection, and hope.
President L. Rafael Reif remarked as he welcomed the incoming class, "You brought to us a gift of your talent, your energy, your curiosity, your creativity, and your drive. And you cannot imagine how grateful we are for that."
MIT Class of 2025 statistics revealed the percentage of accepted students who go on to enroll at MIT, which is 77%. Yield rate is calculated by dividing the total number of students who are admitted by the number of accepted students. This number is outrageously high, which helps to explain why there is such a dismal acceptance rate. To put this into perspective, prestigious universities like Johns Hopkins, Carnegie Mellon, Vanderbilt, Rice, Emory, and Georgetown all have yield rates that are at or below 50%.
How Diverse Is MIT?
How diverse is MIT? The Massachusetts Institute of Technology (MIT) is a prestigious educational institution that excels in the fields of science, technology, engineering, and mathematics (STEM). In addition to this, the institution takes great satisfaction in the fact that it is a welcoming environment for students of all different kinds of backgrounds. In the following paragraphs, we will discuss MIT's current diversity, the steps it is taking to eliminate harassment and discrimination, as well as its intentions for the future to further develop its commitment to inclusiveness.
MIT Class of 2025 statistics disclosed the components of the class that will graduate in 2025.
In terms of location, the following countries were represented in the Class of 2025:
International Students: 13%
States in the Middle Atlantic: 20%
States in the South: 16%
Western States: 18%
In the Mountain Region and the Southwest: 14%
Midwestern States: 9%
New England: 9%
Those who hail from states that consistently produce an overwhelming number of competent applicants face the most intense levels of competition (the entire Northeast, the West Coast). It is more likely that your location will provide a boost to your admissions prospects if you are from the rural parts of the South or from a state with a lower population density, such as Wyoming or North Dakota.
When it comes to their ethnic identities, the incoming class of 2021-22 students was broken down as follows:
White: 37%
Asian: 41%
Hispanic: 14%
African Americans: 13%
American Indian: 2%
MIT Class of 2025 statistics also includes the kinds of high schools that students in the Class of 2025 attended as follows:
Public: 67%
Independent: 12%
Religious schools: 7%
Foreign: 12%
Home school: 100%
The gender distribution among members of the Class of 2025 was somewhat balanced:
Male: 50%
Female: 47%
Other gender identities: 3%
Recently, MIT has launched a number of measures to improve the way in which it provides support for the institution's diverse student body. The recent report on sexual and gender harassment of women in academia that was published by the National Academies of Science, Engineering, and Medicine has informed new initiatives that have been taken, such as the revision of a policy for processing complaints of harassment and discrimination.
Additionally, the Institute for Discrimination and Harassment Response (IDHR) office has been established at MIT to serve as a resource for anyone who has been the victim of discrimination or harassment based on their identification. In addition to this, the university has pledged to increase rights against retaliation, secrecy, and whistleblowers.
In addition, the Massachusetts Institute of Technology (MIT) intends to hire new personnel to promote their diversity, equity, inclusion, and community operations. They will participate in the supervision of the action plan for their respective MindHandHeart Department Support Project, which aims to combat bullying and harassment and shine a light on the unhealthy power dynamics that frequently emerge in academic and organizational settings where people are employed.
What Stats Do You Need To Get Into MIT?
What stats do you need to get into MIT? You will need to have a grade point average that is judged to be competitive for MIT in order to be a strong candidate for admission to that institution. The candidates for MIT should have an average high school grade point average of 4.17. This indicates that you will need to be obtaining nearly all A's in all of your classes while also taking AP or IB courses to demonstrate that you have a command of challenging material at the level required for college.
If your GPA isn't quite this high, don't let this stop you from applying; you can still make this up by providing strong SAT or ACT scores to prove your ability! Don't let this discourage you from applying! The admissions process for colleges and universities is typically holistic, which means that they look at your application in its whole to form a more complete picture of who you are as a person and as a possible student in the future.
MIT SAT Scores Requirements
You need to send either a SAT or an ACT test score to MIT in order to submit a complete application to the institution. The typical range of SAT scores that MIT accepts is shown by the institution by reporting the middle 50% of the SAT score range of admitted students. The table that follows reflects this accurately:
| | |
| --- | --- |
| Test Component | Score Range |
| SAT Math | 780-800 |
| SAT ERW | 730-780 |
MIT Class of 2025 statistics includes information about one percent of admitted students to MIT earned the lowest possible score on the SAT mathematics section, which ranged from 700 to 740 points. This information comes from the school's admissions database.
One percent of the students who were granted admission had the lowest possible SAT ERW score, which ranged from 600 to 640. This shows us that it is possible to gain admission to MIT with a composite SAT score ranging from 1300 to 1380, despite the fact that the majority of students had scores in the range of 1510 to 1580 on the test.
Policy for Choosing Your SAT Score
The policy of "superscoring," sometimes known as "score choice," is permitted at MIT, just like it is at the majority of colleges. Students now have the opportunity to combine the subtests on the SAT on which they scored the highest to generate a new superscore. Students stand to gain a great deal from this opportunity, as it enables them to combine their highest test scores.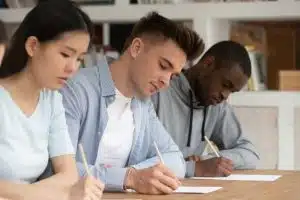 MIT ACT Scores Requirements
The usual range of ACT scores for admitted students is shown by MIT by reporting the middle 50% of the ACT score range of admitted students. This is demonstrated in the table that follows:
| | |
| --- | --- |
| Test Component | Score Range |
| ACT Math | 35-36 |
| ACT Reading | 34-36 |
| ACT English | 35-36 |
| ACT Science | 34-36 |
| ACT Composite | 34-36 |
| | |
One percent of admitted students to the class of 2025 at MIT received the lowest possible ACT Composite score, which was in the range of 28-30, according to the statistics from the most recent students to be admitted to MIT. Because the average ACT Composite score for admitted students is 35, it is advised that you to retake the test if you do not already have a score of 35 or 36.
Your chances of being accepted into MIT will be significantly lower if you have a score of 34 or lower. The good news is that you have the potential to significantly improve your score on the examination by merely devoting some of your time and effort to studying for it.
Policy for the Transmission of ACT Scores
The process of submitting an ACT application is considerably different from that of submitting a SAT application; when submitting a SAT application, the majority of institutions need you to send every exam you've ever taken. Even if the school decides to superscore your test, they will still be able to see your lower scores as well as the number of times you tried to complete the test.
However, if you take the ACT, you will have the option to select which tests you want to send to the various universities that you are interested in attending. Therefore, you will have more opportunities to raise your ACT score and provide MIT with the only ideal exam that you have taken.
While the majority of educational institutions do not accept the score choice policy of superscoring for the ACT, the Massachusetts Institute of Technology (MIT) does. This policy, which is also applied to the SAT, allows students to include a competitive superscore with their application.
What About the Essays on the SAT and ACT?
Both the SAT and the ACT have writing sections that are voluntary for test takers to complete. Because not all schools require writing scores, a lot of students choose not to participate in the writing sections of the exam. However, the writing portions of the SAT and ACT are required to be included in a student's profile in order to be considered for admission to MIT.
When you are writing this essay, check to see that you are meeting all of the standards that are being asked of you by the test. Your writing score on the SAT or ACT can be improved if you make it very clear what your perspective is, if you develop your ideas in an organized manner if you include a lot of supporting evidence, and if you make sure to use proper language and word choice to show off your vocabulary and writing skills.
The Massachusetts Institute of Technology (MIT) announced on Monday that prospective students applying to the university in the year 2022 will be required to submit SAT or ACT exam scores. The university had previously suspended the requirement for nearly two years since the pandemic had disrupted testing for a significant number of applicants.
The criterion was brought back "in order to assist us to continue to develop a diverse and bright M.I.T.," Stu Schmill, the dean of admissions and student financial services at MIT and a graduate of the school in 1986, said in a statement. The requirement had been dropped in 1986.
The decision will have an impact on students who are entering M.I.T. for the first time or transferring from another institution in the year 2023.
What Is So Special About MIT?
Students, and even parents, would ask "What is so special about MIT?" Located directly on the banks of the Charles River, MIT provides students with breathtaking vistas of the cityscape of Boston (particularly at sunset). Students have access to the bike path that runs down the river, where they may go for strolls or easily walk to the nearest T-stop to get a ride into the city of Boston.
Boston is a significant city in the United States that is well-known for its history, as well as its sports, medical institutions, and cuisine, among other things. The students won't have any trouble finding something interesting to do during their free time. The city is also home to a major international airport, and it has excellent rail and roadway connections to a number of other cities.
Central Square, Kendall Square, Davis Square, and Porter Square are just few of the sites in Cambridge that are bustling with activity. In many parts of the city, Cambridge itself has the atmosphere of a suburban neighborhood.
In the past, MIT's faculty has included notable figures such as Noam Chomsky, Paul Krugman, and Alan Lightman, amongst others. Angela Belcher, Frank Wilczek, and Sherry Turkle are some of the members of the faculty at this time.
The five schools at MIT are the School of Architecture and Planning, the School of Engineering, the School of Humanities, Arts, and Social Science, the MIT Sloan School of Management, and the School of Science. The majors, which are referred to as courses and are identified by numbers rather than names.
The educational system of MIT is modeled after that of the polytechnic universities that are prevalent in Europe. The curriculum places an emphasis on applied science and engineering and is mostly conducted through laboratory instruction. During World War II and the Cold War, researchers at MIT played an important role in both the war effort and the battle to maintain peace.
They contributed to the development of improved radar, computer, and inertial navigation systems that were deployed in the conflict. The university's faculty engaged in major post-war defense research, which led to the institution's extraordinary expansion in the decades after the end of World War II.
Although it is best recognized for its programs in the sciences and engineering, the Massachusetts Institute of Technology (MIT) today boasts research and education programs that are among the best in the world in the fields of economics, business management, biology, and linguistics.
The university is also well-known for its culture of entrepreneurship, and it is responsible for producing many of the most successful business owners and entrepreneurs in the United States. In point of fact, the total revenues produced by enterprises founded by MIT alumni exceed the revenues produced by the world's 11th largest economy. This is the case even though the world's 11th largest economy is the United States.
After discussing MIT Class of 2025 statistics, if you are now interested to study programs in sciences and engineering somewhere in Boston, MIT might be for you! AdmissionSight is more than happy to assist you to get into your dream school. AdmissionSight experts have more than 10 years of experience in college admissions counseling. Book a consultation to know more about our counseling program.