MIT Yield Rate and its Admission Process
Top Things MIT is Known For
Excellent Academics. The first thing on the list of top things MIT is known for is its strong academics, especially in science and technology. Students are often amazed at its notable faculty members in the past including:
Noam Chomsky
Paul Krugman
Alan Lightman
Nowadays, the university still has incredible faculty members such as:
Angela Belcher
Frank Wilczek
Sherry Turkle
With its high MIT yield rate, it is no surprise that the university offers the quality education that the majority of high school graduates dream of. Moreover, its schools offer a unique learning experience that a lot of students are willing to depend on. In particular, these schools are as follows:
School of Architecture and Planning
School of Engineering
School of Humanities, Arts, and Social Sciences
MIT Sloan School of Management
School of Science
The majors, are referred to as courses and are identified by numbers rather than names.
We at AdmissionSight made a short list of its popular majors which are the following:
Aerospace Engineering
Computer Science
Mathematics
Biomedical Engineering
We also included a list of less conventional majors that are also being offered at the university that a lot of students find unusual and surprising:
Writing
Philosophy
Women's and Gender Studies
Even these humanities majors frequently have a STEM intersection and focus, and students who choose them to earn a Bachelor of Science degree (SB).
Students have the opportunity to cross-register for classes at Harvard, Wellesley College, and Massachusetts College of Art and Design in addition to pursuing joint degrees and minors. Some examples of joint degrees include combining studies in the humanities with those in science or engineering (MassArt).
Students at Wellesley College have the opportunity to earn a Bachelor of Arts degree from Wellesley and a Bachelor of Science degree from MIT in a combined five-year study program. (Before enrolling at Wellesley, prospective students must first earn admission.)
Students and faculty members alike have been honored with a significant number of prestigious awards and fellowships. Eleven students from MIT, both graduating seniors, and graduate students were offered and accepted Fulbright Fellowships during the previous academic year (2019–2020).
Engaging Extracurriculars. The MIT Engineers are members of NCAA Division III and compete under that name. The first men's ice hockey team in the United States was established in 1899, making it one of the earliest programs of its kind in the country.
The campus is home to a robust Greek life community with 25 fraternities and six sororities. Participation is achieved by just under half of all undergraduate students.
There are a large number of other extracurricular activities, both academic and recreational, that students can participate in. Students have the opportunity to sign up for hundreds of different clubs and organizations, including the Outing Club, the Solar Electric Vehicle Team, the MIT Society for Women Engineers, the Black Students' Union, and G@MIT.
Honored Traditions. Many customs have been passed down through the years at MIT. One such example is the tradition known as the "Brass Rat," which dates back to 1929 and involves a group of sophomores getting together to design their class ring. The term "brass" refers to the color of the gold ring, and "rat" is used because it resembles MIT's mascot, the beaver.
In addition, during January, the university hosts an event called the Bad Ideas Festival, which includes a variety of competitions, activities, and attractions (some of which have included roller coasters in the past).
The MIT Mystery Hunt is yet another event that takes place in January. It is a competition in which teams work together to solve difficult puzzles to locate "the coin." The winners are responsible for planning and writing the Hunt for the following year.
In traditional observance of Pi Day, the Massachusetts Institute of Technology (MIT) announces its admissions decisions on the 14th of March with much fanfare.
Secure Campus. The majority of MIT students choose to live on campus, while the remaining students split their time between independent living groups and Greek houses that have been approved by the institute. Students in the residence halls are assigned a faculty family to serve as the head of their house. These families are chosen for their similar interests to those of the students living in the dorms. In addition, these residence halls have area directors who are there to provide support, as well as residential student governments that are in charge of organizing programs and ensuring that they are financially supported by the residents' mutually agreed upon the contribution of taxes.
Reliable Financial Aid. MIT admits students regardless of their financial circumstances, regardless of where they come from. It is dedicated to meeting the full needs that have been demonstrated by all of the students. The average need-based award for the 2019–2020 academic year was $50,483, and one-third of MIT undergraduates did not have to pay tuition.
Exceptional Resources. If you decide to enroll at MIT, the university will make certain additional resources available to you during your time there. They provide free admission to the MIT Museum, which is located on the MIT campus and features STEAM-related exhibits, as well as an Idea Hub, workshops, performances, and other activities (Science, Technology, Engineering, Arts, Math). Even students and teachers are in charge of leading demonstrations. In addition to that, it is where the annual Cambridge Science Festival is held.
Students are eligible for discounts on admission to a variety of cultural and artistic venues, including the Museum of Fine Arts and the Boston Ballet, amongst others.
There are many different options available to students who need to get around town, including shuttle services provided by the campus. Additionally, MIT provides a subsidy of fifty percent of the cost of MBTA T-passes for its students. These passes allow students to travel to and from Boston and the surrounding areas.
Thriving Location. Located directly on the banks of the Charles River, MIT provides students with breathtaking vistas of the cityscape of Boston (particularly at sunset). Students have access to the bike path that runs along the river, where they can go for strolls or easily walk to the nearest T stop to catch a ride into the city of Boston.
Boston is a major city in the United States that is well-known for its history, as well as its sports, medical institutions, and cuisine, among other things. The students won't have any trouble finding something interesting to do during their free time. The city is also home to a major international airport, and it has excellent rail and roadway connections to several other cities.
Central Square, Kendall Square, Davis Square, and Porter Square are just some of the places in Cambridge that are bustling with activity. In many parts of the city, Cambridge itself has the atmosphere of a suburban neighborhood.
Tips to Get Into MIT
We at AdmissionSight also prepared tips to get into MIT to help you equip yourself with the proper documents, knowledge, skills, and other important aspects for your admission to this renowned university. With the current MIT yield rate and its acceptance rate, brace yourself for a competitive and challenging admission process.
Any student would consider MIT to be a "reach school" because it is one of the universities with the most stringent admissions standards in the country. However, your chances of admission can still vary depending on a variety of factors such as your grade point average, test scores, extracurricular activities, and other activities.
Be familiarized with significant factors of the MIT admission process. You should be familiar with the following information if you want to be one of the 20,000 or more applicants to MIT for the upcoming admissions process:
MIT requires an application, so you should devote a considerable amount of your time to preparing it.
The phrase "demonstrated interest" is not something that is considered during the admissions process at MIT. You will not be graded differently depending on whether or not you visited the school or communicated with a member of the admissions committee.
Self-reporting of courses is required of all applicants from the United States to MIT. You are required to provide the final grade that appears on your official certificate.
Be sure to give the required supplement essay and short responses a sufficient amount of your time before submitting them.
Consider each MIT question to be an opportunity to elaborate on some aspect of who you are that is both real and interesting. It is an impressive strategy to align oneself with the admissions committee that will be reviewing your application if one is allowed to respond to a large number of questions that inspire personal, deep, and honest responses. Describe both your enthusiasm for learning and your enthusiasm for MIT in your response. Strive for the highest degree of precision. If you do a good job of executing it, your excitement and the possibilities that lie ahead will leap off the page, potentially setting you apart from the thousands of other qualified candidates.
Possess strong academics. If you have a strong academic background, there is no reason not to apply to the Massachusetts Institute of Technology (MIT). Nevertheless, even the most outstanding and brilliant applicant is required to have a reliable fallback plan. A comprehensive college list should be compiled by every high school senior who plans to attend college. On the preferences list, your goals and reasons must be made crystal clear. You should discuss this with an admissions counselor before moving forward with it (including your high school professor or teacher).
Be enthusiastic and committed to the admission process. Even though MIT is notoriously difficult to get into and has one of the lowest acceptance rates and high percent of MIT yield rate in the country, prospective students shouldn't give up hope of being accepted into one of the institute's upcoming classes just because the institution is notoriously difficult to get into. Instead, students should make every effort to ensure that they stand out for the right reasons by preparing their applications plenty of time in advance. Only then will they have a chance of being accepted.
Consider admission counseling. Here at AdmissionSight, you can also find reliable admission counseling.  Admissions counseling is a resource that should not be overlooked because it can help you present yourself in the most favorable light possible. Your admissions counselor will be able to assist you in finding the schools that are the best fit for you, writing compelling essays, and curating an application that is compelling and highlights what makes you unique.
MIT Acceptance Rate
Each year, MIT is presented with nearly 20,000 applications. Despite this, only about 6-7 percent of this pool of highly qualified applicants is accepted each year. In the 1990s, there were a little more than a third as many people applying as there are today. During that period, approximately thirty percent or more of those who tried to pass through the gates were successful. In 1992, the average score for first-year students taking the MIT admissions test was 1,389; today, that score is 1,532. Throughout its history, the Massachusetts Institute of Technology has accepted only the brightest and most accomplished high school students, which shows in its low acceptance rate and high MIT yield rate.
Every successful MIT applicant possesses an impressive resume and list of awards and honors. The results that these students achieve on standardized tests are either flawless or very close to perfect. The many skills possessed by these first-year students are readily apparent outside of the classroom. Sadly, as the MIT study demonstrates, these qualities are frequently required but not sufficient. During the admissions season, MIT consistently rejects otherwise qualified applicants daily.
Twenty thousand seven hundred and fifty applications were received for the school year 2020-2021. Only 1,457 out of the total applications were chosen. The acceptance rate for the class of 2020-2021 at MIT was 7.4 percent, which was higher than the MIT acceptance rate of 6.6 percent for the class of 2022.
Students who were admitted to the Class of 2020-21 had SAT Math scores in the range of 790 to 800, and SAT ERW scores in the range of 730 to 780 on average. The range of acceptable ACT scores for MIT was 35 to 36. In a typical year, at least ninety-five percent of the students who apply for college admission were ranked in the top ten percent of their high school class. There are no statistics available on the average GPA required for admission to MIT.
MIT Admission Requirements
Heed in mind the following MIT admission requirements in advance and meticulously prepare each document:
High School Official Certificates or Documentations
Letter of Recommendation
TOEFL, MELAB, or IELTS scores (International Students)
GPA in High School
College Prep Courses
Rank in High School (Recommended is on the top 10%)
SAT/ACT Scores
MIT Yield Rate
The percentage of people who accepted an offer of admission to a college is referred to as the yield rate for that college. To put it another way, the percentage of individuals who, after having been accepted to a certain school, ultimately decided to enroll there.
The MIT yield rate is 77%. The proportion is so high that it explains why there is an acceptance rate that is so much lower than average at MIT.
Why choose MIT?
If you're still pondering the question "Why MIT?", we advise you to continue reading to learn more about this institution.
Renowned Reputation. Having a diploma from MIT is going to put you in a better position for success when you enter the highly competitive job market in an extremely uncertain economic environment.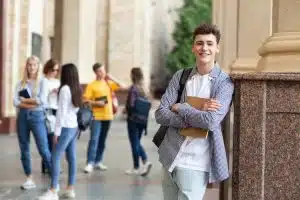 The Massachusetts Institute of Technology (MIT) is a prestigious educational institution that is known all over the world for its rigorous coursework, excellent research, and outstanding faculty. When you are out there looking for work, any potential employer who takes a look at that MIT diploma is going to be impressed even before you have a chance to say a word. When you finally do decide to speak, you should therefore take precautions to avoid embarrassing yourself.
Outstanding Faculty Members. What would it be like to study biology with one of the men who was responsible for sequencing the human genome? Did you know that 73 people who have won the Nobel Prize and 33 people who have been awarded the National Medal of Science are currently affiliated with MIT or have been in the past? When you attend MIT, you have the opportunity to receive instruction from faculty members who are leaders in the fields of science, engineering, and a wide variety of other disciplines. You are not only receiving an education; rather, it is more like drinking from a fire hose.
Exciting Research Opportunities. At MIT, there are a lot of possibilities for further research. You will have the opportunity to take part in an Undergraduate Research Opportunities Program (UROP) while you are an undergraduate student at MIT.
When it comes to conducting research, it is not uncommon for professors at other schools to only accept graduate students as research assistants. At MIT, on the other hand, even first-year students have the opportunity to collaborate on groundbreaking research with some of the world's brightest minds. And it's not even that difficult; 85 percent of students graduate with at least one UROP under their belt. An additional perk is that you might get paid for doing this. You can get paid to participate in experiences that come around only once in a person's lifetime.
Exceptional Students. As we previously mentioned considering the current MIT yield rate, MIT is the home to genuine, brilliant students. Students consider living at MIT's building with all of the other undergraduates as an incredible experience in and of itself. You have probably never experienced a situation in which everyone around you is either as intelligent as you are or more intelligent than you have ever been before.
It is truly amazing to think about. You'll also be enriched by the myriad of experiences that others have to share with you. At your high school, many of you have earned the reputation of being "the smart kid." That transforms into something better at MIT. People will get to know you for your other characteristics and those things that make you unique and awesome rather than for the trait of intelligence, which is something that everyone shares in common.
If you are interested in learning more about how AdmissionSight's college admissions counseling services can help you achieve your academic goals, take the first step toward attending your desired school by arranging a consultation with us today.