MIT's Graduation Requirements
What are the graduation requirements for MIT?
What must a student have completed in order to graduate from MIT?  The Institute has a general expectation that undergraduate students will finish all of the prerequisites in four years.
In order to meet this expectation, students must pass an average of 48 units per term for a total of eight terms.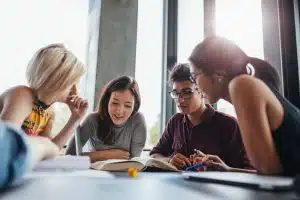 Moreover, you are accountable for knowing and satisfying all of MIT's graduation requirements, and you are required to finish the steps that are outlined below before attending the degree meeting for the Committee on Academic Performance (CAP):
Send in your application for the degree.
Your department will likely suggest you for the SB degree, and it will be approved at the CAP degree meeting.
Even if you intend to accomplish your prerequisites by resolving an outstanding incomplete or OX grade or by transferring credit for work done at another school, you are still required to file an application for the degree.
To apply for your SB degree using WebSIS:
Go to the Student Information System.
Indicate whether you intend to pick up your diploma in Room 5-117 commencing the Tuesday after Commencement or have your diploma shipped to you. If you do not supply this information, you will not be permitted to attend the Commencement ceremony.
The name that appears on your diploma must be the one that you are known by legally, although you have the option of including or omitting your middle name. If necessary, provide the appropriate accent marks.
Key Deadlines:
There is a cost for submissions received after the deadline. Even if you are still determining whether or not you will complete the program, it is strongly encouraged that you submit an application. To be removed from a degree list does not incur any fees.
Apply by the end of June if you graduate in September.
Apply before the end of September if you graduate in February.
Apply by the end of February if you will graduate in the spring.
Confirm that all academic requirements have been met, and do so.
In addition to the General Institute Requirements, which consist of 17 subjects, you are required to finish your SB requirements, which range from 180 to 198 units depending on your major.
Check the degree criteria that are listed at the bottom of your grade report on WebSIS to make sure that you will have successfully finished them in the terms that came before or during the term that you are now in.
Even if you intend to finish the concentration during the term that you are currently enrolled in as your final one, you still need to submit a HASS Concentration Form by the deadline.
Contact your department administrator with questions about your primary requirements.
Get rid of any degree holds.
Your diploma could be withheld if you have unresolved difficulties relating to your behavior or financial commitments. You will not be able to graduate until all of your holds have been cleared.
You should check your student account using WebSIS to ensure that it does not have any outstanding charges or amounts that are past due.
If you have any pending departmental awards, outstanding sponsor billing, or outside scholarship applications, please contact your student account counselor as soon as possible.
Check with the Office of Student Conduct if you have ever been involved in a conduct case to see if there are any unresolved sanctions that could prohibit you from graduating. If there aren't any, then you won't have any problems getting your degree.
If you have ever lived in an FSILG, you should double-check with the chapter's treasurer to ensure that you do not have any financial issues that have not been resolved.
Participate in loan exit counseling.
Students who are graduating and have borrowed money through the Federal Direct Student Loan Program, the Perkins Student Loan Program, or the Technology Student Loan Program are required to complete online departure counseling. Should you fail to comply, your degree may be withheld.
What GPA do you need to graduate from MIT?
What is the minimum grade point average required to graduate from MIT? CAP is responsible for ensuring that the minimum academic standards for undergraduate students that the various departments propose are uniformly applied across the Institute and are in accordance with the rules and regulations that the Faculty have approved.
CAP does not establish hard and fast standards of academic success to be utilized across the Institute because of the subjective nature of student academic performance.
Unless the Committee has specifically notified an individual student that a higher level of performance is required, the CAP will normally accept a minimum academic record of at least 36 units of credit with a term with a grade point average of above 3.0 at the end of any regular term.
In the event that these conditions are not satisfied, the CAP will take into account the academic performance of each student on an individual basis.
Not only are the grades received in the classes for which the student is registered taken into account, but also the total number of subject units, the nature of the classes themselves, the amount of progress made toward the degree, and any personal or medical factors that may have had an impact on academic performance during a specific term.
A 5.0 scale is used to determine an MIT student's GPA. Your cumulative GPA appears on both your grade report (an internal record) and transcript (an external record). Your term GPA appears only on your grade report. The grade point averages you earn at MIT will be split if you pursue both an undergraduate and graduate degree there.
Important details to keep in mind:
The following are not included in the calculation:
Subjects with a grade of P, S, URN, SA, T
Subjects, if not completed, with a grade of I, OX, J, U
Grades earned from Advanced Standing Exams (ASEs)
ROTC subjects
P grades are not factored into GPA calculations, thus first-year students won't see their GPA until after the spring semester is over.
Your grade in a repeated course contributes to your overall grade point average.
Grades used in the calculation of your GPA are weighted as follows:
A = 5
B = 4
C = 3
D = 2
F = 0
O = 0
How does MIT's graduation work?
How exactly does one become a graduate of MIT? Once MIT's graduation requirements are fulfilled, the three ceremonies that take place during the year to award degrees culminate in the Commencement exercises that are held in Killian Court each spring.
Marching in the processions and taking part in the exercises is restricted to just those students who have been granted a degree either in May/June, September, or February of the same academic year.
Here is the information that you require to know:
1. Killian Court will play host to the Commencement ceremony, and all graduating students and their visitors will be invited to attend in person.
2. The timing of the OneMIT Commencement Ceremony will be revealed soon.
3. The graduating class of the year will observe some significant format adjustments as well as brand-new traditions.
4. On the morning of the ceremony, all graduates along with their guests will be invited to a ceremony that will take place on Killian Court and last for ninety minutes. The event will feature numerous capstone moments, including the following:
The Academic Procession
President Reif's Charge to the Graduates and the address by the to-be-announced Institute Commencement speaker
The turning of the Brass Rat
5. Following the conclusion of the OneMIT ceremony, graduates and guests will be welcomed to a luncheon celebration; further information regarding the event will be provided in the spring.
6. After the lunchtime event, the degree conferral ceremony will take place on Briggs Field, and all graduating seniors will congregate there. This event will be highlighted by the usual reading of graduates' names, and photos will be taken of them receiving their degrees as they cross the stage.
7. During the many in-person school and college-specific events, graduates of all master's and doctoral programs will be acknowledged. During these ceremonies, guests will be invited, and hoods will be awarded to those who are seeking a Ph.D. degree.
Completing all of MIT's graduation requirements is a difficult task. It will take a lot of time and effort, but the result is always worth it.
We at AdmissionSight, hope that you will be able to overcome any academic difficulties you may experience in order to graduate from MIT in the future. However, getting into the school is the current top priority.
For over a decade, AdmissionSight has been a vital resource for students wanting to successfully navigate the difficult admissions process. Contact us right now to set up a consultation session.