Most Beautiful College Campuses in the US
What Are the Most Beautiful College Campuses in the US?
When selecting a university, prospective college students must take many factors into account. There are academic standing, cost-effectiveness, sports teams, and culture. However, a stunning campus is sufficient to convert high school students from potential prospects to firm commitments.
What are the most beautiful college campuses in the US? The most beautiful college campuses are dotting the US from coast to coast. These schools create an attractive college campus by fusing stunning architecture with lovely settings.
The top 10 stunning collegiate campuses in the country are listed below.
Stanford University – Palo Alto, California
Stanford University is undoubtedly exceptional. Its enormous 8,180-acre campus is in Palo Alto, close to the renowned San Francisco Bay.
Stanford University has one of the biggest college campuses in the country and some of the most spectacular buildings in the country. Memorial Church and the Cantor Arts Center at Stanford are two outstanding examples of architecture. The Hoover Tower, however, is incomparable. It is an observation deck from which one may see the stunning San Francisco Bay clearly.
University of Virginia – Charlottesville, Virginia
What are the similarities between the University of Virginia, the Acropolis, and the Giza Pyramids? They are all recognized as UNESCO World Heritage Sites in recognition of their cultural importance.
Thomas Jefferson tried to reimagine higher education when he founded the University of Virginia. The outcome was a representation of both the beauty and higher education in America. The Rotunda, the centerpiece of Jefferson's Academical Village, is a piece of classic architecture that may be found at the University of Virginia.
It is unquestionably one of the most gorgeous campuses in the US.
Pepperdine University – Malibu, California
The seaside colleges in California are undeniably beautiful. Pepperdine University, however, offers some of the best vistas on any campus.
A private Christian campus with views of the Pacific Ocean and the Pacific Coast Highway is situated in the Santa Monica Mountains. The architecture at Pepperdine University is world-famous in addition to its magnificent seaside vistas. Most campus structures were constructed in the Mediterranean Revival style.
Berry College – Mount Berry, Georgia
Despite Berry College being not a household name but one glance around its campus is enough to make it to the list of the most beautiful college campuses in the US. The largest contiguous college campus in the entire globe is this liberal arts college.
Over 27,000 acres of Georgian woodlands, featuring beautiful streams, meadows, and trees, make up the vast site. The campus's outdoor fires and immaculate workout centers give it the air of a summer camp.
Kenyon College – Gambier, Ohio
In the center of America, there is a jewel called Kenyon College. The state capital of Ohio is 45 kilometers from this magnificent 1,000-acre campus.
Kenyon combines cutting-edge conveniences with historic buildings and breathtaking scenery. There is even a 480-acre wildlife reserve on the grounds. Along with hiking routes, wetland ecosystems, and stunning stargazing chances, it borders the Kokosing River.
Duke University – Durham, North Carolina
This list could have two entries for Duke University. This is because it includes two campuses, the neo-gothic West Campus and the Georgian East Campus.
Inspired works like Duke Chapel and Perkins Library are examples of Duke's Gothic architecture. Duke University is situated on 7,200 acres in a stunning North Carolina woodland and is known as a "university in the forest."
Sewanee: The University of the South – Sewanee, Tennessee
With the name, The University of the South comes high expectations. Thankfully, Sewanee comes up to the expectations thanks to its stunning rural setting and Gothic-style structures.
The 13,000-acre Sewanee campus is situated in the Tennessee Valley's Cumberland Plateau. Students can explore the campus in a variety of ways, such as mountain biking, caving, and rock climbing.
Undoubtedly, it is one of the most beautiful college campuses in the country.
University of Notre Dame – South Bend, Indiana
The University of Notre Dame campus is home to well-known landmarks, imposing Gothic structures, and a stunning array of changing seasons. In the heart of the Midwest, there is a traditional college campus.
The Main Building is the most well-known landmark at Notre Dame. It is a 187-foot structure that was built in 1879 and features a 4,000-pound figure of Mary, the Mother of God.
Dartmouth College – Hanover, New Hampshire
Dartmouth College is a favorite among history buffs. This is because the Ivy League research university was founded in 1769, before the American Revolution. The 269-acre site is situated in the Upper Valley beside the Connecticut River.
Many of the structures at Dartmouth were created in the Georgian American colonial style, which reflects America in the 18th century.
Indiana University – Bloomington, Indiana
The "Hoosiers" are from Indiana University. The beauty of this campus in southern Indiana is evident despite the lack of clarity surrounding the definition of a Hoosier.
The campus is close to the Jordan River and perched atop an outcrop of Indiana limestone. The roughly 2,000-acre complex features Late Victorian, Gothic, and Romanesque architectural styles, as well as other types from the construction era, which makes it worthy to be hailed as one of the most beautiful college campuses.
Which College Has the Nicest Dorms?
Moving away from home for the first time may be a stressful experience. From deciding what to buy for your dorm essentials to selecting the right roommate, some worry is common. Knowing what facilities your future home has will help relieve some of that worry, too.
We discussed the most beautiful college campuses in the previous section. Now, how about which college has the nicest dorms? These student residences that follow can ease the adjustment to university life by offering comfort and a sense of home-away-from-home, as well as private toilets and a vibrant community culture.
Here are the top ten college housing options in the country, in no particular order.
Washington University in St. Louis
WashU students have private bathrooms as part of a suite, shared by 4-6 individuals (far better than the full floor), and a residential community atmosphere that is centered on inclusivity and a growth attitude. WashU is known for having some of the most opulent dorm rooms in the country.
Additionally, it is asserted that the dining hall is one of the best, featuring everything from typical comfort foods like fries and sandwiches to Asian and Hispanic cuisine options!
Bowdoin College
With a ranking as the second-best liberal arts institution in the country, Bowdoin combines a renowned residential program with academic excellence. A community setting is particularly valued at Bowdoin, which is divided into residential halls for entering freshmen and eight "College Houses" for upperclassmen, all of which have roomy rooms and the endearing New England mentality.
The dining hall additionally serves a wide range of cuisines and even hosts an annual fall lobster bake!
Pomona College
Pomona College features top-notch academics, a great climate, delicious food, and upscale housing. It's definitely a 10!
Dialynas and Sontag Halls, Pomona University's two newest residence halls, have rooftop gardens as part of their commitment to sustainability. The lovely California weather and sun offer a welcome diversion from the harsh northern winters. It is designed after the traditional New England liberal arts college.
Massachusetts Institute of Technology
Although MIT is renowned for its academic challenge, there is some reward for the labor. A ball pit is in Simmons Halls, which is renowned for having one of the top dining halls in the country.
Additionally, there are many lounges and multipurpose spaces with sizable projection screens. MIT is a prime example of rewarding oneself for hard work when combined with its campus-wide pranking culture.
Florida Gulf Coast University
The beachfront homes in North Lake Village have fire pits and volleyball courts, so the university has no shortage of alluring moments. Students comment on the vibrant food scene, and the dorms received an A+ rating on Niche thanks to its resort-style pools, game rooms, movie theaters, and other amenities available inside the various villages.
With thousands of applicants each year, Florida Gulf must be doing something right. Each village also provides some individual, double, or triple rooms, allowing you to get away from the dreaded common restroom situation.
Bryn Mawr University
Remember the sensation you had while reading Wuthering Heights by Emily Bronte? It is simple to recognize Bryn Mawr as a genuine example of the gothic style.
Bryn Mawr University, the fifth-best women's institution in the United States, has stunning architecture that would fit in perfectly with the melancholy piece. But don't be alarmed by the (a little) gloomy appearance!
Bryn Mawr University is home to some of the most opulent dorms in the country, with amenities like walk-in closets, stained glass windows, and skylights, as well as a dynamic cultural campus that supports diverse groups and fosters rigorous academic performance!
Yale University
Known for its academic prowess, Yale University also boasts a bustling campus teeming with student groups and is a part of the most beautiful college campuses, thanks to its medieval architecture.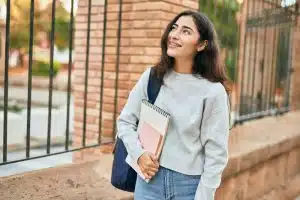 The common areas frequently have fireplaces, bay windows, and even hardwood floors, and its dorms are rated A+ by Niche.
The dining hall produces wholesome and scrumptious meals every day, and the residential colleges aid in fostering a sense of community.
Rice University
As one of the top 10 private colleges in the country, Rice also provides excellent housing to match the caliber of its academic program. Even though the community restrooms are cleaned daily, the newest residential colleges offer private bathrooms.
On a rather large campus, its residential system's 11 distinct colleges, each with its own personality and culture, enable the creation of a special "mini-community" atmosphere.
Rice provides something for everyone, including sundecks, lots of reading nooks, and music rooms. It is understandable why it was listed among the top ten happiest colleges in the country.
Texas Christian University
TCU has a vibrant campus culture surrounded by a gorgeous campus. Freshman, sophomore, and upper-class housing is provided in the residence halls.
Free laundry facilities, wood vinyl floors, XL full-size beds, in-room refrigerators, and in-suite baths are a few of the features offered across the levels (for upperclassmen). Seniors and juniors can choose to live in on-campus apartments as well.
The university is also ranked well for its career and counseling services, and it has the eighth-happiest students. Truly one of the most beautiful college campuses inside and out.
Temple University
Temple features accommodations for everyone, including halls with cafés, kitchenettes, and suites with private toilets. One of the newest structures, Morgan Hall, also has flats with a flat-screen TV and a terrace. There's no reason to give up your Netflix and sunlight lifestyle just because you've begun college.
Numerous colleges provide suitable residential spaces designed to encourage students and help them fulfill their potential, whether you're looking for a walk-in closet, a beach lifestyle, or maybe you just want to make the adjustment to university life as painless as possible.
What is the Best College Town in the Country?
Many students consider aspects like overall cost, campus size, amenities, academics, and student life when looking for the best university. Students even take note of the most beautiful college campus in weighing their options. Not just the campus itself but a school's location can also be a significant aspect; a fantastic college town can enhance the enjoyment of university life daily.
If you're curious about "What is the best college town in the country?", here are the top 5 college towns to consider when choosing the right university.
Bolder, Colorado
Boulder is renowned as a young, fit community with a hippy heritage and stunning Flatiron Mountain views. One of the most well-known cities in the country is Boulder, which is frequently named America's Foodiest Town, one of the greatest places for artists, the brainiest city, and the best outdoor town. Despite being small, the city has an excellent public transportation system, hundreds of kilometers of bicycle routes, and is entirely walkable.
Boulder is surrounded by nature, and many prominent routes in the city finish at trailheads that lead into the Rockies. The city is surrounded by a ring of green space, and buildings are limited in height to preserve mountain views.
One of the main streets in Boulder is Pearl Street Mall, an outdoor shopping district with upscale restaurants, bookstores, art galleries, and coffee shops.
The primary educational institutions in Boulder are the University of Colorado and Naropa University, which was the first Buddhist university in the US.
For individuals who have finished school, Boulder is home to various science institutions, regional craft movements, and digital enterprises. The National Oceanic and Atmospheric Administrations, the Geological Society of America, and the Space Science Institute are some of the most well-known employers.
Ann Arbor, Michigan
During the academic year, around one in every two Ann Arbor residents is enrolled in school, creating the atmosphere of a college town. Ann Arbor's entertainment scene revolves around the University of Michigan football games. However, there is a fantastic selection of contemporary food, restaurants, museums, parks, and cultural offerings outside of football season.
Despite the bitterly cold winters, Ann Arbor is quite livable because of its bike lanes, trails, and smart city planning.
Quality education is available in Ann Arbor from kindergarten through graduate school, and the city is home to some of the best music education initiatives in the nation.
While Ann Arbor's largest employer, the University of Michigan, employs about 30,000 people, IT and science occupations are also growing in demand. Toyota and Google's AdWords offices are in the city, and JSTOR and the Environmental Protection Agency offices provide further research options.
Ann Arbor is a terrific college town with a high student-to-resident ratio, exceptional livability, a college-town feel, and an astounding variety of employers.
Madison, Wisconsin
Madison is a stunning and energetic municipality developed around the University of Wisconsin-Madison, from its historic core on an isthmus between two lakes to rolling plains encircling the city. The UW-Madison Arboretum's 20+ miles of trails and thriving fishing, boating, and swimming communities enhance the outdoor appeal of the city.
Big business and entrepreneurship are common in this US city with one of the most educated populations (48.2% of individuals over 25 have a bachelor's degree). Google, Microsoft, Alliant Energy, Epic, and a plethora of other outstanding businesses are among the major employers.
Start on State Street, which connects UW with the state capital, to get a true sense of Madison. State Street, which is lined with shops, cafes, vibrant nightlife, and most importantly, locally owned and operated businesses, offers something for everyone with a Wisconsin flair.
Ithaca, New York
Cornell University and Ithaca College are in Ithaca, a town recognized for its natural beauty and ease of walking. Even though it's remote (4 hours from New York City and an hour from the closest large city), the harsh winters, and these conditions contribute to a special sense of community.
Most people in Ithaca are students throughout the academic year, thus there are a ton of local events and nightlife options focused on students.
Ithaca also has a surprisingly talented and diverse music culture for a town its size. Ithaca College's music program draws many talented students, and many of its alumni decide to remain in the city when they graduate.
Ames, Iowa
Iowa State University, numerous large employers, and a high standard of living for a small town may all be found in Ames.
Ames has consistently ranked among the best places to live by publications like CNN Money. It has a lot of significant employers, a 3.2% unemployment rate, and an average age of 23.8 (the population of 58,000+ includes 33,241 students).
Ames is a true college "town," with a small-town feel, significant employers, and active nightlife. As the first land-grant university in the country and the location of the first digital computer, the university itself is also nothing to be sniffed at.
Each year, schools and institutions compete fiercely for enrollment across the nation. When promoting themselves to prospective students, schools frequently highlight the accomplishments of their athletic departments, academic standings, or research credentials.
Educational institutions should make investments to enhance their campuses since prospective students think about the aesthetics and usability of campus when deciding which school to attend. If you are still perplexed about which college to go to, AdmissionSight can help.
We have assisted students to get into schools that best fit them for more than 10 years now. You may talk to AdmissionSight experts through an initial consultation to discuss this in detail.