Northeastern vs Bowdoin: Which College Is Right for You?
Choosing the perfect college can be a challenging task. With so many options available, it's essential to focus on the features that matter most to you. Northeastern and Bowdoin are two well-known colleges in the United States, each known for their unique characteristics. In this article, we will compare and contrast the differences between Northeastern vs Bowdoin to help you determine which institution is the right fit for you.
Location and Campus: Differences between Northeastern vs Bowdoin
The first significant difference between Northeastern and Bowdoin is their location. Northeastern University is situated in Boston, Massachusetts, while Bowdoin College is located in Brunswick, Maine. Both locations have their unique pro and cons. Northeastern's urban location allows students to experience city living, access to numerous career opportunities and excellent transportation facilities.
On the other hand, Bowdoin's campus is situated in a small town and offers a more rural experience with an intimate community and natural surroundings, where students can enjoy activities such as hiking and skiing.
Another difference between Northeastern and Bowdoin is the size of their campuses. Northeastern's campus is spread over 73 acres, with numerous buildings and facilities, while Bowdoin's campus is much smaller, covering only 215 acres. This means that Northeastern has a more bustling and diverse campus, with a wider range of activities and events, while Bowdoin's campus is more intimate and easier to navigate.
Additionally, the academic programs offered at Northeastern and Bowdoin differ in their focus. Northeastern is known for its co-op program, which allows students to gain real-world experience in their field of study through internships and work placements. Bowdoin, on the other hand, has a strong liberal arts curriculum, with a focus on critical thinking and interdisciplinary learning. Both approaches have their benefits, and it ultimately depends on the individual student's goals and interests.
Academics: Curriculum comparison between Northeastern vs Bowdoin
When it comes to academics, both colleges have exceptional curriculums and many opportunities for intellectual growth. Northeastern has a more extensive offering of courses, including technical and professional degrees in finance, engineering, and business.
Bowdoin, on the other hand, offers a diverse liberal arts education in humanities, sciences, and social sciences, with a focus on critical thinking, writing, and communication skills.
Furthermore, Northeastern has a strong emphasis on experiential learning, with co-op programs that allow students to gain real-world experience in their field of study. This hands-on approach to learning is highly valued by employers and can give Northeastern graduates an edge in the job market.
On the other hand, Bowdoin has a smaller student-to-faculty ratio, which allows for more personalized attention and mentorship from professors. This can be especially beneficial for students interested in pursuing research or graduate studies, as they can work closely with faculty members who are experts in their field.
Campus Life: Social activities at Northeastern vs Bowdoin
Student life on the campus varies across these two colleges. Northeastern is the more prominent institution, with a large and diverse student body of over 20,000 undergraduate and graduate students from different parts of the globe. As a consequence of its location, Northeastern offers a broader range of social activities, such as attending concerts, cultural events, and sports games.
At Bowdoin, the student population is much smaller, with approximately 1900 students enrolled. With this smaller size, Bowdoin students enjoy a more intimate and close-knit community, where it is easier for students to develop relationships with faculty and peers.
However, despite the difference in size, both Northeastern and Bowdoin offer a variety of student organizations and clubs that cater to different interests and hobbies. Northeastern has over 300 student organizations, including academic clubs, cultural groups, and recreational clubs.
Bowdoin also has a diverse range of student organizations, with over 100 clubs that focus on community service, arts and culture, and sports. Both colleges also have active Greek life communities, with fraternities and sororities that provide opportunities for socializing and community service.
Student Body: Demographics and Diversity at Northeastern vs Bowdoin
Another area where these two institutions differ is around their student body demographics. Northeastern, with its large student body size, is known for its diverse population and welcomes students from all walks of life.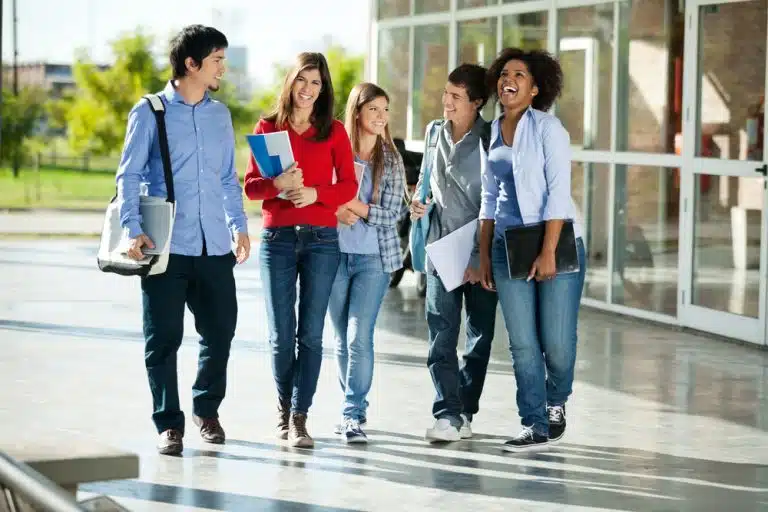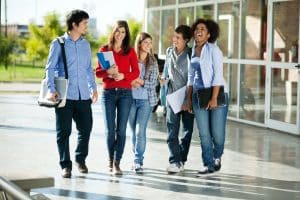 Bowdoin, on the other hand, is more selective and has a reputation for accepting students primarily from affluent backgrounds. Despite this, Bowdoin prides itself on creating a diverse and inclusive community and is known to work actively towards meeting the needs of students of different socio-economic backgrounds and ethnic groups.
At Northeastern, international students make up a significant portion of the student body, with over 14% of the undergraduate population coming from outside the United States. This adds to the cultural diversity of the campus and provides opportunities for students to learn about different cultures and perspectives. Bowdoin, on the other hand, has a smaller international student population, with only 7% of undergraduates coming from outside the US.
In terms of gender diversity, both Northeastern and Bowdoin have a fairly balanced student body, with women making up slightly more than half of the undergraduate population. However, Northeastern has a higher percentage of women in STEM fields, with over 40% of women enrolled in science, technology, engineering, and math programs, compared to Bowdoin's 30%. This reflects Northeastern's commitment to promoting gender diversity in traditionally male-dominated fields.
Housing Options: Dorms, apartments, and residences at Northeastern vs Bowdoin
Although both institutions provide on-campus housing solutions, Northeastern offers significantly different housing options to Bowdoin. Northeastern offers a comprehensive range of different housing types to accommodate its larger student body, with many housing options located off-campus, including apartments, dorms, and even condos.
At Bowdoin, most students live in traditional dormitories on campus. However, Bowdoin does provide off-campus housing options such as student rentals off-campus.
It is important to note that the cost of housing at both institutions varies greatly. Northeastern's off-campus housing options tend to be more expensive than Bowdoin's off-campus options, but Bowdoin's on-campus dormitories can be more expensive than Northeastern's on-campus options.
Additionally, Northeastern offers a unique program called the "Living Learning Communities," which allows students to live with others who share similar academic interests or career goals. Bowdoin does not offer a similar program but does have themed housing options such as substance-free housing and language immersion housing.
Athletics: Sports programs at Northeastern vs Bowdoin
If you're interested in athletics, both institutions provide robust programs to choose from. Northeastern has a Division I athletic program, with outstanding teams in sports such as basketball, hockey, soccer, swimming, and more.
Bowdoin is a member of the New England Small College Athletic Conference (NESCAC), known for its NCAA Division III athletic teams with many accomplishments in rowing, lacrosse, soccer, and tennis.
One notable difference between the two institutions is the size of their athletic programs. Northeastern has a larger number of sports teams, with over 18 varsity sports available for students to participate in. Bowdoin, on the other hand, has a smaller athletic program with around 30% of the student body participating in varsity sports.
Another difference is the level of competition. While Northeastern competes at the Division I level, Bowdoin's NESCAC conference is known for its highly competitive Division III teams. This means that while Northeastern's athletes may have more exposure and opportunities to compete at a higher level, Bowdoin's athletes may have a better chance of winning championships and achieving success at the Division III level.
Faculty and Staff: Teaching style and faculty expertise at Northeastern vs Bowdoin
The quality of teaching is essential when choosing a college. Both institutions have highly qualified faculty members and challenging curriculum requirements. Northeastern focuses more on experiential learning opportunities and some larger classes with research opportunities, while
Bowdoin emphasizes small class sizes with close student-faculty relationships. Both institutions offer opportunities for students to work closely with faculty and gain mentorship in their chosen fields.
At Northeastern, faculty members are encouraged to incorporate real-world experiences into their teaching. This means that students have the opportunity to work on projects with local businesses and organizations, gaining valuable skills and connections in their field of study. Bowdoin, on the other hand, places a strong emphasis on interdisciplinary learning, encouraging students to explore multiple fields of study and make connections between them.
Both institutions also have faculty members who are experts in their fields. Northeastern has a strong focus on STEM fields, with faculty members who are leaders in areas such as engineering, computer science, and biotechnology. Bowdoin has a strong liberal arts program, with faculty members who are experts in areas such as literature, history, and philosophy.
Regardless of the field of study, students at both institutions can expect to learn from faculty members who are passionate about their subject matter and dedicated to helping students succeed.
Job Prospects: Employment opportunities for graduates of Northeastern vs Bowdoin
Different colleges have varying job prospects and career development opportunities for their graduates. Northeastern's location in the heart of Boston exposes its graduates to numerous employment opportunities in different fields such as finance, science, engineering, technology, and more.
As a result, Northeastern's graduates tend to have excellent job prospects with high starting salaries. Bowdoin also has skilled faculty that helps graduates with their careers and life beyond graduation. Bowdoin graduates are known to take up various professional fields such as law, medicine, business, and intellectual work.
However, Northeastern's co-op program sets it apart from Bowdoin. Northeastern's co-op program allows students to gain real-world experience in their field of study, which gives them an edge in the job market. The co-op program also helps students build a professional network, which can be beneficial in finding employment after graduation.
On the other hand, Bowdoin's liberal arts education provides graduates with a well-rounded education that prepares them for a variety of careers. Bowdoin's graduates are known for their critical thinking, problem-solving, and communication skills, which are highly valued by employers in various industries.
Admissions Criteria: Comparing admission requirements for Northeastern vs Bowdoin
Admissions to these colleges can be highly competitive and somewhat different in their approach to recruitment. Northeastern, with a larger student body, has a more holistic approach to its admissions process with a testing-optional policy and portfolio review for some degrees.
On the other hand, Bowdoin has a more selective approach to admissions, based on academic excellence, extracurricular activities, and essays for admission.
Another factor to consider when comparing admissions criteria for Northeastern and Bowdoin is the importance placed on standardized test scores. While Northeastern has a testing-optional policy, Bowdoin still requires applicants to submit SAT or ACT scores.
However, Bowdoin does allow for self-reported test scores, which can be beneficial for students who may not have had the opportunity to take the tests multiple times.
It's also worth noting that both Northeastern and Bowdoin value diversity and inclusivity in their student bodies. Northeastern has a strong commitment to admitting students from underrepresented backgrounds, and Bowdoin has a need-blind admissions policy, meaning that a student's financial need is not taken into account during the admissions process. Both colleges also offer resources and support for first-generation college students and students from low-income families.
Financial Aid Options: Northeastern vs Bowdoin
Finances are critical when choosing a college. Northeastern and Bowdoin both offer extensive financial aid options in the form of scholarships, loans, grants, and work-study programs.
Northeastern attracts students who require a considerable amount of financial help; they have different institutional grants, scholarships, and loans available for students. Bowdoin has a need-based approach to its financial aid offerings, with many scholarships and no student loans policy to reduce debt post-graduation.
It is important to note that financial aid options may vary depending on the student's academic performance, family income, and other factors. Northeastern offers merit-based scholarships for high-achieving students, while Bowdoin has a policy of meeting 100% of demonstrated financial need for all admitted students.
Both colleges also have work-study programs that allow students to earn money while gaining valuable work experience.
Additionally, students should be aware of the application process and deadlines for financial aid. Northeastern requires the CSS Profile and FAFSA to be submitted by February 1st, while Bowdoin has a deadline of January 15th for the CSS Profile and February 1st for the FAFSA. It is important for students to submit their applications on time to ensure they receive the maximum amount of financial aid available to them.
Campus Safety: Northeastern vs Bowdoin
Campus safety measures are critical for all institutions, and both Northeastern and Bowdoin prioritize student safety. Northeastern has on-campus security services, blue light emergency systems across the campus, and live video monitoring in all residential halls. Bowdoin offers 24/7 safety services, patrols, surveillance, and emergency response for its students.
In addition to these security measures, both Northeastern and Bowdoin also offer safety education programs for their students. These programs include self-defense classes, safety workshops, and online resources to help students stay informed and prepared in case of an emergency. By providing both physical security measures and education, these institutions are committed to creating a safe and secure environment for their students.
Alumni Network – Comparing how strong the alumni network is for both of these colleges
The strength of the alumni network can be an excellent indicator of a college's reputation and opportunities for career growth. Northeastern alumni are known to have professional jobs at many organizations worldwide, and the alumni network has reached international standards, making it easier for graduates, professors, and alumni to stay in touch, creating a strong network for new professionals.
Bowdoin's alumni network has high participation in its annual fund campaign, which helps the institution grow and improve. Both institutions have active alumni associations worldwide, offering networking opportunities and mentorship to current students and recent graduates.
However, there are some differences in the way the alumni networks operate for these two colleges. Northeastern's alumni network is more focused on career development and job opportunities, with regular job fairs and networking events organized by the university.
On the other hand, Bowdoin's alumni network is more focused on community building and social events, with regular reunions and gatherings organized by the alumni association. This difference in focus reflects the different priorities of the two institutions and the needs of their alumni.
Research Opportunities: Northeastern vs Bowdoin
Research plays a critical role in a student's academic journey and future career development. Northeastern offers numerous cutting-edge research opportunities, thanks to its academic focus on applied fields of study. Bowdoin has a focus on liberal arts education but still has numerous research opportunities with faculty in departments such as science, humanities, and social sciences.
At Northeastern, students have access to state-of-the-art research facilities and equipment, including the Interdisciplinary Science and Engineering Complex (ISEC) and the George J. Kostas Research Institute for Homeland Security. These facilities provide students with hands-on experience in conducting research and developing solutions to real-world problems.
Bowdoin, on the other hand, offers a more personalized approach to research, with small class sizes and close collaboration between students and faculty. This allows students to work closely with their professors and gain valuable mentorship and guidance throughout the research process.
Study Abroad Programs: Northeastern vs Bowdoin
Studying abroad is an excellent opportunity for students to broaden their perspectives and gain invaluable life experiences. Northeastern, with its large student body, offers extensive study abroad options worldwide and different study programs that integrate studies with co-op opportunities.
On the other hand, Bowdoin College has smaller numbers of study-abroad opportunities and sends students to more than 50 programs in various nations worldwide. They offer an excellent cross-cultural immersion experience.
It is important for students to research and compare study abroad programs offered by different colleges before making a decision. Some programs may offer more language immersion opportunities, while others may focus on specific academic fields.
Additionally, students should consider the cost of the program, as well as any scholarships or financial aid available. It is also important to plan ahead and ensure that credits earned abroad will transfer back to their home institution.
Co-curricular activities: Northeastern vs Bowdoin
Co-curricular activities have long been an essential part of the college experience. Northeastern provides an extensive list of clubs and organizations, including academic and professional societies, sports teams, and cultural, and recreational activities.
Bowdoin also offers various clubs and organizations to its students, including club sports, music, drama, and community service activities. Bowdoin is known for focusing on volunteerism and community service in student activities.
However, there are some differences in the co-curricular activities offered by these colleges. Northeastern has a strong focus on entrepreneurship and innovation, with many clubs and organizations dedicated to startups and business ventures.
On the other hand, Bowdoin places a greater emphasis on the arts, with a wide range of music and theater groups available to students. Additionally, Northeastern has a larger number of sports teams and intramural leagues, while Bowdoin's club sports program is more extensive.
Career Services: Northeastern vs Bowdoin
Excellent career services can enhance a college experience while providing students with various aids like mock interviews, internships, and habilitating interview skills. Northeastern's Center for Career Development offers different services such as career advising, workshops, and job-search coaching for students, graduates, and alumni.
Bowdoin's Center for Career Exploration and Development offers similar services but with a more personal focus, tending towards one-on-one coaching sessions and advising students with their post-graduate studies or opportunities for internships.
Class Sizes: Northeastern vs Bowdoin
Small class sizes are beneficial and essential in promoting student-faculty interactions, discussions, and an overall effective learning process. At Northeastern, class sizes can vary from lectures with over 300 students to small classes with less than 20 students. Bowdoin only has small class sizes, averaging about fifteen students per class. The low student-to-faculty ratio ensures personalized interactions between students and faculty for quality education experiences.
There you have it, the key differences between Northeastern and Bowdoin. When it comes to your decision, there's no right or wrong answer. It ultimately depends on your unique interests, goals, background, preferences, and where you wish to see your career path set. Utilize this comparison and find what fits you best.
If you're set on getting into a world-class college but aren't sure how to make it happen, we can help! AdmissionSight is a leading college entrance expert with over a decade of experience helping students just like you get into the schools of their dreams.
At AdmissionSight, we focus on offering a wide range of services, all aimed at helping students perfect their applications to catch the attention of admissions officers. Contact us today to schedule a free consultation to learn more about what we offer.