Northeastern vs Colgate: A Comprehensive Look
When it comes to choosing a college or university, there are many factors to consider. Among the most important are location, academic offerings, campus culture, and alumni networks. In this article, we will take a comprehensive look at Northeastern vs Colgate, two schools that are often compared to one another.
We will examine their similarities and differences in everything from their founding histories to the success of their alumni. By the end of this article, you will have a better understanding of what makes Northeastern University and Colgate University unique and which one might be the best fit for you.
Location and Campus: How do the Two Universities Compare?
Northeastern University is located in the heart of Boston, Massachusetts – a bustling city that is home to numerous cultural institutions, a thriving arts scene, and some of the most prestigious companies in the world. Colgate University, on the other hand, is situated in rural Hamilton, New York, with a picturesque campus that boasts stunning views of the surrounding countryside. While Northeastern students have easy access to all that the city has to offer, Colgate students have the beauty of nature at their doorstep.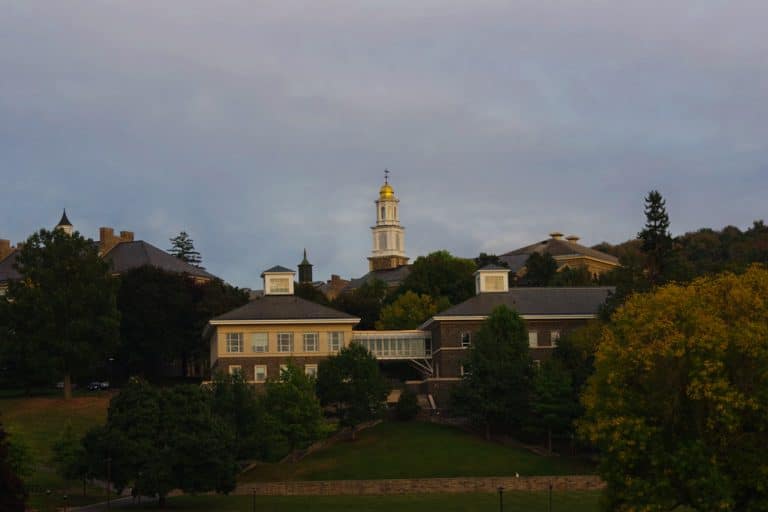 Both universities have a range of campus facilities, including modern classrooms and labs, libraries, athletic centers, and student housing. Northeastern University is well-known for its cutting-edge research centers, including the George J. Kostas Research Institute for Homeland Security and the Northeastern University Center for Drug Discovery and Innovation. Colgate University also offers state-of-the-art technology centers and research opportunities in fields ranging from environmental science to neuroscience.
Despite their differences in location, both universities offer unique opportunities for students. Northeastern's urban setting provides students with access to internships and job opportunities at some of the world's leading companies, while Colgate's rural location allows for a tight-knit community and opportunities for outdoor activities such as hiking and skiing. Additionally, both universities have a strong commitment to community service and offer numerous opportunities for students to get involved in volunteer work and service projects.
History and Legacy: Northeastern vs Colgate
Northeastern University was founded in 1898 as the Evening Institute for Younger Men. Over the years, the school has grown to become a nationally-ranked research university with a global reputation for innovation and entrepreneurship. Colgate University was founded in 1819 as a Baptist seminary and became a non-denominational college in 1928. The university has a proud tradition of academic excellence and has produced numerous distinguished alumni, including Nobel Prize winners and Pulitzer Prize winners.
Despite their different founding histories, Northeastern and Colgate share a commitment to providing students with a well-rounded education that prepares them for success in their chosen fields. Northeastern's co-op program, which allows students to gain real-world experience through internships and other work opportunities, is a hallmark of the university's approach to education. Colgate's liberal arts curriculum emphasizes critical thinking, writing, and communication skills, and encourages students to explore a wide range of academic disciplines.
Both universities have also made significant contributions to their respective communities and beyond. Northeastern's research has led to breakthroughs in fields such as health sciences, cybersecurity, and sustainability. Colgate has a strong tradition of community service and engagement, and its students and faculty have worked on projects around the world to promote social justice and environmental sustainability.
Academics: Curriculum, Faculty, and Student Population
Both Northeastern University and Colgate University offer rigorous academic programs with a wide range of majors and minors to choose from. Northeastern is particularly well-known for its co-op program, which allows students to gain real-world work experience while earning their degrees. Colgate, on the other hand, offers a distinctive liberal arts curriculum that emphasizes critical thinking, communication, and the development of well-rounded individuals.
Faculty at both universities are comprised of experts in their fields, many of whom have extensive experience in industry or government. Students at Northeastern and Colgate come from diverse backgrounds and hail from all corners of the globe. This diversity of perspective enriches the classroom experience and prepares students to become global citizens.
In addition to their academic programs, both Northeastern and Colgate offer a variety of resources to support student success. Northeastern has a robust network of career services, including resume workshops, job fairs, and alumni connections. Colgate offers a comprehensive advising program, where students work closely with faculty to develop personalized academic plans and explore career paths.
Furthermore, both universities prioritize undergraduate research opportunities. Northeastern has a strong focus on experiential learning, with many students participating in research projects alongside faculty members. Colgate offers a summer research program, where students can work on independent projects and present their findings at a campus-wide symposium.
Admissions: What are the Admission Requirements for Northeastern vs Colgate?
Admission to Northeastern University and Colgate University is highly competitive. Both schools require strong academic records, standardized test scores, and well-written essays. Northeastern also considers extracurricular activities and work experience, while Colgate takes a holistic approach to admissions, considering factors such as community involvement, leadership potential, and personal character. In recent years, both schools have seen record numbers of applicants, making the admissions process more competitive than ever.
It is important to note that both Northeastern and Colgate have different application deadlines and requirements. Northeastern offers Early Decision and Early Action options, while Colgate only offers Early Decision.
Additionally, Northeastern requires applicants to submit a CSS Profile for financial aid consideration, while Colgate only requires the FAFSA. It is important for prospective students to carefully review each school's admissions website and deadlines to ensure they are submitting a complete and competitive application.
Student Life: A Comparison of Campus Activities, Clubs, and Social Events
Both Northeastern University and Colgate University offer a wide range of campus activities, clubs, and social events. Northeastern is located in the heart of Boston, giving students easy access to a range of cultural and social opportunities.
Colgate, on the other hand, has a tight-knit community feel, with many traditions such as the annual ski weekend and the torchlight procession for graduating seniors. Additionally, both universities offer a range of athletics programs, including NCAA Division I sports at Northeastern.
One notable difference between the two universities is the size of their student bodies. Northeastern has a larger student population, with over 20,000 undergraduate and graduate students, while Colgate has a smaller student population of around 3,000. This can impact the types of campus activities and clubs offered, as larger universities may have more diverse options while smaller universities may have a more tight-knit community with more personalized opportunities.
Sports Programs: Northeastern vs Colgate
Speaking of athletics, Northeastern and Colgate both have top-ranked sports programs. Northeastern is a member of the Colonial Athletic Association and has won numerous championships in sports ranging from basketball to hockey.
Colgate is a member of the Patriot League and has a fierce rivalry with fellow New York school Syracuse University in lacrosse and other sports. Whether you're a student-athlete or a sports fan, both Northeastern and Colgate offer plenty of opportunities to get involved and show your school spirit.
In addition to their impressive athletic programs, both Northeastern and Colgate also prioritize the well-being and safety of their student-athletes. Both schools have state-of-the-art training facilities and medical staff to ensure that athletes receive the best care possible. Northeastern also offers a unique program called the "Husky Strong" initiative, which focuses on mental health and wellness for student-athletes.
Colgate has a similar program called "Raiders for Life," which emphasizes the importance of maintaining a healthy lifestyle both on and off the field. These programs demonstrate the commitment of both schools to not only athletic success but also the overall well-being of their students.
Alumni Network: How does the Alumni Network of Northeastern and Colgate Compare in Terms of Size, Reach, and Success?
One measure of a university's success is the strength of its alumni network. Both Northeastern and Colgate have loyal and successful alumni who are active in a variety of fields. Northeastern alumni hold leadership positions at companies ranging from General Electric to Google, while Colgate alumni have achieved success in fields such as law, medicine, and the arts. Both universities have active alumni associations that connect graduates with one another and with current students, providing invaluable networking and mentoring opportunities.
However, when it comes to the size and reach of its alumni networks, Northeastern has a clear advantage. With over 250,000 alumni worldwide, Northeastern's network is significantly larger than Colgate's, which has around 30,000 alumni. Northeastern's alumni are also spread across more than 170 countries, giving them a truly global reach.
In terms of success, both universities have produced notable alumni. However, Northeastern has a particularly strong track record in entrepreneurship. According to a 2019 report by PitchBook, Northeastern ranks 7th among all universities in terms of producing venture capital-backed entrepreneurs. This is a testament to the university's focus on experiential learning and its emphasis on innovation and entrepreneurship.
Career Services: A Comparison of the Career Services Offered by Northeastern and Colgate
Colleges and universities are increasingly focused on providing their students with the skills and resources they need to succeed in the workforce. Northeastern and Colgate are no exception. Both schools offer extensive career services, including job fairs, networking events, and individualized career counseling. Northeastern's co-op program provides students with valuable work experience and can jumpstart their careers, while Colgate's unique liberal arts education prepares graduates for a wide range of careers.
However, there are some differences in the career services offered by Northeastern and Colgate. Northeastern's co-op program allows students to gain up to 18 months of work experience before graduation, giving them a competitive edge in the job market.
On the other hand, Colgate's liberal arts education emphasizes critical thinking and problem-solving skills, which are highly valued by employers in a variety of industries. Additionally, Colgate offers a Career Services Advisory Network, which connects students with alumni mentors who can provide guidance and support throughout their job search.
Campus Safety: Which University has a Safer Environment for Students?
College safety is an issue that is at the forefront of many students' minds. Both Northeastern and Colgate take campus safety very seriously and have measures in place to ensure that students feel secure. Northeastern has its own Department of Public Safety and offers a range of services, including safety escorts and crime prevention programs. Colgate also has its own Campus Safety Office and provides students with emergency notification systems and safety education programs.
However, there are some differences between the two universities when it comes to campus safety. Northeastern is located in a more urban area, which can present certain safety challenges. As a result, the university has implemented additional safety measures, such as a network of security cameras and a mobile safety app that allows students to quickly report incidents and receive emergency alerts.
On the other hand, Colgate is situated in a more rural location, which may make some students feel more secure. The university also has a strong focus on community policing, with officers regularly engaging with students and faculty to build relationships and prevent crime.
Tuition Fees and Financial Aid: A Comparison of the Cost to Attend Northeastern vs Colgate
The cost of tuition and fees is one of the biggest factors that students and their families consider when choosing a college or university. Northeastern and Colgate are both private institutions with significant tuition costs. However, both universities offer financial aid packages to help make college more affordable. Northeastern's financial aid program is need-based and can cover up to 100% of tuition. Colgate also offers need-based financial aid, as well as merit scholarships for outstanding students.
In addition to financial aid, both Northeastern and Colgate offer various resources to help students manage the cost of attending college. Northeastern has a co-op program that allows students to gain work experience and earn money while still in school. Colgate offers work-study programs and encourages students to apply for outside scholarships to supplement their financial aid packages.
It's important to note that the cost of attending college goes beyond just tuition and fees. Students also need to consider the cost of living, including housing, food, and transportation. Northeastern and Colgate both offer on-campus housing options, but the cost of living in the surrounding areas may vary. It's important for students and their families to research and compare the total cost of attending each university before making a decision.
Conclusion: Summing up Similarities and Differences Between Northeastern vs Colgate
In conclusion, Northeastern and Colgate are two outstanding universities that offer their students distinctive academic programs, excellent campus resources, and paths to success in a variety of fields. Northeastern is located in the heart of Boston and offers unparalleled access to the city's cultural and business resources. Colgate is nestled in the scenic countryside of upstate New York and offers a tight-knit community feel that fosters deep connections among students and faculty.
Ultimately, the choice of which university to attend comes down to personal preference and fit. We hope that this article has provided you with a comprehensive look at Northeastern and Colgate and has helped you make an informed decision about your college or university education.
Want to learn more about comparing Northeastern with other top and well-known Universities and Colleges in the country? You've come to the right place. At AdmissionSight, we have over 10 years of experience guiding students through the competitive admissions process.
AdmissionSight can help you put your best foot forward when applying to college this fall. Contact us today for more information on our services.