Northwestern Letters of Recommendation
How Many Letters Of Recommendation Does Northwestern Require?
Recommendations provide other people a chance to highlight your strengths to the admissions committee. Applicants must be prepared to gather more than one letter as they complete applications because some institutions require more letters than others. How many letters of recommendation does Northwestern require? The school requests two Northwestern letters of recommendation from candidates
Northwestern University views recommendation letters as "essential" when making admissions decisions. Your high school counselor should write one letter. The person who can best speak to your whole high school curriculum and involvement within the setting of your high school may be your college counselor, guidance counselor, academic advisor, career center specialist, or another school official.
The second recommendation letter should come from a teacher who can speak to your skills as a learner in the classroom. This recommender should ideally be a teacher from one of your core subject areas, and they should be from your junior or senior year.
Northwestern accepts additional letters of recommendation if you have a reference who would like to submit one on your behalf. It is in your best advantage for each letter to reveal something fresh or unique about you.
All undergraduate applicants to the Bienen School of Music must submit a Bienen School Supplement in addition to their application for undergraduate admission. A required letter of recommendation from a music teacher must be included.
What Should Be In A Northwestern Recommendation Letter?
The finest people to write your letters of recommendation should be those who can speak to the spectrum of your skills and strengths. Someone in a position of authority who is familiar with you well should write your Northwestern letters of recommendation. You should not ask a friend or member of your family to give you a recommendation letter. Asking your teachers, coaches, supervisors, or administrators is an excellent idea. If you have volunteered, it would also be a good idea to ask the volunteer coordinator.
What should be in a Northwestern recommendation letter? Your counselor or a school representative is asked to provide details about your character traits and academic accomplishments on your counselor referral form. They are welcome to offer any further information they may have on your involvement and initiative in school.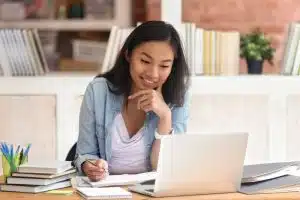 Meanwhile, honest evaluations of a student's academic achievement and intellectual promise should be included in teacher recommendations. They are primarily meant to represent the teacher's interactions with the student in the classroom, providing colleges an indication of the student's potential academic performance. The counselor's suggestion, which aims to give a more comprehensive picture of the student, serves a different purpose than these recommendations.
Here is a simple guideline as to what Northwestern letters of recommendation should be composed of:
A succinct description of how the letter writer is acquainted with the student.
An evaluation of the pupil's abilities, accomplishments, and growth.
Justifications for why the student should be selected for this college's admission.
A letter should be as descriptive and personal as possible. One of the first opportunities a college admissions committee will have to get to know the most intimate aspects of your character is through a college recommendation letter. It ought to make an enduring, favorable impact.
You are responsible for locating individuals to submit academic letters of recommendation. You can navigate the procedure with the aid of these hints:
Carefully read each of your college applications. Schools frequently request letters of recommendation from a particular person, such as a school counselor, a teacher of a core subject, or a teacher of a particular subject.
Ask your teachers, counselors, and family members for suggestions on the best person to draft your letters of recommendation.
Be careful to choose a teacher who knows you well, preferably from your junior year or from today. Colleges want to know who you are and how you are now, so avoid choosing teachers from years past.
The best teachers are those who are familiar with you outside of the classroom. Think about a teacher who handled a club you attended.
A lot about your abilities and character from a coach, employer, or club adviser can be uncovered. If more references are needed than what the college requires, ask your admissions officer if it is all right to submit them.
Above all, find someone who will be passionate about writing your letter. If you are unsure about asking someone, inquire as to whether he or she feels comfortable endorsing you. That will help you avoid writing letters that sound flimsy or forced.
Teachers should not feel under any obligation to write a lot of recommendations. It is in both their and the student's best interests if they reject to provide a recommendation if they feel uncomfortable doing so.
What Is the Deadline For Northwestern Recommendation Letters?
What is the deadline for Northwestern recommendation letters? You have the option of submitting your application Early Decision or Regular Decision if you are applying as a first-year student.
Early Decision refers to submitting your application sooner and hearing about your admissions status before other candidates. The following are the deadlines for submission of Northwestern letters of recommendation and other application materials:
Early Decision applicants must submit requirements on November 1st (by 11:59 PM applicant's local time).
Regular Decision applicants must submit requirements on January 2nd (by 11:59 PM applicant's local time).
Teachers are not paid for the time they spend preparing recommendation letters. Make things as simple as you can for teachers by adhering to the following general rules and assist them to avoid late submission of Northwestern letters of recommendation.
Give them plenty of time to complete the letter; it's best to give them notice a few months before the deadline.
Give them all the material they require to compose a convincing letter; a CV, transcript, or remembrance of an important event are all helpful.
Once it's written, be sure to express your gratitude; it's normal to provide a modest gesture of your appreciation, such as a gift card or something homemade.
What Are the Requirements To Get Into Northwestern?
There are two online applications that you can choose from when you apply to Northwestern. Either the Coalition Application or the Common Application are options. Whichever one you choose to utilize is fine and the school does not favor one over the other. Now, let's further discuss "What are the requirements to get into Northwestern?"
For First-Year Applicants
Common Application or Apply Coalition with Scoir
Official secondary school transcripts and school reports
Counselor recommendation
At least one teacher recommendation
SAT or ACT results (OPTIONAL for 2022-23 cycle)
Only applicants whose first or primary language is not English or whose secondary education has not been in English are required to provide official proof of English language ability.
Exams for English proficiency accepted
Duolingo English Test (DET)
IELTS, including IELTS Indicator
TOEFL iBT, including TOEFL iBT Special Home Edition but not TOEFL ITP Plus for China Solution
A $75 non-refundable application fee or a fee waiver
Mid-year transcript
Early Decision Agreement (ONLY for Early Decision applicants)
Supplement materials (for specific programs)
Standardized Test Scores
For the 2022–2023 cycle, first-year and transfer applicants at Northwestern will not be required to take the test.
There is no preference for either test if students decide to take the SAT or ACT, and they will review a "superscore" for both exams.
This implies that for students who take the SAT or ACT more than once, the system will average the best results from each section across all test dates to create a "superscore" that will replace the best result from a single sitting in the database. Although it is not required, applicants are welcome to report their test results from all test dates.
ACT Score Reporting
For students who take the new ACT section examinations (available in September 2020), Northwestern will factor any individual section scores into your ACT superscore. To report an official superscore, you can use ACT's brand-new superscore reporting feature.
Self-Reporting SAT and/or ACT Scores
Students may self-report all SAT and ACT scores, but please do not calculate your own ACT superscore. Instead, provide your top ACT section scores and your highest composite scores from a single test date, and the system will calculate the ACT superscore. Before matriculation, accepted students who decide to enroll must present official SAT or ACT test results that attest to their highest self-reported section/composite scores.
Personal Essay
Writing essays is a fantastic way to express oneself and think creatively. Essays present an opportunity because they are one of the few components of your application that you have control over and are not reliant on past performance.
Essays from the Common Application or Coalition Application and the Northwestern Writing Supplement essay are required of all applicants to Northwestern. You can respond fully to each question thanks to the proposed word limit guideline, which also pushes you to write succinctly and clearly.
Students are asked to justify choosing Northwestern in the writing portion of the Northwestern Writing Supplement. This inquiry is meant to be open-ended. Although most of the essay's content should be related to your own interests or experiences, you may choose one or more areas of Northwestern to concentrate on in your writing.
Supplemental Materials
The materials listed above are only a partial list of what is needed for certain of Northwestern's programs.
Bienen School of Music
You must submit the Bienen School Supplement if you are applying to the Bienen School of Music. You'll deliver prescreening or portfolio materials for music. You should preferably include a letter of recommendation from your music instructor.
Integrated Science Program (ISP)
You must complete the online ISP application to apply to this program. Consider that "Admission to Northwestern is not a guarantee of admission to the ISP and the status of your ISP application will not affect your Northwestern general acceptance decision."
Mathematical Methods in the Social Sciences (MMSS)
You must fill out an additional online application for this program. These application processes are independent, just like the ISP. Calculus is a necessary component of a rigorous high school curriculum for admittance to this program.
School of Communication Applicants to the Music Theatre Certificate Program
You are urged to submit a Music Theatre Supplement if this program interests you. A personal video, a performance video, and any additional materials you choose to contribute must be submitted.
Activity Chart
You can describe any of the extracurricular activities you have participated in outside of your high school courses on the activity chart. You have the chance to be meticulous about the scope and depth of your involvement, in whatever capacity, on the activity chart.
Give as much information as you can, explaining any acronyms or abbreviations that could be specific to your school. Include details about any leadership roles you have held and any honors, awards, or distinctions you've gotten on the activities chart as well.
Since Northwestern has over 500 organizations and activities on campus, there is no "correct" response to the question of what kinds of activities the school would like to see. Rather, a wide variety of activities and the diversity of student interests are valued.
Special Situations
Use the Common Application's "Additional Information" section to offer any details that may have had a major impact on your academic performance or other activity.
You may include information about any unique or noteworthy events that may have interfered with or adversely impacted your academic achievement in high school in the "additional information" section of the Common Application.
Your high school counselor may also use the Counselor Recommendation to provide this information if he or she is aware of these situations. You can send a brief explanation by email to [email protected] if you have any extra circumstances that need to be taken into consideration.
Meetings and Interviews
An alumni interview is an optional step in the application process that is only occasionally offered. Your file will have input from alumni, but not attending an interview will not hurt your chances of getting accepted. Alumni interviews are mostly informative and provide applicants the chance to ask questions to previous Northwestern students.
What Does Northwestern Look For In Applications?
When evaluating applications, Northwestern's undergraduate admissions staff consider the following three factors and a few inquiries developed by Northwestern that may aid in your consideration of "fit" and Northwestern.
Although not intended to be exhaustive, these questions reflect the kinds of things that go through the minds of the admissions officers as they read applications.:
Academic Growth and Intellectual Curiosity
What topics are you excited to explore? What kinds of questions drive you forward?
How have you shown initiative in learning more about the world around you?
How have you challenged yourself? Surprised yourself?
Involvement and Community
What role(s) have you played in the communities around you (e.g., family, school, religious, service organization)? What impact have you had? How have these communities shaped you?
What types of involvement have been the most meaningful for you? Why?
How do you envision yourself plugging into, learning from, and contributing to Northwestern's community?
Personal Characteristics
What are you proud of? What makes you awesome?
What kind of friends do you hope to make in college? What kind of friend would you be?
How do you overcome challenges or manage disagreements?
What gives you joy?
In the words of Northwestern's admissions office, "Northwestern evaluates applications holistically. The institution seeks to develop a contextual understanding of a student based on different sources of information."
The rigor of secondary school records, class rank, GPA, and standardized test scores are four characteristics that Northwestern University rates as being "extremely essential" to its admissions process (test-optional through at least 2023). Northwestern letters of recommendation, essays, extracurricular activities, character/personal characteristics, and talent/ability are the additional five factors that are deemed "essential." A possible alumni interview, first-generation status, alumni ties or legacy, racial/ethnic status, volunteer activity, paid job, and the degree of an applicant's interest in Northwestern are all "considered" factors.
Being a top-ranked national university and having a low acceptance percentage make applying to Northwestern frightening. However, if you put enough thought and effort into your application, you might allow yourself to stand out from the competition.
You should feel empowered to take the necessary steps to give yourself the best chance of acceptance now that you are more knowledgeable about how to get into Northwestern. Keep in mind that each component of your application is crucial. Take the time to ensure that every component is of the highest caliber, most specifically your Northwestern letters of recommendation.
If you need further assistance in your application to Northwestern, feel free to contact AdmissionSight. Being one of the leading admissions counseling companies in the US, AdmissionSight has programs and services that could help college aspirants get into their top-choice schools. Book an initial consultation today to start your college preparations.