NYU vs Northeastern: A Comprehensive Look
Deciding where to attend college can be a daunting task, with many factors to consider. Two universities that often come up in comparison are New York University (NYU) vs Northeastern University. In this article, we will provide a comprehensive comparison of the two universities to help you make an informed decision.
Location and Campus
One of the most important factors to consider when choosing a university is the location and campus. Both NYU and Northeastern are located in urban areas, with NYU situated in the bustling city of New York and Northeastern located in Boston.
NYU has a sprawling campus scattered throughout the streets of Greenwich Village, with some buildings even located in Brooklyn and downtown Manhattan. This can provide a unique experience for students, as they get to be part of the vibrant city life but still have their own space on campus.
On the other hand, Northeastern's campus is more centralized, with most buildings in close proximity to each other. The campus boasts beautiful green spaces and is located in the heart of Boston's student community.
It's worth noting that both universities have easy access to public transportation, making it convenient for students to explore the surrounding areas. NYU is located near several subway lines, while Northeastern is situated near multiple bus and subway stops. This allows students to easily access internships, job opportunities, and cultural events in the city.
Academics and Programs
When it comes to academics and programs, both NYU and Northeastern offer a wide variety of options for students. NYU is known for its strong arts, humanities, and social sciences programs, as well as its highly-regarded business school. Northeastern, however, is known for its engineering, healthcare, and social sciences programs, as well as its co-op program that allows students to gain hands-on experience in their field of study.
Both universities have a strong focus on interdisciplinary studies, allowing students to explore a variety of subjects and tailor their education to their interests.
In addition to their traditional academic programs, both NYU and Northeastern offer a range of unique and innovative programs. NYU's Tisch School of the Arts is one of the top performing arts schools in the world, offering programs in film, theater, and television. Northeastern's Global Experience Office provides students with opportunities to study abroad, participate in international co-ops, and engage in service-learning projects around the world.
Furthermore, both universities have a strong commitment to research and innovation. NYU's research centers focus on topics such as neuroscience, urbanization, and cybersecurity, while Northeastern's research centers specialize in areas such as health informatics, robotics, and sustainability.
Admission Process
Applying to college can be a stressful experience, but understanding the admission process can help ease some of the pressure. Both NYU and Northeastern have competitive admission rates, with NYU's acceptance rate hovering around 16% and Northeastern's around 18%.
Both universities require standardized test scores, transcripts, essays, and letters of recommendation in their application process. NYU also offers an Early Decision option for students who have their heart set on attending the university.
It is important to note that both NYU and Northeastern also consider extracurricular activities and community involvement in their admission decisions. Students who have demonstrated leadership skills, volunteer work, or unique talents may have an advantage in the application process. Additionally, both universities encourage prospective students to visit their campuses and attend information sessions to learn more about the school and its programs.
NYU vs Northeastern: Student Life
Another important aspect to consider when comparing universities is the student life. Both NYU and Northeastern offer a variety of extracurricular activities, clubs, and events for students to participate in.
NYU has over 300 student organizations on campus, ranging from academic clubs to cultural groups to performance organizations. Northeastern also has a large number of student organizations, with a strong focus on community service and leadership.
In addition to student organizations, both NYU and Northeastern have a vibrant social scene. NYU is located in the heart of Greenwich Village, a neighborhood known for its nightlife and entertainment options. Students can easily explore the city and take advantage of all that New York has to offer. Northeastern is located in Boston, a city with a rich history and culture. Students can enjoy the city's museums, sports teams, and music venues.
Finally, both universities offer resources to support students' mental and physical health. NYU has a wellness center that provides counseling, health services, and wellness programs. Northeastern has a comprehensive health and wellness program that includes a fitness center, nutrition counseling, and mental health services.
NYU vs Northeastern: Faculty and Resources
The faculty and resources at a university can greatly impact a student's education and overall experience. NYU boasts a highly respected faculty, with notable professors in a variety of fields. The university also has strong connections to industry professionals and leaders, providing students with opportunities for networking and career development.
Northeastern also has a strong faculty, with many professors holding advanced degrees and conducting cutting-edge research. The university offers a variety of resources for students, including state-of-the-art facilities and a career center that helps students find internships and job opportunities.
In addition to the faculty and resources, the location of a university can also play a significant role in a student's experience. NYU is located in the heart of New York City, providing students with access to countless cultural and professional opportunities. Northeastern, on the other hand, is located in Boston, a city known for its strong academic and research institutions.
Both universities also offer a diverse range of extracurricular activities and student organizations. NYU has over 300 student clubs and organizations, ranging from cultural groups to academic societies. Northeastern has over 400 student organizations, including a strong focus on community service and social justice initiatives.
Alumni Network
The alumni network of a university can be a valuable resource for students, providing opportunities for mentorship, networking, and career advancement. NYU has a large and active alumni network, with notable alumni including Nobel Prize winners, famous actors, and business leaders.
Northeastern also has a strong alumni network, with graduates working in various industries throughout the world. The university offers opportunities for students to connect with alumni in their field through networking events and online resources.
Another university with a robust alumni network is Stanford University. The university's alumni network is known for its strong connections in the tech industry, with many graduates going on to work for companies such as Google, Apple, and Facebook. Stanford also offers mentorship programs and career resources for students looking to connect with alumni in their field.
Additionally, the University of Michigan has a vast alumni network, with over 500,000 graduates worldwide. The university's alumni association offers various programs and events, including career fairs and networking opportunities, to help students and alumni connect and advance in their careers.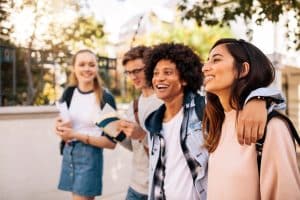 NYU vs Northeastern: Tuition Fees and Financial Aid
The cost of college can be a significant barrier for many students, so understanding tuition fees and financial aid options is essential. Both NYU and Northeastern are private universities with high tuition fees, but both also offer significant financial aid packages to eligible students.
NYU offers both need-based and merit-based financial aid, as well as scholarships and grants. Northeastern also offers a variety of financial aid options, including need-based aid, scholarships, and work-study programs.
It is important to note that tuition fees at both NYU and Northeastern can vary depending on the program of study. For example, certain programs such as engineering or business may have higher tuition fees than others. It is important for students to research the specific tuition fees for their desired program before applying.
In addition to financial aid, both NYU and Northeastern offer payment plans to help students manage the cost of tuition. These plans allow students to pay their tuition in installments throughout the academic year, rather than in one lump sum. This can be especially helpful for students who may not qualify for financial aid but still need assistance with managing the cost of tuition.
Job Prospects
One of the ultimate goals of attending college is to secure a job after graduation. Both NYU and Northeastern have strong career centers that help students with resume building, interview skills, and job search strategies.
NYU's location in New York City provides students with a wealth of job opportunities, particularly in the industries of finance, media, and entertainment. Northeastern's co-op program allows students to gain valuable work experience in their field of study, which can greatly benefit their job prospects after graduation.
Additionally, both NYU and Northeastern have strong alumni networks that can help students connect with potential employers. These networks provide students with access to job postings, career advice, and networking events.
Furthermore, both universities offer resources for entrepreneurship and innovation. NYU's Leslie eLab provides students with mentorship, workshops, and funding opportunities to start their own businesses. Northeastern's IDEA program offers similar resources, as well as a co-working space for student entrepreneurs.
NYU vs Northeastern: Campus Safety
Campus safety is an important factor to consider when choosing a university. Both NYU and Northeastern have dedicated campus police departments and safety measures in place to ensure the well-being of their students.
NYU's campus is located in a relatively safe area of New York City, but students are still urged to take precautions when out and about in the city. Northeastern has a strong safety presence on campus, with security guards patrolling the grounds and well-lit pathways throughout the campus.
In addition to the safety measures provided by the universities, students can also take advantage of safety resources such as self-defense classes and emergency call boxes located throughout the campuses. NYU offers a free self-defense class for students, while Northeastern has a campus safety app that allows students to quickly and easily report any safety concerns.
It's important for students to also be aware of their surroundings and to trust their instincts. If a situation feels unsafe, it's always better to err on the side of caution and seek help from campus security or local law enforcement.
Diversity and Inclusion
Creating a welcoming and inclusive environment for all students is essential for a university. NYU has a strong commitment to diversity and inclusivity, with initiatives in place to promote equity and social justice. The university also has a centralized Office of Global Inclusion, Diversity, and Strategic Innovation which houses several centers focused on specific aspects of diversity.
Northeastern also strives for a diverse and inclusive campus, with a dedicated Office of Diversity and Inclusion. The university has established several programs and initiatives to promote diversity, including a Social Justice Resource Center and a Queer Student Center.
Furthermore, both NYU and Northeastern have implemented policies to ensure that their faculty and staff reflect the diversity of their student body. This includes actively recruiting and hiring individuals from underrepresented groups and providing training on cultural competency and unconscious bias. By prioritizing diversity and inclusion at all levels, these universities are creating a more equitable and welcoming environment for all members of their community.
Student Satisfaction
Ultimately, the happiness and satisfaction of students are key indicators of a university's success. Both NYU and Northeastern have high rates of student satisfaction, with students praising the universities for their challenging academics, strong community, and plethora of opportunities.
At NYU, students have access to a wide range of resources to support their academic and personal growth. The university offers a comprehensive advising program, career services, and a variety of clubs and organizations to help students connect with like-minded peers. Additionally, NYU has a strong commitment to diversity and inclusion, with initiatives aimed at creating a welcoming and supportive environment for all students.
Similarly, Northeastern has a reputation for providing students with a well-rounded education that prepares them for success in their chosen fields. The university's co-op program allows students to gain real-world experience in their industries of interest, while its global network of campuses provides opportunities for international study and research. Northeastern also places a strong emphasis on community service and civic engagement, encouraging students to use their skills and knowledge to make a positive impact on the world.
NYU vs Northeastern: Research Opportunities
Research opportunities provide students with valuable experience and the chance to contribute to new discoveries and innovations. Both NYU and Northeastern offer many opportunities for undergraduate and graduate students to engage in research alongside esteemed faculty members and industry leaders.
These research opportunities cover a wide range of fields, including but not limited to, science, technology, engineering, mathematics, social sciences, and humanities. Students can work on projects related to climate change, artificial intelligence, public health, and more. In addition to gaining hands-on experience, students also have the opportunity to network with professionals in their field and potentially have their research published or presented at conferences.
NYU vs Northeastern: Study Abroad Programs
Study abroad programs allow students to gain international experience and cross-cultural skills, preparing them for the global workforce. NYU offers study abroad programs in over 50 countries, with exclusive NYU study centers in select locations. Northeastern also offers many study abroad opportunities through partner programs and co-op placements in various countries.
Participating in a study abroad program can also enhance a student's language skills and provide opportunities for personal growth and self-discovery. Students can choose from a variety of programs, ranging from short-term summer programs to full-year immersion experiences. In addition to academic coursework, many programs offer cultural activities and excursions to further enrich the experience. Studying abroad can be a life-changing experience that opens doors to new perspectives and opportunities.
NYU vs Northeastern: Campus Housing
Campus housing is an important factor for many students, as it provides a home away from home and a strong sense of community. NYU offers a variety of housing options, including traditional dormitories, apartment-style living, and specialty housing for students with certain interests or identities. Northeastern offers on-campus housing for all four years of undergraduate studies as well as graduate students, with options for apartment-style living and suites to fit both single and double occupancy.
Living on campus can also provide students with easy access to campus resources and events. Many universities offer resident advisors and other support staff to help students adjust to college life and navigate any challenges they may face. Additionally, living on campus can save students time and money on transportation, as they are already located on or near campus.
However, it is important to note that living on campus may not be the best fit for every student. Some students may prefer to live off-campus in order to have more independence and privacy. Others may find that the cost of on-campus housing is too high and choose to live elsewhere. It is important for students to weigh their options and consider their individual needs and preferences when deciding on housing.
Conclusion
When choosing a university, it is important to consider all of the factors that contribute to a well-rounded education and a fulfilling student experience. NYU and Northeastern have their unique offerings and unique challenges. Ultimately the choice comes down to what suits your interests, needs, and aspirations best. We hope this comprehensive comparison has provided you with the information you need to make an informed decision.
It is also important to consider the location of the university and the opportunities it provides for internships, networking, and career development. Both NYU and Northeastern are located in cities with thriving industries and job markets, which can be advantageous for students seeking practical experience and professional connections.
Furthermore, it is worth considering the campus culture and community at each university. NYU and Northeastern have different student populations and campus environments, which can greatly impact your social and academic experiences. It is important to visit each campus and talk to current students to get a sense of the community and whether it aligns with your values and interests.
How AdmissionSight Can Help You With College Admissions
AdmissionSight is a college consulting firm that provides personalized assistance to students throughout the college admissions process. Here are some ways that AdmissionSight can help you:
Admissions strategy: AdmissionSight can help you develop a strategic plan for your college application process. Our professional consultants can assist with identifying schools that are a good fit for your academic, extracurricular, and personal goals and help you plan and prioritize your application strategy.
Application review: AdmissionSight can review your application and provide feedback on how to improve it. We can offer suggestions on making your application stand out and highlighting your strengths and unique qualities.
Essay coaching: AdmissionSight can help you craft compelling essays that showcase your personality, goals, and achievements. We can guide you through the essay writing process and provide feedback on your drafts to help you refine your writing.
Interview preparation: AdmissionSight can provide interview coaching to help you feel confident and prepared for college interviews. Our experts can offer tips on how to present yourself professionally and how to answer common interview questions.
Extracurricular planning: AdmissionSight can help you plan and develop your extracurricular activities to make them more impactful and meaningful. We can suggest activities that align with your interests and goals and provide guidance on demonstrating your leadership and initiative.
Overall, AdmissionSight can provide valuable guidance and support throughout the college admissions process to help you maximize your chances of getting accepted into the college of your choice.
With a high success rate of over 75%, we have built a strong network in the past decade. Book an initial consultation today, free of charge!