NYU vs Wellesley: A Comprehensive Look
Choosing a university can be a daunting task, especially when considering prestigious institutions like New York University (NYU) and Wellesley College. Both universities offer a diverse educational experience, outstanding academic programs, and exceptional career prospects. However, the two universities differ in terms of campus setting, faculty, campus culture, and admission criteria. In this article, we'll compare NYU vs Wellesley to help you make the right choice.
Introduction: A Brief Overview of NYU and Wellesley
NYU, located in the heart of New York City, is a private research university renowned for its academic excellence in the arts, sciences, and humanities. The university is home to over 50,000 students from more than 130 countries and has a diverse faculty of world-class researchers and scholars.
Wellesley College, located in Wellesley, Massachusetts, is a liberal arts college exclusively for women. The college has a close-knit community of about 2,500 students and an impressive faculty-to-student ratio of 1:7. The college is internationally recognized for its academic excellence and research opportunities.
Despite their differences in location, size, and student body, both NYU and Wellesley share a commitment to providing their students with a well-rounded education that prepares them for success in their chosen fields. NYU's location in New York City offers students unparalleled access to internships, research opportunities, and cultural experiences, while Wellesley's small size and focus on undergraduate education allows for personalized attention and mentorship from faculty members.
Location: Comparing the Campus Settings of NYU and Wellesley
The location of a university can significantly influence your overall experience. NYU is situated in the heart of New York City, providing students with instant access to the city's vibrant cultural scene and numerous internship opportunities. In contrast, Wellesley's quiet suburban location offers a more intimate and peaceful environment conducive to focused learning.
However, the location of NYU can also be overwhelming for some students who prefer a quieter and more relaxed environment. The constant noise and hustle of the city can be distracting and make it difficult to focus on studies. On the other hand, Wellesley's location can be limiting for students who crave the excitement and diversity of a big city.
Another factor to consider is the cost of living in each location. New York City is notoriously expensive, and students attending NYU may struggle to afford housing and other living expenses. In contrast, Wellesley's suburban location may offer more affordable housing options and a lower cost of living overall.
Academic Offerings: Programs, Majors, and Minors at NYU and Wellesley
NYU offers an extensive array of academic programs, with over 230 undergraduate majors and programs across various disciplines, including the arts, sciences, and business. Additionally, NYU provides students with the opportunity to study abroad through its numerous study-away programs worldwide. On the other hand, Wellesley offers a rigorous liberal arts curriculum with over 56 majors and minors, emphasizing critical thinking, research, and writing. As a result, Wellesley students gain a well-rounded education, preparing them for leadership in any field.
Furthermore, NYU has a strong focus on interdisciplinary studies, allowing students to combine different fields of study to create a unique academic experience. For example, students can pursue a major in computer science and minor in music, or major in economics and minor in environmental studies. This approach encourages students to think outside the box and develop a diverse skill set.
On the other hand, Wellesley has a strong commitment to experiential learning, providing students with opportunities to apply their knowledge outside of the classroom. This includes internships, research projects, and community service programs. These experiences not only enhance students' resumes but also help them develop practical skills and make meaningful contributions to society.
Admissions Criteria: How to Get into NYU and Wellesley
Both NYU and Wellesley are highly selective, admitting only a small percentage of their applicants yearly. NYU looks for students with exceptional academic records and extracurricular activities, while Wellesley places emphasis on the student's character, intellectual curiosity, and leadership potential. Both universities require strong test scores and essays, and the application process for both universities is highly competitive.
Additionally, NYU and Wellesley both value diversity and seek to create a student body that represents a wide range of backgrounds and experiences. They also consider factors such as first-generation college status, socioeconomic background, and geographic location in their admissions decisions. It is important for applicants to showcase their unique perspectives and experiences in their application materials to stand out in the competitive admissions process.
NYU vs Wellesley: Student Life
Both NYU and Wellesley offer a diverse range of extracurricular activities, clubs, and organizations to cater to students' various interests and passions. At NYU, students can choose from over 400 clubs and organizations, including professional associations, performing arts groups, and entrepreneurial enterprises. At Wellesley, students can participate in approximately 200 student organizations, including academic clubs, cultural groups, and service organizations.
Additionally, both NYU and Wellesley offer opportunities for students to create their own clubs and organizations based on their unique interests and hobbies. This allows students to connect with like-minded individuals and pursue their passions outside of the classroom. Furthermore, both universities host various events and activities throughout the year, such as concerts, lectures, and community service projects, providing students with even more opportunities to get involved and make a difference in their communities.
Faculty: The Quality of Teaching at NYU and Wellesley
NYU and Wellesley faculty are renowned for their expertise and commitment to students' learning and growth. At NYU, professors are leaders in their respective fields of study, with many receiving prestigious national and international research grants. At Wellesley, professors are dedicated to providing their students with an excellent education and personalized guidance to achieve their academic and career goals.
Moreover, both NYU and Wellesley have a diverse faculty that brings a wealth of knowledge and experience to the classroom. This diversity allows for a variety of perspectives and ideas to be shared, creating a dynamic learning environment for students.
Additionally, both institutions prioritize teaching excellence and provide resources for faculty to continuously improve their teaching skills. NYU and Wellesley offer professional development opportunities, such as workshops and seminars, to help faculty stay up-to-date with the latest teaching methods and technologies.
NYU vs Wellesley: Career Opportunities
Both NYU and Wellesley prepare their students for success in their respective fields of study. NYU offers a vast network of alumni, internships, and job opportunities, with graduates securing employment in some of the country's most coveted international corporations. On the other hand, Wellesley graduates have a high acceptance rate to prestigious graduate programs worldwide, while also securing employment at world-renowned institutions.
Additionally, both NYU and Wellesley offer extensive career services to their students, including resume and cover letter reviews, mock interviews, and career fairs. These services help students to develop the necessary skills and confidence to succeed in their job search. Furthermore, both institutions have strong partnerships with industry leaders, providing students with access to exclusive networking events and job opportunities.
Diversity: Comparing the Student Body of NYU and Wellesley
Both NYU and Wellesley have a diverse student body. NYU has a large international community, with students from over 130 countries, while Wellesley attracts women from different geographic, racial, and socio-economic backgrounds. At both universities, students learn to embrace diversity, fostering a culture of inclusivity and mutual respect.
However, the ways in which diversity is celebrated and integrated into campus life differ between the two institutions. NYU has a variety of cultural clubs and events that showcase the traditions and customs of different countries and ethnic groups. In contrast, Wellesley has a strong focus on intersectionality and social justice, with many student-led organizations dedicated to promoting equality and advocating for marginalized communities.
Despite these differences, both NYU and Wellesley recognize the importance of diversity in preparing students for the globalized world. By exposing students to different perspectives and experiences, they equip them with the skills and knowledge needed to navigate an increasingly interconnected and diverse society.
NYU vs Wellesley: Campus Culture
NYU and Wellesley have unique campus cultures, conveying distinctive beliefs, values, and traditions. At NYU, students enjoy a vibrant social life, with numerous nightlife and cultural events. At Wellesley, students partake in residential hall traditions, cultural festivals, and community service activities. Both universities foster a sense of community and belonging while offering diverse social opportunities for students.
Additionally, NYU and Wellesley both offer a variety of academic and extracurricular events throughout the year. NYU hosts guest speakers, conferences, and workshops on a range of topics, from politics to the arts. Wellesley also offers a diverse range of events, including performances by student groups, lectures by renowned scholars, and outdoor activities like hiking and skiing. These events provide students with opportunities to engage with their peers and explore their interests outside of the classroom.
NYU vs Wellesley: Resources
NYU and Wellesley possess outstanding libraries, research facilities, and technology resources to support students' academic endeavors. At NYU, students have access to 12 libraries containing over 5 million volumes and cutting-edge research facilities (including lab spaces). At Wellesley, students have extensive access to innovative technology alongside the 3.5 million volumes of books available in the college's library.
Moreover, NYU and Wellesley offer a range of digital resources to support students' research and learning. NYU's digital library provides access to over 1 million e-books, 50,000 e-journals, and numerous databases. Similarly, Wellesley's library offers access to a vast collection of digital resources, including online archives, databases, and e-books.
Additionally, both NYU and Wellesley have invested in state-of-the-art technology to enhance students' learning experiences. NYU's Tandon School of Engineering, for instance, has a dedicated makerspace equipped with 3D printers, laser cutters, and other cutting-edge tools. Similarly, Wellesley's Science Center has advanced equipment and facilities for research in biology, chemistry, physics, and neuroscience.
NYU vs Wellesley: Cost of Attendance
The cost of attendance can significantly affect your decision to attend a university. Both NYU and Wellesley have high tuition fees, but they also offer generous financial aid packages. NYU provides financial aid based primarily on academic merit, while Wellesley offers aid based on both academic merit and financial need.
It is important to note that the cost of attendance goes beyond just tuition fees and financial aid. Other factors such as room and board, textbooks, and transportation can also add up. NYU and Wellesley both have high living expenses due to their locations in expensive cities. However, NYU offers more affordable housing options for students, while Wellesley has a mandatory meal plan for all students living on campus.
Conclusion: Which University is the Best Fit for You?
Ultimately, the choice between NYU and Wellesley comes down to your preferences and goals. NYU offers diverse academic programs, a vibrant social scene, and numerous internship opportunities, while Wellesley provides an excellent liberal arts education, a close-knit community, and extensive research opportunities. Both universities boast exceptional faculty, career opportunities, and resources to support your academic and personal growth.
Thus, whether you're searching for an urban campus experience or a more rural one, both NYU and Wellesley offer a top-tier education with distinguished faculty and students. The rest depends on what you envision for your future and which university presents the ideal match for your aspirations and interests.
It's important to note that while NYU and Wellesley have their unique strengths, they also have their own set of challenges. NYU's fast-paced environment may not be suitable for everyone, and the cost of living in New York City can be high. On the other hand, Wellesley's rigorous academic curriculum may be overwhelming for some students, and the small town atmosphere may not appeal to those who prefer a more bustling environment.
How AdmissionSight Can Help You With College Admissions
AdmissionSight is a college consulting firm that provides personalized assistance to students throughout the college admissions process. Here are some ways that AdmissionSight can help you:
Admissions strategy: AdmissionSight can help you develop a strategic plan for your college application process. Our professional consultants can assist with identifying schools that are a good fit for your academic, extracurricular, and personal goals and help you plan and prioritize your application strategy.
Application review: AdmissionSight can review your application and provide feedback on how to improve it. We can offer suggestions on making your application stand out and highlighting your strengths and unique qualities.
Essay coaching: AdmissionSight can help you craft compelling essays that showcase your personality, goals, and achievements. We can guide you through the essay writing process and provide feedback on your drafts to help you refine your writing.
Interview preparation: AdmissionSight can provide interview coaching to help you feel confident and prepared for college interviews. Our experts can offer tips on how to present yourself professionally and how to answer common interview questions.
Extracurricular planning: AdmissionSight can help you plan and develop your extracurricular activities to make them more impactful and meaningful. We can suggest activities that align with your interests and goals and provide guidance on demonstrating your leadership and initiative.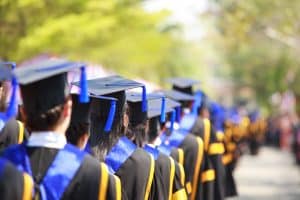 Overall, AdmissionSight can provide valuable guidance and support throughout the college admissions process to help you maximize your chances of getting accepted into the college of your choice.
With a high success rate of over 75%, we have built a strong network in the past decade. Book an initial consultation today, free of charge!