Pathmaker Internship
Interns gain information about particular areas, sorts of cases, supplies, and the regular day-to-day requirements for patients undergoing treatment. They provide assistance with a wide range of duties, many of which are to the patients' advantage and are greatly appreciated by the staff.
Many inpatients do not have relatives that live in the area, or they do have families but their family members have onerous work schedules that prevent them from visiting frequently or for an extended period of time.
In these kinds of predicaments, people have a higher risk of developing feelings of isolation, fear, anxiety, and tension if they do not have something to distract them. Pathmaker Interns assist patients by regularly checking in on them or sitting with them to talk about anything the patient may like to discuss – regardless of the subject matter – in order to divert their attention away from their concerns and help them focus on something else.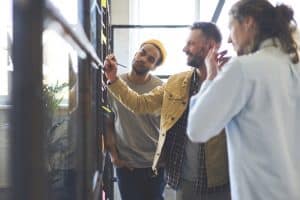 They provide the patient with sympathy as well as companionship, which helps to lighten their burden for a while.
The Pathmaker Internship Program is broken down into three distinct stages: level 1, level 2, and level 3.
What is Level 1 of a pathmaker internship?
What exactly is involved in the Pathmaker Internship Level 1? High school students will get unprecedented access to the inner workings of the hospital system if they participate in the Pathmaker High School (Level I) internship.
Interns at Level assist staff employees or college-level interns (Level II), who provide counseling on what it takes to succeed in college and what it means to work in the healthcare business.
Interns also provide administrative help. These students have exposure to the day-to-day operations of a healthcare facility while aiding with patient care tasks. Some of these tasks include:
Delivering food trays and assisting with meals
Administrative support within the department
Transporting specimens from the lab
Daily Rehabilitation exercises
Interacting with patients
Available Departments
The following departments are available to interns of level 1:
Acute Care
Progressive care
Imaging
Rehabilitation
Intensive Care
Emergency
Internship Requirements
Level 1 interns are required to fulfill/meet the following:
16-hour initial Training/Orientation
4 work hours per week (minimum)
Must be 16 years old and above
96 hours total clinical hours for Program Completion
What is Level 2 of a pathmaker internship?
What exactly is involved in the Pathmaker Internship Level 2? It is the goal of the Pathmaker Internship Level II program to provide pre-health college students with unprecedented access to direct patient care through the provision of a clinically focused experience that is clinically focused.
In both inpatient and outpatient clinical settings, interns quickly establish themselves as valuable members of the patient care team, working alongside physicians, nurses, and other allied health professionals.
During their time spent rotating across the several departments that make up the district, interns get training that prepares them to participate in fundamental patient care activities such as bathing, changing, and feeding patients.
As interns gain experience and other skills, they are then able to attend shifts in higher-intensity departments and experience greater independence through our outpatient clinics. This is because these departments require a higher level of responsibility from their employees.
Sample Departments
Level II Interns, because of their greater level of expertise and position in the internship program, get access to additional locations inside each site.
The following are examples of some of these departments:
Acute Care
Intensive Care
Emergency Services
Rehabilitation
Recovery/PACU
Surgery
Pharmacy
Imaging/Radiology
Internship Requirements
The following are requirements that level 2 interns are expected to meet and fulfill:
4 work hours per week (minimum)
Must be 18 years old and above
240 hours total clinical hours for Program Completion
15 months total time to completion
What is Level 3 of the pathmaker internship?
What exactly is involved in the Pathmaker Internship Level 3? It is possible for those who are fluent in Spanish to participate in the Pathmaker Internship Medical Interpreting (MI) program.
This program is designed for persons who wish to function as a liaison for communicating between patients and their care providers. An Interpreting team will get in touch with accepted Level II Interns who have stated that they are fluent in Spanish and bilingual in order to determine whether or not they are interested in working as an interpreter.
Among the three levels of pathmaker internship, this is by far the most demanding as it requires the interns to think on their feet, and be leaders in their own right.
After expressing interest in the position, potential Interpreter candidates are required to pass a Spanish Language Proficiency Assessment and attend a 32-hour training session led by a Certified Health Care Interpreter.
This training session covers the legal and ethical aspects of interpreting, the mechanics of performing as an interpreter, and cultural competency for interacting with Spanish-speaking patients, visitors, and families.
Students who successfully complete the Medical Interpreting Training are not awarded a Medical Interpreter certification; however, they do receive a percentage of the requisite study hours that are essential to pursue a future Certification in Medical Interpreting.
The Medical Interpreting Interns offer assistance at the Palomar Medical Center in Escondido. In addition to performing their duties as interpreters, these interns are able to give clinical support as needed (if they have completed the Clinical Internship Orientation)
Internship Requirements
A prospective Level III intern who wishes to participate in the program will be needed to complete their first rotation as a Level II intern, during which they will be able to learn fundamental skills in the care of patients.
They will be expected to successfully complete a Language Assessment during that first rotation in order to get them ready for the Medical Interpreting duties they will play during the second rotation. The intern will have the option of returning to a Level II capacity and exploring various departments after completing three full rotations as a Level III Medical Interpreter or continuing to serve in the capacity of a Medical Interpreter.
Interns in medical interpreting are expected to complete the following requirements, in addition to successfully completing the Language Assessment:
32 hours of interpreting training
16 hours of clinical internship orientation
4 work hours per week (minimum)
Must be 18 years old and above
240 hours total clinical hours for Program Completion
15 months total time to completion
What is expected from me as a Pathmaker applicant?
What might prospective Pathmaker internship participants expect? As a possible intern, it is expected of you that you will arrive promptly for the arranged interview and that you will behave yourself in a manner that is professional at all times.
You will be asked a lot of questions during the interview; therefore, you should come prepared to present relevant proof to back any answers that you give to any questions that are asked.
What if I am not accepted?
What if they decide not to accept me? We say, do not be discouraged. Due to the fact that there is a restricted quantity of space available in the program, there are a number of applicants who were unsuccessful in having their applications considered for each cycle.
We are grateful to those who display the motivation to improve their candidacy, and we encourage those whose applications were not successful to submit new ones in the future.
When would I start as an intern?
When would I be able to begin my pathmaker internship? The months of March, June, September, and December are set aside specifically for interviews to take place.
Approximately three months after being informed of their acceptance into the program, candidates will begin their clinical rotations if they are selected to participate in the program.
During the course of these three months, you will be required to go through several clearance procedures and attend training sessions in order to be prepared to work shifts on the floor as soon as they become available.
Can I serve more than one shift a week?
Is it possible for me to work more than one shift every week? As long as the shift you want to work is one that is open for scheduling, there is no cap on the number of shifts you can work in a single week.
How long can I stay in the internship?
After you have finished the minimum number of hours required for the internship, you are more than welcome to continue participating in the program for as long as you would like to act in the capacity of an intern.
Segue to AdmissionSight
Pathmaker interns serve alongside healthcare professionals in many sectors of the industry. Together, they seek to give patient support under the direction of staff in an environment that is secure, comfortable, and confidential.
If you choose AdmissionSight, you can increase the likelihood of getting into the institution of your choice and receive unparalleled academic guidance.  AdmissionSight has become the most trusted name in the field of college admissions advice as a result of its more than a decade of expertise assisting students just like you in gaining admission to the colleges of their first and second preferences. We would be grateful if you could get in touch with us as soon as you possibly can so that we can schedule an initial consultation that will be provided free of charge.