Penn Acceptance Dates
When it comes to making decisions of where you plan to apply to college or university for your undergraduate education, it is important to make sure that you are learning as much as you can about the admissions process at each of the schools that are at the top of your list. That fact is even more true if you are determined to apply – and get into – some of the most prestigious and competitive schools in the county like the Ivy League.
For example, while it may not seem as though learning about the Penn acceptance date or the Penn Early Decision date could help you get into the school, there is no doubt that this bit of information, and every other bit of information that you can learn about the school, can absolutely help.
After all, consider the simple fact that learning about the Penn acceptance date will, in turn,  teach you about the Penn application deadlines for Regular Decision and Early Decision applicants to the school as well. Knowing that information will subsequently give you more time to prepare for and complete your application, which could very likely improve the overall quality of what you send into the school.
That's just a quick example of how, when it comes to applying to top colleges and universities in the United States, that knowledge is absolutely power! That is certainly what we believe at AdmissionSight. Over the years, we have become one of the most prominent voices in the undergraduate application space. More importantly, we have helped intelligent and committed high school students from the United States and abroad get into the most prestigious and competitive schools in the country.
If you are planning on one day sending your application to schools like the University of Pennsylvania, then you absolutely have a lot to gain by thinking about working with an admissions consultant group just like us. While you can, of course, opt to go through the process alone, there's little doubt that you will be able to boost your chances of success by working alongside an admissions consultant that knows the ropes, the tools and the strategies needed to overcome the incredibly low acceptance rates at these kinds of schools and get in.
At AdmissionSight, we make it our top job to offer the high school students that we work with important information that can help them better prepare for the college application journey.
The tools that we offer have a clear and sizable impact on the level of success that students enjoy. In fact, 75.0 percent of the students that we work with from one year to the next end up getting into Ivy League programs like Penn, Yale or Harvard or top 10 schools that are not in the Ivy League such as MIT, Stanford or UChicago.
Considering the fact that the vast majority of top 10 schools in the United States boast acceptance rates that are well below 10.0 percent (with many coming in well below even 5.0 percent), we think that our 75.0 percent success rate speaks for itself. Helping students get into these kinds of schools and pursuing the kind of education that they want is our absolute passion, and we'd love to help you achieve your college application goals!
So, if you are interested in learning more about Penn, what it takes to get into this incredible school and about the Penn acceptance dates, then you have absolutely come to the right place!
Let's get started on breaking all that down and more together.
Penn Acceptance Rate
Before we get right into the application timeline at Penn, we wanted to quickly break down some concrete and important information regarding the current acceptance rate at the school.
As you may know, the vast majority of schools in the United States have seen a fairly prominent dip in acceptance rates over the last two years. There are a lot of contributing factors that go into this, with the most important one being (especially at top schools) that more students are applying to these schools than ever before.
In fact, when it comes to many Ivy League schools and top 10 schools that are not in the Ivy League, historic highs of application pools and historic lows of acceptance rates have been posted between the years 2020 and 2022.
Of course, when we are referring to acceptance rates, what we mean is the percentage of students that end up getting into the school compared to the total pool of students that apply to the school in a given application cycle.
Though Penn decided to withhold its official application statistics for the 2021-22 application cycle for Regular Decision application, we have gathered the necessary information to be able to make an incredibly accurate estimate. Beyond that, the school did announce the official applications statistics for students that applied via Early Decision.
7,795 students applied to Penn via Early Decision to become a part of the graduating class of 2026. Out of that pool, just 1,218 students ended up getting in. That ratio is good for an Early Decision acceptance rate of 15.6 percent! It's a pretty favorable percentage for one of the best and most historic schools in the country.
As for the overall acceptance rate for students who applied (taking both Regular Decision and Early Decision applications), that number is believed to be far less favorable. We've put it at approximately 4.4 percent. It's a shocking difference between the Early Decision and overall acceptance rates, and it pegs the acceptance rate for students who applied Regular Decision somewhere close to 3.0 percent.
Overall, 54,588 students made up the total pool of applicants at Penn during the 2021-22 cycle. Out of those students, somewhere between 3,300 and 3,400 students were believed to be offered a spot at the school. In all, 2,417 students will end up enrolling in classes in the fall of 2022 to begin their undergraduate education at Penn!
The 4.4 acceptance rate for the class of 2026 marked a 1.5 percent drop from just the previous year and a staggering 3.7 percent less than the class of 2024.
The expectation is that acceptance rates should balance out a bit in the next year or so, but there is no doubt that the new normal of these single-digit acceptance rates at Ivy League schools is here to stay.
When it comes to some interesting statistics about the incoming class of 2026, here are some useful things to keep in mind that the school has offered up:
18.0 percent are first generation students
55.0 percent identify as students of color
23.0 percent are from races and ethnicities historically underrepresented in higher education
19.0 percent are estimated to be Pell-eligible
56.0 percent were assigned female at birth
44.0 percent were assigned male at birth
So there you have it! There is some interesting information regarding the current application statistics at Penn. With that out of the way, we can get into answering the more important question of this piece, when is the Penn acceptance date?
Important Penn Acceptance Dates
Now that you have a basic understanding of what the current acceptance rate is at Penn, it is time to move onto information regarding the Penn acceptance date, including the Penn Early Decision date and Regular Decision date.
Please keep in mind that there is no Penn Early Decision 2 date because Penn does not offer an Early Decision 2 application option.
Take a look at the basic admissions timeline at the school, below:
Early Decision application due date
November 1, 2022
Regular Decision application due date
January 5, 2023
Interviews
Early Decision: Mid October–Early December
Regular Decision: December–Early March
Supplemental materials 
Early Decision: November 1, 2022
Regular Decision: January 5, 2023
Decisions
Notification of Decision
Early Decision: Mid-December 2022
Regular Decision: By April 2023
Admitted Student Reply/Enrollment Confirmation
Early Decision: January 5, 2023
Regular Decision: May 2, 2023
Now that you know about the general timeline, including the Penn due date for Early Decision and Regular Decision as well as both acceptance dates, you may be wondering why anyone would decide to apply to Penn – or any other school for that matter – early. After all, applying early means that you have to send in your material much earlier, and therefore have less time to make sure that your application and related documents are as good as they could be if you applied via Regular Decision.
As it turns out, there are quite a lot of reasons why students tend to apply to top schools via Early Action or Early Decision. The most prominent reason people talk about this is that it is a pretty widely held belief that students who apply to schools early end up having a better chance of getting in. The reason this is thought to be the case is because of the dramatically higher acceptance rate when Regular Decision applicants are compared to Early Decision/Action applicants.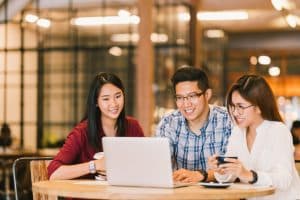 Remember, the overall acceptance rate at Penn for the class of 2026 was just 4.4 percent while the Early Decision acceptance rate was a much higher 15.6 percent! That is too big of a discrepancy to ignore, but the reality of why the acceptance rate at Penn for Early Decision students is so much more favorable than it is for Regular Decision applicants is far more complex than the simple idea that early applicants get a boost simply because they decide to apply early.
In fact, the vast majority of schools that offer early admissions deny that there is such a boost at all. Though that is, of course, up for debate.
Before we go into the reasons why students who apply to Penn – or other schools – early may enjoy that most favorable acceptance rate, we quickly wanted to go over some of the key components of applying early to Penn.
First of and foremost, it is important to know that Early Decision at the University of Pennsylvania is indeed binding. This means two things. First off, it means that you cannot apply to other schools via early admissions.
It also means that if you are admitted to Penn after applying early, you are obligated to accept the offer of admission and withdraw your other applications at the other schools that you applied to. This is crucial to know and it should be clear to you that deciding to apply to Penn via Early Decision is no small decision.
In truth, applying early to any school with a binding agreement should really only be reserved for students who know that that school is their top option without a doubt. If there is even any belief that you may prefer to go to a different school more than Penn, then you would be wise to just apply via Regular Decision.
When you do apply to Penn via Early Decision, there are three different possible outcomes that your application can take. Those are:
You are admitted into the University of Pennsylvania. As part of our Early Decision program, you are committed to accepting our offer of admission. You must withdraw any active applications you have to other colleges/universities. The only instance in which you could request to be released from our Early Decision binding agreement is if your financial need can't be met, which would be determined only after consulting with Penn's Student Financial Services office.
You are deferred for consideration during Regular Decision. Your application will be considered among our Regular Decision candidates and you will no longer be bound by the Early Decision binding agreement. You will receive final notification of our decision in late March/early April. Instructions on how to provide updates to your application will be found on your applicant portal.
You are denied under the Early Decision program. Your application process for this cycle year is complete. If you are still interested in Penn, you are welcome to re-apply during the next application cycle.
In truth, chances are good that there is a small boost that students do get by applying early, but it is not quite as sizable as the different acceptance rates would have you believe. In the end, it all comes down to the student, their application, their supplemental materials, and whether or not the admissions officers at Penn feel the student would be a great academic and cultural fit at the school.
When it comes to the primary reasons why acceptance rates of early applicants is so much higher, here are some important components to keep in mind:
Students who apply in this manner tend to be a self-selecting group and may have stronger grade point averages, standardized test scores, extracurricular accomplishments and more, making them more attractive applicants regardless of when and how they chose to apply.
Students who apply to Penn via Early Decision initially have their applications pegged against only the other students who have also applied in this way, leading to a smaller pool of students.
The choice to apply via Early Decision shows a specific interest in Penn. Just like elite students want to feel wanted by elite schools, elite schools also want to feel wanted by elite students. It also serves as a clear sign that unless some unforeseen circumstances arise, a student who is accepted from the Early Action pool is very likely to accept that spot.
Schools love knowing that if a student is accepted, he or she will absolutely accept that spot and enroll at the school. As Early Decision at Penn is binding, admissions officers know that if they offer that spot, it will not go to waste, which can definitely increase their confidence in a student and desire to offer them a spot in the incoming class.
How to improve your chances of getting into Penn?
When it comes to getting into top schools, it's important for students to know that getting great grades is not nearly enough to convince the admissions committee that you belong. In truth, getting great grades in advanced courses (AP or IB) is really the bare minimum that students have to do to even be considered.
To really increase your chances of getting in, you have to be able to present clear proof of your positive and impactful involvement in the various communities you were a part of during high school (via your extracurriculars), and be able to show the school that you be a fantastic addition to the school from a cultural standpoint. The best way to do that is through the letters of recommendation that you will send in as well as your application essays and supplemental essays.
We'll help you track Princeton acceptance dates
There is little doubt that applying to top schools in the country like Penn or any of the other Ivy League schools comes with a lot of pressure, excitement and anticipation. It can be hard to manage those feelings, but knowing what to expect and preparing as best you can certainly helps. It also helps to have a trained and experienced admissions consultant on your side to help guide you through every twist and turn of the entire process.
That is just one of the many things that AdmissionSight can help with. We help our students keep track of their dream schools, identify which schools would be the best fits given their interests and passions and give them the tools that they need to boost their applications and overcome the highly competitive acceptance rates.
If you are interested in learning more about our methods and our many success stories, contact us at AdmissionSight today to schedule a free consultation.