Popular College Majors
Popular college majors that could land a good job are those that are in high demand by employers and have a history of leading to well-paying and stable careers.
Choosing a popular college major that could land a good job can be a wise choice for students who are looking to secure a successful career after graduation.
What are the most popular majors in college?
Which popular college majors lead to the most employment opportunities after graduation? If you choose your major based on the courses that come the most naturally to you or on what your friends are majoring in, you are shortchanging yourself of some wonderful opportunities and the chance to learn more about who you are.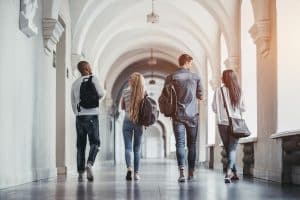 AdmissionSight compiled this list of the most successful and popular college majors based on research.
1. Computer Science
As a student majoring in computer science, you will gain experience in various fields, including but not limited to: robotics, natural language recognition systems, artificial intelligence, programming languages, numerical analysis, and gaming technologies.
No matter what facet of the information technology field you're interested in pursuing, being good at problem-solving is an essential skill to have.
2. Communications
People who major in communications have a strong propensity to be excellent storytellers, possess quick wits, and have fiery personalities.
You will spend a considerable amount of time analyzing various types of presentations, such as speeches and scripts, as well as the reasoning behind the messages that public speakers and authors employ to make their views.
3. Government/Political Science
In a nutshell, it is the study of politics as it relates to government, and some of the more common areas of specialization include American government, public policy, foreign affairs, political philosophy, and comparative government.
There will be a significant amount of reading, writing, and mathematical work. There are many different career options available, such as being a journalist, politician, or lawyer, which is why this is included in the list of popular college majors.
4. Business
If you choose to major in business, you will receive a comprehensive education in the theories and fundamentals of accounting, finance, marketing, economics, statistics, and human resource management functions.
5. Economics
Economics is the study of choices, specifically, the decisions that individuals, corporations, governments, and society make regarding how they spend their time, money, and other resources.
6. English Language and Literature
The study of literature, language, and writing are the primary focuses of English programs, and students who major in English are exposed to a diverse range of captivating works of fiction, poetry, and nonfiction originating from all over the world and spanning the entirety of human history.
7. Psychology
The fields of learning, cognition, intellect, motivation, emotion, perception, personality, mental diseases, and the manner in which our particular preferences are inherited from our parents or molded by our environment are the primary areas of study for students majoring in psychology.
8. Nursing
Traditional scientific and liberal arts classes are required for nursing majors throughout their first year of schooling. During the second semester of their sophomore year, nursing students begin participating in clinical rotations at hospitals and other healthcare facilities.
9. Chemical Engineering
Chemical engineers utilize the power of chemical reactions to create products that satisfy consumer demand. This is also considered one of the most in-demand jobs, which is one of the reasons why it is on the list of the most popular college majors.
10. Biology
The study of biology comprises essentially everything that exists, from microscopic organisms to the processes involved in cloning. Students who choose to major in biology have the opportunity to research not only humans but also plants, animals, and the surroundings in which they live.
What is the most in-demand course?
What is the most in-demand course? When it comes to college majors, some are believed to be more in demand by companies and sectors than others. This is especially true when compared to other majors.
Students who want to have a great career after graduation and who want to boost their chances of landing a job should consider selecting a major that is in high demand.
This might be a good decision for students. Before declaring their intention to pursue a degree in this sector, students need to ask themselves a number of questions to determine whether or not they have the necessary skills and are enthusiastic about the subject.
Because this list of the most in-demand and popular college majors encompasses such a wide range of subject areas, you should be able to find something on it that piques your interest. Perhaps even a bachelor's degree, which you may not have given much thought to in the past.
Computer science degree
Information technology (IT)
Engineering
Business and finance
Nursing
Data science and data analytics
Education
Architecture
Marketing
Hospitality
What should you major in when in doubt?
If you don't know what you want to study, what should you major in? Choosing a major at college may be a challenging endeavor, particularly if you are unclear about the subject matter you wish to study or the line of work you wish to undertake after graduation.
It is usual for students to experience feelings of being overwhelmed as well as uncertainty regarding their major, particularly if they are just beginning their studies at a college or university.
A large number of students do not have an accurate understanding of the popular college majors that are offered or the career paths that might be pursued with each degree.
Therefore, as you can see, having concerns is entirely acceptable. Here, we'll discuss the variables that you should take into consideration while selecting the ideal program for you.
What do you love to do?
Students who are unhappy with both their classes and the overall college experience are more likely to withdraw from their studies. This is one of the primary reasons why students drop out of college. In many cases, this is the outcome of the person engaging in activities that they simply do not love and failing to follow their actual passions.
What don't you want to do?
If you are unsure of the things that are of interest to you, it may be simpler for you to pick first the kind of occupations that you do not wish to have. There are a lot of careers out there that only require a high school graduation, but before you decide to forego college altogether, you should investigate whether or not any of those jobs are interesting to you.
Salary
Some people don't care about money as long as they have enough to live on, whereas others choose their line of work based entirely on the possibility of earning a certain amount of money.
Neither of these perspectives is superior to the other, but attending college is something you should strongly consider doing if you care a great deal about living a comfortable life and would even prefer to live a bit more extravagantly.
It's important to take the time to consider what course of study to pursue in college carefully. Don't rush into a decision.
Take time to explore different majors and career options, speak with professionals in your field of interest, and research the popular college majors, the job outlook and earning potential for different careers.
Remember, it's better to make an informed decision than to make a hasty one that may not lead to your desired outcome.
Don't leave your future to chance. Here at AdmissionSight, our experienced consultants will work with you to identify your strengths, interests, and goals to help you choose the best path for you. We will help you gain the guidance and knowledge you need to make an informed decision about your college education. Don't waste another moment feeling uncertain or lost. Take control of your future and book your initial consultation today!