Preparing for a UChicago Interview
Metadata: You have the choice to upload a two-minute video introduction in place of the UChicago interview if you would like to add your voice to your application. Read on to learn more about interview options at UChicago.
How do you get an interview with UChicago?
How do you get an interview with UChicago? On-campus or alumni interviews are no longer available as part of the undergraduate application process. You have the choice to upload a two-minute video introduction in place of the UChicago interview if you would like to add your voice to your application. The video does not need to be edited, nor do you need to extensively practice or polish your recording.
Despite not being essential, the video introduction is advised. A video introduction is another method for UChicago to get to know you and hear your voice, but whether to add one is entirely up to the candidate. Students who opt not to submit a video introduction will not face any consequences.
The title "Optional Video Profile" on the UChicago Account of applicants allows them to add their video introduction. You can upload your video at any time to your UChicago account, but UChicago highly advises that you upload by the following dates: November 6 for Early Action and Early Decision I and January 8 for Regular Decision/Early Decision II.
Meanwhile, a few of UChicago's graduate schools conduct interviews through an invitation. Not everyone might get interviewed due to a shortage of volunteer interviewers and time. However, here are some programs that have UChicago interviews as part of their admissions process.
University of Chicago Law School
The University of Chicago Law School takes great pride in having an interviewing program as part of the application procedure. The Law School will enhance its all-encompassing evaluation of applicants with the interviewing component.
Given the small class size, UChicago Law always strives to create a class that will be varied in every manner conceivable, that will thrive in its unique environment, and that will enhance each student's experience with law school.
The Admissions Committee will be able to learn more about an applicant's background and personal narrative during an interview. Additionally, it will help the school evaluate how well a candidate communicates, is motivated, mature, and contributes to the Law School both as a student and a member of the UChicago Law School alumni community.
All interviews must be scheduled in advance. Regretfully, UChicago Law will not be able to offer interviews to all candidates, but the school aims to interview as many potential members of the incoming class as it can.
The Admissions Committee will send an email inviting applicants who have been selected for an interview with details on how to schedule the meeting.  After a preliminary evaluation of an application, interview invites will be provided. After that, candidates will have seven (7) days (or another time the admissions committee specifies in its interview request) to arrange an interview.
Chicago Booth School of Business
The Admissions Committee of the Chicago Booth receives your application as its initial review. This admissions representative reads the totality of your application. Background data, resumé, academic credentials, letters of recommendation, etc. Before deciding whether to invite you for a UChicago interview, this is repeated several times with several officers.
Those who are invited to an interview will have two to three weeks to choose between meeting with an alumnus in your area or a current second-year student on campus. The purpose of the interview is to learn more about you. Tell us more about your ambitions and goals.
Following that, the Admissions Committee members review your application. Once more, they will read your application in its entirety along with the fresh addition of the alumnus or student's interview report.
Pritzker School of Medicine
The Admissions Committee of the Pritzker School of Medicine analyzes the candidate's AMCAS application, secondary application, and letters of recommendation once all of the required paperwork has been submitted. An email interview invitation is sent to the applicant after a favorable examination of their credentials. At that time, more details about the interview procedure are given.
What are the questions to expect in a UChicago interview?
What are the questions to expect in a UChicago interview? Even while each interview will be different, you may anticipate hearing a similar set of questions.  Here are some common questions asked for the interviews in each program.
University of Chicago Law School
Although UChicago Law will not be asking you any legal questions, you should still treat this like a job interview. You ought to be ready to talk about anything mentioned in your application form (including your resume). The interviewer will probably ask you more questions about your professional aspirations, the motivation for your application to the University of Chicago Law School, and the kind of contribution you might be able to make to the law school community.
Law school sample interview questions:
Why did you pick this institution?
Which area of law do you intend to practice?
What abilities will you bring from your undergraduate studies to law school?
What do you anticipate getting out of your studies here?
Outline your career objectives.
Chicago Booth School of Business
Although Chicago Booth is interested in your professional background and skill set, an interview for admissions is not the same as one for a job.  You can share your values and the motivation behind your decision to pursue an MBA at Chicago Booth.  Help us understand why this experience will be valuable to you in five or 10 years, in other words, by giving examples.
MBA sample interview questions:
Why pursue an MBA?
Why Chicago Booth?
A query regarding your immediate and long-term post-graduation plans
An inquiry asking you to describe an obstacle you overcome.
Describe how you will contribute both academically and to the Booth community.
Pritzker School of Medicine
The applicant's experiences and personal statement will be made available during the faculty and student interviews. The interviewer assesses each candidate's aptitude for professionalism, diversity, integrity, excellence, leadership, and interpersonal and communication skills during the UChicago interview process.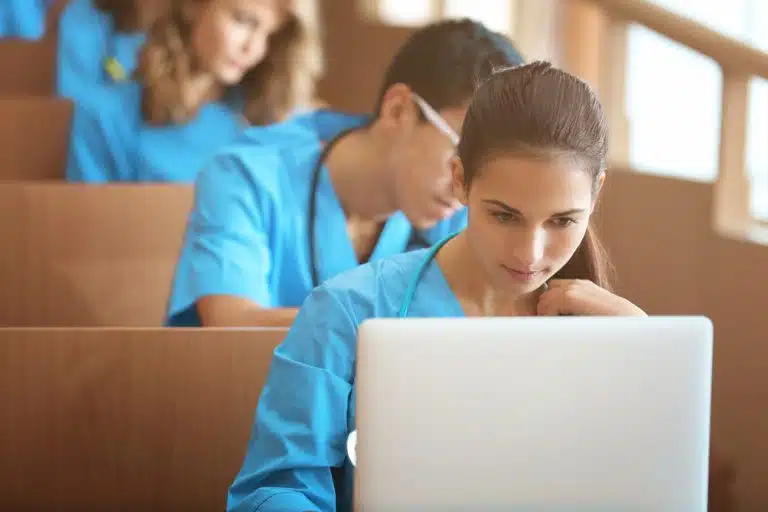 Med school sample interview questions:
Why are you interested in Pritzker?
What motivated you to become a doctor?
What area of study are you most interested in?
What qualities distinguish a competent medical professional?
If you decide not to enroll in medical school this year, what are your plans?
What kind of students does UChicago look for?
If you wonder what kind of students does UChicago look for, UChicago prefers applicants that are passionate about learning and have a wide range of interests. The rigor of the secondary school record, the essay, recommendations, character/personal attributes, extracurricular activities, and talent/ability are all considered "extremely important" elements by the University of Chicago. GPA, class rank, standardized test scores (UChicago does not require testing), first-generation status, legacy status, place of residence, religion, ethnicity, volunteer work history, paid employment history, and degree of interest are all "considered" factors.
The University of Chicago is looking for true distinction in one or more activities, not just that you filled the 10 spots on the Common App Activity List. One recent freshman class, for instance, had both a finalist and a quarterfinalist on Teen Jeopardy! The admitted freshmen pool also consists of the author of two contemporary operas, Oman's Woman of the Year, the No. 2 Scrabble player in the world, a nationally ranked archer, the first high school student to ever-present research at NASA, and a student with a patent pending for an artificial intelligence swim goggle that is being made in collaboration with Olympic swimmers.
Finally, according to the admissions office, they "want you to, through your application, show UChicago who you are in your own voice. What is your story? Why did you choose to pursue certain opportunities? What activities are most meaningful to you? The very best way to approach your UChicago application is to simply be yourself and write in your own voice. We care about you and who you are, not what you think we want to see in an application."
Does the UChicago alumni interview matter?
Changes in the application process, particularly from some of the more prominent schools, constantly happen as years go by, most specifically when the pandemic hit the world. One example was the University of Chicago's choice to start accepting video applications a few years back rather than the more conventional alumni interviews.
With this, you might question "does the UChicago alumni interview matter?" A sit-down UChicago interview can help the school determine whether applicants can back up what they say in their essays and possess the traits of a person they would want to commit to for the next four years. While essays and letters of recommendation may reveal a lot of information about a student's background, this is not always the case.
The University of Chicago, on the other hand, claims that it is doing away with interviews for legitimate reasons. They do not have the means to conduct all the necessary interviews, for one thing. It is difficult and impractical to conduct a lot of interviews, especially if a student who has been accepted decides to attend another institution.
Additionally, whereas college interviews might stretch for hours, the University of Chicago prefers applicants to provide videos that are no longer than two minutes. Without a doubt, this new process will save a lot of time for admissions officials.
The exact weight that alumni interviews are given varies from school to school and is not widely agreed upon. But one thing is certain: if you severely fall short in other areas, even a stellar interview won't make up for it. A poor interview is more likely to affect your chances of admission than a strong one—clearly not in a good way.
Numerous graduate programs include an admissions interview in their application process. As scary as it may sound, it's a great chance to show off your skills and learn more about the graduate school you applied for. Making it to the last round of the application process—grad school interviews—is a major accomplishment since it implies you are being considered as a potential student. So, on the day of the interview, you should be well-prepared and present yourself in the best possible light.
How do I prepare for a UChicago interview?
"How do I prepare for a UChicago interview?" you may ask. In a large part of the college application process, your hard numbers—GPA, class rank, ACT or SAT score, the quantity of challenging courses taken, success on AP tests, etc.—define you.
The UChicago interview gives you the chance to highlight your less obvious qualities, that special something that makes you, such as your verve, emotional intelligence, and presence. While the undergraduate school does not conduct interviews anymore, if you plan to pursue graduate school after college, you should start your preparations. Of course, you will need to have all the fundamentals covered first as you get ready for an in-person or Zoom engagement with representatives from your potential institutions to be able to show off these unique talents.
You may make a strong, long-lasting impression on your college interview through the following steps:
1. Plan your interview well.
You should plan an interview with the admissions office of your chosen school as early in the cycle as a given school will allow because appointments frequently fill up rapidly, especially during the busiest application season.
2. Understand your school.
Browse the website of the school you're considering, paying particular attention to the sections that highlight your areas of interest. Find out more about the programs, curriculum, instructors, and extracurricular activities that you would enjoy if you were accepted. Your admissions officer is more likely to view you as a serious and sincere candidate if you can exhibit an understanding of the college's offers.
3. You should be ready to respond to any college interview questions.
Get a copy of your transcript, your CV or student activities sheet, and a list of any test results before the interview. With the use of this information, your admissions representative will be able to evaluate your chances of admission realistically and provide any tips he or she may have for how to strengthen your application. In addition, the list of sample questions to expect during a UChicago interview was discussed. You should review those questions and prepare for some unexpected questions as well.
4. Prepare some interview questions for the interviewer.
To show your interviewer that you have done your research on the college and to help you learn more about it, you should also bring a few questions of your own.
Here are some queries you might think of posing:
How does the college assist students in preparing for graduate school or finding employment?
Could you describe the benefits of belonging to the alumni network of the college?
What piece of advice would you give a new student if you could only give one?
Is involvement in undergraduate research possible?
5. You get better with practice.
Try to replicate the environment you will experience on the day of the interview, if possible. Ask a friend or family member who is willing to act as the interviewer and who is also at ease with providing feedback on your performance if you need assistance. Finding an excellent practice partner will help you identify areas where your interviewing style needs improvement.
Avoid the urge to memorize or write your responses while you practice answering the questions above. The most successful interviews flow like a good conversation, so be genuine with yourself.
6. Be respectful, especially on Zoom.
Be sure to arrive at your virtual platform promptly on the big day. Maintain eye contact throughout the meeting, dress professionally (at least from the waist up), and have a clean or at least appropriate background (for video chat), as presentation is an important factor in landing the job.
7. Perform proactive tech troubleshooting.
You have presumably experienced the coronavirus pandemic for so long that you are already well-versed in every type of virtual communication system available. Before the meeting, you should confirm that you can log in and that your audio and camera settings are correct. You do not want to be ten minutes late because you couldn't recall whether the special character in your Zoom password was an exclamation point or whatever sign it is.
8. Present your best self on the day of the interview.
Make sure your schedule allows for you to be for your interview with enough time to spare. If you'll be on campus already, give yourself plenty of time to get there by car. Avoid wearing too much cologne or perfume or chewing gum. Make sure your appearance won't detract from your interview by being unobtrusive.
Be bold and outspoken while staying true to yourself and not appearing overbearing. Keep in mind that an interview is an opportunity for the admissions officer to get to know you. Let your interviewer see your personality and that you're up for the challenge of attending their institution.
Finally, it's critical to understand that your admissions representative wants to impress you just as much as you want to please her. So, take it easy, utilize the UChicago interview as an opportunity to learn more about the program you want to attend, and your awesome self will undoubtedly shine through. However, if you need professional help in preparing for your interview or your entire application, AdmissionSight is one email/call away.
Browse through our programs and counseling services, whether you are applying for undergraduate or post-graduate admissions. Feel free to set up an initial consultation with AdmissionSight today.