Princeton Campus Size: A Comprehensive Guide for Aspiring College Students
What is the Princeton campus size?
What is the size of the Princeton campus? Princeton University's campus size spans an impressive 600 acres, providing students with a perfect blend of expansive green spaces, state-of-the-art facilities, and a close-knit community atmosphere. The campus is situated in the charming town of Princeton, New Jersey, offering a serene and picturesque environment for students to thrive academically and socially.
The campus is divided into several distinct areas, each with its unique character and atmosphere. Let's delve deeper into these areas:
Central Campus
The historic heart of the university, Central Campus is home to iconic buildings like Nassau Hall, the University Chapel, and Firestone Library. This area is where you'll find many academic buildings, administrative offices, and dining halls. The architecture showcases a mix of styles, including Collegiate Gothic and Neoclassical, contributing to the campus's rich history and charm.
North Campus
This primarily residential area features several dormitories and residential colleges. These residential spaces are designed to foster a strong sense of community among students, with communal dining areas and shared living spaces. North Campus is also home to the stunning Lake Carnegie and several athletic facilities, including the Jadwin Gymnasium and the Lenz Tennis Center.
South Campus
Known for its vibrant arts scene, South Campus is where you'll find the Lewis Center for the Arts, the Princeton University Art Museum, and several performance venues, such as the Berlind Theatre and the Richardson Auditorium. This area offers students many opportunities to engage in artistic pursuits and attend cultural events.
East Campus
The hub for engineering and applied sciences, East Campus features state-of-the-art facilities like the Andlinger Center for Energy and the Environment, the Friend Center for Engineering Education, and the Computer Science Building. This area also hosts several research labs, providing students with cutting-edge resources for innovation and exploration.
Princeton University's campus size offers a diverse range of academic, residential, and recreational spaces, allowing students to enjoy a well-rounded college experience. Its beautiful landscapes, historic architecture, and modern facilities make it an attractive choice for students seeking an ideal balance between a vast, open campus and a close-knit community.
How to navigate the Princeton campus?
So, how do you get around the Princeton campus? Navigating Princeton University's campus is relatively straightforward, thanks to its pedestrian-friendly layout and multiple transportation options. Whether you're a new student or a visitor, you'll find it easy to explore the campus and access its various resources and amenities.
Here are some tips and options for navigating the Princeton campus:
Walking
The campus is well-connected by pedestrian-friendly pathways, making it easy to get from one area to another on foot. Most buildings and facilities are within walking distance, and you can enjoy the beautiful landscapes and historic architecture as you stroll from place to place. Walking is an excellent option for short distances and it offers an opportunity to become familiar with the campus layout.
TigerTransit
Princeton's free campus shuttle service, TigerTransit, operates on multiple routes throughout the campus and the surrounding area. With frequent service during weekdays and limited service on weekends, the shuttle buses make it easy to reach various campus locations, including academic buildings, residential areas, and recreational facilities. You can also find route maps and schedules on the university's transportation website or through the TigerTracker mobile app, which also provides real-time tracking of the shuttle buses.
Biking
Princeton encourages using bicycles as an eco-friendly and efficient means of transportation. The campus offers a bike-sharing program called Zagster, allowing students to rent bikes at various locations on campus for short trips. Additionally, there are numerous bike racks throughout the campus, providing secure parking for personal bikes.
Accessibility Services
For students and visitors with disabilities, Princeton offers a range of accessible transportation options. The university's TigerTransit shuttle buses are equipped with wheelchair lifts or ramps, and on-demand paratransit service is available for individuals who require specialized transportation.
Campus Maps and Apps
Familiarize yourself with the campus layout using maps and mobile apps provided by the university. The Princeton University campus map, available online and in print, highlights academic buildings, residential areas, and other points of interest. Additionally, the Princeton Mobile app offers a campus map feature, as well as a directory of campus resources and services.
By taking advantage of the various transportation options and resources available at Princeton, you'll be able to navigate the campus with ease and make the most of your time on its picturesque grounds. Don't be afraid to ask for directions from fellow students, faculty, or staff members – the Princeton community is known for its welcoming and supportive atmosphere.
What is the impact of Princeton campus size on student life?
What effect does the size of the Princeton campus have on student life? The Princeton campus size and layout play a significant role in shaping the student experience. The campus offers a unique blend of spaces, creating an environment that fosters intellectual growth, social connections, and personal development. Here are some ways in which the Princeton campus size impacts student life:
Diverse learning and research opportunities
The Princeton campus size allows for a wide range of academic buildings and state-of-the-art facilities across different disciplines. This diversity provides students with ample opportunities to explore various fields of study, engage in interdisciplinary projects, and participate in cutting-edge research. The campus layout also encourages collaboration between departments, fostering a vibrant intellectual community.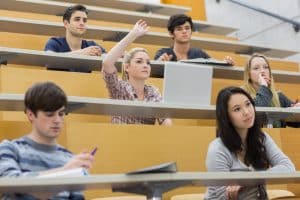 Strong sense of community
The residential colleges and communal spaces on campus are designed to create a close-knit community among students. These spaces facilitate social interactions, encourage peer support and friendships, and provide opportunities for students to engage in campus life beyond academics. By fostering a strong sense of belonging, the campus size contributes to a positive college experience.
Extracurricular activities and campus involvement
The campus size allows for a wealth of extracurricular activities, clubs, and organizations that cater to a wide array of interests. Students can choose from various sports teams, performing arts groups, cultural organizations, and service clubs, enabling them to pursue their passions and develop new skills outside the classroom. The availability of diverse opportunities promotes personal growth and enhances the overall student experience.
A balance between work and play
The Princeton campus size offers numerous recreational facilities, green spaces, and cultural venues, allowing students to strike a healthy balance between academic pursuits and leisure activities. From relaxing in the beautiful Prospect Garden to attending a performance at the Lewis Center for the Arts, students can easily find ways to unwind and recharge.
Accessibility and convenience
With most campus facilities within walking distance and multiple transportation options, students can easily access resources and amenities without wasting time on lengthy commutes. This convenience allows students to make the most of their time at Princeton, focusing on their studies, extracurricular activities, and social connections.
Exposure to diverse perspectives
The size of Princeton's campus attracts a diverse student population from various backgrounds, cultures, and experiences. This diversity enriches the learning environment, encourages open-mindedness, and fosters a global perspective among students.
In conclusion, the size and layout of Princeton's campus significantly impact the student experience by offering diverse learning opportunities, fostering a strong sense of community, promoting a balanced lifestyle, and providing accessibility and convenience. These factors contribute to a rich and fulfilling college experience, equipping students for success both during their time at Princeton and beyond.
Is Princeton's campus size right for you?
Determining whether Princeton University's campus size is right for you depends on your individual preferences, needs, and goals. To help you assess if Princeton's campus size is a good fit for your college experience, consider the following factors:
Balance of spaces
Princeton's campus features a mix of academic, residential, and recreational spaces. If you appreciate having diverse environments for studying, socializing, and unwinding, the campus layout may suit your needs.
Sense of community
The residential colleges and communal spaces on campus promote a strong sense of community among students. If you value being part of a supportive and inclusive environment where you can easily build relationships with peers, Princeton's campus size could be an excellent fit.
Access to resources and amenities
The campus size and layout allow for easy access to various resources and amenities, such as libraries, dining halls, and sports facilities. If you prefer having most of what you need within walking distance or accessible through campus transportation options, the Princeton campus size might be ideal.
Green spaces and aesthetics
Princeton's campus is known for its picturesque landscapes, historic architecture, and abundant green spaces. If you enjoy spending time outdoors or appreciate a beautiful, serene environment, the campus size and layout might be particularly appealing.
Size comparison to other universities
Consider how Princeton's campus size compares to other institutions you're interested in. If you prefer a more expansive campus, you might explore other universities with larger campuses. Conversely, if you're drawn to more compact, urban environments, you may want to look into universities with smaller campuses in city settings.
Take some time to reflect on your preferences and how the various aspects of Princeton's campus size align with your vision for your college experience. Visiting the campus in person or taking a virtual tour can also help you get a feel for the environment and better assess whether it's the right fit for you. Ultimately, the decision will depend on your priorities and how the campus size and layout can support your academic, personal, and social growth during your college years.
As an aspiring college student, it's crucial to weigh various factors when selecting the perfect university. Understanding the impact of Princeton University's campus size on the college experience is an essential aspect of making an informed decision about your future.
Moreover, as you navigate the college admissions process, partnering with AdmissionSight can provide you with valuable insights, guidance, and support tailored to your needs and aspirations. Together, we can help you make the most of your college journey and maximize your chances of joining the vibrant and picturesque campus of Princeton University. Contact us!