Princeton Regular Decision Notification Date
When Does Princeton's Regular Decision Come Out?
When does Princeton's regular decision come out? Princeton does not disclose specific dates for decision announcements; however, it does indicate a projected decision notification schedule. The Princeton regular decision notification date is on Ivy Day. However, please keep in mind that the schedule is subject to change.
Now, let's have a quick overview of Princeton before discussing the admissions deadlines.  Princeton's standing as a top-tier teaching and research university with vast resources benefits undergraduate students. Students can develop their creativity and ingenuity by exploring a liberal arts curriculum. You will receive a world-class interdisciplinary education at Princeton that will prepare you for whichever path you choose.
Let's go over the deadlines and notification dates for the admission options at Princeton.
Single-Selection Early Action
Princeton offers Single-Choice Early Action as an Early Decision option. If you apply through this program, you must submit your application by the beginning of November. Princeton's early decisions are released in mid-December.
Regular Decision
Your application is due in early January. The Princeton regular decision notification date is on Ivy League Decision Day in late March or early April.
Transfer Application
Your transfer application is due in early March. Your admissions decision will be sent to you in mid-May.
When applicants choose Ivy League colleges, they consider status, competition, and world-class education. You are undoubtedly wondering when Ivy League decision day is if you've applied to any Ivy League colleges.
If you don't apply to your top choice school but want to apply to multiple Ivy League schools, you'll choose Regular Decision. Candidates must submit applications to all Ivy League schools by the beginning of January.
Most Ivy League decisions are released around the end of March or the beginning of April on Ivy League Decision Day (also known informally as "Ivy Day"). The Princeton regular decision notification date also falls on this day. Ivy League Decision Day occurs on the same day that all Ivy League institutions disclose admissions decisions. You can just imagine the excitement and nervousness felt by students throughout the country as Ivy League Decision Day approaches.
How Does The Princeton Admissions Process Work?
How does the Princeton admissions process work? The application process at Princeton is like those of the other Ivy League schools. Admissions officers search for applicants who have high grades, with outstanding academic achievements, and students will use Princeton's tremendous resources to effectively impact the world around them.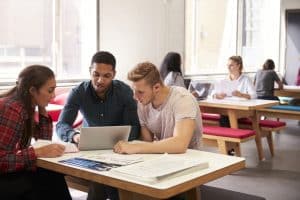 The Princeton application criteria are summarized below. For further information, particular application criteria, and a useful application checklist, visit Princeton's website.
For Princeton, you can choose among the following applications:
The Coalition Application
The Common Application
The QuestBridge Application
You must also complete the Princeton Supplement online via your preferred application platform.
How to Apply to Princeton University?
The Princeton application requests the following information:
Application (Coalition/Common/QuestBridge)
Princeton Supplement
Graded Written Paper
Transcript
School Report
School Counselor Letter
Two Teacher Recommendations (optional)
Arts Supplement (if applicable)
Interview (optional)
To attend Princeton, you must be in the top 10% of your high school graduating class. In order to be competitive with other applicants to Princeton, you need to have a grade point average of 3.9 or higher, and your academic record should be nearly perfect. You should also enroll in as many advanced classes as your high school has to offer. It will demonstrate that you are making the most of your academic resources and that you can handle challenging courses.
If your GPA is lower than that of most Princeton applicants, exceptional test scores, outstanding letters of recommendation, or out-of-the-box extracurricular activities may compensate.
If you take AP or college-level classes in high school, you may be recognized for your efforts. For further information, you may visit Princeton's AP policy page.
Princeton Standardized Test Requirements
Princeton will remain test-optional through the 2022-2023 admissions (Class of 2027) season due to the COVID-19 pandemic. You can still submit your SAT or ACT scores, but you will not be penalized if you do not do so.
Princeton SAT Requirements
Students who submit their SAT scores typically achieve the following results:
Math: 740-800
Evidence-based Reading and Writing: 710-770
Princeton SAT Subject Tests
Princeton discontinued requiring the SAT Subject Tests in 2021.
Princeton ACT Requirements
ACT composite scores normally range between 32 to 35.
Requirements for AP or IB Test
Princeton recommends that you should self-report all AP or IB results on your application.
Essays for the Princeton Application
In the application essays, Princeton is seeking introspection, personality, insight, and thought process. While the suggestions will vary slightly from year to year, they will always call for deep thoughts and emotional experiences. It is critical to be specific, honest, and forthright. There is no reason to keep your thoughts to yourself (as long as you can fit them into the word count).
The supplemental essay questions, like the general essay questions, ask you to "dig deep." Although Princeton has a low admission rate, these essays can help you stand out. The Princeton application essay questions can be answered directly on the Common Application or Coalition Application.
International Applicants
Princeton evaluates international students in the same way that they evaluate US applicants. The school does not favor or benefit any one system or country.
If English is not your first language, Princeton requires you to take the TOEFL, the International English Language Testing System Academic (IELTS Academic), or the Pearson Test of English Academic (PTE Academic). If you spent at least three years in a secondary school that taught predominantly in English, you are exempt from this regulation.
How Many People Get Waitlisted By Princeton?
Princeton University is one of the most difficult colleges to get into, with one of the world's lowest acceptance rates. The acceptance percentage for the class of 2025 was 3.98%, with only 1,498 students accepted out of 37,601 applicants. The admissions statistics for the 2022-2023 admissions cycle were withheld by Princeton but based on history and the uncertain effect of the pandemic on college admissions, acceptance rates will most certainly be low once more.
After the results are released on the Princeton regular decision notification date, there are three possible outcomes for regular decision admission decisions.
Princeton will either:
Offer admission;
Deny admission;
Place you on the waitlist.
How many people get waitlisted by Princeton? From 2003 to 2020, Princeton admitted an average of 1,153 undergraduate applicants to the waitlist. This offer was accepted by 823 candidates on average. Both figures rarely changed considerably; about 75% of Princeton waitlists examined by the 'Prince' comprised between 789 and 906 students.
Princeton has a 4.38% admission rate and a 78.32% yield for the Class of 2025. They waitlisted 3.36% of applicants and eventually accepted 15% of those who accepted a seat on the waitlist.
If you find yourself on the Princeton waitlist, you must evaluate whether Princeton is still your top option. Otherwise, you should remove your name from the waitlist. If this is the case, it is generally advisable to write a letter to the admissions office expressing your wish to attend.
On the other hand, there is a chance that you will be deferred from college if you apply in the early rounds at Princeton. Deferrals are like waitlist results since there is some uncertainty regarding what will happen next. The admissions office will assess your application in the context of the regular round applicant pool and make a final decision after that.
Colleges must consider their yield, institutional needs, legacy status, and other factors, just as they do in the regular admissions process, before determining which students, if any, to admit from the waitlist. Waitlists are not rated, thus no number one student will automatically get admitted if a spot is available. A student's major, legacy status, and other factors impact whether they are admitted over another waitlisted student.
While many universities will waitlist hundreds or even thousands of students, not all those people will accept a waitlist spot, making the pool and chances of admission marginally better in some circumstances. According to NACAC, around 20% of students who remained on waitlists were eventually admitted. At selective universities, however, the average was substantially lower, with only 7% of applicants who accepted waitlist slots being admitted.
Does Early Action Increase Chances At Princeton?
Does early action increase chances at Princeton? The percentage of applicants who are accepted through Early Action at Princeton University is 15.8% for the Class of 2024. The Early Action acceptance rate is much less competitive than the general acceptance rate of approximately 6%, even though Early Action is manifestly more selective than the latter.
Out of over 40,000 applicants, Princeton admitted only 1,647 students for the 2021-2022 entrance cycle. The overwhelming majority of these pupils enrolled. For the Classes of 2025 and 2026, Princeton's SCEA rounds have been canceled due to the pandemic. It will be reinstated as an option for the Class of 2027 (those applying in the 2022-23 admissions cycle).
The early admissions process resulted in the acceptance of 791 students to the Class of 2024. The total number of early applications received was 5,000, resulting in a 15.8% early acceptance rate. Early applications fell by 6.3% from 5,335 to 5,000 between 2023 and 2024.
When we look at SCEA results for the Class of 2023, there were 743 students accepted in that cycle. The early acceptance rate for the Class of 2023 was 13.9%. In comparison, individuals admitted early into the Class of 2011 were accepted at a far higher rate of 21.1%. This offers a clear picture of the increasingly challenging odds of admission to Princeton via SCEA.
Students who are interested should be aware that Princeton's Single Choice Early Action program is nonbinding. This means they are not required to enroll at Princeton if admitted. There are, however, some restrictions. Applicants may not apply to any other private institution's early program, although they may apply to nonbinding public institutions early. They may also apply to any institution that has a non-binding rolling admissions policy.
The deadline for Princeton's Single-Choice Early Action applications is November 1. By this time, Early Action applicants should have submitted their online application, supplement, graded written paper, school reports, transcripts, and letters of recommendation. The deadline for the Princeton financial aid application is November 9.
After you have submitted your application documents, you must continue to strive for your highest academic achievement for the remainder of your senior year. You should be aware that you will be competing against roughly 5,000 other Early Action candidates. Because they are Early Action candidates, they are often committed to attending Princeton and ready to persuade the admissions committee of the value they can provide to the institution.
If you were admitted or deferred as an Early Action candidate, now is the time to seriously explore the financial realities of attending Princeton. Unsurprisingly, tuition at such a prestigious university is costly. Having said that, Princeton is dedicated to supporting 100% of student expenses for individuals who demonstrate financial need. The university was the first in the country to eliminate loans from its financial aid package. As previously said, financial aid is frequently a deciding factor in whether to attend college.
You can choose which program fits best for you now that you know when the Princeton regular decision notification date is and what other application options you have. To help you with your choice, here's a brief summary of the advantages and disadvantages of each application option.
Single-Selection Early Action (SCEA)
While most Princeton candidates apply via Regular Decision, there are several advantages to applying early:
Higher acceptance rates in general (although this can be attributed to the quality of early applications).
Your admissions decision will be released sooner.
You can still compare financial aid programs at different schools.
If you are accepted, you are not required to attend Princeton.
It is also necessary to recognize the disadvantages of SCEA:
Your application and materials must be submitted considerably sooner.
You cannot apply to any other private university's early program.
You may be deferred to Regular Decision.
Even though you will be competing against fewer applicants, these students often submit exceptional applications: You'll have to put forth more effort to stand apart. If Princeton is your top choice and you are confident in your ability to complete your application on time, SCEA may be for you.
Regular Decision (RD)
Princeton, being an Ivy League school, gets tens of thousands of Regular Decision applications each year. Here are some advantages to applying through RD:
You have additional time to work on your application.
You have extra time to decide on admissions.
If Princeton is not your first choice, you can apply for an early decision at any other institution.
As with any program, the following drawbacks must be considered:
You will have to wait a little longer for decisions to be made.
You may be faced with a difficult decision in choosing where to attend.
RD acceptance rates are statistically lower than ED or EA acceptance rates (but this makes sense since many more students apply through RD)
Making program decisions based on statistics only is highly discouraged. If you require extra time to prepare a truly outstanding application, RD may be the better option for you.
Princeton University is a dream school for many college-bound teenagers because of its rich history, rigorous selectivity, and Ivy League status. With its reputation, Princeton is one of the most difficult institutions in the country to get into. Your chances depend on the strength of your profile.  If you need guidance in your application, AdmissionSight offers counseling and several programs for the different components of your application. Book an initial consultation today to start your college admissions journey with AdmissionSight.