Psychology Major at UChicago
Does UChicago Offer A Psychology Major?
The study of the mental states and processes that give rise to behavior is what is referred to as psychology. It aims to comprehend the fundamental mechanisms and functions of perception, cognition, emotion, and attitudes in directing behavior which is influenced by the social interactions, structures, and biological systems of which we are made up. Now, does UChicago offer a psychology major? The psychology major at UChicago is framed to introduce the research methods used by psychologists and to provide a foundation of core knowledge encompassing the major fields of psychology.
Students at the University of Chicago, which is widely recognized as one of the world's premier academic research institutions, can augment the work they do in more personal classroom settings with real-world research experience. Participation in faculty research projects is strongly recommended for undergraduate students interested in conducting experimental research, and this participation can begin as early as the first year of study.
Undergraduate students at the University of Chicago can devote an ample portion of their academic experience to in-depth, sustained research because they get support and encouragement from the faculty. Upon completing an optional senior research project, many students rely upon their previous research experiences.
The psychology major at UChicago requires students to complete a curriculum that provides a comprehensive curriculum. This is accomplished by having students select four classes from among the following five areas of specialization: biological psychology, cognitive psychology, developmental psychology, social psychology, and sensation and perception. In addition, students are required to take courses in statistics and methods, which are designed to equip them with the quantitative foundation necessary for research experience in psychology. For electives, there are six psychology courses to complete.
Students who are interested in obtaining honors are strongly encouraged to become involved in the Undergraduate Research Initiative in Psychology program as soon as they can after beginning their studies. Before the commencement of the semester in which they wish to graduate, students are required to have a grade point average (GPA) of at least 3.0 overall and a GPA of at least 3.5 in their major.
Moreover, students need to plan to conduct research with a faculty advisor from the Department of Psychology and then submit a scientific paper detailing the findings of this research as their honors thesis. For more information about undergraduate honors, you may check their website.
As a result of the BA in Psychology requirements and the department's extensive course selection, students can customize their programs to their individual skills and interests. For instance, students can specialize in biopsychology, cognition and communication, developmental psychology, human development, mental health, research methods and quantitative psychology, or social and organizational psychology.
The curriculum might also serve as preparation for graduate study in psychology, related disciplines (such as sociology, anthropology, and linguistics), or the communication and information sciences.
Furthermore, psychology courses are appropriate for Biological Sciences majors interested in the relations between physiology, mind, and behavior, as well as mathematics majors who are intrigued by the applications of quantitative approaches.
The program is also beneficial for students who intend to pursue careers in law, public health, urban planning, personnel management, social work, teaching, or media. Psychology may be of interest to students who are still determining their career goals and are pursuing a career in the social sciences or public service.
What Courses Do You Need To Take To Major In Psychology At UChicago?
When you attend a university that focuses on liberal arts, like the University of Chicago, your choice of degree does not automatically dictate the direction of your professional life. For some students, selecting a major is the first step toward entering a particular field of work or profession. However, for other students, selecting a major is an opportunity to develop skills that can be applied to a variety of fields of work or to delve deeper into an academic interest that truly excites them.
At UChicago, you are free to declare a major at any point, including the first quarter. However, some departments require a different deadline and you have until the end of the Spring Quarter of your third year to declare a major. During their time at the university, most students will switch their majors at least once.
Although there is no specific application required for admission to the psychology major at UChicago, student majors are obliged to subscribe to the Psychology Majors Listhost online. The Listhost serves as the principal channel of contact between the program and the students who are majors or who are considering majoring in psychology. Also, it is used to inform students of upcoming events that are related to psychology majors, such as opportunities for research, job listings, fellowship announcements, and any changes to the course schedule or adjustments to the curriculum.
Does UChicago Offer A Master's Degree In Psychology?
Does UChicago offer a master's degree in psychology? Currently, the Department of Psychology does not offer a terminal Master's degree program. On the other hand, the Division of the Social Sciences grants two Master's degrees, both of which may be of interest to students who are considering enrolling in a psychology major at UChicago.
In place of the Department's MA in Psychology, the Master of Arts Program in the Social Sciences (MAPSS) offers a concentration in psychology. Meanwhile, the Master of Arts in Computational Social Science program can be adapted to meet the needs of either your academic or professional interests. For example, students who are interested in psychology may choose to take three courses that focus on mathematical and statistical tools for neuroscience.
The Department of Psychology at UChicago's doctoral studies normally take five years to complete and consist of a core curriculum of eight courses, in addition to supplementary prerequisites that are determined by the student's area of concentration. Each student is required to complete a dissertation and a practice research project that is supervised by a member/s of the faculty. The growth of the students is measured on an annual basis through evaluations. Students' advisors are an essential part of their experience in the doctoral program since they provide direction and facilitate collaboration in the process of carrying out research and academic advising.
The Department of Psychology considers applications from prospective graduate students to determine their acceptance. Applicants are required to specify the degree or programs that align most closely with their areas of interest (the Cognition Program, the Developmental Psychology Program, the Integrative Neuroscience Program, the Computational Cognitive Neuroscience Program, or the Social Psychology Program).
Applicants will only be considered for admission if they are either currently enrolled in college or have graduated with a bachelor's degree or its equivalent at an accredited institution.
Applicants to the graduate schools and divisions of the University of Chicago must either meet one of the waiver conditions or present evidence of English language competency, regardless of citizenship. This regulation applies to all graduate programs, however, MBA programs at the Chicago Booth School of Business may provide additional waiver alternatives. The required score level varies by program.
As evidence of proficiency, only the TOEFL iBT or IELTS Academic examinations are acceptable. As proof of proficiency, only the TOEFL iBT or IELTS Academic examinations are acceptable. The application form can be found online beginning in the fall term. If you want your application to be taken into consideration for the autumn after next, you must submit it online through the Division of the Social Sciences on or before December 1st.
Joint programs are also available: Joint Ph.D. in Psychology and Linguistics, Joint Ph.D. in Business and Psychology, and Joint BA/MA in the Social Sciences. Visit the web page for the Joint Degree programs offered by the College for information regarding the requirements as well as the application process.
Is UChicago A Good School For Psychology?
The University of Chicago takes pride in being one of the nation's first psychology departments. The institution is the cradle of behaviorism and the empirical study of sleep and dreams. Since its founding in 1893 as the Laboratory of Psychology, the University of Chicago's Department of Psychology has been a prominent center for study, research, and instruction in psychology and related subjects.
Among its prominent teachers and students are James Rowland Angell, John Dewey, George Herbert Mead, John B. Watson (the founder of behaviorism), L. L. Thurstone (a pioneer in psychological measurement), and Roger Sperry (a Nobel Prize recipient for his work on cerebral lateralization). In the present time, the staff explores topics such as the behavior of nonhuman primates, auditory space perception, and gesture and speech in children.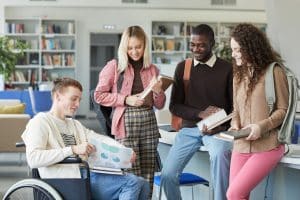 For more than a century, the Department of Psychology at the University of Chicago has distinguished itself as a premier center for scholarly work, applied research, and classroom instruction in psychology and subjects closely related to it. Because of the interdisciplinary character of the Division, its faculty members reflect the current state of the field by participating in more than one of the department's programs in cognition, developmental psychology, integrative neuroscience, and social psychology.
In addition, the department keeps strong ties with other areas of the university: its faculty and students take part in courses, colloquia, workshops, and joint research ventures with academics from related departments such as anthropology, biology, computer science, education, linguistics, and philosophy, as well as from the University's professional schools of business, public policy, law, medicine, and social service administration.
There are several resources and programs available to students who study psychology major at UChicago. To answer the popular query "Is UChicago a good school for psychology?" we'll go over the available resources they can enjoy and participate in.
Undergraduate Research Initiative (URIP)
No matter what line of work you plan to pursue in the future, having experience in conducting research is a key method to supplement your psychology education. The goal of the Undergraduate Research Initiative (URIP) is to assist students in locating research opportunities that correspond with their specific areas of interest and teach them how to make the most of those opportunities for the advancement of their academic and professional careers.
Throughout the academic year, URIP hosts several different workshops, educational sessions, and career development events to assist students in making the most of the numerous research-related activities and events that are available on campus and outside. Visit the Professional & Academic Development Events page to view a list of upcoming events and to find out more information about the program.
Psi Chi
Undergraduate students of the psychology major at UChicago are invited to take part in professional and academic growth activities organized by the institution. Students who participate in Psi Chi, the local chapter of the National Honor Society in Psychology, receive additional benefits from their involvement.
Members of Psi Chi participate in events such as Lab Night, during which University researchers discuss their most recent projects and the positions that are available to undergraduates; graduate students and graduate school panels to assist with the application process; undergraduate experience panels where the speakers share their psychology-related summer and activities during the school year; and the fun part, movie study breaks.
UC Psych
The psychology club for undergraduate students at the University of Chicago is known as UC Psych. All students who have an interest in the discipline of psychology are encouraged to apply (not just psychology majors). The club plans academic and social events relating to psychology, including seminars given by professors, movie evenings, and workshops to help students register for classes. Additionally, at the virtual weekly meetings, students take the lead in leading conversations on various issues relevant to psychology.
In conclusion, the Department of Psychology has a long-standing reputation for conducting research that influences the wider world as a direct outcome of the research. Department faculty and students are constantly making innovations that change the lives of people everywhere. These innovations range from neighborhood-level projects in the communities that surround the University campus to tools that are used by educators in classrooms and parents at home all over the world.
In the 2023 rankings for Best Psychology Schools, UChicago ranked 12th, tied with top universities in the country, Duke, Columbia, Johns Hopkins, and UC Schools Davis and San Diego. This should come as no surprise since UChicago is well-known among students for its challenging academics and for its profound dedication, which is intended to help students not only learn but also think, challenge, and question.
UChicago seeks an academically well-rounded student who has an intriguing viewpoint on the world and has extracurricular experience (ideally in interesting and unrelatable areas). Thus, the institution attracts thousands of students with brilliant minds and outstanding personalities. Standing out among thousands of qualified students would be a big challenge. But do not worry, AdmissionSight is more than ready to assist you.
AdmissionSight offers counseling services and programs for college admissions processes in different universities and colleges. Our experts are well-equipped and have long-standing experience. Feel free to book an initial consultation to start your college application journey.