Questions to Ask in Interviews for College Applications
Do you have to do interviews for college?
Do you have to do interviews for college? For students applying to colleges, interviews occasionally occur. Each institution and program has a different policy on the use of interviews throughout the college application process. Read on to know the questions to ask in interviews for college applications.
Interviews may be a requirement for admission to some schools and universities, but not others. Admissions officers, former students, or current students may conduct interviews in person, over the phone, or remotely.
During interviews, candidates can show how excited they are about the school, show off their personalities and character traits, and give more information about their academic and extracurricular accomplishments. These can also give applicants the chance to find out more about the university and ask any questions they might have.
How significant are college interviews?
Are college interviews significant? Interviews may or may not be important for getting into college, depending on the school and program. In rare circumstances, interviews could be a necessary component of the application process and factor heavily into the admissions decision. Other times, interviews might not be available at all or they might be voluntary.
Interviews, whether they are required or not, give candidates a chance to show more about their personality, character, and fit with the institution than what is shown in their application papers. The applicant may be able to show enthusiasm for the school and gain more knowledge about the organization.
When interviews are optional or unavailable, admissions decisions may be based solely on other application data, such as grades, test results, essays, and extracurricular activities.
It's important to remember that interviews are only one part of your application, even though they can affect whether or not you get in. It's crucial for applicants to review the exact standards and guidelines of the institutions they are interested in, as the importance of the interview in the admissions decision may differ per institution.
Questions to ask in interviews for college applications
How many questions to ask in interviews for college applications? Depending on the institution, the program, and your personal interests, there are several questions you should ask during a college interview.
Yet, AdmissionSight listed some possible questions to ask in interviews for college applications. Check them out below:
What distinguishes this institution from others?
What options are there for internships or research opportunities for undergraduates?
How readily available are instructors for additional assistance or direction?
What is the social climate like on campus and in the neighborhood?
How is the student housing situation?
How is financial assistance granted and disbursed?
What is the procedure for choosing a major or changing majors?
How does the college handle diversity and inclusion on campus?
What are some of the school's current significant problems?
What guidance would you provide new students?
When applying to college, it's important to do research on the school ahead of time and come up with smart answers to interview questions. It's also a good idea to think of a few inquiries you might have about the institution or the interviewer's experiences there.
This might show the university that you are interested in it and give you important information when you choose a college.
Now that we already know the questions to ask in interviews for college applications, let's move on to how to sign up for college interviews.
How to sign up for college interviews?
How to sign up for college interviews? Each institution may have a different procedure for signing up for college interviews. Here are a few standard actions to take:
Consult the college's website: Visit the college website to learn more about their interviewing procedure. While some institutions may only offer interviews to certain candidates, others may require interviews for all applicants.
Speak with the admissions department: Contact the admissions office if you can't locate information regarding interviews on the college website. They may provide you with details on how to sign up and the interview procedure.
Sign up for an interview: The admissions office may offer information on how to sign up for an interview if one is required or offered. This can be done by filling out an application online or getting in touch with the admissions office.
Prepare for the interview: After scheduling an interview, get ready by learning about the school, practicing interview techniques, creating a list of questions to ask the interviewer, and event the college interview outfit.
Knowing the questions to ask in interviews is important. Also, it's important to keep in mind that not all institutions require or conduct interviews, so be sure to check with each one you're considering to learn more about their particular requirements and procedures.
Tips for college interviews
Here is some advice for college interviews:
Research the college: Study the college ahead of time to learn more about what it offers and what sets it apart from other institutions.
Practice: With a friend or member of your family, practice responding to typical interview inquiries. You'll feel more at ease and assured during the real interview if you do this.
Dress appropriately: Present yourself in a professional or interview-appropriate manner. Making a nice first impression is possible with this.
Be punctual: To demonstrate that you are responsible and respect the interviewer's time, arrive on time or a few minutes early.
Be enthusiastic: Be passionate about the college and its offerings. This can show the institution that you are interested in attending.
Be genuine: Throughout the interview, be sincere and genuine. Never attempt to pass for someone else or give responses that you believe the interviewer wants to hear.
Pay close attention: Pay close attention to the interviewer's questions and give intelligent answers. Request a repeat or clarification of a question from the interviewer if you don't understand it.
Follow up: Send the interviewer a thank-you email or note after the meeting. This may enhance your perception of the organization and pique your interest in it.
Keep in mind that the interview is a chance for you to demonstrate your personality, hobbies, and objectives. By planning and implementing these suggestions, you can make a good impression and increase your chances of being accepted to college.
What to wear to a college interview?
Aside from thinking about the questions to ask in interviews for college applications, it's crucial to present a professional image when dressed for college interviews. These are some guidelines regarding the college interview outfit:
Dress professionally: Present yourself professionally by dressing in attire suitable for a business or professional environment. This can include a blazer or jacket, dress slacks or a skirt, and a blouse or button-down shirt.
Don't dress too casually: Avoid dressing too casually by staying away from shorts, t-shirts, and athletic attire.
Keep it simple: Maintain simplicity by avoiding garish patterns or graphics on your apparel. Maintain a simple, timeless look that won't detract from your interview.
Pay attention to grooming: Keep your nails well-groomed and your hair tidy and clean. Avoid wearing too much jewelry or makeup.
Be at ease: Wear comfortable, loose-fitting clothing that allows you to move and sit comfortably. This can make you more at ease and self-assured throughout the interview.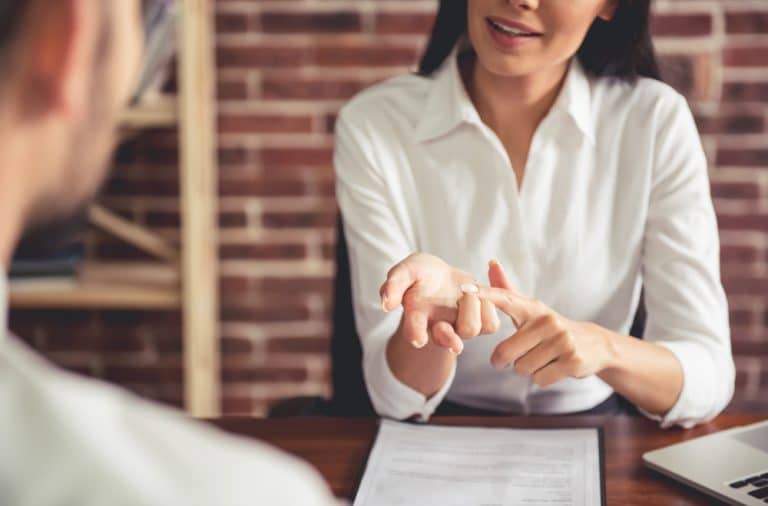 Always keep in mind that dressing for a college interview is all about making a good first impression and demonstrating to the interviewer that you are serious about the process. You may project the finest image of yourself by grooming yourself well and dressing properly.
Now that you know the questions to ask in interviews, your college admissions should be where you pay attention next. With AdmissionSight, our college admission experts will provide the necessary guidance every step of the way. You can get assistance to make sure you get into the college of your choice.
In order to help you plan your entire college career and make sure you get accepted to the college of your choice, AdmissionSight will evaluate your academic and extracurricular profile and give you a roadmap.
We will also be able to help you maintain your academic direction and competence so that you will rely on something other than athletic scholarships.
AdmissionSight is the world's leading Ivy League and college admission consulting company. You may obtain all the necessary advice from the team by making an appointment. Book your consultation today!