SAT Practice Test
What is the SAT?
SAT is a standardized test taken by high school students across the globe to apply to the colleges and universities of the United States and Canada. A student either needs an ACT or SAT to apply to colleges or universities in the US. Originally the acronym for SAT was "Scholastic Aptitude Test." Later, the acronym was dropped but not the SAT. Now, it's SAT only That's it. Learn more about the SAT practice test.
Over a period of time, since SAT started in 1926 by the College Board, it has undergone lots of changes. The last change was in 2016 and the goal as always was to make sure the SAT is highly relevant to the future success of students. The new test measures what a student learns in high school and what a student needs to succeed in college. SAT measures the ability of a student to read, to comprehend, compute, and ability to express with clarity in the four sections: Reading, Writing and Language, Maths, and optional Essay respectively.
Questions
Time
Average Score
Reading
52
65
Writing and Language
44
35
Math – with

calculator

20
25
Math – without a calculator
38
55
Essay(optional)
1
50
Essay though is optional but we would recommend as many colleges do require it.
A student who takes the SAT is given a total score between 400 and 1600. The raw score is simply the number of questions answered correctly. The questions that are skipped or wrong answers are not subtracted from the score. That raw score is then converted into a scaled score through EQUATING- a patent process of College Board.
A Great Tip!
March, May, June, August, October, November, and December are the months when the SAT is taken. It is usually on the first or second Saturday of the month. We at … would suggest the students take the SAT for the first time in the spring of their junior year. That move will provide a student with the added advantage to take the SAT for a second time in the fall of the senior year.
Why?
Here is the advantage: almost 50% of SAT takers take the SAT again, and there are studies showing this can raise the score by 50–80 points. And the second advantage is SUPERSCORE.
Another Great Tip!
SAT School Day or SAT Saturday: most states, districts, and schools participate in SAT School Day. This way a student can take the test at the school during school hours on dates in October, March, and April. Please ask your counsellor about the SAT on a school day.
Tip: Opt For SAT Fee Waiver
Why opt for a fee waiver? Well here is the million-dollar tip: the fee waiver covers the cost of two SAT registrations. So why not? The eligibility criteria-
A low-income 11th and 12th-grade student in the U.S. or U.S. territories.
A U.S. citizen living outside the country.
And if a student is –
enrolled in or eligible to participate in the National School Lunch Program (NSLP).
Having a family whose annual income falls within the Income Eligibility Guidelines set by the USDA Food and Nutrition Service.
enrolled in a federal, state, or local program that aids students from low-income families (e.g., Federal TRIO programs such as Upward Bound).
Belongs to a family that receives public assistance.
Living in federally subsidized public housing or a foster home or are homeless.
Award of the state or an orphan.
What SAT Score Do You Want?
What do you want to score? Do you want to go to Harvard or Princeton or you just want to be a graduate with any subject by studying anywhere? Or do you want a perfect score and you want to study in one of the top ten universities or colleges of the US and Canada? To get that perfect SAT score which only 2000 people have got yet in the world though around 10 million people have taken, how much hard work and smart work would you like to do. Here are a few tips:
Define your goal
Redefine your goal
And as James Clear says define a path, not the goal. Set a time to study daily.
So set your practice time. Do it, do it, do it till you forget time. And a great tip in the times of Covid-19 – Let this covid pandemic, let this isolation be a blessing to use the time to practice as much as possible.
Best SAT Practice Test
Two best places to start your SAT practice test are:
1- SAT Practice Tests: These are TEN official practice tests provided by the College Board SAT for the new SAT which started 2016 onwards. The best way to kick off your SAT practice test.
2- Khan Academy: It's not only that if you have taken a practice test and are not satisfied with your scores on the SAT you may use Khan Academy SAT practice. It's for all the high school students who want to take the SAT. It's an individualized study tool for SAT practice and learning. And it's free. College Board says the research shows that just 6–8 hours using Official SAT Practice at Khan academy could help your total score go up an average of 90 points.
Tip
A student may earn an improve Scholarship of $2,000 from the College Board Opportunity Scholarship program for practicing for 6 hours with Official SAT Practice and improving your score by 100 points.
Let's dig into each part of the SAT:
Section: Evidence-Based Reading and Writing section
SAT Reading
52 Questions, 65 minutes.
The reading test is all about how a student takes in, thinks about, and uses the information. The questions are multiple-choice based on passages provided. A few passages are paired with other passages. There are graphical information namely graphs and charts
The reading test measures reading skills based on-
Command of Evidence

To find evidence in a passage/s basically from the cohesiveness
To dig deeper to identify how authors use evidence to support their claims.
To find a relationship between the graphical information and the paired passage.

Words in Context

Usage of words in context to find the ability of the student to
Use context clues in a passage to figure out the meaning of a word or phrase being used.
Decide how an author's word choice shapes meaning, style, and tone.

Analysis in History/Social Studies and in Science: There are passages provided to draw on the reading skills needed to

Examine hypotheses.
Interpret data.
Consider implications.
SAT Writing and Language Test
44 questions, 35 minutes.
Even the SAT writing test is multiple choice and based on passages. Some passages just like the reading test have graphical information that is graphs and charts. Three things a writer does – reads, edits, and re-edits. It may sound tough but it's just a habit that if a student develops will give benefit for the Reading section and Writing and language section too.
Writing and Language Test measures writing skills based on the range of skills similar to the reading section skills but there is a difference in the approach to reply –
Command of Evidence: questions regarding how to improve the way passages develop information and ideas.
Words in Context: questions to improve word choice, to choose the best words to use based on the text surrounding them. Either to make a passage more precise or concise, or to improve syntax, style, or tone.
Analysis in History/Social Studies and in Science: to read passages with a critical eye and make editorial decisions to improve them.
Expression of Ideas: questions about the organization of passages and their impact.
Standard English Conventions: sentence structure, usage, grammar, and punctuation.
Section: Math Section
SAT Math
58 questions, 80 minutes.
The Math Test questions are designed to mirror the problem solving and modeling a student does in college math, science, and social science courses or the day job a student holds or cornering the personal life.
Most math questions are multiple-choice, but grid-ins where a student needs to come up with an answer rather than selecting the answer.
The Math Test is divided into two parts: Math Test–Calculator and Math Test–No Calculator.
The focus of the Math test is on three areas:
Algebra with a focus on linear equations and systems.
Problem-solving and data analysis
Advanced maths – manipulation of complex equations.
There are additional topics – geometry and trigonometry
The Math Test Measures the following factors-
Fluency

To carry out procedures flexibly, accurately, efficiently, and strategically.
Quick problem-solving skills.

Conceptual Understanding
Applications in real-world problems
SAT Essay
One essay. 50 minutes
It's optional. But, if you are a good reader, you are a writer, too. There is no way that a person who will score high in reading tests and writing and language tests, can't score high in writing an essay.
An essay is a window of opportunity to not only show your writing skills but to also show your analytical skills.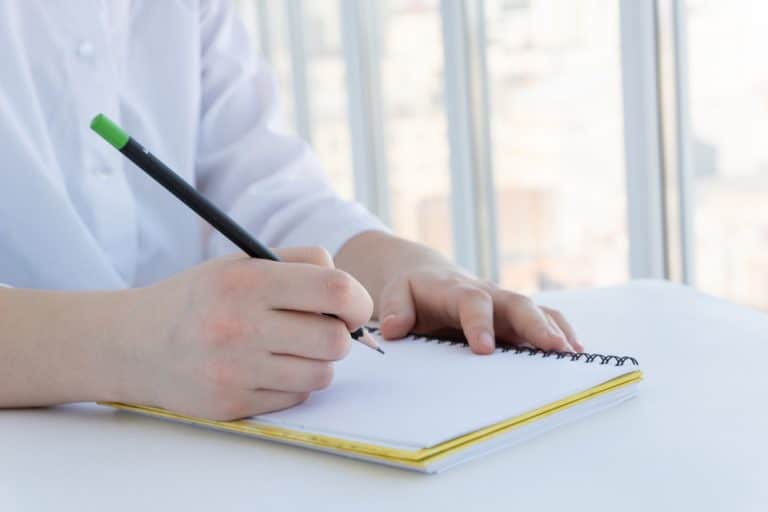 A passage of around 650 to 700 words is provided to the SAT participant who has opted to write an essay. One needs to read the passage and write an essay providing arguments and rationale. Restricting yourself with opinions only won't be of any help, one must provide supporting examples rooting for the arguments. Provide diverse ideas and possibilities with reasoning and seasoning of the right vocabulary.
Khan academy provides an SAT Essay practice tool to prepare you with the smart essay score and it also helps you learn and practice with the SAT Essay prompts – important to score as well.
The essay score is measured in a designed manner as follows:
Two readers score the essay individually
A score of 1-4 points is provided for the factors  –  reading, analysis, and writing.
The two scores are added
The score is provided for the three-factor ranging from 2–8 points separately.
For example
Score of Reader 1

(1-4)

Score of Reader 2

(1-4)

Total: Added score(2-8)
Reading
3
4
7
Analysis
3
3
6
Writing
2
2
4
After reading the passage thoroughly, do take time, Plan, outline, focus on cohesiveness, Begin with a strong pitch, build compelling arguments in the structure, conclude with a punch.
Tips!
To edit at the end is the last step and the most important of all the steps to score.
Remember reading is writing. Reading the leading literary media journals and op-ed of newspapers will not only take you places but help you get a perfect score in the essay.
SAT Superscore!!! Give Me A Break!
Let's understand it by an example. There is a high school student who has taken the SAT twice – once in fall and once in spring. The second time around his EBR decreased by 40 and his math score increased by 120. A superstore is the best score for that section from the different tests. So a college that uses superscore policy will take the EBR score which was higher and the recent Math score. The good news is many colleges use superscore. If I'm you and I have time I will prepare for one subject in summer and focus on another subject in fall. But, do review the SAT score policy of the schools you want to get admission into.
Also as a student, you always have the choice to choose which score to send to the school if you have taken many SATs.
Do You Want To Improve Your SAT Score?
Not explaining why? Because at AdmissionSight we know that students are the leaders. Any high school student who is preparing for the SAT must aim for the high score in SAT if they want the scholarship and admission to the Ivy League Colleges and Universities.
At AdmissionSight, we help students navigate the complex college admissions process. AdmissionSight showcases students on how to strengthen their leadership skills and increase community-service involvement. If you are a concerned parent of a high schooler or a graduate wondering about the future of your child's education or you are unable to decide about selecting the right college or you are pondering on the right subject for the right career path, please feel free to contact us today.
AdmissionSight serves students gladly.