SAT Scores: Do They Really Matter?
The applicants' SAT scores are used to assess a high school student's preparation for college and to give universities a single piece of comparative information with which to evaluate all candidates.
Most colleges and institutions base their admissions decisions on the SAT entrance exam. The College Board developed and delivers the SAT, a multiple-choice test that is taken on paper and pencil.
Standardized test results will be compared to your high school GPA, courses you took, letters of recommendation from teachers or mentors, extracurricular activities, admissions interviews, and personal essays by college admissions officers. The weight that SAT scores are given during the college application process varies depending on the institution.
In general, the higher your SAT and/or ACT scores, the more options you will have for attending and funding college.
Good SAT Scores
Strong SAT scores are more important to many kids than just having decent grades and a well-written personal statement when it comes to getting into college.
The following are the reasons why good SAT scores are important:
Your chances of being accepted into a certain college can increase with a high SAT score.
It's ideal to strive for at least 1200 on the SAT, even if there isn't a set minimum for an "excellent" score.
More importantly, aim for an SAT score that is in the middle 50% of students at your school or higher.
Unless your state takes part in SAT School Day, the SAT essay will no longer be available.
In the US, the SAT is a well-liked test for college admission. A higher SAT score can improve your chances of getting into college, even though there is no minimum score required to pass the test. So, what SAT score should you aim for? What constitutes a "good" SAT score, then?
What is an ideal SAT score?
Any SAT score above the median, or 50th percentile, is usually considered good because it means you did better than most people who took the test.
However, the majority of selective universities will not accept scores below the 50th percentile. Depending on how competitive the application pool is, the bar for a decent SAT score rises significantly. To achieve at least the 75th percentile, or 1200 or greater, is often preferable.
Math and Evidence-Based Reading and Writing make up your two-section scores on the SAT, which has a range of 400 to 1600. (EBRW). A scale of 200–800 in 10-point increments is used for each part. So a solid math or EBRW score would be around 600.
Percentiles can be used to compare your performance to that of other test-takers. See the following percentile charts to learn what a high SAT score is. Keep in mind that scores' percentile rankings could vary slightly from year to year.
What is a good SAT score based on your school?
Aim for an SAT score that is close to the average enrolled applicant's score to increase your chances of being accepted to a specific college. To put it another way, if the typical first-year student received 1300, you should aim for at least 1300 as well.
Find the middle 50% of the marks for each institution you are applying to determine what to strive for. The middle 50% of the population is located between the 25th and 75th percentiles. The 75th percentile for your school should be your target score.
Aim for a score higher than the 25th percentile if that is too challenging (though know that your application may be less impressive).
What is an SAT essay score?
An optional essay was once available on the SAT. But the College Board declared that it would stop providing the SAT essay in 2021. The sole exception to this rule is if your state mandates taking the SAT; in that situation, you might need to submit your essay on an SAT school day.
Even though colleges are no longer allowed to require the SAT essay, some students taking the test on a school day can be motivated to do well in the section for their own satisfaction. Math and EBRW are graded separately from the SAT essay. You will have 50 minutes to write an essay that evaluates the author's claims and arguments in a passage.
Your essay will be read by two graders, who will then give it a grade in each of the three categories—reading, analysis, and writing—on a scale of 1-4. For each category, the total score range is 2 to 8. Three 8s on the SAT essay are equivalent to a 4 from each of the three graders, which would be the ideal score.
The College Board provides the following average scores for each category based on 2020 data, even though it does not provide percentiles for the SAT essay:
Reading: 5
Analysis: 3
Writing: 5
Aiming higher is preferable if you can, but generally speaking, anything above these norms is an adequate SAT essay score.
SAT statistics can be found on the websites of many universities. You can check for a first-year class biography page or a general facts and numbers page by searching online for the name of the institution and the term "SAT score range."
How long does it take to get SAT scores?
How long does it take to get your SAT scores? It's a good question that everyone is thinking about now that the exam is over.
Scores for the SAT multiple-choice exam are made public 13 days after the test date. The College Board has revised its schedule to deliver your SAT scores sooner after years of longer waits (between three and six weeks).
The actual publication date for SAT scores now varies. On the day of your score release, the College Board estimates that nearly half of all students will have access to their results by 8 a.m. Eastern Time (ET). Sometimes it begins at 5:00 a.m. ET (2 a.m. Pacific Time).
However, because the release timing isn't always precise, AdmissionSight wouldn't suggest repeatedly refreshing your account at that moment. By 8 p.m. ET, the other half will learn their results (5 p.m. Pacific). Nevertheless, you won't need to keep checking throughout the day because the College Board will contact you when your results are ready.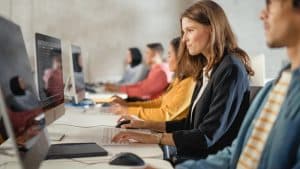 If you've designated your institutions as score receivers, your colleges will receive your scores within 10 days of when you receive them. For exact score release dates by test date, see the table below.
What happens if your SAT scores weren't announced?
Most students think that the crucial part of college preparation is taking standardized exams, later did they know it's the waiting game that's crucial. So what happens if your SAT scores weren't announced? If your SAT results aren't made public on test day, there are a few potential reasons why. Don't stress too much about any of them happening to you, as none are really frequent. The four main reasons for score delays are listed in the following paragraphs.
Cause 1: An audit of random tests
The most unlikely scenario is that your test was chosen by the College Board for a random assessment of tests to verify score accuracy. If such were the case, you would eventually receive your scores after a long delay.
You could phone your local College Board office if you didn't receive an email or letter from them (they like to mail out information for some reason). But be ready to be moved around and delayed for a bit. If it isn't obvious, I haven't experienced the College Board's best customer service.
Cause 2: Test-related red flags
Another reason your test might have been marked is if you increase your score by an exceptionally high amount, like 400 or 500 points. The College Board may ask you to retake your test to check for scoring accuracy or indications of cheating if your SAT score increases by hundreds of points between test administrations.
When an ESL student made a few hundred-point improvements, his scores were withheld. We wrote letters to the College Board on his behalf about all the studying he did between tests, but in the end, the results were thrown out.
It's a good idea to exhibit your work in your test booklet in case this occurs, in addition to aiding you in problem-solving when you are taking the SAT. In this manner, it will be simpler for you to demonstrate your honesty.
The College Board may compare your answers with those of the students sitting next to you in these situations or if a teacher reports cheating to rule out any wrongdoing.
Cause 3: Errors at your testing location
Inconsistencies at the exam site could also be the cause of a delayed score. For instance, on the SAT administered on June 6, 2015, some students were given an additional five minutes to complete a portion that was supposed to take twenty minutes.
Cause 4: Simply because they're slow
Finally, the College Board may simply be behind schedule. They have a ton of tests from students in the US and other countries to grade.
Call the College Board to try to figure out what's going on if you know of other students from your testing facility or even testing room who have received their results.
How to send SAT scores to colleges?
So, how to send the SAT scores to college? The College Board offers three options for sending SAT results. You can either do this when you sign up for the SAT or after getting your test results. If you are eligible, a fee waiver can be used to mail your SAT results for nothing.
1. Send scores for free when you register for the SAT
If you did a good job of studying for the SAT and don't intend to retake it, or if the application deadline is approaching soon, you should think about sending your scores for free when you sign up for the test. The College Board offers a free-scoring distribution service to up to four universities.
Remember that the College Board offers you nine days following the test to choose the institutions to which you want to send your test results. On your College Board account, you can select schools by putting in their names or four-digit score reporting codes.
2. After receiving your results, send your scores for a fee.
If you are unsure about your performance, you can also postpone sending colleges your SAT score report until you receive your results.
Each SAT score report you transmit to the College Board after the nine-day post-test timeframe has ended. If you want your results as soon as possible, you can also pay a higher amount per report for a rush purchase.
3. Send scores freely with a waiver of fees.
If you believe you are eligible for a fee waiver for the SAT, speak with your high school counselor. A waiver enables you to take the SAT twice for free and has no restrictions on how many free scores you can submit.
If your family receives public assistance or participates in the National School Lunch Program, you may be eligible for a fee waiver. These are just two examples of the six qualifying requirements.
Are you interested in learning more about how to improve your test-taking performance? Right now, you are in the appropriate place. At AdmissionSight, we have more than 10 years of experience helping students get into the best universities in the world through the competitive admissions process. On average, 75% of our students get into an Ivy League school like Stanford, MIT, UChicago, or Caltech. This is one of the best records in the business. Please feel free to make an appointment today to set up your first meeting.