School in Focus: Claremont McKenna College
History of Claremont McKenna College
Claremont McKenna College (CMC) is a highly regarded liberal arts institution known for its strong emphasis on leadership, economics, government, and public affairs. Located in Claremont, California, the college is a member of the prestigious Claremont Colleges consortium, which consists of seven independent institutions that share resources, facilities, and academic exchange opportunities.
It is well known that CMC has a rich and fascinating history that traces its roots back to the post-World War II era. The college was founded in 1946 by Donald McKenna, a businessman, and educator, and James A. Blaisdell, the president of Pomona College at the time. Originally established as Claremont Men's College, the institution aimed to provide higher education opportunities for returning World War II veterans.
The founding vision for the college was centered around fostering leadership, critical thinking, and responsible citizenship, with a particular focus on economics, government, and public affairs. The global context and the need for well-educated leaders in the wake of World War II heavily influenced this vision.
Over the years, CMC underwent a significant transformation to adapt to the changing social and educational landscape. In 1976, the college became coeducational, officially changing its name to Claremont McKenna College in honor of one of its founders, Donald McKenna. This important milestone marked the college's commitment to providing equal educational opportunities for all students, regardless of gender.
Throughout its history, CMC has maintained close ties with the other institutions in the Claremont Colleges consortium, established in 1925 by James A. Blaisdell.
The consortium, which includes Pomona College, Scripps College, Harvey Mudd College, Pitzer College, Claremont Graduate University, and Keck Graduate Institute, allows students and faculty to share resources, facilities, and academic offerings across the seven institutions, fostering a sense of collaboration and intellectual exchange.
Today, Claremont continues to uphold its founding mission, providing a rigorous liberal arts education with a strong emphasis on leadership, social responsibility, and interdisciplinary learning. The college's rich history and tradition of excellence have shaped its reputation.
As part of the larger consortium, Claremont McKenna students benefit from an intimate college environment while enjoying access to its sister institutions' resources and academic offerings, creating a unique and enriching educational experience that encourages collaboration and fosters personal and intellectual growth.
CMC Academics
Claremont McKenna College boasts diverse academic departments and majors, providing students with opportunities to explore various fields while maintaining a focus on the liberal arts. The core curriculum and general education requirements emphasize the development of critical thinking, effective communication, and analytical skills, preparing students for success in their chosen fields and beyond.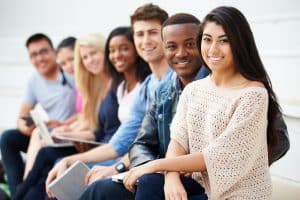 One of the defining features of CMC's academics is the robust undergraduate research opportunities that enable students to work closely with faculty members on cutting-edge projects, fostering a deeper understanding of their subjects and practical experience in their disciplines.
Additionally, the college offers various off-campus study and study abroad programs, allowing students to broaden their perspectives, engage with new cultures, and enhance their global understanding.
Claremont McKenna's commitment to academic excellence is reflected in its consistently high rankings and reputation among liberal arts colleges nationwide. It demonstrates its dedication to providing a rigorous, well-rounded education that equips students with the skills and knowledge necessary for personal and professional success.
CMC Campus life
Campus life at CMC is vibrant and engaging, offering diverse opportunities for students to connect, learn, and grow outside the classroom. Residential life significantly shapes the CMC experience, with various housing options that promote a strong sense of community and foster lifelong friendships.
The college is home to numerous student organizations and clubs catering to various interests and passions, from academic and professional pursuits to cultural, artistic, and recreational activities. CMC also boasts a thriving athletic culture, with state-of-the-art recreational facilities and competitive sports teams that encourage physical fitness, teamwork, and school spirit.
Furthermore, the college is committed to instilling a sense of social responsibility in its students, offering numerous community service and volunteer opportunities that allow them to positively impact the local and global communities.
Cultural and social events, including guest speakers, performances, and celebrations, further enrich the campus experience by exposing students to new ideas, fostering dialogue, and promoting an inclusive and dynamic learning environment.
Admissions at Claremont
The admissions process at Claremont McKenna College is holistic and competitive, considering a wide range of factors to evaluate each applicant's potential for success at the institution. Prospective students must submit their applications, along with the necessary supporting documents, by the stipulated deadlines for either the early decision or regular decision rounds.
As a highly selective institution, CMC's relatively low acceptance rate reflects the college's commitment to maintaining high academic standards and a close-knit community. Recognizing the importance of providing access to exceptional education, Claremont McKenna offers comprehensive financial aid packages and scholarships based on need and merit to ensure that talented students from all backgrounds have the opportunity to attend the college.
International students are also welcomed and encouraged to apply, as the college values the diverse perspectives and experiences they bring to the campus community. Additionally, CMC accommodates transfer student admissions, providing a pathway for students who wish to continue their educational journey at this prestigious institution.
Notable alumni and faculty at Claremont
CMC has a long-standing tradition of producing notable alumni and attracting distinguished faculty members who have significantly contributed to their respective fields. The college's alumni have succeeded across various industries, including business, politics, academia, and the arts, serving as leaders and innovators in their chosen professions. Some of these distinguished graduates include:
Robert F. Engle III (Class of 1964): Engle is an economist and a Nobel laureate who won the Sveriges Riksbank Prize in Economic Sciences in Memory of Alfred Nobel in 2003, for his contributions to the analysis of time-series data in econometrics, specifically the development of the Autoregressive Conditional Heteroskedasticity (ARCH) model.
Michael E. O'Neill (Class of 1973): O'Neill is a prominent business executive who served as the Chairman of Citigroup from 2012 to 2019. Before joining Citigroup, he held various leadership positions at Bank of America and Bank of Hawaii.
Robin Williams (Class of 1969): Although he did not graduate from CMC, the late Robin Williams attended college for three years before pursuing a career in acting. Williams was an Academy Award-winning actor and comedian known for his roles in films such as "Good Will Hunting," "Dead Poets Society," and "Mrs. Doubtfire."
Maria Klawe (Class of 1973): Klawe is a computer scientist and the first female president of Harvey Mudd College. She has been an influential figure in promoting diversity and inclusivity in computer science and engineering.
George R. Roberts (Class of 1966): Roberts is a renowned businessman and co-founder of the Kohlberg Kravis Roberts & Co. L.P. (KKR) private equity firm. He has been instrumental in shaping the private equity industry and is known for his philanthropic efforts.
David Dreier (Class of 1975): Dreier is a former Republican U.S. House of Representatives member, representing California's 26th and later 28th congressional districts from 1981 to 2013.
The dedicated faculty at CMC are accomplished scholars, researchers, and practitioners who have made valuable contributions to their disciplines, often collaborating with students on groundbreaking research projects and fostering intellectual growth through mentorship.
Throughout the years, alumni and faculty at Claremont have received numerous awards and honors, highlighting the exceptional quality of education and achievements associated with the Claremont McKenna community. These accolades testify to the college's commitment to excellence and its role in shaping the next generation of leaders, scholars, and global citizens.
CMC Resources and Support services
Claremont McKenna College is dedicated to providing comprehensive resources and support services that cater to the diverse needs of its student body, ensuring their well-being and success throughout their academic journey.
The college offers robust career services and professional development opportunities, including personalized advising, internships, workshops, and networking events that help students explore potential career paths, gain practical experience, and make valuable connections in their fields of interest.
Academic support and tutoring services are also readily available to assist students in achieving their academic goals, with resources at CMC such as study groups, one-on-one consultations, and writing assistance. Recognizing the importance of holistic well-being, CMC provides health and wellness services, including counseling, medical services, and wellness programs that promote mental, emotional, and physical health.
Additionally, the college is committed to fostering an inclusive learning environment, offering accessibility and disability services that provide accommodations and support for students with disabilities, and ensuring equal access to educational opportunities and resources.
Now that you know about Claremont McKenna College, you will have a more informed decision in entering this college. Wherever you might want to enter, you can get help with AdmissionSight with the help of our world-class guidance. With the help of experts, choosing the best university that suits you best shouldn't be hard with the help of AdmissionSight. You can talk to us today to get started.