Introducing Emory University
What is Emory University?
What exactly is Emory University? Established in 1836 and named after Methodist Episcopal Church Bishop John Emory, this Emory university has grown into a renowned private research institution with a rich history of academic excellence and innovation. Located in the vibrant city of Atlanta, Georgia, the university boasts a picturesque campus setting with state-of-the-art facilities that foster a conducive learning environment for students worldwide.
The university offers a diverse range of undergraduate, graduate, and professional programs across its various schools and colleges, including Emory College of Arts and Sciences, Oxford College, Goizueta Business School, School of Medicine, Nell Hodgson Woodruff School of Nursing, Candler School of Theology, School of Law, and Rollins School of Public Health.
These programs span various fields of study, from liberal arts and sciences to business, medicine, law, and public health. They provide students with numerous opportunities to explore their interests and gain a well-rounded education.
Through its commitment to rigorous academics, groundbreaking research, and a strong sense of community, Emory is a leading institution that prepares its students for success in an increasingly interconnected and dynamic world.
Academics in Emory University
At the heart of Emory University's commitment to academic excellence is its diverse array of schools and colleges catering to a wide range of disciplines and interests. When talking about the academics in Emory, these include the following schools:
Emory College of Arts and Sciences
Emory College of Arts and Sciences, the cornerstone of Emory, offers a diverse and rigorous liberal arts education to undergraduate students. With over 70 majors and 50 minors, students can explore a wide array of disciplines, ranging from the humanities and social sciences to the natural and applied sciences.
Emory College fosters a collaborative and interdisciplinary learning environment, encouraging students to engage in critical thinking, research, and creative expression. The highly qualified faculty members, experts in their respective fields, are dedicated to nurturing intellectual curiosity and providing mentorship to help students achieve their academic and personal goals.
Emory College of Arts and Sciences equips students with the knowledge and skills needed to thrive in an ever-changing world through its commitment to academic excellence, global perspectives, and experiential learning opportunities.
Oxford College
One of Emory University's two undergraduate colleges, Oxford College offers a distinctive liberal arts education to first- and second-year students in a close-knit, supportive environment.
Located on Emory's original campus in the historic town of Oxford, Georgia, the college provides students with a strong foundation in the liberal arts and sciences while fostering personal and intellectual growth through small class sizes, individualized attention, and hands-on learning experiences.
Oxford College emphasizes the development of critical thinking, effective communication, and leadership skills, preparing students to transition seamlessly to Emory's Atlanta campus for their junior and senior years. By cultivating a tight-knit community and offering unique experiential learning opportunities, Oxford College enables students to build a solid academic foundation while forming lasting relationships with their peers, faculty, and staff.
Goizueta Business School
Goizueta Business School, a part of Emory University, is a highly respected institution renowned for its innovative and rigorous business education programs. Offering undergraduate, graduate, and executive education, Goizueta Business School focuses on providing students with a comprehensive understanding of business principles, hands-on experiential learning, and global perspectives.
The school's strong emphasis on ethical leadership, entrepreneurship, and social responsibility sets it apart and prepares students to excel in today's competitive and dynamic business landscape. The accomplished faculty members, known for their expertise and dedication to teaching, collaborate with students on research and real-world projects, ensuring a practical and relevant education.
With strong connections to the vibrant business community of Atlanta and beyond, Goizueta Business School graduates are well-equipped to significantly impact their chosen careers and industries.
Nell Hodgson Woodruff School of Nursing
The Nell Hodgson Woodruff School of Nursing, part of Emory University, is a distinguished institution that prepares compassionate and skilled nursing professionals. Offering undergraduate, graduate, and doctoral programs, the school provides students with a comprehensive nursing education incorporating evidence-based practice, interdisciplinary collaboration, and a strong commitment to patient-centered care.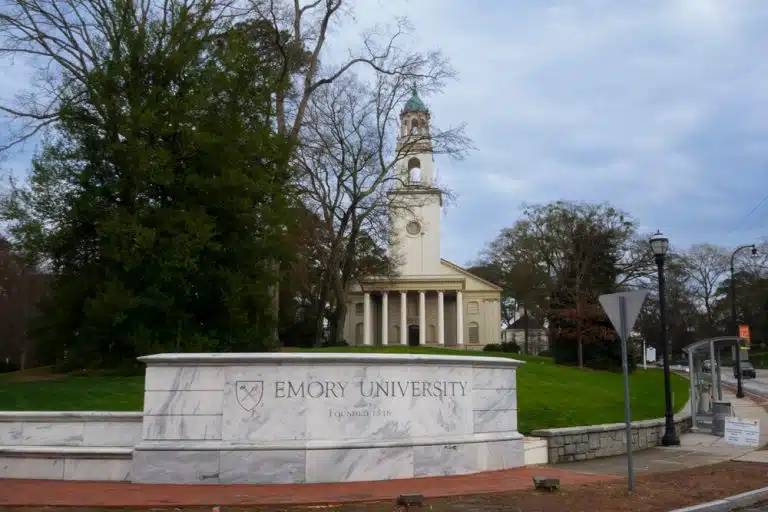 The expert faculty members, known for their excellence in teaching, research, and clinical practice, work closely with students to foster a supportive and challenging learning environment. Students benefit from hands-on clinical experiences at top healthcare facilities, including Emory Healthcare and other partners within the Atlanta area, ensuring they develop the necessary skills and expertise to excel in their nursing careers.
With a strong focus on leadership, innovation, and community engagement, the Nell Hodgson Woodruff School of Nursing graduates are equipped to make a meaningful difference in the ever-evolving healthcare field.
Candler School of Theology
Candler School of Theology is dedicated to providing a transformative theological education that prepares students for leadership roles in religious and faith-based organizations.
Offering a variety of degree programs, including the Master of Divinity (MDiv), Master of Theological Studies (MTS), Master of Religious Leadership (MRL), and Doctor of Ministry (DMin), Candler encourages students to explore their faith and engage in critical reflection on theological issues.
The distinguished faculty, representing diverse denominations and religious traditions, provide mentorship and guidance, fostering a rich and inclusive learning environment.
Students benefit from opportunities for hands-on ministry experience, community engagement, and global exposure through internships, mission work, and study abroad programs. With a commitment to academic rigor, spiritual formation, and social justice, Candler School of Theology equips graduates to serve as effective and compassionate leaders in various religious, nonprofit, and educational settings.
School of Law
Emory School of Law, an esteemed component of Emory University, is renowned for its rigorous and innovative legal education that prepares students for successful careers in the ever-evolving legal landscape.
Offering various degree programs, such as Juris Doctor (JD), Master of Laws (LLM), and Doctor of Juridical Science (SJD), the school emphasizes a strong foundation in legal theory, practical skills, and ethical values.
The accomplished faculty, comprised of legal scholars and practitioners, are dedicated to providing a supportive and intellectually challenging learning environment that encourages critical thinking, effective communication, and problem-solving skills.
Emory School of Law students benefit from many experiential learning opportunities, including clinics, externships, and moot court competitions, which help them apply their knowledge in real-world settings.
With a commitment to academic excellence, professional development, and social responsibility, Emory School of Law graduates are well-equipped to make a significant impact in the legal profession and contribute to the pursuit of justice in their communities.
Rollins School of Public Health
Rollins School of Public Health is dedicated to advancing public health through excellence in education, research, and practice. Offering a variety of degree programs, such as Master of Public Health (MPH), Master of Science in Public Health (MSPH), and Doctor of Philosophy (Ph.D.), the school equips students with the skills and knowledge necessary to address complex public health challenges and promote the well-being of communities.
The distinguished faculty, composed of accomplished researchers and practitioners, fosters an engaging and interdisciplinary learning environment that emphasizes real-world problem-solving, collaboration, and evidence-based practice.
Students benefit from practical experience through internships, practicums, and research projects at local, national, and global levels, working alongside renowned public health organizations, such as the Centers for Disease Control and Prevention (CDC) and the World Health Organization (WHO).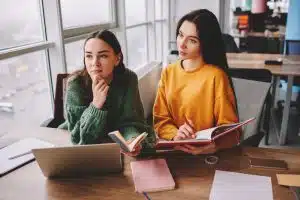 With a commitment to academic rigor, innovation, and social impact, the Rollins School of Public Health prepares its graduates to become leaders in the field, making meaningful contributions to public health policy and practice worldwide.
The student life in Emory University
Student life at Emory University is vibrant and engaging, offering many opportunities to explore their interests, develop leadership skills, and form lasting connections with their peers. Campus housing and dining options are designed to cater to diverse preferences and needs, with comfortable residence halls and various dining facilities that offer a range of cuisines and dietary accommodations.
Emory's lively campus community boasts many clubs, organizations, and extracurricular activities, spanning academic, cultural, service, and social interests, providing students with ample opportunities to get involved, make friends, and broaden their horizons. Sports and athletics also play a significant role in campus life. Emory offers competitive NCAA Division III teams, club sports, and intramural programs for students to participate in or support as fans.
The university is deeply committed to fostering a diverse and inclusive community, with various initiatives and resources in place to promote understanding, respect, and equity among all campus community members. These efforts include cultural and identity-based affinity groups, programs, and events that celebrate and explore the richness of the university's diverse population.
Emory's comprehensive student support services, which include academic advising, career counseling, health and wellness resources, and disability services, ensure that every student has access to the assistance and resources they need to flourish academically, personally, and professionally during their time at Emory and beyond.
Emory alumni network and career services
Emory University boasts a strong and extensive alumni network, with graduates excelling in various fields, including business, healthcare, law, academia, and public service. Emory's notable alumni are prominent leaders, innovators, and influencers who testify to the university's commitment to academic excellence and personal growth.
Emory offers comprehensive career services and resources to support students and alumni in their professional development, such as individual career counseling, workshops, networking events, job fairs, and access to a vast online job and internship database.
These resources help students and recent graduates make informed decisions about their career paths, acquire practical skills, and connect with potential employers and industry professionals.
Emory actively encourages alumni engagement through various events and programs, such as reunions, regional gatherings, and continuing education opportunities, enabling graduates to maintain strong connections with their alma mater and fellow alumni.
These events foster community and provide valuable networking opportunities as alumni share their experiences, expertise, and insights, with current students. The powerful combination of Emory's alumni network, career services, and opportunities for lifelong engagement ensures that graduates continue to benefit from their Emory education long after they leave the university's campus.
Knowing about Emory University can be a big help in your decision to enter this university. If you have already made your decision, it is important that you also pay attention to your admissions. You can get help with AdmissionSight in your college admission. With ten years of experience with college admission experts, AdmissionSight can help you get into the university of your choice. You can talk to our experts today to get an initial consultation.