School in Focus: The University of North Carolina at Chapel Hill
The University of North Carolina at Chapel Hill is renowned for its top-ranked academic programs, innovative research, and vibrant campus life. This legacy of academic excellence and commitment to public service has solidified UNC-Chapel Hill's place among the best public universities in the United States.
The university's dedication to cultivating well-rounded individuals who excel in their chosen fields and contribute positively to society is a testament to its enduring impact on higher education. The University of North Carolina is a prestigious public university system that has played a significant role in shaping the landscape of higher education in the United States.
What is UNC-Chapel Hill known for?
What is the University of North Carolina at Chapel Hill known for? As one of the oldest public universities in the United States and the flagship campus of the University of North Carolina system, UNC-Chapel Hill has established a reputation for academic excellence, groundbreaking research, and a strong commitment to public service.
This essay will delve into the key areas for which UNC-Chapel Hill is best known, including its top-ranked academic programs, innovative research, and vibrant campus life.
Top-Ranked Academic Programs
UNC-Chapel Hill offers a diverse range of undergraduate, graduate, and professional programs through its 14 schools and the College of Arts and Sciences. The university is consistently recognized for its high-quality education and commitment to affordability. In particular, UNC-Chapel Hill is renowned for several top-ranked programs, such as: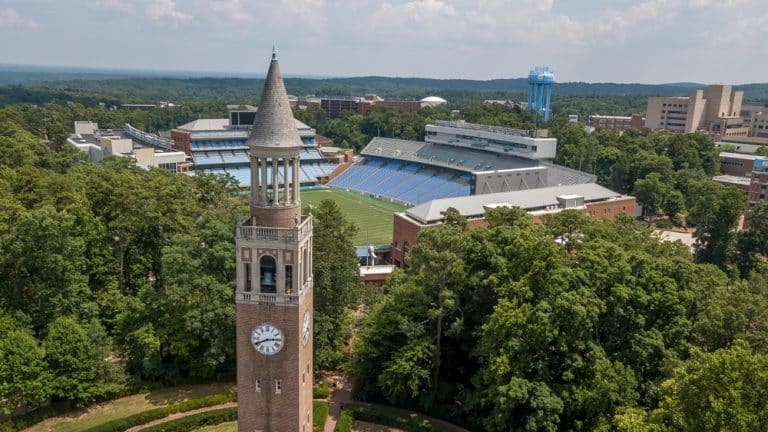 Journalism and Mass Communication: The Hussman School of Journalism and Media is highly regarded for its cutting-edge curriculum, hands-on learning experiences, and exceptional faculty. Graduates have gone on to work for prominent news organizations and media companies worldwide.
Public Health: The Gillings School of Global Public Health is one of the top public health schools in the nation, providing students with the skills and knowledge to tackle pressing public health issues and develop innovative solutions.
Medicine: The UNC School of Medicine is consistently ranked as one of the best medical schools in the United States, with a focus on primary care, research, and service to the people of North Carolina.
Business: The Kenan-Flagler Business School is highly regarded for its undergraduate, MBA, and executive education programs, preparing students for leadership roles in various industries.
Groundbreaking Research and Innovation
As a Research I university, the University of North Carolina at Chapel Hill is at the forefront of groundbreaking research and innovation across various disciplines. The university's location in the heart of North Carolina's Research Triangle provides numerous opportunities for collaboration with other universities, industries, and research institutions.
Notable research areas at UNC-Chapel Hill include:
Cancer Research: The Lineberger Comprehensive Cancer Center is one of the leading cancer research institutions in the country, focusing on the development of new cancer treatments and improving cancer care.
Environmental Sciences: The Institute for the Environment at UNC-Chapel Hill conducts interdisciplinary research on pressing environmental issues, such as climate change, water resources, and air quality.
Social Sciences: The university's social science research institutes, including the Carolina Population Center and the Frank Porter Graham Child Development Institute, are recognized for their contributions to understanding and addressing critical societal issues.
Vibrant Campus Life and Athletic Tradition
UNC-Chapel Hill boasts a vibrant campus life that provides students with various opportunities for personal growth, leadership, and community engagement. The university's more than 800 student organizations cater to diverse interests, ranging from academic and professional clubs to cultural, political, and recreational groups.
Additionally, the University of North Carolina at Chapel Hill is known for its rich athletic tradition, with the Tar Heels competing in the NCAA Division I Atlantic Coast Conference (ACC). The men's basketball team, in particular, has a storied history and enjoys a passionate fan base.
Where is UNC-Chapel Hill?
Where is UNC-Chapel Hill located? Its rich history and academic excellence are further enhanced by the location in which it resides. Nestled within the picturesque town of Chapel Hill, North Carolina, UNC-Chapel Hill is surrounded by an environment that fosters innovation, creativity, and a strong sense of community.
Chapel Hill: A Vibrant College Town
Chapel Hill is located in the heart of North Carolina's Research Triangle, which also includes the cities of Raleigh and Durham. This prime location offers a plethora of opportunities for research collaborations and partnerships with nearby universities and industries, as well as cultural and recreational activities.
The town of Chapel Hill is renowned for its vibrant college atmosphere, with a mix of shops, restaurants, and entertainment venues catering to the diverse interests of its student population. The famous Franklin Street, just a short walk from campus, is home to a variety of eateries and boutiques that reflect the unique character of the town.
Additionally, the town hosts numerous festivals and events throughout the year, such as the Festifall Arts Festival and the Tar Heel 10 Miler, offering students and residents the chance to come together and celebrate their community.
A Campus Steeped in History and Natural Beauty
The campus of the University of North Carolina at Chapel Hill boasts a picturesque landscape with majestic oak trees, lush green spaces, and historic buildings that reflect the university's storied past. One of the most iconic landmarks on campus is the Old Well, a neoclassical rotunda that serves as a symbol of the university's commitment to academic excellence and tradition.
The 729-acre campus is also home to the North Carolina Botanical Garden, where students and visitors can explore a diverse collection of native plants and natural habitats. The Coker Arboretum, located in the heart of the campus, provides a serene escape from the hustle and bustle of college life.
These green spaces contribute to the university's commitment to sustainability and environmental stewardship while also serving as a source of inspiration and relaxation for the campus community.
Proximity to the Research Triangle
As mentioned earlier, UNC-Chapel Hill's location in the Research Triangle region provides students with unparalleled access to academic and professional opportunities. The Research Triangle Park (RTP) is one of the largest research parks in the world, spanning over 7,000 acres and housing more than 200 companies, including major players in the fields of biotechnology, pharmaceuticals, and information technology.
This proximity to RTP allows for extensive collaboration between the university and industry partners, creating a dynamic ecosystem of innovation and economic development. Students benefit from internships, research opportunities, and networking events, all of which contribute to their academic and professional growth. This makes the University of North Carolina at Chapel Hill a great school for individuals aiming to gain more experience.
When was the University of North Carolina founded?
When was the university founded? With a history that dates back to the late 18th century, UNC has evolved from a single campus to a thriving system comprising 17 institutions across North Carolina.
Founding and Early Years
The University of North Carolina was chartered by the North Carolina General Assembly on December 11, 1789, making it the first public university in the United States. The cornerstone for the first building, Old East, was laid on October 12, 1793, in Chapel Hill. In 1795, UNC opened its doors to its first class of students, marking the beginning of its commitment to public education.
Throughout the 19th century, the university continued to grow and evolve, adding new buildings and academic programs to meet the needs of the state. However, during the American Civil War and Reconstruction eras, UNC faced significant challenges, including financial difficulties and a decline in enrollment. The university temporarily closed its doors in 1871 but reopened in 1875, reaffirming its dedication to higher education.
Expansion and the Emergence of the UNC System
During the late 19th and early 20th centuries, UNC underwent significant expansion, adding new schools and programs to its Chapel Hill campus, such as the School of Law and the School of Medicine. During this period, the university also became more inclusive, with the admittance of women in 1897 and the first African American students in 1951.
The 1930s marked a turning point in the history of the University of North Carolina with the establishment of the Consolidated University of North Carolina. This new entity, which combined the University of North Carolina at Chapel Hill, North Carolina State College (now North Carolina State University), and the Woman's College of the University of North Carolina (now the University of North Carolina at Greensboro), was created to promote a more unified and efficient system of higher education in the state.
In 1972, the North Carolina General Assembly restructured the Consolidated University and established the University of North Carolina system, encompassing all public institutions of higher learning in the state. Today, the UNC system comprises 17 distinct institutions, each with its own unique mission and identity, yet all sharing a commitment to excellence in teaching, research, and public service.
UNC Today: A Legacy of Academic Excellence and Impact
Throughout its history, the University of North Carolina has consistently been at the forefront of academic excellence and innovation. UNC institutions have produced numerous notable alumni who have made significant contributions to various fields, including science, the arts, business, and public service. The UNC system's commitment to affordability and accessibility has made higher education attainable for countless individuals across the state and beyond.
The University of North Carolina at Chapel Hill, the flagship campus of the UNC system, continues to be recognized as one of the leading public research institutions in the United States.
Other UNC institutions, such as North Carolina State University, the University of North Carolina at Greensboro, and the University of North Carolina at Charlotte, have also gained national and international prominence in their respective areas of focus.
How to get into UNC-Chapel Hill
How does one get into UNC-Chapel Hill? Gaining admission to UNC-Chapel Hill is a competitive process, as the university is known for its academic excellence and selectivity. It's essential to understand the application process and requirements. Here's a step-by-step guide to help you navigate the process:
Research UNC-Chapel Hill's academic offerings and campus culture: Before applying, familiarize yourself with the university's programs, resources, and extracurricular activities to ensure it's a good fit for your interests and goals.
Meet academic requirements: UNC-Chapel Hill considers your high school coursework, GPA, and class rank as important factors in the admissions process. Aim to excel in a rigorous curriculum, including Advanced Placement (AP), International Baccalaureate (IB), or honors courses if available.
Take standardized tests: While UNC-Chapel Hill adopted a test-optional policy for the 2022-2023 academic year due to the COVID-19 pandemic, it's essential to stay updated on the latest standardized testing requirements. If required, take the SAT or ACT and strive to achieve a competitive score.
Craft a compelling personal statement: The personal statement is an opportunity to showcase your unique experiences, aspirations, and motivations. It should demonstrate your writing skills and provide insights into your character and personal growth.
Request letters of recommendation: Request recommendation letters from teachers, counselors, or mentors who know you well and can speak to your academic and personal strengths. These letters should provide a comprehensive picture of your abilities and potential.
Complete the application: UNC-Chapel Hill accepts applications through the Common Application or the Coalition Application. Be sure to fill out all required sections, including personal information, academic history, and extracurricular activities.
Submit supplemental materials: Depending on your intended major, you may be required to submit additional materials, such as a portfolio for art or design programs or an audition for music or theater programs. Check the specific requirements for your desired major on the University of North Carolina at Chapel Hill's website.
Apply for financial aid: If you need financial assistance, complete the Free Application for Federal Student Aid (FAFSA) and the CSS Profile. These forms will determine your eligibility for need-based aid, including grants, scholarships, loans, and work-study opportunities.
Meet application deadlines: UNC-Chapel Hill offers two application deadlines: Early Action (typically in mid-October) and Regular Decision (usually in mid-January). Keep track of these deadlines and submit your application on time.
Prepare for a possible interview: Although not required, some applicants may be invited for an interview with an admissions officer or alumni representative. Be prepared to discuss your academic achievements, extracurricular activities, and personal interests.
Stay patient and proactive: After submitting your application, stay engaged with UNC-Chapel Hill by attending virtual events, connecting with current students, and staying informed about any updates or additional requirements.
Keep in mind that the admissions process can be highly competitive, and meeting the minimum requirements doesn't guarantee acceptance. Demonstrating a strong academic record, commitment to extracurricular activities, and passion for your chosen field will improve your chances of being admitted to the University of North Carolina at Chapel Hill.
How AdmissionSight can help you get into UNC
AdmissionSight is a college consulting firm that provides personalized assistance to students throughout the college admissions process. Here are some ways that AdmissionSight can help you:
Admissions strategy: AdmissionSight can help you develop a strategic plan for your college application process. Our professional consultants can assist with identifying schools that are a good fit for your academic, extracurricular, and personal goals, and help you plan and prioritize your application strategy.
Application review: AdmissionSight can review your application and provide feedback on how to improve it. We can offer suggestions on how to make your application stand out and highlight your strengths and unique qualities.
Essay coaching: AdmissionSight can help you craft compelling essays that showcase your personality, goals, and achievements. We can guide you through the essay writing process and provide feedback on your drafts to help you refine your writing.
Interview preparation: AdmissionSight can provide interview coaching to help you feel confident and prepared for your college interviews. Our experts can offer tips on how to present yourself professionally and how to answer common interview questions.
Extracurricular planning: AdmissionSight can help you plan and develop your extracurricular activities to make them more impactful and meaningful. We can suggest activities that align with your interests and goals and provide guidance on how to demonstrate your leadership and initiative.
Overall, AdmissionSight can provide valuable guidance and support throughout the college admissions process to help you maximize your chances of getting accepted into the college of your choice.
With a high success rate of over 75%, we have built a strong network in the past decade. Book an initial consultation today, free of charge!