The Secret Sauce to Ivy League Admission
It's no secret that Ivy League universities are highly competitive. Just how selective are these prestigious schools though? Well, the acceptance rate for the Ivies ranges between 3-4% for the more selective schools and up to 10% for the less competitive universities. However, when compared to the average acceptance rate of US colleges which hovers around 68%, it's evident just how tough Ivy League admission is for applicants.
Naturally, high schoolers with their eyes on the Ivy League wonder what they can do to increase their chances of getting into these highly esteemed schools. You're in the right place!
Academic performance such as grades, test scores, and the difficulty of your high school classes are all important considerations for colleges during the admissions process. However, these factors only give insight into an applicant's academic potential.
There are a wide variety of other factors that admissions officers are interested in learning about you including your personality, professional interests, hobbies, interpersonal skills, and much more.
Of course, it's nearly impossible to glean any of this information from a GPA or SAT score. That's where college essays come into play. In fact, this portion of your application can be thought of as the secret sauce for getting admitted to the Ivy League.
That might sound a little over-the-top, but it's true. Most college students are overly focused on how their academic performance is reflected in their applications.
While there's no doubt that you should try your best to perform well in your classes and score high on standardized tests, you don't want to spend an inordinate amount of time and energy focusing on this portion of your application and allow other components to fall by the wayside.
Here, we'll take a deeper look at the importance of college essays, why they're the secret to getting into the Ivy League, and how you can drastically improve your essays.
The Importance of College Essays
To accurately understand the importance of college essays, it's helpful to put yourself in the shoes of admissions officers.
Every year, these professionals have to sift through tens of thousands of applications sent from all over the country and all over the world. For Ivy League institutions, these applications are coming from high-caliber students with impressive academic credentials.
Comparing GPAs, ACT and SAT scores, and other academic data is simply not enough to make a decision.
In order to gather more information from applicants, Ivy League schools include an essay portion on their applications. These prompts are typically open-ended giving students ample freedom to reveal information about themselves.
You'll notice when looking at these essays, that they're aimed towards getting to know you more as an individual van is simply another applicant.
The reason college essays can be considered the secret sauce for getting admitted into the Ivies, as the opportunity presents to students.
Admissions officers are well aware of the significance of this portion of the application. Unfortunately, many students are too focused on their academic performance.
These college essays are one of the only opportunities you get during the admissions process to truly stand out from the crowd. It's a time to let your personality shine.
How hard is it to get into an Ivy League?
Before we dive into specific ways you can improve your college essays, let's take a step back to really understand just how difficult it is to get into the Ivy League. At times, it's easy to get carried away by the mystique surrounding this prestigious group of universities.
However, this mystery only serves to distort the admissions process. Despite their history and recognition, the Ivy League schools operate just like any other college simply with higher standards than most.
It can be helpful to break down the schools one by one to gain an accurate understanding of their individual selectivity. Here are the Ivy League acceptance rates:
| | | | |
| --- | --- | --- | --- |
| | Accepted Students | Number of Applicants | Acceptance Rate |
| Harvard | 1,968 | 57,435 | 3.4% |
| Columbia | 2,218 | 60,551 | 3.7% |
| Princeton | 1,498 | 37,601 | 4.0% |
| Yale | 2,169 | 46,905 | 4.6% |
| Brown | 2,537 | 46,568 | 5.4% |
| Penn | 3,202 | 56,333 | 5.7% |
| Dartmouth | 1,749 | 28,357 | 6.2% |
| Cornell | 5,836 | ~68,000 | ~8.6% |
| Total | 21,177 | ~401,750 | ~5.3% |
As you can see, for every 100 students that apply to the Ivies, only around five get accepted. However, there are extremes on each end of the spectrum.
Only three out of every 100 applicants get into Harvard while almost nine out of every 100 get into Columbia – nearly a three-times difference.
The Secret Sauce for Mastering the Ivy League Admissions Process
1. They're a chance for you to stand out from the crowd.
Perhaps the most important reason college essays are so effective for increasing your chances of getting into the Ivy leagues is that there is an effective way to stand out from the crowd.
Depending on where you're applying, your application could be up against thousands or even tens of thousands of other applications.
The freedom you have in the essay portion of your application far exceeds any available in other parts of the application. It's the essay portion where you have an opportunity to ensure your application is seen as more unique and compelling than the competition.
2. Essays give you an opportunity to reveal your personality.
When you're filling out your college application, you'll probably realize that a lot of the information is fairly dry and basic. For example, much of the application is simply asking you to fill in blank boxes and provide statistics.
Although some of these numbers such as your GPA and standardized test scores play an important role in determining whether or not you end up getting accepted, admissions officers are still limited in what they can learn about you through these stats.
The essay portion, on the other hand, gives you an opportunity to convey your unique personality. It's the best chance you have for illustrating what makes you.
3. They offer much more flexibility than the rest of the application.
When you're asked to provide your GPA or standardized test scores, you don't have any room for creativity.
There is one number to provide and you can't do anything at this point to change it. However, the essay portion of your application allows for significantly more flexibility. You were completing this portion of the application in real-time.
You can't influence what your academic performance was through high school. Those portions of the application simply require you to pull this information from the school.
On the essays, you have a lot more leverage. That's why it's critical not to underestimate the power that this secret sauce has on increasing your chances of getting into the ivy league.
4. Ivy League admissions officers hold them in high esteem.
Imagine having to look through thousands of different applications to determine who is eligible to get into the university.
It doesn't sound like an enviable job, does it? But that's exactly what Ivy League admissions officers have to do every single year. At some larger institutions, these professionals have to sift through tens of thousands of applications.
As you can imagine, repetitive information such as GPAs, standardized test scores, and extracurricular activities, can get pretty boring after a while.
That's why many admissions officers look forward to reading the essay portion. It's more interesting and engaging. Knowing that the individual reviewing your application is looking forward to reading your essays should be motivation to ensure that you deliver something that is compelling, revealing, and interesting.
Tips for Writing Better Ivy League Admissions Essays
1. Take your time & read the prompt carefully.
When you reach the supplemental essay portion of your application, you've most likely completed a good portion of the overall admissions process.
For the past few months, you've been busy preparing documents, Requesting transcripts, and taking care of other college-related tasks. At this point, you're probably ready to burn through the essay portion of your application so you can sit back, relax, and take a deep breath of relief. But hold on!
Now that you know the significance of college essay responses, you won't want to rush through this portion of the application. It's a good idea to give yourself at least a few weeks to complete these essays.
Spreading it out across a larger span of time gives you ample opportunity to mull over the themes, brainstorm ideas, and improve your responses.
It's also important to note that many college essays are deceptively hard. Often, seemingly simple questions have multiple layers to them. Taking your time to read these themes carefully can ensure that your responses are accurate and on topic.
2. Respond to old prompts.
An awesome way to ensure that your essay responses are up to snuff with what ivy league admissions officers are looking for is to practice with past topics. You see, the Ivies come out with a new set of essay prompts every single year.
Although the exact topics vary each year, there tend to be some overlapping characteristics. It's not hard to find past essay prompts online.
The topics are outdated, but it's still invaluable practice to respond to essays that Ivy League colleges have previously used in their admissions processes.
Through this practice, you'll strengthen your writing on this particular style of open-ended questions. You'll also gain a deeper understanding of what Ivy League colleges are looking for in your replies.
If you dig deep enough online, you should be able to locate answers from previous applicants. This way, you can compare and contrast your responses with those of previous applicants to see how you stack up.
3. Adhere to the word limit.
Many applicants get frustrated when faced with the restrictions or limits on Ivy League essay prompts. Although it varies between schools, it's not uncommon to have word limits hovering around 200 to 300 words.
Sometimes, it's even lower. There are a few reasons colleges limit applicants in this way. First and foremost, it's to make it easier for admissions officers to read through thousands and thousands of essays. Secondly, colleges also want to see how succinct applicants can write.
When you start writing your essay, you might find that your responses easily go over the word limit. Although you might be tempted to go over even just a little bit, it's imperative that you remain within the stated word limit. College admissions officers won't be forgiving when it comes to this restriction.
It's a poor reflection on applicants if they were unable to follow such a simple rule. We advise students to write down the first draft without worrying too much about the word limit. And then each time you edit your responses, simply cut out fluff until you're left the just the essentials.
4. Don't be afraid to get personal.
How many Ivy League applicants have impressive academic performance? A lot! How many of those high schoolers took honors and AP classes? You guessed it, a lot of them. What about standardized tests? You can bet many applicants scored incredibly well.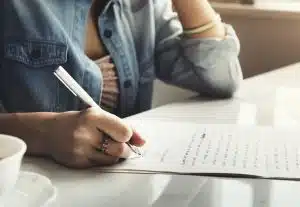 But how many of those same applicants have your personal experiences, strengths, insights, and goals? Only one person: you! You are the most unique thing about your entire application, and college essays are specifically designed to help admissions officers get to know more about you.
So don't hold back. Don't be afraid to let your personality shine through in your writing. Open up and be transparent.
Honesty will go a long way when completing these essay prompts. Admissions officers are looking to understand who you are, how your experiences have influenced you, and what you're looking to do in the future. These essays are your time to shine.
5. Learn about the university in depth.
Although you are undoubtedly the main subject of the essay prompts, you can't afford to leave out details of the university to which you are applying.
After all, the ultimate decision that admissions officers have to make is whether or not you are a fitting candidate for the school and whether or not the University is a fitting match for you.
If you only focus on yourself, your personality and your goals, admissions officers might not see How those things connect with the University no matter how captivating or impressive they are.
That's why it's important to make this connection in your essays. You need to show admissions officers that the university to which your plan is an ideal match given your personality, academic interests, and long-term goals.
What specific classes, clubs, programs, and other school opportunities will you take advantage of at this university? Also, how will these offerings help you develop personally, academically, and professionally?
Being able to answer these questions in detail with accurate references to what this school is offering will work wonders on your essay responses. Making the connection between your goals and the school's opportunities will make it easier for admissions officers to envision you attending.
Hire an Admissions Expert to Perfect Your Essays
At this point, you understand the opportunity that college essays provide for greatly increasing your chances of getting into the Ivy League. It's truly no exaggeration to say that this portion of your application is the secret sauce for receiving that coveted acceptance letter.
Are you now ready to hear about the most effective strategy for nailing your college essay prompts? Get ready! It's working with a college admissions expert. If you're not sure what that is, you're not alone. Allow us to explain.
Admission Sight is a leading provider of admissions-related services designed to help students just like you achieve their dream of attending the Ivies and other top-tier schools. One of our most effective services is essay ending.
After spending a decade studying and understanding the admissions processes of Ivy League schools, we know exactly what it takes to ensure your application is accepted. If you are interested in learning more about how we can perfect your essays and your application overall, feel free to reach out to us.