Stanford Acceptance Dates
For students who are interested in attending a school that is just as prestigious as any of the eight schools in the Ivy League, but also want to enjoy the lifestyle that the West Coast has to offer, the obvious dream school often ends up being Stanford University.
Much like schools in the Ivy League like Harvard, Yale, and Princeton, Stanford is incredibly prestigious and incredibly hard to get into. If Stanford is your dream school, you are going to want to learn as much as you can about what it takes to get in. That includes knowing basic facts about the Stanford acceptance date, the Stanford Early Action date and so much more.
After all, when it comes to applying – and actually getting in – to some of the most competitive and prestigious schools in the world, it is the student's responsibility to learn as much as they can about how the school actually carries out its admissions process.
After all, when business professionals are applying for top jobs in their respective fields, a lot of the preparation ends up being geared towards research to learn what that job is looking for and how you – as an applicant – can provide the necessary proof that you deserve the job! In many ways, there are some very real similarities to applying to top schools and applying to top jobs, and learning about a school like Stanford and what its admissions officers and committee are looking for can really help you succeed when it comes to actually get in.
While a lot of students decide to go it alone in their application journey, one fast-growing tendency for top students with incredibly lofty goals is the hiring of an admissions consultant to help all along the way.
Experienced admissions consultants often come on in the months before a student starts filling out and sending in their college applications. However, it is also not uncommon for students to work with a consultant in the early days of their high school education, so that they can have guidance when it comes to choosing extracurriculars, picking courses, preparing for standardized exams and so much more.
At AdmissionSight, we make it our top job to offer high school students that we work with important information that can help them better prepare for the college application journey and know what to expect all along the way. The tools that we offer have a clear impact on the level of success that students enjoy compared to the incredibly competitive acceptance rates at the most prestigious schools.
In fact, 75.0 percent of the students that we have worked with in the past have gone on to get into either an Ivy League school like Harvard or Yale or a top 10 school that is not in the Ivy League such as Stanford, MIT or UChicago. Considering the fact that many of these schools have acceptance rates that are either just above or below 5.0 percent, we believe quite firmly that the 75.0 percent success rate of the students that work with us is a ringing endorsement of the value that we offer.
So, if you are interested in learning more about the Stanford acceptance rate or are curious to learn if there is a Stanford Early Action 2 date, then you have come to the right place.
The Stanford acceptance rate
Before we get into the important dates related to Stanford applicants, we wanted to spend just a bit of time going over the once very important aspect of applying – and getting into – Stanford University. That is, of course, the Stanford acceptance rate.
At any college or university, the acceptance rate represents the percentage of students that end up getting offered a spot in the incoming graduating class compared to the overall pool of students that applied to the school in a given application cycle. Of course, the most recent application cycle was the 2021-22 cycle, and the students who applied to Stanford in that year were hoping to become part of the Stanford graduating class of 2026. Here is what we know about the acceptance rate at the school:
In the most recent application cycle, an approximate total of 61,220 students applied
While Stanford did not publish its official acceptance rate for the 2021-22 cycle, the acceptance rate was thought to be somewhere between 3.95 percent and 4.15 percent
An acceptance rate as lost as 4.15 percent would put Stanford amongst the hardest schools to get into, not only in the United States but also in the entire world
At this point, you may be wondering why Stanford has decided not to publish its acceptance rate. In fact, the school made the shift back in 2018. At the time, Former Stanford Provost Persis Drell helped explain why the school would be moving away from the custom of publishing such information.
"We want students to know that when we encourage them to apply to Stanford, it's not because we wish to be known as the most competitive university with a low admit rate," Drell said. "It is because we want promising students of all backgrounds to seriously consider the educational opportunities and possibilities at Stanford.
Each year, we strive to put together a class that is academically excellent, intellectually nimble, and enormously broad in backgrounds and perspectives. By focusing on the admit rate, talented students who would thrive at Stanford may opt not to apply because they think Stanford seems out of reach. And that would be a shame."
Though the university does not officially publish admission dates anymore, experts within the undergraduate admissions landscape do tend to do a pretty great job at estimating current acceptance rates and projecting future ones. Keeping these numbers in mind when developing a list of which school to apply to is very important for any student, no matter how intelligent and accomplished he or she is.
For that reason, students are encouraged to end up applying to a varied list of schools when it comes to prestige and selectiveness. This will give students the best chance possible at getting into a great school even if they do end up missing out on an offer from a school like Stanford.
Important Stanford acceptance dates
Now that we have covered the basic facts of the acceptance rate at Stanford as it currently stands, let's get into something a bit more exciting. The Stanford acceptance date! As is the case with all schools that offer Early Action/Decision and Regular Decision applications, Stanford has two different due dates for students to send in their applications as well as two different acceptance dates.
Of course, if you plan on applying to Stanford via Early Action, you will want to keep an eye out for the Stanford Early Action dates. There is no Stanford Early Action 2 date as the school does not offer an Early Action 2 application option. However, we have included the dates for students who are interested in transferring from a community college or four-year undergrad program at Stanford
Take a look at the Stanford admissions timeline below.
Freshman applicants:
Application with Arts Portfolio
Restrictive Early Action

October 15

Regular Decision

December 5

Materials for Arts Portfolio
October 20
December 10
Standard Application Deadline
November 1
January 5
Last Acceptable SAT Test Date
October
December
Last Acceptable ACT Test Date
September
December
Notification of Missing Documents
Mid-November
Mid-February
Decision Released By
December 15
April 1
Student Reply Date
May 2
May 2
Transfer applicants:
| | |
| --- | --- |
| Application with or without optional Arts Portfolio Deadline | March 15 |
| Materials for Arts Portfolio Deadline | March 20 |
| Last Acceptable SAT Test Date | December |
| Last Acceptable ACT Test Date | February |
| Notification of Missing Documents | April |
| Decision Released By | May 15 |
| Student Reply Date | June 1 |
Now that you know the important dates as they relate to the admissions process at Stanford, you may be interested to learn more about why students decided to apply to Stanford via the school's restrictive Early Action application option and what benefits students gain from this decision.
When it comes to students who are interested in applying to Stanford via Early Action, there is some information the school offers when it comes to what kinds of students may want to consider applying to Stanford in this way, as well as what exactly is restrictive about this application option.
Restrictive Early Action may be a good option for you if all of the following apply:
You have identified Stanford as your first choice;
You have taken a challenging academic schedule through grade 11 and have done well;
You have enough time before the November 1 deadline to write a thoughtful application.
When it comes to the restrictive nature of the application, here are some factors to keep in mind:
It is Stanford policy that, if you apply to Stanford with a decision plan of Restrictive Early Action, you may not apply to any other private college/university under their Early Action, Restrictive Early Action, Early Decision, or Early Notification plan.
In addition, it is Stanford policy that you may not apply to any public university under an early binding plan, such as Early Decision.
If you apply to Stanford under Restrictive Early Action, you may apply to other colleges and universities under their Regular Decision plan.
If you apply to Stanford under Restrictive Early Action and your application is deferred, you may apply to another college's Early Decision II plan.
With all this being said, it is important to know that Stanford's Early Action application option is not, in fact, binding. A binding early admissions option means that if a student applies this way to a school and is accepted, they then are required to accept their spot and withdraw their applications at any other schools they applied to. This is the most restricted form of early admissions.
Given all these rules, as well as the simple fact that Early Action applicants have less time to send in their application to Stanford, you may be curious why students decide to utilize this option. There are a number of reasons for this, but the most obvious one is that students tend to enjoy more favorable acceptance rates when they apply to top schools like Stanford in this way.
In fact, a lot of schools in recent years have been known to have acceptance rates that are double – or even triple – that of the acceptance rate for Regular Decision applicants. While this fact should not be ignored, there are some things that can explain this fact other than the idea that Early Action applicants are given a boost simply because they decided to apply in this way.
Students who apply in this manner tend to be a self-selecting group and may have stronger grade point averages, standardized test scores, extracurricular accomplishments and more, making them more attractive applicants regardless of when and how they chose to apply.
Students who apply to Stanford via Early Action initially have their applications pegged against only the other students who have also applied in this way, leading to a smaller pool of students.
The choice to apply via Early Action shows a specific interest in Stanford. Just like elite students want to feel wanted by elite schools, elite schools also want to feel wanted by elite students. It also serves as a clear sign that unless some unforeseen circumstances arise, a student who is accepted from the Early Action pool is very likely to accept that spot.
So, there you have it! While students who want to apply to Stanford have an earlier due date for their applications, they also have a much earlier Stanford Early Action date when they'll hear back from the school.
All in all, if you are planning on applying to Stanford and know that it is the No. 1 school that is at the top of your wish list, then applying via Early Action is something that you should strongly consider. That can be said for any school if it is your top choice and if it offers an Early Action or Early Decision application option.
What does Stanford look for in undergraduate applicants?
Now that you know basically all there is to know about the different Stanford acceptance dates, we thought we would wrap this breakdown up by going over some of the key things Stanford looks for in students that apply to the school. Here is what we know about the kinds of characteristics students who go on to get into Stanford are able to show in their application.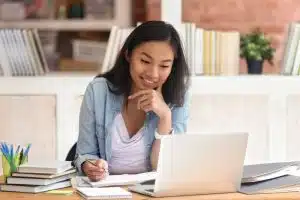 Excellence in the classroom
First and foremost, the one thing students must have proof of in their application is a high level of academic excellence. In fact, it is wiser to consider an incredible grade point average, very strong standardized test scores, and a laundry list of advanced courses in your high school curriculum (Honors, AP, or IB) something of a prerequisite.
The truth is that great grades on their own won't get you into Stanford or any truly elite school, but slightly above average or average academic marks can truly keep you out. At many schools, the first cuts admissions officers make to applicants revolve solely on their academic record.
Extracurricular investment
Another really important aspect of any student's application to Stanford is their extracurricular record. Extracurriculars refer to basically any activity, group, or club a student took part in during their time in high school.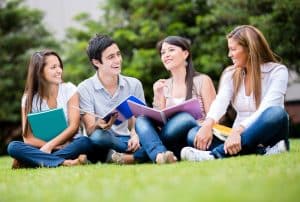 Students often get involved in sports, student government, academic competitions, art or theater groups, and so much more. The truth is that schools don't look for specific activities as much as they look at the kind of involvement students had and how deeply they pursued their individual passions.
Stanford admissions officers want to find students that will commit fully to what they are interested in and will continue exploring those passions throughout high school. These days, it's considered far smarter for a student to be deeply involved in 3 to 5 extracurriculars rather than just slightly invested in 7 to 10.
Context matters
Finally, Stanford is fully aware that no two applicants are the same, and the admissions officers at the school want to see what makes an applicant unique and special. The best way for students to depict this about themselves is through their personal statement that is part of their application as well as their letters of recommendation.
Make sure these materials do as much as they can to show Stanford who you are as a person beyond just your great grades and achievements! That will give them the context they need to determine whether or not you'd be a great fit within the Stanford community.
We'll help you track Stanford acceptance dates
Getting into the top schools in the country is hard, but that does not mean you are not up to the challenge. If you are interested in learning more about Stanford and what it takes to get in, contact us at AdmissionSight today to set up a free consultation.