Stanford and Williams: A Comprehensive Look
If you're considering applying to American universities, Stanford and Williams are two institutions that are worth looking into. Both are highly respected and sought-after universities with strong traditions and legacies. We will be comparing Stanford and Williams across a range of factors. Making an informed decision is the goal of this article.
Introduction: Setting the Stage for the Comparative Analysis
Before we dive into the details of Stanford and Williams, let's first set the stage for the comparative analysis we'll undertake. There are many factors that prospective students consider when choosing a university, including academic programs, faculty, campus life, research opportunities, facilities, and location. In this article, we'll explore all of these factors, and more, as we compare Stanford and Williams.
One important factor that can greatly influence a student's decision is the cost of attendance. Both Stanford and Williams are known for their high tuition fees, but they also offer generous financial aid packages to eligible students. We'll take a closer look at the cost of attendance and financial aid options at both universities and how they compare to each other.
Historical Overview of Stanford and Williams
Stanford was founded in 1885 by Leland Stanford, a railroad magnate, and his wife, Jane Stanford, in memory of their son who passed away. The university has since grown into one of the most prestigious universities in the world, known for its exceptional faculty, rigorous academic programs, and cutting-edge research.
On the other hand, Williams was founded in 1793 in Massachusetts, making it one of the oldest liberal arts colleges in the United States. Since then, Williams has established itself as a premier institution, offering high-quality education in a small, intimate setting.
Despite their differences in age and size, both Stanford and Williams have a strong commitment to diversity and inclusion. Stanford has implemented various initiatives to increase diversity among its student body and faculty, including the Diversifying Academia, Recruiting Excellence (DARE) program and the Faculty Development Initiative. Similarly, Williams has made efforts to increase diversity and inclusivity on campus through programs such as the Davis Center and the Office of Institutional Diversity, Equity, and Inclusion.
Campus Life: A Comparative Study of Student Life at Stanford and Williams
Stanford's campus is located in the heart of Silicon Valley in California. With over 18,000 students, the campus is bustling with energy and excitement. Students can choose from over 200 student organizations, and there's always something going on, whether it's a concert, a lecture, or a sporting event.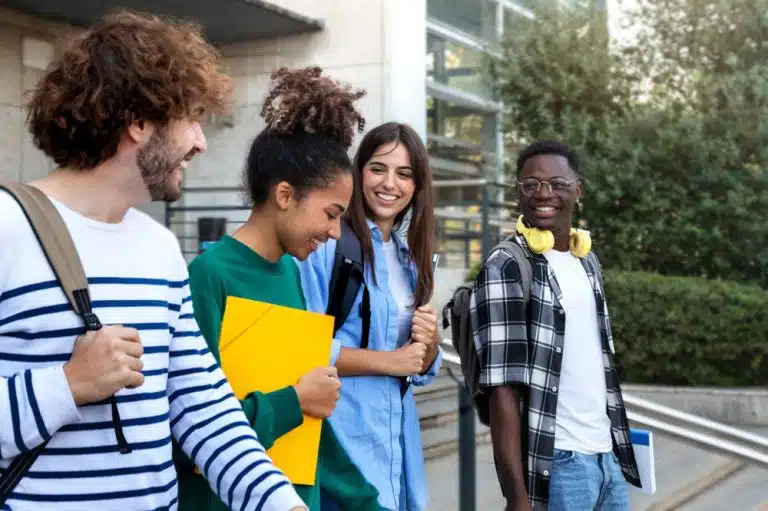 Williams, on the other hand, is much smaller, with a student body of only around 2,000. Despite its size, the campus is still lively, with a rich extracurricular life that includes athletic and cultural events.
One major difference between the two campuses is the climate. Stanford enjoys a warm, Mediterranean climate, with mild winters and hot summers. This allows for year-round outdoor activities, such as hiking, biking, and swimming.
Williams, on the other hand, experiences a colder, more temperate climate, with snowy winters and mild summers. While this may limit some outdoor activities, it also provides opportunities for winter sports, such as skiing and snowboarding.
Academic Programs: A Comprehensive Look at Course Offerings and Curriculum at Both Universities
When it comes to academic programs, both Stanford and Williams have a lot to offer. Stanford has seven schools, offering undergraduate and graduate programs in a wide range of fields, from humanities to engineering to business.
Williams is a liberal arts college, offering 25 majors and 36 concentrations in the humanities, social sciences, and natural sciences. While the two institutions have different approaches to education, they both value academic rigor and excellence.
Additionally, both universities offer a variety of opportunities for students to engage in research and independent study. Stanford has a robust undergraduate research program, allowing students to work alongside faculty members on cutting-edge research projects.
Williams offers a Winter Study program, where students can take a month-long course or pursue an independent project during the month of January. These opportunities allow students to delve deeper into their academic interests and gain valuable experience in their fields of study.
Admission Processes: Comparing the Admission Procedures and Requirements at Both Universities
Admission to both universities is highly competitive, and prospective students need to have excellent grades, test scores, and extracurricular activities to be considered. Stanford has an acceptance rate of around 4%, while Williams accepts around 12% of applicants.
While the admission procedures and requirements are different for both institutions, they both emphasize the importance of character, leadership, and personal qualities in their selection process.
Additionally, Stanford places a strong emphasis on research experience and academic achievements, while Williams values community involvement and service. Stanford requires applicants to submit at least two teacher recommendations, while Williams requires three. Both universities also offer need-based financial aid and merit-based scholarships to help make their education accessible to a diverse range of students.
Campus Infrastructure: Analyzing Facilities, Resources, and Infrastructure Available to Students
Both Stanford and Williams offer excellent facilities and resources to their students. Stanford has state-of-art labs, research centers, and libraries, while Williams has modern academic facilities, art museums, and a performing arts center. Both universities have invested heavily in technology, ensuring that their students have access to the latest tools and equipment to support their academic pursuits.
In addition to the academic facilities, both universities also provide a range of resources to support student life on campus. Stanford has a world-class athletic center, with facilities for a variety of sports, including swimming, basketball, and tennis.
Williams, on the other hand, has a beautiful campus with plenty of green spaces, hiking trails, and outdoor recreational areas. Both universities also have a range of student clubs and organizations, providing opportunities for students to pursue their interests and connect with like-minded individuals.
Research Opportunities: Exploring Research Opportunities Available to Students at Both Universities
Research is an essential component of higher education, and both Stanford and Williams pride themselves on offering exceptional research opportunities to their students. Stanford has a long history of cutting-edge research, with research centers in areas such as medicine, engineering, and science. Williams also has research opportunities for its students, including summer research programs and research assistantships with faculty members.
Additionally, both universities encourage interdisciplinary research, allowing students to explore multiple fields and collaborate with peers from different departments. Stanford's Bio-X program, for example, brings together researchers from biology, engineering, and medicine to work on projects related to human health. Williams' Center for Development Economics provides opportunities for students to conduct research on economic development in various regions of the world.
Student Diversity: A Comprehensive Analysis of Student Diversity at Stanford and Williams
Diversity is an important aspect of any university, and both Stanford and Williams value diversity and inclusion. Stanford has a diverse student body, with students from all over the world. Williams also values diversity and has a diverse student population, with students from over 60 countries. Both universities have active diversity programs, including student organizations and initiatives to promote inclusivity on campus.
At Stanford, the Office of Multicultural Affairs provides resources and support for students from underrepresented backgrounds, including first-generation college students and students of color. The university also offers a variety of diversity-related courses and workshops, such as "Race, Ethnicity, and Immigration" and "Gender and Sexuality in Society."
Similarly, Williams has a number of programs and initiatives aimed at promoting diversity and inclusion on campus. The Davis Center provides a space for students to explore issues related to identity and diversity, and the college offers a range of courses focused on topics such as race, gender, and sexuality. Additionally, Williams has a number of student-led organizations dedicated to promoting diversity and inclusion, such as the Queer Student Union and the Black Student Union.
Extracurricular Activities: Comparing the Extracurricular Activities Available to Students at Both Universities
Extracurricular activities are an essential part of student life, and both Stanford and Williams have many activities to offer. Stanford has over 600 student organizations, including cultural, sports, and service groups. Williams also has a rich extracurricular life, with activities such as music, theater, dance, and sports. Both universities have excellent athletic facilities, and sports are an integral part of campus life.
However, there are some differences in the types of extracurricular activities offered at each university. Stanford has a strong focus on entrepreneurship and innovation, with many student organizations dedicated to startups and technology.
On the other hand, Williams has a strong emphasis on the arts, with a renowned music program and many opportunities for students to participate in theater productions. Additionally, Williams has a unique outdoor program that offers students the chance to explore the surrounding mountains and wilderness areas through activities such as hiking, rock climbing, and skiing.
Alumni Network: Examining the Strength of Alumni Networks of Stanford and Williams
The strength of an institution's alumni network can have a significant impact on its students' lives, and both Stanford and Williams have strong alumni networks. Stanford alumni include leaders in industry, government, and academia, with many successful startups and companies created by its graduates. Williams alumni also include leaders in various fields, including business, law, and the arts.
However, the strength of an alumni network is not just measured by the success of its graduates. It also includes the level of engagement and support provided to current students. Stanford's alumni network is known for its active involvement in mentoring and providing career opportunities for current students. Williams' alumni network also provides support through various programs, including internships and networking events.
Furthermore, the strength of an alumni network can also be seen in its philanthropic efforts. Both Stanford and Williams have strong traditions of giving back to their respective institutions. Stanford's alumni have donated billions of dollars to the university, funding research, scholarships, and facilities. Williams' alumni have also made significant contributions, including funding for financial aid and academic programs.
Campus Location and Surroundings: Analyzing the Surroundings of Both Universities
Finally, let's take a look at the surroundings of the two institutions. Stanford's campus is located in the heart of Silicon Valley, with easy access to San Francisco and other major cities in California. Williams is located in a picturesque, rural setting in Massachusetts, with easy access to the Berkshires, a popular tourist destination known for its natural beauty and cultural attractions.
Stanford's location in Silicon Valley provides students with unique opportunities to engage with some of the world's most innovative companies and startups. The university has strong ties to the tech industry, with many alumni going on to work for companies like Google, Apple, and Facebook. Additionally, the surrounding area offers a diverse range of cultural experiences, from world-class museums to outdoor festivals and concerts.
On the other hand, Williams' rural location provides students with a peaceful and serene environment that is conducive to learning and personal growth. The campus is surrounded by beautiful forests, lakes, and mountains, making it an ideal location for outdoor enthusiasts.
The Berkshires also offer a rich cultural scene, with numerous art galleries, theaters, and music venues. Students can take advantage of these opportunities to explore new interests and broaden their horizons.
Conclusion: Summarizing Key Takeaways from the Comparative Analysis
In conclusion, Stanford and Williams are two exceptional institutions with different strengths and qualities. Stanford is a large, research-focused university with a diverse range of academic programs and extracurricular activities, located in the heart of Silicon Valley.
Williams is a smaller, more intimate liberal arts college with a strong tradition of academic excellence, located in a picturesque setting in Massachusetts. Ultimately, which institution is the right choice for you depends on your individual interests and needs. We hope this article has been useful in helping you make an informed decision.
It is important to note that both Stanford and Williams have strong alumni networks and offer valuable resources for career development. Stanford's location in Silicon Valley provides unique opportunities for students interested in technology and entrepreneurship, while Williams' strong liberal arts curriculum prepares students for a wide range of careers and graduate programs.
Segue to AdmissionSight
At AdmissionSight, we firmly uphold the conviction that every student is entitled to the chance to pursue their dreams at their preferred college. Our mission is to equip you with the expert advice and unwavering support you need to secure a place at the schools you aspire to attend.
Don't let your future hinge on uncertainty. Reach out to AdmissionSight today to arrange a complimentary consultation and embark on the journey toward realizing your dreams. With our expert mentorship and steadfast support, the sky's the limit.