Stanford Summer Programs
High school students everywhere have a unique opportunity to explore their intellectual curiosity and learn about one of the world's top universities with their peers by enrolling in one of Stanford's University's online summer programs.
Stanford University's summer programs provide high school students the chance to connect with their academic peers while exploring the arts, humanities, math, and sciences and being mentored by cutting-edge professors. These courses, all of which earn college credit, provide an invaluable introduction in their journey to college and beyond.
Students wanting to get a jump start on their college education will want to check out these summer activities at Stanford University:
The Virtual Admit Weekend on April 20
An on-line only Summer School starting June 20
The Virtual Admit Weekend gives prospective Stanford students and their families a chance to interact online with Stanford students, administrators, and other officials as they learn more about the sprawling campus nestled between San Francisco and San Jose.
Stanford University's summer school is going online for 2020 with more than 200 courses available to prospective students from Saturday, June 20 – Sunday, Aug. 16. Many other pre-fall activities also await new and returning Stanford University students.
The summer session–Stanford's fourth academic quarter–is the perfect time to "test drive" the university's academic programs. This is the only time during the year where high school, undergraduate and graduate students not enrolled at Stanford can sample the university's learning environment.
Going digital, and forgoing typical classroom settings, has advantages and disadvantages for AdmissionSight students and parents.
These programs are still being offered at Stanford though many other regular summer programs have been canceled as detailed below.
Key Summer Session Dates
Summer Session 2020 registration began on April 12. The last day to submit an Annulment of Summer Registration Form is the first day of class: Monday, June 22.
Note: AdmissionSight suggests registering early for Summer school sessions since many courses cap the number of online students. Limiting class size preserves the seminar feel and ensures an appropriate student to teacher ratio.
Learn more about:
Prospective Summer School Student requirements for:

High school students
International students

Check out these advantages to enrolling a qualified high school student in Stanford's Summer Programs this year. Hint: the fees are dramatically less.
Determine which courses to select based on:

The most popular majors.
Number of Summer School Class offerings by topic

View some sample course descriptions
Consider an alternative to the standard summer school: Stanford's Intensive Studies program.
Virtual Admit Weekend
An all-day live-stream featuring three top Stanford officials highlights the university's Virtual Admit Weekend on Saturday, April 25.
Activities begin with a welcome to the event at 9 a.m. followed by:
A panel of current Stanford Students at 10:15 a.m. discusses what it is like to live and study on the Stanford University campus.
An Academic Advising Panel at 11:15 a.m. with a current Dean, an academic advisor, and students.
A Financial Aid discussion at 1 p.m. for prospective students and parents with the university's Director of Financial Aid, Karen Cooper.
A Safety and Well-Being Panel at 2 p.m. with members of the Stanford community that includes representatives from the university's Student Affairs department, police department, and equality and access.
Representatives from other departments may also attend.
Learn more by visiting Stanford University's Undergraduate Admissions web page. Ensure your application is complete and on time by reviewing the Application and Testing Deadlines.
Stanford Summer School 2020
Enrolling at Stanford University's summer session for qualifying high school students has a lot of advantages to prospective students and their parents.
The main advantage is an opportunity for incoming high school seniors to experience college courses online while earning academic credits.
Four other advantages to the Summer Session 2020 are:
Lower Costs
Easy Access to online courses
Healthier Students
Worldwide Accessibility
High School Student Requirements
Stanford does not accept incoming freshmen into the summer program. In addition to completing a Summer Session application, summer students must be:
A current must be at least a high school sophomore at the time of application (i.e., an incoming junior or senior) or taking a gap year.
Must be within the ages of 16 (when the session starts on June 20) and 19 (when the Summer School session ends Aug. 16)
Upload recently completed semester grades
Submit standardized test scores
Submit two personal essays
Receive a letter of recommendation through Stanford's application system
Note: The Horizon Scholars summer session program for incoming high school seniors is closed, as is the Veterans Accelerator application process.
International Student Requirements
International students must be proficient in the English language and may be required to submit a test of English as a foreign language (TOEFL), International English Language Testing System (IELTS), or Cambridge Exam score. Visit Stanford's International Students web page to learn more.
Advantages of Digital-Only Classes
There are three major advantages to Stanford's online-only Summer Session courses:
Lower Costs
Easy Access to course
Worldwide Access
Advantage #1: Lower Costs
Course fees are $1,175 per unit plus a one-time document fee for new Stanford University Students. This translates to $3,745 for a basic 3-unit course or $9,620 for the average 8 credit-bearing units.
No fees for many common in-person activities including:

Residential fees
Meal fees
Health Insurance Fees
Campus Health fees

For comparison, normal in-classroom fees for commuting students taking a minimum of three units start at $4,868. Students living on campus taking two or three classes equaling 8 credit-bearing units pay $14,850 or more.
Advantage #2: Easy Access to More Than 200 Courses
Selecting a Stanford Summer School Course is a quick, four-step process
Select a course by keyword.
Use the drop-down menu to select the appropriate student population (e.g., high school or undergraduate).
Select the appropriate academic department (e.g., Mathematics, English, Engineering or a host of others).
Click Apply.
Check out snapshots of five courses available during Stanford's online Summer Session 2020.
Advantage #3: World-Wide Accessibility
Qualifying students can attend these courses from the comfort of their own homes. Lifestyle adjustments may be required for those living outside the Pacific Time Zone. Especially when dealing with high school students, though, these discomforts are minor compared to the costs and disruptions caused by physically moving to an unfamiliar area.
Disadvantages to Digital Courses
Going to digital-only offerings has its disadvantages, too. None of the advantages listed below applies, potentially delaying a person's growth in some of these areas.
Among the reasons for attending courses in person are:
Building new friendships
Experiencing new cultures
Building personal independence
Breaking out of the familiar and having new experiences
Picking the Right Courses
Prospective Sanford students and parents considering enrolling in Summer 2020 courses should take a look at the actual courses, depending on their major course of study.
Important: Read the Student Population description for the courses of interest. Some do not accept high school students.
Click each link for a single course snapshot from the majors listed below.
According to USNews, the Top 5 majors are:
Computer Information and Sciences Support Services
Engineering
Multi-/Interdisciplinary Studies
Physical Sciences
Social Sciences
Sample Course Descriptions
Examine these brief sample course descriptions taken from Stanford's Summer Session 2020 catalog. Clicking the course title takes users directly to the full course description page on the Stanford University website.
Description: This is an introductory course looking at program design, decomposition, abstraction, testing, and other areas using the Python programming language. Programming skills are not required.
Units: 3-5
Instructor: Gregg
Dates: June 22 – August 13
Description: Students take a hands-on approach to making a useless box, learning about the basic sections of electrical engineering including circuits, feedback, noise, safety, and other topics.
Units: 3-5
Dates: June 22 – August 13
Description: An introduction to basic anthropological concepts that shine a perspective on society and culture. It uses case studies to shine a light on various cultural and societal issues.
Units: 3-5
Dates: June 22 – August 13
Description: Take a look at the fundamentals of evolution, including the theories of Charles Darwin, and how they impact fields such as population genetics, molecular evolution, and other topics.
Units: 3-5
Instructor: Hsu
Dates: June 22 – August 13
Description: This introductory course looks at microeconomics and macroeconomics providing a foundation of analytical tools with which to view economic news and data.
Units: 3-5
Instructor: Hsu
Dates: June 22 – August 13
Course Offering Breakdown
Visit the Stanford Summer Session 2020 Course Offerings page to get complete details on each item below.
A breakdown of Stanford Summer Session 2020 course offerings by subject and number of courses includes:
Anthropology: 1
Art and History: 5
Biology: 3
Chemistry: 4
Civil and Environmental Engineering: 13
Classics: 3
Communication: 2
Comparative Literature: 1
Computer Science: 7
Earth System Science: 2
Economics; 6
Electrical Engineering: 9
Engineering: 5
English; 6
English for Foreign Students: 18
Feminist, Gender and Sexuality Studies: 1
Health and Human Performance: 19
History: 2
ICME: 2
International Relations: 2
Language Center: 10
Linguistics: 1
Management Science and Engineering: 10
Marine Biology, Hopkins Marine Station (1)
Mathematics: 8
Mechanical Engineering: 7
Music: 8
Neurology and Neurological Sciences: 1
Oral Communication: 2
Philosophy: 3
Physics: 6
Political Science: 4
Program in Writing and Rhetoric: 4
Psychiatry: 1
Psychology: 6
Religious Studies: 2
Sociology: 3
Statistics: 10
Symbolic Systems: 2
Teaching and Learning: 1
Theater and Performing Studies: 5
Stanford's Intensive Studies Program
Courses related to a single topic are grouped together in Stanford's Intensive Studies Program, allowing students to focus their studies on particular popular topics. Past topics include:
Each program includes several courses. Students pick the ones most interesting to them.
Most–but not all–courses are available to high school students.
Note: Intensive Studies Program course offerings for Summer Session 2020 may change. Visit the Intensive Studies Program website to learn more.
The following is a brief look at each of the main Intensive Studies Program topics.
Launch U
LaunchU, "gives you the tools to navigate the culture and curriculum of higher education and to thrive academically," Stanford states.
Among its 14 course offerings are two writing classes designed exclusively for high school students:
Writing Academic Arguments
Voice, Style and the Essay
Of the remaining 12 courses, eight are available to high school students.
Courses include:
Working Smarting
Designing Your Life
Language, Speech and Social Interaction
Computer Science
This Intensive program requires students to have intermediate to advanced programming experience. It, "provides an opportunity to gain an in-depth appreciation of new trends in information technology." There are seven classes, four of which are available to high school students.
Courses include:
Introduction to Scientific Computing
Mathematical Foundations of Computing
Programming Abstractions
Client-side Internet Technologies
Data Science
The Data Science intensive program provides an introduction to statistical principles and data analytics. There are nine courses, six of which are open to high school students.
Courses include:
Introduction to Statistics and Probability for Engineers
Linear Algebra, Multivariable Calculus and Modern Applications
Discrete Probability Concepts and Models
Theory of Probability
Data Mining and Analysis
Introduction to Statistical Methods: Precalculus
Global Perspectives
The Global Perspectives intensive program looks at the topics of human rights, social justice, and international relations while living in an international world. There are eight courses, all of which are open to high school students.
Courses include:
Global Women Leaders: Past and Present
Philosophy as Freedom
Introduction to International Relations
The Psychology of Bias: Stereotyping, Prejudice, and Discrimination
Genocide and Humanitarian Intervention
United Nations Peacekeeping
Contemporary Islam and Muslims in America
Human Rights and World Literature
Business and Innovation
Designed for those with an entrepreneurial spirit, Business and Innovation mixes management science, engineering, statistics, and economics. There are 11 courses, six of which are open to high school students.
Courses include:
Principles of Economics
Economic Analysis I
An Intro to Making: What Is EE
Accounting for Managers and Entrepreneurs
Introduction to Decision Making
Minds and Machines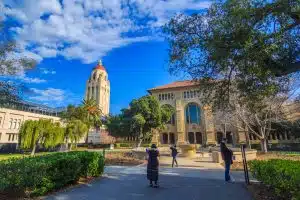 Canceled Summer Programs
Stanford, like many other universities and colleges, has canceled programs and activities because of the Covid-19 virus pandemic.
They include the:
Bing Overseas Study Program (BOSP)
All Spring sports as mandated by the PAC 12 Conference and National Collegiate Athletic Association (NCAA)
Most May and June activities listed on the Stanford Live events calendar. The July calendar page is not currently listed. Activities scheduled for August have not been changed.
For other types of entertainment, we at AdmissionSight suggest checking with specific venues such as art galleries to see if they are open and under what restrictions.
Summary
Stanford University's Summer Session 2020 is a unique opportunity for high school students to explore a university ranked #6 on USNews' list of top colleges and universities, all from the comfort and safety of their own homes.
Stanford's array of more than 200 courses provides students still in high school a chance to indulge their intellectual curiosity, collaborate with their peers, and learn from cutting edge professors. During the main Summer Session, June 20 – August 16, qualified high school students can explore the arts, humanities, math, and sciences while gaining invaluable experiences in preparation for their journey to college and beyond.