Stanford Undergraduate Requirements
A private research institution that was founded in 1885 by Leland Stanford, a senator from California, Stanford University is considered to be one of the most competitive educational institutions in the United States due to its acceptance rate of only 4.3 percent.
The university provided instruction in both contemporary scientific and engineering disciplines, which, at the time, were having a significant impact on the development of modern America, as well as courses in the more traditional liberal arts.
Located in the heart of Northern California's thriving Silicon Valley, which is approximately 20 miles north of San Jose and 35 miles south of San Francisco. Silicon Valley is home to a large number of innovative technology companies, many of which were established and are directed by alumni and faculty of Stanford University.
The university known as Stanford has been given the nickname "Billionaire Factory" because it is believed that its graduates would be able to lead one of the top ten economies in the world if they established their own nation.
There have been a total of 85 Nobel laureates and 29 Turning Award laureates associated with Stanford in some capacity, including as students, faculty, or staff. There have been four Pulitzer Prize winners who have connections to Stanford. Additionally, it has been responsible for the production of a variety of award-winning individuals in the fields of science, technology, arts, engineering, medicine, and arts.
Due to the extremely low acceptance rate of 4.3 percent, this indicates that out of every one hundred students who submit an application, only about four are actually able to secure their admission. Due to the extremely low acceptance rate at Stanford University, getting accepted into this school is an extremely difficult endeavor.
Prospective students must secure above excellent Stanford undergraduate requirements to be accepted at Stanford University. The low acceptance rate makes Stanford University a very competitive college to get into. Stanford is only looking to admit the best cadets that most closely fit the rigorous Stanford admission standards. To make the most of your application, we will outline the Stanford undergraduate requirements in detail.
How do Undergraduates get into Stanford?
How do Undergraduates get into Stanford? More than sixty-five of the most prominent academic disciplines can be explored through undergraduate study at Stanford University.
However, because of the difficulties associated with COVID-19, certain requirements have been modified for applications that will be submitted during the academic years 2021–2022 and 2022–23. The following is a checklist of the required application components that must be submitted in order to be considered for admission to Stanford.
Coalition Application or Common Application, whichever you prefer. Each application provides essay questions for you to answer in your personal statement. In addition to the personal essay, you will also need to complete the Stanford Questions, which are included in both of the applications and can be accessed once you have added Stanford University to your list of colleges to apply to. You must submit your responses to the Stanford Questions through either the Coalition or Common Application using an online platform. When you apply to Stanford, you are not applying to a specific major, department, or school; rather, you are applying to the university as a whole. On the application, we ask that you indicate prospective majors and career interests; however, we want you to know that making these selections does not in any way obligate you to follow through with them.
Non-refundable application fee of $90, with an option to request a fee waiver to determine whether or not you are eligible for a fee waiver, consult the guidelines provided by either the Coalition Application or the Common Application. You have the ability to make a request for a fee waiver by selecting the option to do so within the application if you are of the opinion that your current financial situation may fall within the parameters of the fee waiver guidelines.
Scores from either the ACT or SAT. One of the Stanford undergraduate requirements for the application that can demonstrate academic preparedness is the completion of standardized testing. There is no set score that must be achieved in order to be considered for admission to Stanford, and there is also no score that guarantees acceptance.  The admissions committee at Stanford takes into consideration all aspects of an applicant's profile when making decisions about whether or not to offer them a place at the university.
A report from the school along with a letter of recommendation from the guidance counselor
Your high school college counselor or another administrator at your school is the one who is responsible for submitting these documents.
Students are required to ask for a recommendation from their high school guidance counselor within the Coalition application. After that, the guidance counselor hands in the School Report, the Student Assessment, and a letter of recommendation.
Students should invite a guidance counselor to complete the School Report and Counselor Recommendation form that is included in the Common Application. This form also includes a recommendation letter.
Your guidance counselor will need to fill out and submit the School Report form, which can be found within the application. The School Report provides information regarding the academic programs that are offered at your school, as well as your academic strengths within the context of those programs.
While it's possible that your high school already has a published school profile, this profile by itself does not satisfy the requirement for a School Report.
Official transcript(s) or academic results- An official transcript (covering grades 9–12) is part of the Stanford undergraduate requirements and is required for students who are studying in the United States or who are pursuing an American curriculum while studying abroad.
Academic results and predictions are required, if available, for students who are pursuing an international curriculum (for example, an A-Level, a national curriculum, or an IB Diploma in a country other than the United States).
Two endorsements from previous instructors in your field of study- As part of the Stanford undergraduate requirements, it is required that you submit two letters of recommendation from previous instructors. It is highly recommended that you get letters from teachers who taught you English, mathematics, science, a foreign language, or history/social studies in grades 11 or 12. You have the option of requesting a letter from a teacher in grade 10 if the material was more advanced (e.g., Honors, AP, IB). It is strongly preferred that letters come from teachers in the classroom. You are welcome to submit one additional letter of recommendation if there is someone else who knows you very well and has fresh perspectives to share about yourself. In the Common Application, please designate this individual as your "Other Recommender," and in the Coalition Application, please add a "General Recommendation." This is the quickest way for a letter to get to the file that you have available.
Transcript at the half-year mark (by February 15)
Optional Arts Portfolio
The Arts Portfolio is not required, but it can be handed in if you want to demonstrate that you have exceptional talent in the arts. Students have a shorter window of time to get their applications and art portfolios in before the deadline.
After your application has been submitted,
Once your Stanford undergraduate requirements have been reviewed and accepted at Stanford, you will be notified via email that your submission has been acknowledged. Check and see if the email address you provided is still active to make sure you get all of the correspondence.
You are required to check your Stanford portal on a consistent basis in order to monitor the delivery of all necessary materials.
Include the admission@stanford.edu email address in your email address book or list of trusted senders.
If you go to high school in an Interview Area, an alumni volunteer may send you an email invitation to take part in an optional interview. This interview is completely voluntary.
What GPA is required for Stanford?
What GPA is required for Stanford? Candidates should be aware, with regard to the Grade Point Average (GPA) requirement for admission consideration, that Stanford University is very competitive and, as a result, requires students to have outstanding academic scores and GPAs.
Therefore, prospective students who want to enroll at the university need to have grades in high school that are significantly better than average and a cumulative grade point average of at least 3.75. It's interesting to note that the students at Stanford have a 3.90-grade point average from their high schools.
It can be of great assistance to those who are applying to Stanford University to have a solid understanding of the Stanford undergraduate requirements for admission, including the necessary documents that are required to be submitted.
They should also be aware of the information that is taken into consideration by the university when admissions decisions are made. The applicants are required to include their secondary school record and admission test scores (SAT/ACT) among the documents that they submit with their application.
In addition, the submission of additional Stanford undergraduate requirements, such as their grade point average from secondary school and completion of a program that prepares students for college, is recommended in order to gain admission.
Does Stanford require SAT for 2022?
Does Stanford require SAT for 2022 admissions? The decision regarding whether or not to submit ACT or SAT test scores will be left up to the prospective students applying to Stanford University. During this 2022–2023 academic year, Stanford strongly advises prospective students not to put their health or well-being in jeopardy by registering for future sittings of these optional examinations.
During the COVID-19 pandemic, the safety of all students at Stanford University is the university's top priority. Any circumstance that puts your well-being in jeopardy in any way runs counter to this priority.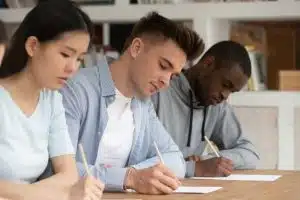 The Stanford University admissions committee requires applicants to take the SAT because they believe the test provides useful insight into an applicant's academic preparedness. Despite the fact that Stanford University does not require Subject SAT scores (as a result of the College Board's decision to stop administering the exam), However, it does not mandate that applicants complete any forms of writing or essay testing.
An estimated cutoff for the Stanford University SAT can be found by calculating an average score for students currently enrolled at the university. Although there is no official minimum SAT score or definite score that will guarantee admission, this can be done.
What kind of student does Stanford look for?
What kind of student does Stanford look for in their student admissions? The selection process at Stanford is controlled by the university. The factors that have an impact on their procedure are as unremarkable as they possibly can be.
You might even be tempted to think of them as a typical college that hasn't put as much effort into determining the factors that will determine which applicants will be accepted. But you only need to give it a passing glance to realize that they have good reasons for doing this. Listed below are the components:
Academic Excellence
The importance of this consideration in their selection process cannot be overstated. It means that Stanford is looking for students who are courageous and vigilant in their academic pursuits, as well as students who are willing to push themselves.
One more appropriate way of putting this is to look for candidates who can excel academically while still maintaining their sense of personal flair. It's a relief to know that they aren't overly picky about your minimum GPA or the classes you have to take. They will take you into consideration once they notice this excellent quality that you possess.
Intellectual Vivacity and Optimism
When considering an applicant, Stanford will look for someone who has the potential to broaden their horizons and advance their intelligence. You can think of this as the kind of factor that they are hoping will build the next Isaac Newton or Ernest Hemingway in the students of the future.
To put it another way, they want to see that applicants like you are interested in things that are outside of the norm. If you are the type of student who reads difficult books or participates in scientific activities that the majority of students your age don't do, then you already have an advantage in this situation.
Extracurricular Activities
In this particular category, Stanford will judge a student based on the variety of extracurricular endeavors they participate in outside of the classroom. From the athletic to the musical, they want to know whether or not a student is only dedicated to school and their lives, or whether or not they are also trying to enrich their lives with things that give them experience.
Even the extracurricular activities you participated in during your time in high school will be taken into consideration.
If you have a solid understanding of these components, you will be able to determine whether or not you possess them in your own life. And judging by the looks of it, it should not be too difficult to find out because they are not all that hard to acquire. However, it is important to be truthful when evaluating yourself to the fullest extent possible.
In addition to these three components, Stanford also takes into account "context" as an important component.
Why Is It So Important To Put Things Into Context At Stanford?
Stanford provided a list of the criteria that were considered during the selection process. When it comes to this topic, Stanford goes into greater detail when they say, "Just as no two Stanford students are alike, each and every Stanford applicant is unique."
Every prospective member was conceived and brought up in a one-of-a-kind setting. It's possible that the conditions in which each applicant was living were dissimilar to one another. This is something that Stanford is very aware of. Consequently, when they evaluate the application, they take into consideration the particulars of the applicant's situation.
When they take into account the accomplishments of applicants in context, they will be able to see how you excelled in your environment. Stanford wants to know what opportunities were presented to you at your previous school and how you made the most of those opportunities.
Why Choose Stanford?
Open Culture
Open and encouraging, less stressful, and with a greater emphasis on working together Your emotional well-being as well as your academic performance is very important. And regardless of whether you go into the academic field or the business world, you can count on unwavering support from everyone.
Collaboration
The value of working together in groups is widely acknowledged, both by students and by teachers. Only after engaging in extensive consultation and debate are significant decisions that have an impact on students made. They take your feedback seriously. You are free to move freely between different advisors and different subfields because there are no research fiefdoms.
Cross-Disciplinary
In today's world, economics is a highly interdisciplinary field of study. You will be able to take classes, work on projects, and conduct research with professors from equally prestigious departments across the university when you choose to pursue your education at Stanford.
Some of these departments include Computer Science, Statistics, Mathematics, Psychology, and Political Science, as well as groups within the School of Medicine, the Graduate School of Business, the School of Education, and the Law School. This is one of the many advantages of attending Stanford.
Connections
The program is purposefully designed to encourage students to connect with one another, with faculty, and even with leading technology companies located in Silicon Valley, which is located nearby. Programs such as the First-Year Seminar Series, Second-Year RA Match, and Third-Year Seminars, in which students present their work-in-progress and papers to their fellow students and faculty, have the potential to lead to co-authorships and lifelong collaborations.
The Grace and Charm of the Golden State
Never underestimate the power that natural elements like sunshine and fresh air can have. That will likely be the case for the majority of the days that you spend here.
Stanford application deadline for 2022
When will be the Stanford application deadline for 2022? The overall profiles of applicants to Stanford University are, without a doubt, take into consideration.
However, in order to increase the likelihood of receiving a positive response, it is best to submit your application in a timely manner. When applying to Stanford, it is recommended that you submit your Coalition or Common Application before the applicable deadlines at 11:59 p.m. (Pacific time).
| | | |
| --- | --- | --- |
| | Restrictive Early Action | Regular Decision |
| Application with Arts Portfolio | October 15 | December 5 |
| Materials for Arts Portfolio | October 20 | December 10 |
| Standard Application Deadline | November 1 | January 5 |
| Last Acceptable SAT Test Date | October | December |
| Last Acceptable ACT Test Date | September | December |
| Notification of Missing Documents | Mid-November | Mid-February |
| Decision Released By | December 15 | April 1 |
| Student Reply Date | May 2 | May 2 |
If you need help putting the finishing touches on your early applications, or want some advice on whether or not applying Early Decision or an Early Action is a good option for you, at AdmissionSight, we have over 10 years of experience guiding students through the competitive admissions process, including our athletic recruitment program.
AdmissionSight can help you put your best foot forward when applying to college this fall. Contact us today for more information on our services.