Study Tips for Online Classes
What is an online class?
Students can enroll in online classes, commonly referred to as "e-learning courses," as a kind of distance education. There are many other ways that online courses can be presented, including live video lectures, recorded lectures, online forums, interactive modules, and other digital materials. Read on to get some study tips for online classes.
Learning management systems (LMS), a web-based platform that enables instructors to post course materials, communicate with students, and distribute assignments and assessments, are frequently used in online classrooms.
Students can access these resources from anywhere with an internet connection, which gives them flexibility and convenience.
Traditional schools and universities as well as specialist online institutions can both provide classes online. These might include everything from fundamental academic coursework to specialized professional training. Numerous online courses result in certifications or degrees, and some of them can be used as transfer credits at other colleges.
Overall, online learning has grown in popularity as a tool for students to receive education when they are unable to attend traditional, in-person classrooms for logistical, scheduling, or other reasons.
Online course difficulties
For students, taking classes online can create a number of difficulties. AdmissionSight listed some typical difficulties with online learning:
Reduced social interaction: Due to the lack of social interaction with classmates and instructors, receiving comments on your work or asking questions might be more challenging in online programs.
Technological issues: Internet, software, or hardware issues might disrupt online classes and make it challenging to access readings or take part in discussions.
Lack of organization: Because online programs frequently lack the regularity and structure of conventional in-person classes, it can be difficult to maintain focus and motivation.
Time management: Strong time management skills are necessary for online programs because students are responsible for organizing their own schedules and finishing their work on time.
Distractions: As students may be studying at home or in another setting with lots of distractions, online classes may be more prone to them.
Motivation and engagement: To excel in online classrooms, students must be highly motivated and engaged. Studying alone can make it easy to lose interest or motivation.
Lack of input: Compared to typical in-person classes, online courses may not offer as much feedback from instructors or peers, which can make it difficult to gauge your progress and enhance your work.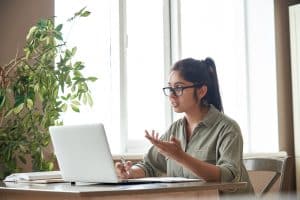 Students who are aware of these difficulties might devise plans to get around them and succeed in their online courses. One of the tips for online classes is to keep in touch with your teachers and peers, maintain your organization and motivation, and ask for assistance when required.
Study tips for online classes
What are the study tips for online classes? Online learning can be difficult, but with the correct approaches, you can get the most out of your courses.
Here are some tips for online classes:
Create a routine: Make a plan for your study time and class attendance. As far as possible, follow a schedule, and make sure you allow yourself adequate time to finish projects and prepare for tests.
Establish a dedicated study area: Establish a dedicated study area that is free from interruptions. This might assist you in remaining attentive and effective while taking online courses.
Engage in online discussions: Talk to your peers online and ask your professors questions. This could keep you interested and aid in your learning of the subject.
Take pauses: To prevent burnout, take regular breaks during your study sessions. Take some time to relax, rejuvenate, and refocus.
Use tools for time management: To stay organized and on track, use time-management tools. You can remain on top of your assignments and deadlines by using online calendars, to-do lists, and reminder apps.
Review and revise: Regularly go through your notes and edit your tasks. This can help you prepare for tests and indicate any areas where you might need to study more.
Ask for assistance when necessary: Don't be afraid to ask your teacher or fellow students for assistance if you are having trouble with a particular subject or assignment. You can frequently find materials to support your success in your online education.
Note-taking tips for online classes
What are some note-taking tips for online classes? In order to stay focused, remember information, and prepare for tests, you must take effective notes in online courses.
For taking notes in online classes, consider the following tips:
Maintain organization: Begin by setting up a structure for your notes. Make it simpler to evaluate information later by organizing it with headings, bullet points, or numbered lists.
Stay focused: Keep your attention on the lesson at hand by taking notes. Avert multitasking and stay off social media, email, and other websites while the lesson is being given.
Highlight relevant information: In your notes, highlight crucial information such as definitions, formulas, and key ideas. To help you identify different forms of information, use various colors or symbols.
Employ abbreviations: To help you take notes more quickly, use acronyms or shorthand. Use "w/" instead of "with," "b/c" in place of "because," and "info" in place of "information," for instance.
Summarize: After class, sum up the lecture in your own terms. This will assist you in remembering the information and its main features.
Review frequently: At least 24 hours after the presentation, you should review your notes frequently. This will help you remember the information and help you figure out where you might need to study more.
Make use of technology: To keep organized and have quick access to your notes across several devices, think about adopting note-taking programs like OneNote, Evernote, or Google Keep. Some programs even let you record the lecture's audio, which is useful for later listening.
There is no one-size-fits-all method for taking notes, so it's critical to experiment with various methods until you find one that works best for you.
Tips on how to be more productive for online college classes
What are some tips on how to be more productive in online college? Being effective is essential for achieving success in online college courses.
Here are some pointers on increasing productivity:
Make goals: For each study session, decide on a clear set of objectives and concentrate on attaining them. This might support your motivation and keep you on course.
Employ a planner: To assist you in organizing and prioritizing your chores, use a planner or a digital tool. Ensure that you set aside certain hours to study, attend classes, and do tasks.
Take pauses: Another one of the many tips for online classes is to keep focused and prevent fatigue, and take regular breaks during your study sessions. For instance, every hour, take a 5–10-minute break to stretch, go outside, or eat a healthy snack.
Eliminate distractions: Distractions should be avoided or kept to a minimum when you are studying. If you don't want social media, email, or other websites to distract you, turn off notifications on your phone or computer and use tools like website blockers.
Maintain organization: Maintain organization and keep your study area neat and orderly. This can assist you in maintaining attention and preventing time-consuming searches for materials or notes.
Get enough sleep: Sleep and rest are important for maintaining alertness and concentration throughout study sessions.
Remain inspired: Be inspired and focused on your objectives. Celebrate your accomplishments as you go along and keep in mind the advantages of finishing your online college courses.
You can improve your performance and success in your online college courses by paying attention to these pointers. Always try out several approaches to see which one suits you best.
Keep in mind that what works for your peers does not mean it will work for you as well. It is best to try methods until you find one that best suits you. AmissionSight is dedicated to helping students to bring out the best in them and even provides study tips for online classes.
With AdmissionSight, our college admission experts will provide the necessary guidance every step of the way. You can get assistance to make sure you get into the college of your choice.
In order to help you plan your entire college career and make sure you get accepted to the college of your choice, AdmissionSight will evaluate your academic and extracurricular profile and give you a roadmap.
We will also be able to help you maintain your academic direction and competence so that you won't simply rely on athletic scholarships.
AdmissionSight is the world's leading Ivy League and college admission consulting company. You may obtain all the necessary advice from the team by making an appointment. Book your consultation today!