Summer Jobs for High School Students
Teenagers have a wonderful opportunity to strengthen their sense of autonomy and financial self-sufficiency by gaining employment during the summer months while school is not in session.
Summer jobs for high school students can help them earn extra money, reduce college tuition bills and the corresponding dependence on student loans, gain practical experience for a future career, and provide opportunities that might not be available during the school year.
The most difficult thing is deciding what it is that you want to do. But as soon as you get that figured out, you'll discover that there are summer jobs that are a good match for any hobbies you might have.
It's possible that you, as a high school student, will feel as though you lack the experience necessary to secure prime employment. On the other hand, there are a great number of entry-level employment available for high school and college students that pay a respectable wage and tend to be more readily available during the summer. These are some of the best there are.
What are the best summer jobs for high school students?
There are a lot of amazing summer jobs and employment options for young employees that also happen to be excellent part-time jobs for high school kids to have throughout the academic year. Some give income that is only slightly higher than the minimum wage, while others provide a salary that is startlingly substantial and may even provide health insurance coverage.
Here are some of the best summer jobs for high school students:
Babysitter
There is a limited supply of reliable babysitters in the world. The demand for babysitters who were extremely dependable and capable of handling anything children could throw at them is really high in the US.
The data obtained indicate that the average hourly wage for babysitting in the United States was approximately $16 in the month of January 2021 and the going rate for babysitters in some cities is approximately $20 per hour.
Moreso. babysitters who possess qualifications that families consider valuable, including CPR certification and driver's licenses, are allowed to request a higher rate of pay.
Camp Counselor
Do you like to spend time outside doing activities like hiking, camping, or playing sports? Do you also take pleasure in guiding and supervising children? If this sounds like you, a position as a camp counselor might be just what you're looking for.
There are summer camps located all throughout the United States that are dedicated to practically any activity you can think of, which means it is likely that you will be able to find one that is a good fit for your interests.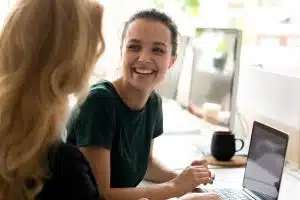 If you don't mind being away from home for many weeks at a time, sleepaway camps often include free lodging and board, the opportunity to connect with other counselors after hours, and ample options for outdoor activities on days off. A job as a counselor at a day camp would allow you to sleep in your own bed every night while still earning money during the day.
A camp counselor is an entry-level job, but employers may prefer or require candidates with safety certifications like CPR and basic first aid.
Glassdoor says that the median pay for camp counselors is about $20,300 per year, which is pretty good considering that most of them only work eight to twelve weeks out of the year.
Landscaping and Lawn Care Worker
Mowing the grass on a sunny day is one of the few activities that screams "summer" more than any other. If you don't mind walking around in your own yard once a week, why don't you offer to cut the grass in your neighbors' yards as well? They will pay you a reasonable rate for the effort that you put in.
Students in high school have access to a variety of jobs in the groundskeeping industry, not only lawn maintenance. Throughout the duration of the growing season, garden beds require general care as well as digging, weeding, mulching, and watering. It is necessary to prune the shrubs and trees and to clean the decks and patios.
A significant number of high school students operate as one-person shows, particularly targeting homes in their immediate communities as potential customers for their lawn care services. If you can generate enough business to support 20 hours of weekly work at an average hourly rate of $11.25 (according to Payscale), you will earn approximately $225 per week before taxes. This is not a bad amount of money for a profession that barely seems like work at all.
Another option is to look for positions in groundskeeping with clients from institutional settings, such as school districts or office parks. This work is more likely to be consistent and there is a possibility that it could lead to full-time employment. The only catch is that applicants under the age of 18 are typically not considered for jobs that involve operating heavy machinery, such as riding mowers.
Pool Cleaner
Cleaning swimming pools is yet another outdoor summer duty that often doesn't feel like much of a chore at all. If you live in an area where there is an abundance of private pools, you shouldn't have any trouble finding clients through door-to-door prospecting, word-of-mouth marketing, client references, or advertising on community websites.
Targeting clients who have higher pockets and who belong to homeowners organizations or condo complexes that have common pools is a good strategy if you want a more consistent wage and a more regimented work environment.
Another option is to look for work with a pool cleaning firm that employs individuals under the age of 18. (This may depend on the employment regulations in your region, but it ought to be made explicit in the job description.)
The hourly rate for a pool cleaner is approximately $16 across the country. This is more than the hourly rate for a groundskeeper.
Career-Track Intern
Even if you haven't yet chosen what you want your "actual" career to be, the summers of your senior year of high school present the ideal opportunity to try out a job that you believe you'll enjoy and want to continue doing for a longer period of time.
If you do a great job and are still interested in the line of work once the summer is over, you will have some much-needed experience that leads to more work the following summer, a part-time job while you attend school, and possibly even a full-time job offer after you graduate.
Internships throughout the summer are frequently unpaid, which forces students to weigh whether or not the experience is worth the financial sacrifice. The value of the experience you gain and the relationships you build on the job are likely to be the deciding factors here these connections could lead to higher-paying jobs on career tracks in the future.
Set up a meeting with the guidance counselor at your high school, ask your parents and the parents of your friends for leads, and visit websites to increase your chances of finding an internship that is a good match for your abilities and interests.
Tutor
Students in middle school and high school frequently take advantage of the summer months to continue or further their studies. As a tutor, you'll be able to assist these kids and earn a respectable wage if you have expertise in a specific field, such as physics or calculus, or if you've already taken standardized examinations like the SAT or ACT and performed well on them.
The amount of money that a tutor makes can differ depending on their field, amount of experience, and level of education.
The national average rate for private tutoring is $18 per hour. It is unlikely that high school students or recent college graduates will make far more than this. However, considering that the work may be done in the luxury of one's own air-conditioned home office or local coffee shop, it is not a bad compensation for a profession that does not include any form of manual labor.
In addition, tutors have some leeway in determining their own working hours. If you want to be successful as a tutor, you will need to market your services in the neighborhood and you will also need to cultivate contacts within the community.
Barista or Restaurant Server
Jobs in the food and beverage service industry are plenty, and it is not difficult for young individuals to land one of these positions even without previous experience.
Workers who earn tips can do quite well for themselves, despite the fact that their average base pay is modest, and sometimes even lower than the minimum wage.
Moreover, some national chains have the financial means and will to pay higher prices. According to Glassdoor, the average hourly wage for a barista at Starbucks is roughly $12, and those who work there may also be eligible for a benefits package that includes health insurance.
Grocery Store Employee
Jobs at grocery stores and supermarkets are also available in a reasonable number in places with a high population density.
Even though most grocery store employees do not receive tips, their base compensation is typically a few dollars higher than the federal minimum wage, which is approximately $12 per hour. The highest wages are often reserved for highly skilled tasks such as cutting meat.
However, employees under the age of 18 are typically not permitted to hold jobs that require them to handle heavy machinery.
Employees at grocery stores often work in shifts, with part-time workers putting in anywhere between four and eight hours at a time.
This is not the best summer job for students who wish to limit the amount of time they spend in uncomfortable social situations because peak shopping hours typically occur on weekends and in the early evenings as well.
On the bright side, a significant number of workers at grocery stores are members of labor unions. These unions negotiate compensation and benefits while also providing some protection against unethical bosses.
Golf Course Caddy
The base salary of a golf course caddy comes out to be quite close to the local minimum wage. The opportunities aren't exactly abundant though unless you happen to reside in a region that has a greater concentration of country clubs than supermarkets.
However, golf caddies are able to make a comfortable living because of the hefty tips they receive, which can range up to half of the green fee. On summer weekends, group green fees can easily approach $100.
If you enjoy being outside and getting some exercise without having to pay for it, caddying might be a fulfilling and financially rewarding career choice.
Even for young people in good physical condition, being a caddy is a physically taxing job because you will need to walk the entire course at least once every day, run after wayward balls, and carry your customers' bags.
In order to be a caddy, you need to be knowledgeable about the game of golf, including how to choose the appropriate clubs. Nevertheless, in most cases, new caddies get fundamental instruction before they are allowed to work on the course.
Positive aspects include the fact that people as young as 14 can apply to be a caddy in areas where the applicable labor rules allow it.
Lifeguard
If you are an excellent swimmer and are able to maintain your focus for extended periods of time, working as a lifeguard at the local beach or pool during the summer might offer you a substantial paycheck.
In point of fact, being a lifeguard may very well be the ideal summer job for individuals who enjoy working outside without having to put in a lot of effort, at least not unless there is an unexpected emergency.
A normal summer job for high school students doesn't require nearly as much education or certification as being a lifeguard. You can always anticipate being required to complete a basic water rescue course, CPR certification, basic first aid training, and training for bloodborne diseases, regardless of where you work.
It's also possible that lifeguards who work in open water, like those who watch over beaches on the ocean, need additional training. Whether the relatively modest pay, which is approximately $10 per hour, warrants the effort depends on how alluring you find it to spend the entire day lounging by the pool or on the beach.
Handyperson or Painter
Since the summer is the busiest time of year for people to work on home improvement projects, it is the ideal season to lend a hand or two to those in need.
You can focus on relatively low-skill work that many people don't have the time, patience, or stamina to do themselves. For example, painting fences or interior rooms, laying or edging walkways, installing or patching drywall, installing laminate flooring, or moving furniture are all examples of this type of work.
You can discover customers that need work done by advertising your services on websites. Simply be aware of the price that the market is willing to pay for the services you provide.
The average hourly wage for a handyman is close to $24, however, this figure takes into account experienced professionals who are capable of considerably more than the usual high school student.
Dog Walker or Pet Sitter
Even though they adore their animals, many people who travel during the summer do not bring their dogs with them on the trip. You, an aspiring dog walker or pet sitter (or both), come into play at this point in the process.
During the time that their owners are away from town, it is your responsibility to provide care for your customers' pets in the same way that you would care for your own, which includes feeding, walking, and showing love to the animals.
High school students who are prepared to undergo the rigorous and sometimes tedious work of prospecting for new clients and generating references to make prospects feel more comfortable committing their dogs to your care may find that pet sitting is a particularly rewarding employment option.
Pet sitters and dog walkers make a respectable living, raking in between $25 and $30 for each visit on average, with overnight stays bringing in twice or even three times that amount.
What are the pros of summer jobs for high school students?
So, what can you really earn from summer jobs for high school students? Below are some of the advantages you can take a look at:
It teaches the connection between a person's earnings and their level of education.
The majority of high school students have jobs that pay poorly and require very little education or training. This may help illustrate why getting an education is necessary if one aspires to have a respectable income.
It teaches the value of money and budgeting.
Teenagers who do not have jobs are forced to rely on the financial support of family and friends. Students who work earn their own money and gain a better understanding of the worth of a dollar as a result of the experience. Students can get a firsthand look at how rapidly money that was worked for can be wasted on unnecessary items.
It teaches time management.
Students need to become proficient at time management in order to successfully work and study at the same time.
It help builds confidence.
Students who work while they are in school often report feeling more capable than they would have otherwise.
It avoid students from getting into trouble.
It has been demonstrated that poor youth who work over the summer months are 43% less likely to engage in violent behavior.
What are the cons of summer jobs for high school students?
If there are some advantages, what are the disadvantages of summer jobs for high school students? Here are some:
It may be detrimental to one's academic performance.
Researchers have shown that students who work more than 20 hours per week experience a decline in their academic performance.
It often fails to teach valuable skills.
Research has shown that most jobs that high school students have do not teach them skills that can help them move up in their careers. The vast majority of occupations held by high school students do not impart any abilities that can be applied to any form of professional development.
It can instill negative views about work.
It has the potential to instill pessimistic ideas toward one's work.
It takes away personal time.
Some high school students who also have jobs find themselves in a difficult situation. They need money in order to have a social life, but working full-time leaves them no time to interact with other people.
It can be really tiring.
A student who has a job and then goes home to study may find that they have very little time left over for sleep. This, in turn, can lead to exhaustion, which can have an influence on both one's health and their entire well-being.
Students who are unable to maintain part-time jobs during the academic year due to the demands of their studies or extracurricular activities have the opportunity to gain valuable experience in the workforce by working during the summer break. This tradition of high school students working during the summer break dates back many decades.
Utilize this chance to its fullest potential. When summer comes around, you should give some thought to the things that are important to you in life, such as your interests and objectives, and then do all you can to locate a job that is related to those things.
Find a job that you genuinely want to spend your summer doing so that you won't feel like you're wasting your time. We sincerely hope that you will one day fondly remember it as a formative experience that paved the way for your future success in any line of work you ultimately decide to follow.
On the other hand, may it not demotivate you to continue your studies when the summer is over. AdmissionSight can be of great help to you by providing great academic guidance. Don't hesitate to contact us to book your initial consultation.