Swarthmore vs Haverford: Which College is Right for You?
As you prepare to embark on your college journey, choosing the right school is a critical decision that requires careful consideration. Two excellent colleges worth considering are Swarthmore and Haverford, both located in suburban Philadelphia. While Swarthmore and Haverford share some similarities, they have unique differences that set them apart. This article will provide a comprehensive comparison of the Swarthmore vs Haverford across several categories, including academic programs, campus life, student activities, and more, to help you determine which college is right for you.
Location and Campus Environment Comparison: Swarthmore vs. Haverford
Location is an essential factor when it comes to choosing the right college. Swarthmore and Haverford are both situated in suburban Philadelphia, but the two campuses differ in terms of their environments. Swarthmore's campus covers 425 acres and is surrounded by beautiful hills and woodlands. Haverford's campus, on the other hand, is smaller but equally charming, covering 200 acres with many Georgian-style buildings and an open campus architecture. Both campuses offer serene and picturesque environments that provide a conducive atmosphere for learning and studying.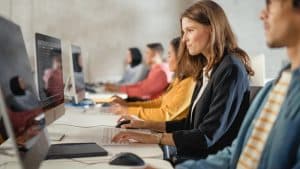 Despite their similarities, there are some notable differences between the two campuses. Swarthmore's campus is more secluded and surrounded by nature, providing a peaceful and quiet atmosphere. In contrast, Haverford's campus is more integrated with the surrounding community, with easy access to local shops and restaurants. Additionally, Haverford's campus is more pedestrian-friendly, with fewer cars and more bike paths, making it easier for students to get around without a car. Overall, both campuses offer unique and appealing environments, and the choice between the two ultimately comes down to personal preference.
Academic Programs and Majors: A Comprehensive Comparison of Swarthmore and Haverford
Both Swarthmore and Haverford are highly selective, liberal arts colleges that provide top-quality education. Swarthmore has over 40 majors and academic programs, ranging from the humanities to the sciences. It also has a strong emphasis on research and rigorous academic study, making it an ideal choice for students who want to engage deeply in their chosen field of study. At Haverford, students can select from over 30 majors, most of which are offered jointly with Bryn Mawr and Swarthmore colleges, providing students with a wide range of opportunities and double majors. Haverford also offers a wide variety of interdisciplinary programs, including Gender and Sexuality Studies, Peace, and Conflict Studies, and many more.
One of the unique features of Swarthmore's academic programs is its Honors Program, which allows students to conduct independent research and produce a thesis in their senior year. This program is highly selective and provides students with the opportunity to work closely with faculty members in their field of study. Additionally, Swarthmore offers a number of study abroad programs, allowing students to gain international experience and broaden their perspectives.
On the other hand, Haverford is known for its close-knit community and personalized attention to students. The college has a student-to-faculty ratio of 8:1, ensuring that students receive individualized attention and support from their professors. Haverford also offers a number of unique academic opportunities, such as the Tri-Co Environmental Studies Program, which allows students to study environmental issues from a multidisciplinary perspective.
Student Life at Swarthmore vs. Haverford: Which is Better for You?
The student experience is a critical factor when choosing a college. Both Swarthmore and Haverford have vibrant campus communities with numerous opportunities for student involvement. Swarthmore offers over 100 student organizations and clubs, catering to students' diverse interests and backgrounds. Haverford, on the other hand, has over 120 clubs and organizations, including a Quaker-inspired Honor Code, which governs student life and encourages self-governance and mutual respect. Haverford's Honor Code is unique and provides students with a sense of responsibility and integrity that is highly valued by employers and graduate schools.
In addition to the clubs and organizations offered at both Swarthmore and Haverford, both colleges also have a strong emphasis on community service and civic engagement. Swarthmore's Lang Center for Civic and Social Responsibility offers numerous opportunities for students to engage with the local community through service projects and internships. Haverford's Center for Peace and Global Citizenship also provides students with opportunities to engage in service and social justice work both locally and globally. Both colleges prioritize the importance of giving back to the community and creating positive change in the world.
Admission Requirements and Selectivity: Comparing Swarthmore and Haverford
Admission to both Swarthmore and Haverford is highly competitive. Swarthmore has an acceptance rate of 8%, and Haverford has an acceptance rate of 18%. Both institutions look for students who demonstrate a strong academic record, intellectual curiosity, and a commitment to extracurricular involvement. Swarthmore's standardized test policy is test-optional, while Haverford requires standardized test scores. Both colleges require essays, recommendations, and transcripts as part of their admissions process.
Additionally, Swarthmore and Haverford have different approaches to evaluating applicants' extracurricular activities. Swarthmore values depth of involvement and leadership roles, while Haverford places more emphasis on breadth of involvement and community service. Swarthmore also considers demonstrated interest in the college, such as attending information sessions or visiting campus, as a factor in the admissions process.
It is worth noting that both Swarthmore and Haverford have a need-blind admissions policy, meaning that they do not consider an applicant's ability to pay when making admissions decisions. Additionally, both colleges offer generous financial aid packages to admitted students who demonstrate financial need.
Extracurricular Activities and Student Organizations: Swarthmore vs. Haverford
Both Swarthmore and Haverford have active and engaging extracurricular programs that cater to students' diverse interests. Swarthmore offers a wide range of extracurricular activities, including cultural and diversity groups, community service organizations, recreational clubs such as outdoor activities, and more. Haverford offers a range of extracurriculars from the arts to athletics to community service and student government and organizations. Both colleges prioritize student engagement outside of the classroom and offer numerous opportunities for students to become involved in various extracurricular activities on campus.
One notable difference between the extracurricular programs at Swarthmore and Haverford is the emphasis on social justice and activism. Swarthmore has a strong tradition of social justice activism, and many of its extracurricular activities reflect this commitment. For example, the Swarthmore Progressive Student Alliance is a student-led organization that advocates for social justice issues such as racial and economic inequality, LGBTQ+ rights, and environmental sustainability. Haverford also has a commitment to social justice, but its extracurricular programs tend to be more focused on community service and volunteerism.
Another difference between the two colleges is the level of student involvement in extracurricular activities. Swarthmore students tend to be highly involved in extracurriculars, with many students holding leadership positions in multiple organizations. Haverford students are also involved in extracurriculars, but the level of involvement tends to be more balanced with academic commitments. This difference in student involvement may be due to the fact that Swarthmore has a larger student body and a wider range of extracurricular activities to choose from.
Housing Options and Campus Facilities Comparison: Swarthmore vs. Haverford
Housing and campus facilities are important factors to consider when choosing a college. Both Swarthmore and Haverford offer on-campus housing, but Haverford also has off-campus options for upperclassmen who want to live off-campus. Swarthmore's residential halls are suite-style, while Haverford's are more traditional, with single, double, and triple occupancy rooms. Swarthmore's facilities include state-of-the-art science labs, extensive academic resources, well-stocked libraries, and spacious athletic facilities. Haverford's facilities are equally impressive, with high-tech classroom and lab spaces, multiple art galleries and performance venues, and a newly renovated student center.
Additionally, both Swarthmore and Haverford offer a variety of dining options on campus. Swarthmore has a main dining hall, as well as several cafes and grab-and-go options. Haverford has a similar setup, with a main dining hall and multiple cafes and food trucks. Both schools also prioritize sustainability in their dining practices, with locally sourced and organic options available. Students at both schools rave about the quality and variety of food options available on campus.
Faculty Quality and Teaching Methodology Comparison: Swarthmore vs. Haverford
Swarthmore and Haverford both have faculty members who are highly qualified, experienced, and dedicated to providing their students with world-class education. Swarthmore has a student-faculty ratio of 8:1, and Haverford has a ratio of 9:1, meaning that students can expect to receive personalized attention and mentoring from their professors. Both institutions prioritize teaching excellence and provide numerous opportunities for faculty to engage in research and professional development, ensuring that students receive cutting-edge instruction.
However, there are some differences in the teaching methodologies employed by the two institutions. Swarthmore emphasizes a more collaborative approach to learning, with a focus on group projects and discussions. Haverford, on the other hand, places a greater emphasis on independent study and research, encouraging students to take ownership of their education and pursue their own interests.
Another factor to consider is the diversity of the faculty at each institution. Swarthmore has made a concerted effort to increase the representation of underrepresented groups among its faculty, with 40% of its faculty identifying as people of color. Haverford has also made strides in this area, with 30% of its faculty identifying as people of color. Both institutions recognize the importance of diversity in creating a rich and inclusive learning environment for all students.
Research Opportunities and Internship Programs: Which College Offers More?
Both Swarthmore and Haverford are research-intensive institutions that provide numerous opportunities for students to engage in research activities and internships. Swarthmore offers independent research opportunities and advanced research programs that enable students to conduct original research, in collaboration with their professors. Haverford also provides students with access to research funding, laboratory facilities, and internships through its Career and Professional Development Center. Students at both institutions benefit from their faculty's extensive research networks and partnerships with top companies and organizations.
However, there are some differences between the two colleges when it comes to research opportunities and internship programs. Swarthmore has a larger number of research centers and institutes, such as the Lang Center for Civic and Social Responsibility and the Scott Arboretum, which offer unique research opportunities in various fields. On the other hand, Haverford has a strong focus on interdisciplinary research, with its Bi-College Department of Environmental Studies and the Tri-College Consortium in Gender and Sexuality Studies.
Furthermore, while both colleges offer internship programs, Haverford has a more structured approach to internships, with its Externship Program that provides students with short-term, intensive experiences in various industries. Swarthmore, on the other hand, encourages students to seek out internships on their own and provides support through its Career Services Office.
Alumni Network and Career Prospects: Comparing Swarthmore vs. Haverford
Swarthmore and Haverford have large and active alumni networks that provide students and graduates with numerous connections and opportunities. Swarthmore's alumni have enjoyed success in various fields, including medicine, law, technology, academia, and government. Haverford's alumni are equally successful, with graduates working in fields such as finance, education, science, and the arts. Both institutions offer career services and resources, including alumni mentoring programs and access to job fairs and networking events.
Additionally, Swarthmore and Haverford have strong partnerships with various companies and organizations, providing students with internship and job opportunities. Swarthmore has partnerships with companies such as Google, Goldman Sachs, and Teach for America, while Haverford has partnerships with organizations such as the Philadelphia Museum of Art, the National Institutes of Health, and the United Nations.
Furthermore, both institutions have a high percentage of graduates who go on to pursue advanced degrees. Swarthmore has a 90% acceptance rate for medical school, while Haverford has a 95% acceptance rate for law school. Both institutions also have a strong track record of producing Fulbright scholars, with Swarthmore having produced 125 and Haverford having produced 106 since the program's inception.
Campus Safety and Security: How Do Swarthmore and Haverford Compare?
Safety and security are paramount when it comes to selecting a college. Both Swarthmore and Haverford have campus safety departments with well-trained personnel who prioritize students' well-being and security. Swarthmore has one campus security officer per 100 students, and Haverford has one per 150 students. Both colleges take a proactive approach to campus safety and have extensive emergency response plans in place to deal with any possible issue.
However, there are some differences in the safety measures taken by the two colleges. Swarthmore has a 24/7 campus escort service, which provides students with a safe way to travel around campus at night. Haverford, on the other hand, has a student-run Safe Ride program that operates during the evening hours. Additionally, Swarthmore has a blue light emergency phone system located throughout the campus, which allows students to quickly call for help in case of an emergency. Haverford also has a similar system, but it is not as extensive as Swarthmore's. Overall, both colleges prioritize the safety and security of their students, but they have different approaches to achieving this goal.
Tuition Fees, Financial Aid, and Scholarships: Which One is More Affordable for You?
College is an expensive investment, and both Swarthmore and Haverford have high tuition fees, making financial aid and scholarships critical components of the admissions process. Swarthmore's tuition, fees, and room and board cost approximately $77,354 per year, and Haverford's cost approximately $81,330 per year. Both colleges offer substantial financial aid packages to eligible students, including grants, scholarships, work-study programs, and loans. Swarthmore promises to meet 100% of students' demonstrated financial need, while Haverford offers need-based and merit-based aid.
It is important to note that while tuition fees are high, both Swarthmore and Haverford have a strong commitment to making their education accessible to students from all backgrounds. In addition to financial aid and scholarships, both colleges offer various resources to help students manage their finances, such as financial literacy workshops and counseling services.
Furthermore, it is worth considering the long-term benefits of investing in a college education. Graduates from both Swarthmore and Haverford have a high rate of success in their careers and are well-prepared for graduate school. This can lead to higher earning potential and a greater return on investment in the long run.
Social Life at Swarthmore vs. Haverford: A Complete Comparison Guide
Social life is an essential aspect of the college experience, and both Swarthmore and Haverford offer abundant social opportunities for students. Swarthmore has a vibrant social scene with various events, parties, and activities held on campus. Haverford's social scene is equally dynamic, with on-campus events, concerts, and festivals held throughout the year. The Honor Code at Haverford ensures a unique social culture, emphasizing mutual respect and community building, creating a friendly and supportive atmosphere among students.
However, Swarthmore's social scene extends beyond campus, with many students taking advantage of the proximity to Philadelphia. The city offers a diverse range of cultural events, music festivals, and nightlife options, providing students with a broader social experience. On the other hand, Haverford's location in a suburban area limits off-campus social opportunities, but the college provides shuttle services to nearby towns and cities, allowing students to explore the surrounding areas.
Another significant difference between the social life at Swarthmore and Haverford is the presence of Greek life. Swarthmore does not have any fraternities or sororities, while Haverford has a few Greek organizations. This difference affects the social dynamics on both campuses, with Swarthmore's social scene being more inclusive and diverse, while Haverford's social scene is more traditional and exclusive.
Athletics Programs Comparison: Which College has Better Sports Teams?
Athletics can play a significant role in your college experience, and both Swarthmore and Haverford have robust athletic programs that provide students with opportunities to participate in varsity and club sports. Swarthmore's teams, known as the Garnet, compete in Division III of the NCAA and have a strong tradition of athletic success. Haverford's teams, the Fords, also compete in Division III of the NCAA and have a long history of athletic achievement. Both institutions prioritize sportsmanship and teamwork, making their athletic programs ideal for students who want to participate in competitive sports while maintaining a balanced lifestyle.
However, there are some differences between the two colleges' athletics programs. Swarthmore offers a wider range of varsity sports, including swimming and diving, while Haverford has a stronger focus on cross-country and track and field. Additionally, Haverford has a unique tradition called "Screw Your Roommate," where students are randomly paired with a roommate and then surprise each other with gifts and activities throughout the year, including participating in intramural sports together. This tradition fosters a strong sense of community and camaraderie among Haverford's athletes.
Diversity on Campus: Comparing the Student Body at Swarthmore and Haverford
Diversity is an essential aspect of the college experience, and both Swarthmore and Haverford have diverse student populations representing a range of backgrounds, identities, and perspectives. Swarthmore's student body comprises students from over 47 countries, with 50% of the students identifying as students of color. Haverford, likewise, has a diverse student body, with over 25% of students identifying as international students and 50% as students of color.
Ultimately, choosing between Swarthmore and Haverford comes down to what you want from your college experience. While both institutions offer exceptional education and student experiences, they differ in their campus environments, extracurriculars, and other features. By considering each institution's unique features and comparing them to your preferences, you can make an informed decision that aligns with your educational and personal goals.
It's worth noting that both Swarthmore and Haverford have made efforts to promote diversity and inclusion on their campuses. Swarthmore has a number of student-led organizations dedicated to promoting diversity and social justice, such as the Black Cultural Center and the Intercultural Center. Haverford, on the other hand, has a Diversity Peer Advisor program, which provides support and resources for students from underrepresented backgrounds. These initiatives demonstrate the commitment of both institutions to creating a welcoming and inclusive environment for all students.