The Benefits of Online School
The Benefits of Online School
Learning in person on a college campus is becoming less common as people turn more and more to online education. The market for online education is expected to reach $230 billion by 2025, according to an estimate made in 2019 by Research and Markets. Considering the significant impact that COVID-19 has, it is possible that online programs and the benefits of online school will experience even more expansion.
In point of fact, the pandemic has provided evidence that online education is a strategy that is both feasible and sustainable. As one of the many benefits of online school, It ensured that access to education is maintained in the event of a public health emergency, a natural disaster, or any other scenario in which students and teachers are unable to travel.
It has the ability to serve students from a much greater geographic range, bringing in voices from all around the country and even further afield. The virtual classroom setting also encourages a healthier balance of personal and professional responsibilities. In this piece, we will discuss the benefits of online school, as well as the ways in which you may make use of those benefits to advance both your personal and professional growth.
Learning through the internet has numerous benefits, but there are also some drawbacks to think about. Maintaining focus and maintaining one's own sense of motivation can be tough in their own right, which is one of the reasons why not everyone is a good candidate for online learning. You may get a better idea of whether or not online learning might be a good fit for you and your educational and career objectives if you read more about the benefits of online school and the drawbacks of this method of education and take into account what you discover.
What to Expect in an Online Course?
The form that one's education can take depends entirely on their preferences. Therefore, what to expect in an online course looks very different depending on the type of class or program you want to take.
Free online courses could be the answer to your question if you are interested in acquiring fundamental information regarding a specific subject. These are more likely to be self-paced, which frequently means that an instructor will provide less direct assistance to the student. There are options accessible in practically every imaginable field of study, including both soft and hard talents, and they may be found in the marketplace.
If you are hoping to make a more significant shift in your profession or advance into a managerial position, you should give some thought to enrolling in a paid online program that offers a certification (or help members of your team move into new internal positions or gain new skill sets). This qualification could take the form of, among other things, a certificate, a professional certification, or an entirely online degree program.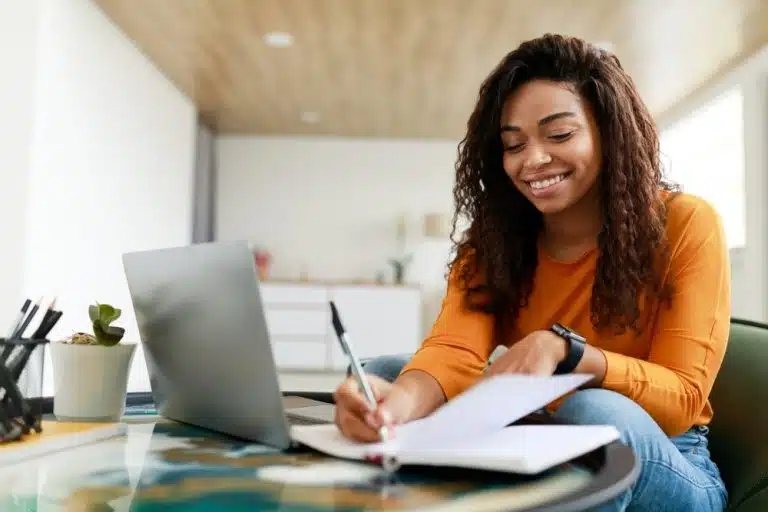 Structure and format might vary widely among paid online classes as well. Some require you to attend live lectures at a particular time. Some schools require you to finish your schoolwork on your own time, but they nevertheless give you weekly due dates. Even courses that are advertised as being offered "online" could nonetheless need students to visit the physical campus at some point. Before enrolling in your program, it is imperative that you familiarize yourself with its website and read up on its specifics. Each of the programs will provide a one-of-a-kind educational experience.
Your virtual classroom (which is frequently referred to as a learning management system, or LMS), email, videoconferencing, and even more methods of communication are all viable options for interacting with your fellow students when taking classes online. There are certain online courses that could need you to work in groups.
Prior to making a commitment to online learning, it is important to investigate what credentials and types of coursework can assist you in achieving your objectives. This is true whether you are looking to further your own education or enroll your staff in courses that will assist them in keeping their skills current. But first things first: you need to decide whether or not online education is a good fit for either you or your staff.
Advantages of Online Learning
The structure and benefits of online school can help you succeed in both your personal and academic life, which will get you closer to achieving your objectives. Here are some of the advantages of online learning.
There is no requirement for you to move
You can participate in the program of your choosing without having to relocate to a different city or commute a significant distance thanks to the availability of online classes. You are able to remain in your current location and maintain your employment while pursuing a college or graduate degree online, which will allow you to advance your professional prospects. (However, some programs demand previous work experience in the field, which could result in the need to relocate.)
A digital nomad is a person who embraces a location-independent lifestyle that is enabled by technology. If you want to become a digital nomad, which is someone who does this, online education may also allow you to achieve this. You are free to watch lectures and submit your assignments regardless of where you happen to be, be it your own living room, a local coffee shop, or even an exotic beach.
It is much simpler to strike the ideal balance between school and life
The online learning environment gives its students a great deal more scheduling leeway, regardless of whether they attend classes on a full-time or part-time basis. You might be required to attend live lectures, demos, or discussion sessions if some components are synchronous. For example, this might be the case. However, many of the components will be asynchronous, which means that you will be able to finish them at your own pace, learning when and when it is most convenient for you at any given moment of the day.
Time management is easier to handle when you have a stronger grasp on the schedule you're working with. It is much simpler to keep up with both an active social life and a family life while receiving a degree at the college or graduate level. Education, advancement in one's work, and a full and active personal life are all attainable goals in today's world.
It makes it easier for you to form and maintain healthy habits
In addition to providing a better school-life balance, online education also enables students to cultivate greater self-discipline with regard to maintaining healthy behaviors.
Getting in a quick workout or session of yoga at the break of the morning or shortly before the night isn't something that everyone looks forward to doing. If you like to educate yourself at home, you can go for a lunchtime run or enroll in an online Pilates session. You may even try taking a power nap, which, as recent studies have shown, can be beneficial to learning and memory.
Studying on your own time at home can also allow you more time to devote to taking care of yourself. Taking care of yourself on a regular basis, whether through self-reflection, meditation, or yoga, can help you feel more confident and increase your emotional intelligence.
You now have more time to devote to the activities that bring you joy
Commuting can eat up a considerable portion of your day if you are attending in-person classes but do not live in close proximity to the school where you are enrolled. The United States Census Bureau reports that the typical amount of time spent commuting to and from work each day is 54.2 minutes. It's likely that, if you're like the majority of people, you'd prefer to avoid driving in traffic or taking packed public transportation.
And if you save more than 54 minutes every day, you'll have even more time in your day that you can use to work, exercise, have fun, or spend time with the people you care about. In point of fact, research has shown that taking time off from work can ultimately lead to increases in both productivity and creativity.
Learning using the internet makes it feasible to keep your current work
There are a significant number of graduate students who are unable to afford to take time off from their jobs. Or, they intend to continue working toward career progression while maintaining their existing position, with the goals of enhancing their qualifications and implementing what they have learned on the job. Therefore, if you want to continue working at your existing employment while getting your degree, pursuing your education through an online platform is a fantastic option. You are not required to pick between going to school and working because you are able to do both.
You are able to establish your own office
Having the ability to design your own working place is a significant benefit. You have the option of working from your desk, which you can adjust to the ideal height for you and sitting in a chair that provides adequate support.
Alternatively, you might work from your couch. Not only may your working environment be more physically comfortable, but studies show that people believe they are more productive when they do their jobs from home.
It's easier to concentrate and participate
Because different people are more productive at various times of the day, online learning gives you the flexibility to work at the point in the day when your mind is the most active. In addition, some individuals find it difficult to concentrate and contribute when the classroom is too packed.
Students may find it simpler to concentrate when engaging in online learning, and students who are more reserved may find it simpler to participate by posing questions or offering ideas. This may help students improve their self-assurance and outlook on life.
Boost your time management skills
Keeping oneself well-organized is one of the most important aspects of being a successful student. Find a way that serves you well, such as experimenting with these time management approaches, making use of planners, or putting new virtual tools for productivity to the test.
Acquire some brand-new technical abilities
Your technological literacy will improve if you completely immerse yourself in the technology that underpins online education.
Improve your ability to communicate with others
Online education affords students the chance to engage in a variety of forms of conversation, interaction, and participation with their classmates as well as their teachers.
Disadvantages of Online Learning
A person's potential can only be fully realized when they are part of a close-knit community. Having learned the many benefits of online school, it's natural to wonder what are the disadvantages of online learning.
Students acquire life skills such as how to make friends, have patience, overcome disappointment, and notably how to compete while they are in school. The healthy competition that can occur between teachers and their pupils is sure to be beneficial to everyone involved. Learning over the internet cannot include interaction with other people.
One further drawback relates to the fact that online classes are incapable of handling the participation of thousands of students at once in the same topic at the same time. Learning on the internet can be challenging, especially if the subject matter is one that requires hands-on experience.
The traditional methods of education should be viewed as primary, with online learning serving as a supplement and extension to those methods. Even the most advanced and well-designed online class is not a suitable substitute for direct interaction with a knowledgeable instructor or the interpersonal bonds that form inside a class setting. Therefore, traditional classroom settings should not be abandoned in favor of learning conducted online.
Are Online Classes Easier than Traditional On-Campus Programs?
Now knowing the pros and cons of online school, are online classes easier than the traditional on-campus program? The difficulty of the coursework and the expectations of the professors are two advantages of taking classes online. The grading requirements for students attending classes on campus and those taking those classes online are identical.
As a consequence of this, students who take courses on campus or online receive equally beneficial preparation for their futures. In addition, online courses are evaluated by accreditation authorities, and only the most successful ones are approved.
Even though students are expected to meet the same academic standards in online courses, they may experience a lower level of difficulty. The benefits of online school, which include academic and career flexibility, financial savings, and reduced stress when scheduling classes, are the driving force behind this movement.
Another factor that can make taking online classes seem less challenging is if the format of the classes is well-suited to the student's preferred methods of academic help and learning, such as having access to virtual tutors and career counseling sessions. Finding a way to accommodate this individual taste can both make for a more pleasurable experience and lead to better learning outcomes.
Is an Online Degree Right for You?
With all the information above, is an online degree right for you? Evaluating the benefits of online school and its drawbacks is the best way to determine whether or not pursuing a degree online is the correct choice for you. Students who are comfortable learning at their own pace, completing their tasks on their own time, and working with their peers from a distance will probably perform well in an online program.
Students need to realize that the material that is taught in a face-to-face class is also taught in an online course and that there is no difference between a degree acquired online and a degree received in person. This is the single most important thing that students need to comprehend.
Learners come in all shapes and sizes, each with their own unique approach to education. In what kind of educational environment do you think you would thrive? If you are aware of the areas in which you excel and those in which you struggle, you will be more equipped to decide whether or not online education is the best option for you. Make it a priority to inform yourself of both the positive and negative aspects of learning online.
If you are self-motivated, have excellent time management skills, and do not wish to commute to a campus, then online learning may be the most suitable option for you. If, on the other hand, you feel more comfortable receiving instruction from a live person, you should carefully consider the benefits and drawbacks of this particular mode of education.
Be careful to have well-defined objectives in mind before enrolling in an online course so that you can reap the full benefits of this kind of education. In this approach, you will be able to select not only the appropriate format for learning but also the most appropriate degree and course of study to fulfill your requirements.
Want to learn more about the benefits of online school? You've come to the right place. At AdmissionSight, we have over 10 years of experience guiding students through the competitive admissions process.
AdmissionSight can help you put your best foot forward when applying to college this fall. Contact us today for more information on our services.