The best coffee shops in Berkeley and Oakland
The universal concept of coffee being a survival juice is evident in the university scene. We see the likes of Northwestern, UPenn, John Hopkins having rich coffee-drinking cultures. It's of no surprise that the lovely towns of Berkeley and Oakland in California have also picked the idea of coming up with places that offer this caffeinated drink. So, what are the best coffee shops in Berkeley and England?
Both cities are homes to a large number of locally owned cafes, many of which provide a serene setting. Customers can get some work done, read a book, or meet up with friends for a short while.
We have already written about what the social scene is like at Berkeley; if you haven't read it yet, you can check it out here. In this article, we'd like to answer the most pressing question at the moment, "What are some of the best coffee shops in Berkeley and Oakland?" If you'll indulge us, we'd like to share our 17 favorites, a combination of both Berkeley's and Oakland's best café finds.
We classified the 17 locations on our list into three distinct categories: study, work, and outdoor (our current favorite).
What are the best coffee shops to study in Berkeley and Oakland?
Where may one find the most conducive environments to learning in Berkeley and Oakland? Where else outside a library can you go that is pretty peaceful, has a lot of coffee, and has an ambiance that is a little bit more upbeat? You got it right, coffee shops. And while we're at the topic of studying, you might also want to read Study Tips for the Final Exam.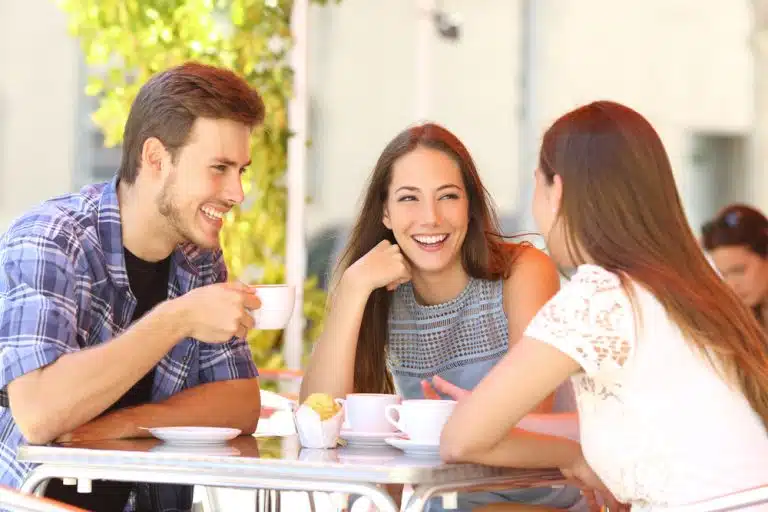 You should check out one of these neighborhood cafes that is great for studying.
Beanery
Beanery is a cafe that is well worth the trip down College Avenue, whether it be on foot or through the 51B bus, despite the fact that it is not located as near to the current campuses.
They offer a wide variety of coffee drinks and teas, and the rear patio is brimming with magnificent plants. So you can relax, review your notes, and enjoy your beverage of choice while admiring the scenery.
Cafe Milano
Milano is ideal for those chilly, slow-paced weekdays when you may use a warm dinner that is also reasonably priced. This well-known Berkeley coffee shop is located directly on Bancroft, directly across the street from Sproul, and provides a comfortable and inviting setting for studying.
A local favorite in Berkeley, Milano is known for its comfortable indoor seating as well as its straightforward but delicious menu, which includes hot sandwiches, soups, salads, pastries, and of course, teas and coffees.
Common Grounds
This eatery is in reality an expansion of the Peet's Coffee & Tea that is found on the highest floor of the Dwinelle building. However, it is included on the list because it provides a study place that is so peaceful.
Common Grounds is an excellent spot for hour-break cram sessions and meal point coffee because it features little tables that look out over the stunning labyrinth that is Dwinelle.
Lindgren's Coffee & Cafe
This location is perfect for anyone who is in need of some time to themselves and has the desire to be alone (if this is not studying to you, we don't know what is). Breakfast at Lindgren's Coffee & Cafe consists of robust options like omelets and burritos, and lunch features filling options like sandwiches and wraps.
A satisfying and rewarding treat can be achieved by combining them with any of their organic coffees or teas. While you take in the tranquil ambiance of Lindgren's, the traditional paintings that line the walls give an intimate backdrop for your viewing pleasure.
Sack's Coffee House
Sack's is one of the best coffee shops in Berkeley and Oakland that has a nicely furnished, spacious, indoor cafe that provides a range of gourmet bagels and hand-crafted espresso drinks. It is located just a few blocks along College Avenue.
This coffee shop will entice you away from the library so that you can relax with your laptop on one of the bags of coffee beans that line the walls of the establishment.
SoDoI Tasting House
Under the Underhill Parking structure, just adjacent to Unit 3 of the SoDoI Tasting House, you can get yourself a cup of hand-dripped coffee that is both flavorful and robust. This specialized coffee shop has a relaxing ambiance, but its walls are decorated with motivational artwork.
You can get the confidence you need to ace that test by studying here, surrounded by murals of inspiring quotations and figures that are painted on the walls. Anything would be preferable to the stone walls of Main Stacks, wouldn't you agree?
The Coffee Lab
If you have a few dollars on you (yep, cash is the only form of payment accepted here), and you are close to the chemistry building, then this little cafe can be the ideal place for you to study on campus because it has a particular laid-back vibe.
The Coffee Lab is a place that is seldom ever busy, is always quite peaceful, and has exceptionally tasty coffee for only $1.50.
What are the best coffee shops to work in Berkeley and Oakland?
Where might one find the most productive places to work in Berkeley and Oakland? The East Bay is home to a large number of fantastic coffee shops, but a surprising proportion of them do not provide customers with access to wifi.
It's easy to see why some of the best coffee shops in Berkeley and Oakland do not want their establishment to be used as a de facto coworking places. But there are times when you find yourself in a bind and you need a place that can provide you with decent food and drinks in addition to free internet access as soon as possible.
When it comes to recommending these locations, we are definitely sure that they have sufficient numbers of operational outlets as well as high-quality internet connectivity.
1951 Coffee Company
As soon as you step into the 1951 Coffee Company, it is instantly apparent that it is a highly distinctive coffee shop. Educational charts cover the walls of the establishment, making this readily apparent.
The place is actually a nonprofit organization that works to raise awareness about refugee concerns in the larger community while also providing job training and employment opportunities to refugees and asylees; some of its former baristas have gone on to work for major Bay Area coffee firms.
Aside from the café's commitment to social causes, the cherry on top is that 1951 produces a tasty cup of coffee.
Algorithm Coffee Co.
When you go to Algorithm Coffe Co., don't ask for a latte, cappuccino, or cortado; instead, ask for an espresso with milk served by size. Because the menu has been pared down and streamlined, you will receive a portion that has been determined to be optimum by the coffee-obsessed staff at Algorithm.
However, if you are interested in customization, you will not be able to take advantage of this option. Regardless, the espresso made in tiny batches and from a single origin is delicious, and there is a large number of seating options. For those reasons, Algorithm is one of the best coffee shops in Berkeley and Oakland to work.
Cafe Blue Door
This cafe in Bancroft features comfortable sitting both inside and out, in addition to a varied selection of beverages and dishes to eat.
Because there are several outlets for extended hours of studying as well as wide tables for spreading out work materials, Cafe Blue Door has become a prominent location for academic pursuits in Berkeley.
Philz Coffee
The first Philz location in the East Bay adheres to the philosophy of the San Francisco-based company, which was founded on the principle of making each cup of coffee individually and according to the specific tastes of the individual customer.
There is a compelling reason why each person can vividly recall the first time they tried Philz' mint mojito iced coffee. In addition to its site in Shattuck, Philz may also be found in Rockridge (6310 College Avenue in Oakland) and West Berkeley (1313 9th Street).
Red Bay Coffee Roastery & Bar (Headquarters)
Next on our list of best coffee shops in Berkeley and Oakland operates in its own headquarters. Red Bay Coffee, Oakland's black-owned company with a social justice ethos. The space is open, airy, and industrial, with lots of places to sit and work. In the evenings and on weekends, it often transforms into a lively community events space. Go for unique offerings like the charcoal or candied yam lattes.
The Octopus Literary Salon
The corporate headquarters of Red Bay Coffee, an Oakland-based business with a commitment to social justice, are located in a section of Fruitvale that is flanked by warehouses. The atmosphere is open, airy, and industrial, and there are numerous spots to sit and get work done around the area.
The salon frequently morphs into a bustling community events place at night and on the weekends. Make a point to get some of the more unusual items on the menu, such as charcoal or candied yam lattes.
Uccello Coffee
Uccello Coffee offers the standard fare in addition to a big selection of sandwiches in an environment that is compact, white and black in color, and minimalist.
Because of its location, it is an ideal gathering place for the downtown working crowd; accordingly, it shuts at a relatively early hour of 3:30 in the afternoon on weekdays and is closed on the weekends.
What coffee shops in Berkeley and Oakland offer outdoor seating?
Which best coffee shops in Berkeley and Oakland have outside seating, and where can I find it? In California, the land of perpetual sunshine, it would be a terrible waste if restaurants did not provide the option of dining outside in the fresh air. This kind of dining experience can be found at the majority of restaurants if not all of them.
In recent years, there has been a shift toward a higher level of respect for sitting outside. There has been a recent uptick in the number of folks who want to have their coffee while sitting outside. This is being done not only for reasons related to the skin but also to reduce the likelihood of becoming infected with COVID-19.
Caffè Strada
Caffe Strada, which is situated directly across the street from Boalt Law School, exudes an air of earthiness because of the abundance of trees and plants that surround the outside dining area.
The café is the ideal location for unwinding and concentrating because it comes complete with a mouthwatering pastry and a piping hot cup of coffee. Stop by Caffe Strada whether you're looking for a place to grab a cup of coffee first thing in the morning or a late-night gathering location.
Cafenated Coffee Company
This farm-to-cup coffee roasting company was also recommended by the travel blog Brooksy as one of the best coffee shops in Berkeley with outdoor seating.
Cafenated Coffee Company guarantees its customers a great, hand-roasted cup of joe while also contributing to a worthy cause. The company obtains its green beans directly from well-established women's coffee farm cooperatives in Central America.
In addition, the large patio area has the potential to function as a nursery due to the presence of verdure-covered walls, colorful potted plants, and endearing light fixtures suspended from the ceiling.
There is also an abundance of seating arrangements, space heaters, and a fire pit for use on cooler days. Did we mention that when the fog begins to lift, this will transform into a breathtaking outdoor space? If this is not a perfect setup for soaking up some of the vitamin D-rich sunshine, we don't know what will.
Equator Coffees & Teas
The one and only location of Equator Coffees & Teas in the East Bay is actually a shipping container situated close to Lake Merritt. Having said that, there is some pleasant outdoor seating that is enlivened with succulents, in addition to wifi.
This café offers a standard selection of coffees and teas, in addition to canned beer, wine, and ice cream in addition to its usual coffee and tea selection.
Yali's Café
In our list of best coffee shops in Berkeley and Oakland, this by far offers the best sunset views.  This campus location of Yali's Cafe makes for a relaxing study spot, especially around sunset because it faces the enchanting Hearst Mining Circle from Stanley Hall. The location is ideal for students.
The café has seating available both inside and outside, and they serve delectable baked goods and coffee drinks like their signature "Red Eye," which is a combination of espresso and coffee that is sure to help you concentrate on that paper.
Final thoughts
Both Berkeley and Oakland can take pride in having a superb coffee-drinking environment that caters to the needs of those who are working, studying, or enjoying the outdoors. Before going to a particular café, you should first determine what you want to get out of your visit there.
Do you ever daydream of being among those people who are working or studying at Berkeley or any of the rich college towns in the country? Building a relationship with AdmissionSight as a potential partner would mean 1 step closer to your dream. AdmissionSight is the most highly regarded college admissions consultant in the industry, and we have more than a decade of experience assisting individuals just like you in getting acceptance into the most prestigious educational institutions of their choosing.
Please get in touch with us as soon as possible to organize a no-cost consultation at your earliest convenience.