The Best Colleges For Chemistry
What are the best colleges for chemistry?
Which schools offer the best chemistry programs, and why? The field of chemistry is a fascinating area of study that, in some way, contributes to almost every facet of our everyday lives. Are you interested in achieving success in the field of chemistry and looking for the best college to study it at? This is a unique opportunity for you. We have put together a list of what we believe to be the "Best Colleges for Chemistry" that will meet your requirements.
See the list that is provided below to identify the educational institutions that are most suitable for you.
Harvard University Department of Chemistry and Chemical Biology
The oldest institution of higher learning in the United States is, without a doubt, Harvard University. The concentrations that are offered by the Department of Chemistry and Chemical Biology are as follows: Chemistry, Chemistry and Physics, and Chemical and Physical Biology.
In addition, obtaining a degree in chemistry can provide an outstanding foundation for careers in a wide variety of fields that are related to chemistry, such as law, medicine, business, environmental science, and other subfields of science.
During the spring semester, it provides a non-credit sophomore tutorial that consists of a series of lectures given by members of the faculty on their current research. The more advanced courses are intended to have a direct connection to current topics of investigation in the field of chemistry.
California Institute of Technology Undergraduate Program in Chemistry
The California Institute of Technology is a prestigious private institution of higher education that offers doctoral degrees and is found in the state of California in the United States. The traditional subfields of chemistry, such as organic and inorganic chemistry, chemical physics, theoretical chemistry, chemical biology, and biochemistry, are covered in depth as part of the chemistry curriculum at Caltech.
The goal of the undergraduate program in chemistry is to prepare students for advanced graduate study and, ultimately, careers in teaching and research at colleges and universities. This will be accomplished by preparing students for advanced graduate study. The importance of fundamental principles and how they can be utilized to systematize descriptive chemistry is emphasized throughout.
Princeton University Department of Chemistry
In the town of Princeton, New Jersey sits the Ivy League institution of higher learning known as Princeton University. Princeton has etched its name into the list of one of the best colleges for chemistry. Undergraduate students in the Department of Chemistry at Princeton University benefit from small class sizes, the opportunity to take on the challenge of a one-of-a-kind senior thesis project, and the individual attention of faculty members who are highly regarded internationally.
In addition to this, it provides each student with a curriculum that is appropriate for the preparation of specific career plans as well as works at the professional level. The fundamental principles of chemistry, include descriptive chemistry, the structure of molecules, and the bonds between them.
University of Chicago Department of Chemistry
The University of Chicago is a non-public educational establishment that was established in the year 1890. It currently has 5,971 students enrolled in its undergraduate program and a total enrollment of 16,016 students.
The Department of Chemistry provides students with a variety of degree options. Both the Bachelor of Arts and Bachelor of Science degrees in Chemistry are intended to provide students with a comprehensive grounding in the three primary subfields that make up thence: inorganic, organic, and physical chemistry.
The Bachelor of Arts degree not only provides in-depth training in the subject of chemistry, but it also gives students a significant amount of leeway to choose their elective courses and encourages them to pursue interdisciplinary interests in fields such as biochemistry, biophysics, chemical physics, geochemistry, medicine, and education.
Rice University Department of Chemistry
Rice University, one of the best colleges for chemistry, is a research institution that is relatively small in size and located in the middle of Houston, Texas. Rice places a primary emphasis on its undergraduate students and has a well-deserved reputation for unconventional ways of thinking.
Students who choose to major in chemistry as an undergraduate can earn either a Bachelor of Science (B.S.) or a Bachelor of Arts (B.A.) degree from the Department of Chemistry. In addition to that, it allows students to earn a Bachelor of Science degree in Chemical Physics.
The Bachelor of Arts in Chemistry degree is a more flexible program that provides a comprehensive overview of all areas of chemistry, including laboratory experiences, but can be coupled more easily with other majors or professional career paths. This degree can be earned in four years instead of the traditional five.
Pomona College Chemistry Department
Pomona College is currently ranked number one among all undergraduate liberal arts colleges in the United States, and tenth overall among all undergraduate colleges. A chemistry major, a chemistry major with a track in chemical engineering, and a chemistry minor are all available through the department.
It offers courses that are considered to be Foundational as well as Elective courses. Analytical, biological, inorganic, organic, and physical chemistry are all part of the foundational curriculum, and each course includes access to cutting-edge laboratories.
Students have the opportunity to take elective classes that cover topics in atmospheric, bio-inorganic, bio-organic, environmental, materials, and medicinal chemistry, as well as NMR spectroscopy, chemical biology, and nanotechnology.
Duke University Undergraduate Program in Chemistry
Duke University is widely regarded as one of the best colleges for chemistry in the United States. It also provides graduate programs, certificate programs, dual and joint degrees, and doctoral and master's degrees in more than seventy different academic departments and fields of study, as well as dual and joint degrees. A.B. and B.S. chemistry degrees are offered and can be awarded many different concentrations and certificates.
Analytical chemistry, biological chemistry, inorganic chemistry, organic chemistry, physical chemistry, and theoretical chemistry are the subfields that have traditionally been recognized within this field. Therefore, training in the field must go beyond the traditional areas of chemistry and provide students with skills and knowledge in molecular science that are sufficiently general and comprehensive.
The University of Pennsylvania Department of Chemistry
The University of Pennsylvania is a prestigious private research university that is a member of the Ivy League. The Department of Chemistry teaches students the fundamental ideas and principles of chemistry, as well as their applications in the discipline of chemistry and other fields that are closely related to it.
The study of chemistry provides students with a fundamental grounding that enables them to better prepare for potential careers in the fields of chemical research and teaching, scientific communication and information transfer, as well as the health professions.
The content of the course will focus on chemistry, and the course's principles will be taught in the context of important environmental issues. In the first term, the focus is on developing an understanding of chemical reactions by examining the atomic and molecule structures.
Washington University in St. Louis Department of Chemistry
Washington University is consistently ranked as one of the best colleges for chemistry in the country. The Department of Chemistry offers a Bachelor of Science degree in Chemistry as well as a Doctor of Philosophy degree in Chemistry.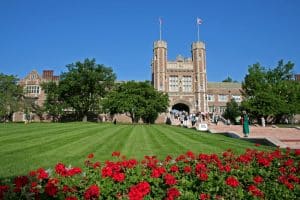 Additionally, the Department of Chemistry allows students to specialize their research in biological, organic, inorganic, physical, or nuclear chemistry. In the first chemistry class that you take at Wash U, called Chem 111A, you will develop skills in complex problem solving, collaborative approaches to addressing scientific questions, and critical thinking, and you will also participate in active-learning exercises. This course covers the fundamental ideas and concepts that are central to contemporary chemistry.
Northwestern University Department of Chemistry
Evanston, Illinois, serves as the location of the United States' Northwestern University, which is a private research university. The Northwestern University Department of Chemistry is recognized throughout the world as a center of academic and research excellence in chemistry at both the undergraduate and graduate levels.
It offers courses that have been thoughtfully designed to provide students with either a scientific or non-scientific background with a rigorous introduction to chemistry. The additional courses not only meet the requirements of the engineering, biological sciences, and medical programs at Northwestern, but they also provide a variety of chemistry program options.
Research that is rigorous and original is carried out by the chemistry faculty with the participation of undergraduate students, graduate students, and visiting scholars from all over the world. Hence, it is Northwestern University is consistently ranked among the best colleges for chemistry in the US.
Is a chemistry degree right for you?
Would you benefit from earning a degree in chemistry? Students who are interested in learning about atoms, molecules, and other particles but are put off by curricula that are heavy on mathematics and difficult sciences should consider pursuing a degree in chemistry. It is also the ideal undergraduate degree for individuals who wish to continue their education by enrolling in graduate schools, such as medical school.
A degree in chemistry, it cannot be denied, can open doors to jobs that are not only satisfying for individuals who are interested in the characteristics, composition, and structure of elements and compounds, but also high-paying. This is something that cannot be denied.
However, the fact that it is challenging is common knowledge, which causes some students who are considering majoring in chemistry to have second thoughts.
You seem to be on the fence about whether or not you will be successful as a chemistry major as well as someone who holds a bachelor's degree in chemistry in the future. Then, please respond to the following questions with either a "yes" or "no":
Do you enjoy working with numbers and participating in mathematical activities such as geometry and calculus?
Do you find it interesting and enjoyable to study hard sciences such as physics and, of course, chemistry?
Do you enjoy coming up with solutions to real-world problems, in addition to enjoying the challenge of solving puzzles?
Do you ever fantasize about having a career in academia, either as a researcher, writer, teacher, or doctor?
After earning your bachelor's degree, have you given any thought to continuing your education by enrolling in graduate school?
If you responded "yes" to the majority or all of the questions, then there is a good chance that majoring in chemistry is the path that will lead to the most success. However, please keep in mind that, in most cases, degree-seeking students have until the end of their sophomore year of college to declare a major.
This means that you have plenty of time to think about majoring in chemistry and that you do not need to make a decision right away. Even though it is not required, getting into the best colleges for chemistry is strongly encouraged.
Take some electives outside of chemistry that are related to the field of study to get a better feel for whether or not chemistry is the right major for you. This will give you a much clearer picture of what it entails to major in chemistry.
What can you do with a chemistry degree?
What kinds of careers are open to people who have degrees in chemistry? It is a common misconception that a person who earns a degree in chemistry can only work in a laboratory setting after graduation. However, this is not the case.
A degree in chemistry opens the door to a wide variety of career options in a lot of different fields, so getting that degree is a good idea. In addition, it readies the holder of a bachelor's degree for further study at the graduate level in chemistry or a related field.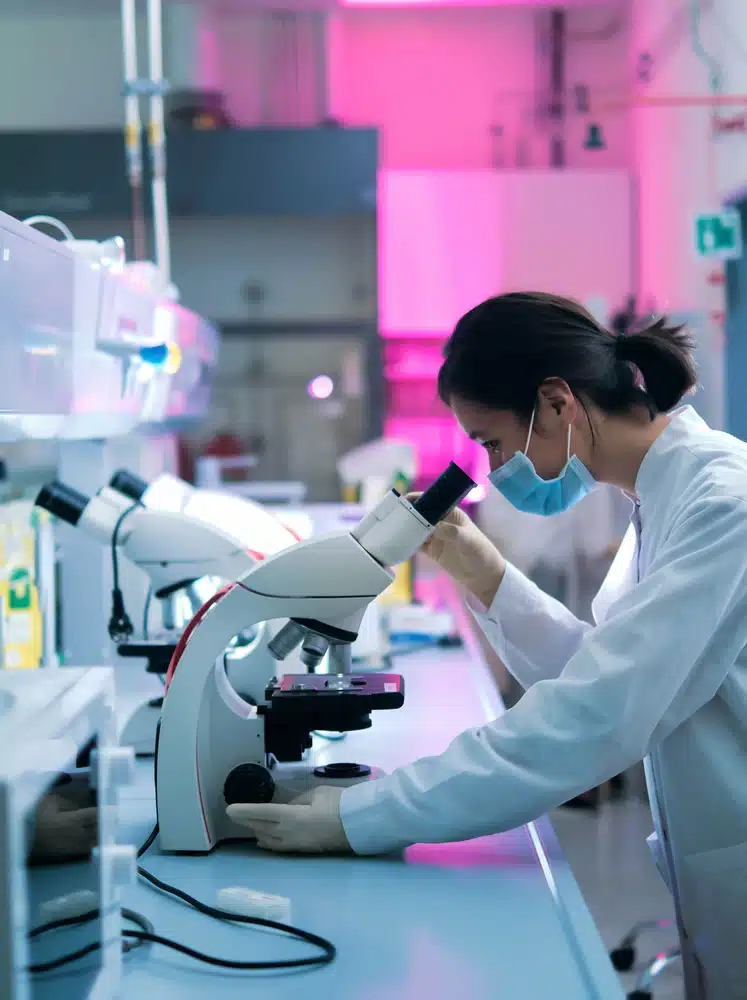 While it's true that the majority of careers open to people with a bachelor's degree in chemistry involve researching and analyzing chemicals, it's also true that there are some opportunities open to people with this degree that do not require them to be in an environment filled with test tubes and other types of laboratory equipment. Chemists can be found working in a variety of settings, including offices, manufacturing plants, and lecture halls.
The following is a list of just some of the lucrative career options available to chemistry majors:
Chemical engineer
In a nutshell, the application of hard science, such as chemistry, physics, and biology, as well as mathematical principles, is how chemical engineers solve problems that occur in the real world and involve the consumption of food, drugs, fuel, and other products.
Some employers will check to see if you attended one of the best colleges for chemistry, while others won't. And some employers may give preference to applicants who have a degree in chemical engineering, but other companies will also hire people who majored in chemistry.
Chemist
You are tasked, as a chemist, with doing what everyone expects a chemist would do, which is to study different substances at the atomic or molecular level and analyze how they interact with each other. Although the vast majority of chemists indeed find employment in laboratories, it is also true that some chemists also find employment in offices, and this can vary depending on the job title or position.
Materials scientist
When developing new materials or investigating the properties of existing ones, it is common practice for materials scientists to collaborate with other professionals. Because of this, materials scientists must possess strong communication and team-playing skills.
Technical writer
Simply put, the job of a technical writer is to simplify the communication of difficult pieces of information in a manner that is more easily digestible. They accomplish this goal by writing articles, journals, guides, and manuals, among other types of writing.
Agricultural and Food Scientists
You have the primary responsibility, as an agricultural and food scientist, to look for ways to improve the safety as well as the efficiency of the establishments and products that fall under the purview of the agricultural industry. Scientists in the fields of agriculture and food can be found working in a wide variety of environments, including offices, laboratories, and even out in the field.
Forensic science technician
Those who work in the field of forensic science are called forensic science technicians, and their primary responsibilities include the gathering and examination of various pieces of evidence during the course of criminal investigations. It is not out of the ordinary for forensic science technicians to put in long or unusual hours of work. It is also highly likely that you will have to travel to several different crime scenes.
High school chemistry teacher
It should come as no surprise that the job of a chemistry teacher in a high school is to instruct students in class and assign them homework, particularly chemistry-related assignments, to get them ready for college or the workforce after they graduate. In addition to holding a bachelor's degree, teachers of chemistry in public high schools in the United States may be required to hold a state-issued certification or license.
Chemical laboratory technician
One of the tasks that chemical laboratory technicians are responsible for is conducting a variety of tests to assist in the evaluation of the qualities of various substances and materials. It is not unusual for many people who work in chemical laboratories to also work in the manufacturing industry.
In addition to looking for work, another option is to continue your education and earn a master's degree in chemistry by enrolling in graduate school after obtaining your bachelor's degree. Because it will provide you with advanced training in the various branches of chemical science, you will have access to careers in research and various scientific disciplines that are higher level and pay more.
In most cases, earning a master's degree in chemistry will take you between one and a half and two years to complete.
The following is a list of typical careers available to those who have earned a master's degree in chemistry:
Brewmaster
Chemical engineer
College chemistry teacher
Conservationist
Cosmetic developer
Environmental scientist
Epidemiologist
Food technologist
Medical laboratory technologist
Paint developer
Product development scientist
Quality control analyst
Research chemist
If you're set on getting into one of the best colleges for chemistry but aren't sure how to make it happen, we can help! AdmissionSight is a leading college entrance expert with over a decade of experience helping students just like you get into the schools of their dreams.
We focus on offering a wide range of services all aimed at helping students perfect their applications to catch the attention of admissions officers. Contact us today to schedule a free consultation to learn more about what we offer.