The Best Colleges For Philosophy In The US
What is a major in philosophy?
What Is a Philosophy Major? Philosophy is a humanities major that will push students to think about questions that don't have the right answers. As they learn about famous thinkers and different worldviews, majors will learn how to think critically, recognize and judge arguments, and use moral and ethical reasoning. Students from the best colleges for philosophy can learn about both modern and historical philosophy, and they will learn how to read and analyze philosophical writings from different times.
Philosophy majors will think about arguments about the best way to live, whether or not God exists, and how the mind and body work together. They will also learn the basics of mathematical logic, such as what a good deductive argument is and how it works. As part of their senior thesis, philosophy majors can often work with faculty at their schools to study a topic that interests them. Students can look for places to publish their writing, such as in journals for undergraduate research.
Philosophy could be the right major for you if you want to wrestle with hard questions, look at different points of view, and think about what you believe. Philosophy can help you in school and your personal life because it can force you to think critically about the course material and your values. You can also find a place in the major if you are interested in things other than philosophy. Classes in the major connect to art history, computer science, and mathematics.
What jobs as a philosophy major can you get?
Policy Analyst
Average salary: $59,726
One of the jobs a philosophy major that a person can apply for is being a policy analyst. They research, analyze, and evaluate laws and government programs that might be made or already exist. They might even help develop new policies, like stricter environmental rules or a new way to help families with trouble. Policy analysts work for all levels of government, as well as for nonprofits, think tanks, lobby groups, and several other groups.
Philosophy majors are good at the research and analysis needed for this kind of work and can think through the effects and implications of different policies. Policy analysts usually need a law degree or a master's or Ph.D. in policy, economics, or a similar field.
Marketing Manager
Average salary: $66,173
Marketing managers are in charge of a company's marketing efforts or just one of them, like email or social media. They research the market and come up with plans. In general, they link an organization and its current and potential customers. Marketing managers can focus on one area or do a little bit of everything.
Philosophy majors can use their analytical, critical thinking, and listening skills to learn about their target market. They can also use their writing and persuasion skills to create an effective campaign that considers their customers' needs and wants. They will also be great at looking at past and current campaigns' results and making future changes. Philosophy majors who want to be creative should look for marketing jobs. Most of the time, you must have worked as a marketing coordinator, analyst, or assistant before becoming a marketing manager.
Psychologist
Average salary: $78,724
Psychologists study how people act, how they feel, and how they think. They may also advise individuals, couples, and other groups about mental health. Those who study at the best colleges for philosophy as a philosophy major you've learned a lot of the skills you'll need to study psychology, like how to think critically and analyze things. Savage also says that you probably have some experience judging how people act and trying to explain social events. Psychology is a great field to study if you're interested in how the mind works.
If you want to work in a school or as an organizational psychologist, you'll probably need a master's degree in psychology or a related field. To work in research or clinical settings, you need a doctorate, usually a Ph.D. or PsyD (doctor of psychology degree). You'll also need to get a license in the state where you want to work to help people.
Management Consultant
Average salary: $87,985
Management consultants help companies solve problems by evaluating, analyzing, and making suggestions. Consultants usually work for consulting firms with many clients and move from one project to the next every few weeks or months.
Because philosophy majors are good at adapting to new situations and coming up with new ideas, they can move around a lot and learn quickly about new businesses. They'll also use their critical thinking, communication, and analysis skills to learn about a client through data collection and employee interviews, combine that information to come up with solutions, and then share their ideas with clients. Recruiting processes at consulting firms are often very structured and start on college campuses.
Teacher
Average salary: $49,593
Teachers plan lessons and teach students in elementary and middle school. They are in charge of grading and evaluating students, keeping track of their progress, and ensuring that each class or student understands and learns the material. Teachers in high school usually focus on one subject, like history, English, math, or science, or a more specific topic within one of those, like calculus or biology. Most teachers in elementary school teach all subjects.
Philosophy majors from the best colleges for philosophy make good teachers because they are good at talking to people and can break down complicated ideas and look at them from different points of view. They can also explain the "why" behind different ideas, lessons, and even ways of teaching. To become a teacher, you must finish a teaching certification program and pass a licensing test. You may also need to meet other requirements, depending on what state you want to teach in and whether you want to teach in a public or private school.
What is the best school for studying philosophy?
Duke University (Durham, NC)
The philosophy department at Duke University has a few hundred undergraduate students, and its faculty has written more than 65 books. This has been a big reason why they are considered one of the best schools for studying philosophy.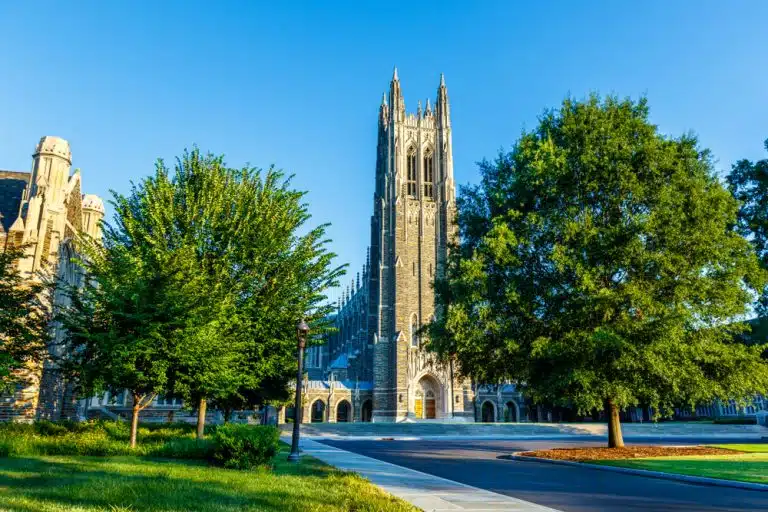 The school has 11 philosophy degrees and degrees related to philosophy. Undergraduates are expected to learn much about things like deductive logic, metaphysics, and ethics. All philosophy majors must write a few critical papers, and if their GPA is high enough, they are encouraged to write a senior honors thesis.
During the summer, philosophy majors can learn a lot in exciting places like Switzerland and Greece. On the Duke campus, many programs and centers focus solely on philosophy. For example, the Kenan Institute of Ethics is an interdisciplinary "think tank" that ensures that moral considerations are considered when making policy.
University of Notre Dame (Notre Dame, IN)
The philosophy department at Notre Dame is the biggest and one of the best colleges for philosophy in the US. The school wants to bring faith and reason together as a Catholic university. Every semester, more than 150 students take philosophy classes, and the department is often included in lists of the top 20 philosophy departments in the English-speaking world.
Before specializing in a certain area, all philosophy majors take three basic courses. Most first-year college classes are small, discussion-based seminars with fewer than 15 students. Honors majors must work with a faculty advisor for a year on a senior thesis.
One of Notre Dame's newest interdisciplinary majors is in philosophy, science, and mathematics. It is the only program in the country and is great for students who want to combine STEM studies with ethical concerns.
Philosophy graduates from Notre Dame have good chances of getting jobs. Within six months of graduation, 97% of graduates kept full-time jobs, went to graduate school, joined the US military, or started businesses.
Yale University (New Haven, CT)
The Academic Philosophy Data and Analysis recently put Yale's philosophy department at the top of 143 similar departments. The history of philosophy, metaphysics, epistemology, ethics, and value theory are the three parts of the school's philosophy curriculum. Philosophy majors usually have to take 12 credits plus courses in linguistics, political science, and the classics.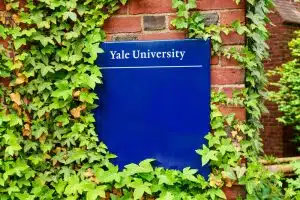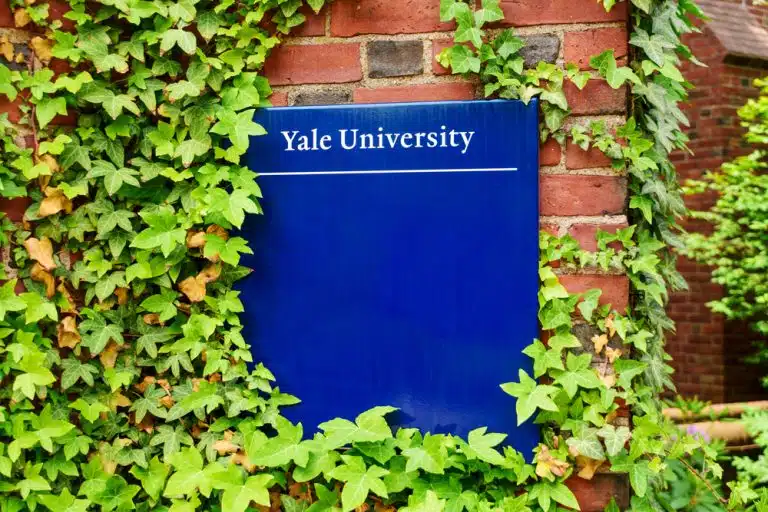 As one of the best colleges for philosophy in the US, philosophy majors, who need to fulfill a senior requirement, can take a seminar. In this case, they write a final paper and work in small tutorial groups to get feedback and improve it. Yale's curriculum emphasizes critical thinking and academic writing, so students can expect to do a lot of revising.
The department often puts on special events for undergraduate students, like the Colloquium Series. Every three to four weeks, philosophers from Stanford, Johns Hopkins, Rutgers, and other well-known schools come to Yale's campus to discuss different philosophical topics.
UCLA (Los Angeles, CA)
UCLA is proud of its reputation as one of the best doctoral programs in philosophy in the United States. It is especially good at philosophy of law, the philosophy of language, and the philosophy of math, among other areas. Philosophy majors take 13 classes in history, semantics, ethics, and metaphysics. They must first take four prerequisite classes.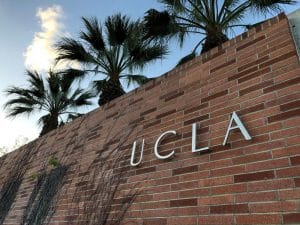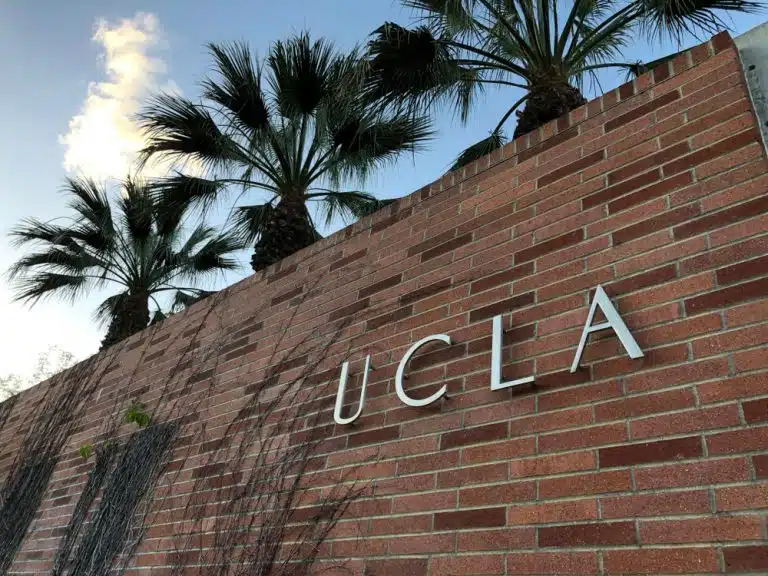 Undergraduates can win prizes like the Gloria Rock Award, which goes to members of underrepresented groups who want to get a graduate degree in philosophy, or the Kalish Prize, which goes to the best undergraduates in the department.
Students can join the undergraduate Philosophy Club, which meets every Tuesday night to talk, write for the Meditations philosophy journal, hold debates, and talk with other clubs.
Philosophy majors who want to know what jobs they can get should go to the Being in the World series, which interviews two alumni weekly. In the past, guests have come from fields like urban studies, software engineering, user experience design, and teaching.
Stanford University (Stanford, CA)
Stanford's collaboration with different departments makes it one of the best colleges for philosophy. Stanford's philosophy program works with departments like literature, science, and gender and sexuality studies, to name a few, to pay special attention to issues that cut across fields. Philosophy majors at the undergraduate level can choose between two subfields: philosophy and literature or history and philosophy of science. Philosophy and religious studies can also be taken together as a major.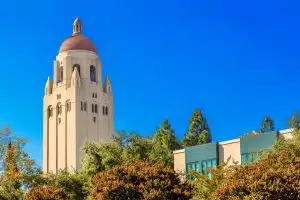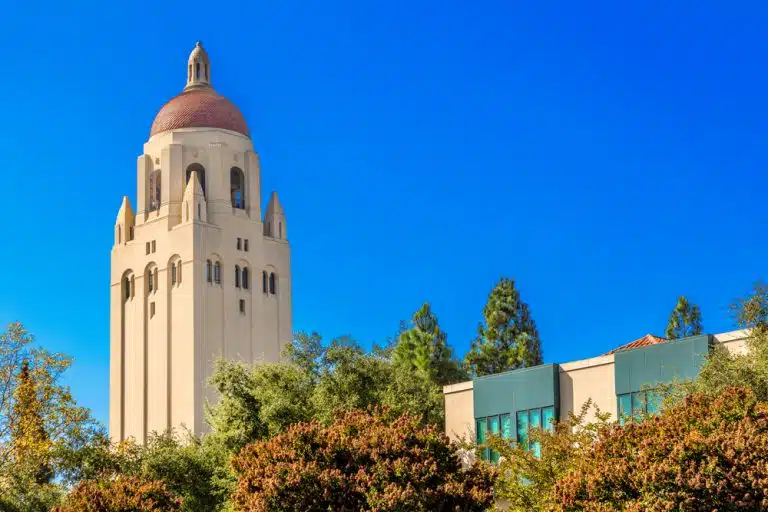 Stanford's philosophy department stands out from its rivals because it has several related academic programs. The McCoy Family Center for Ethics in Society looks at ethical questions in the context of real social problems from many different perspectives.
Philosophy undergraduates can go to lectures on recent topics like "AI and Human Values," "Living in Utopia," and "How a Pandemic Becomes a Story: Narrative and Social Crisis in the Platform Age."
The Philosophy Talk podcast has weekly conversations that ask listeners to question their beliefs in a way that is fun and easy to understand. Many alumni get jobs as professors at schools on this list, and some may even come back to Stanford to be on podcasts.
University of Pennsylvania (Philadelphia, PA)
Undergraduates can choose between four concentrations, most requiring 16 courses. Philosophy and science majors might take a class like Bioethics, which asks students to think about their responsibilities regarding having children, selling sperm and eggs, euthanasia, and life-saving therapies.
A political and moral philosophy student might take a class called "The Social Contract." In this class, they would look at the works of famous philosophers like Hobbes, Mill, and Rawls. They also look at a wide range of contract theories, criticisms, and other ideas, such as utilitarianism and alternatives. Penn's philosophy program graduates have done well in fields like law, medicine, computer science, journalism, teaching, and more.
Penn stands out as one of the best colleges for philosophy because of programs like the Project for Philosophy for the Young. In this program, students work with K–12 public school teachers to incorporate philosophical ideas into their daily lesson plans. The Prison Project gives free math and philosophy classes to people in jail in the area. Lastly, the Galápagos Education and Research Alliance (GERA) teaches conservation to protect the islands from climate change.
University of Chicago (Chicago, IL)
John Dewey was hired as the first chair of UChicago's philosophy department, one of the oldest in the country. In the more than 100 years since his time on the faculty, scholars like Hannah Arendt, Bertrand Russell, and Leo Strauss have come and gone.
UChicago is another school on our list that lets students study philosophy from different fields. Undergraduates are encouraged to take classes in psychology, foreign languages, and cinema and media studies, among other things.
The philosophy department knows its strengths, and its professors are experts in German idealism, ancient Greek and Roman philosophy, and Aristotelian virtue ethics. The school doesn't offer Eastern philosophy classes, but it lets people who know a lot about Buddhism, Islamic thought, and South Asian languages come and talk to students.
Each year, 150 and 200 UChicago students want to major in philosophy. More than half of graduates get jobs in business, 20% become consultants, and many go into the nonprofit sector. Awards like the Seidel Scholars Grant help philosophy majors finish independent projects related to their future careers so that they can use their skills in fulfilling jobs after they graduate.
Columbia University (New York, NY)
Columbia University is another of the best colleges for philosophy in the US. Students can earn 30 credits in ancient, medieval, and modern philosophy, among other things. Undergraduates can also choose to study economics and philosophy as joint interdisciplinary majors. They learn about rationality, decision-making, social justice, and collective choice in this major.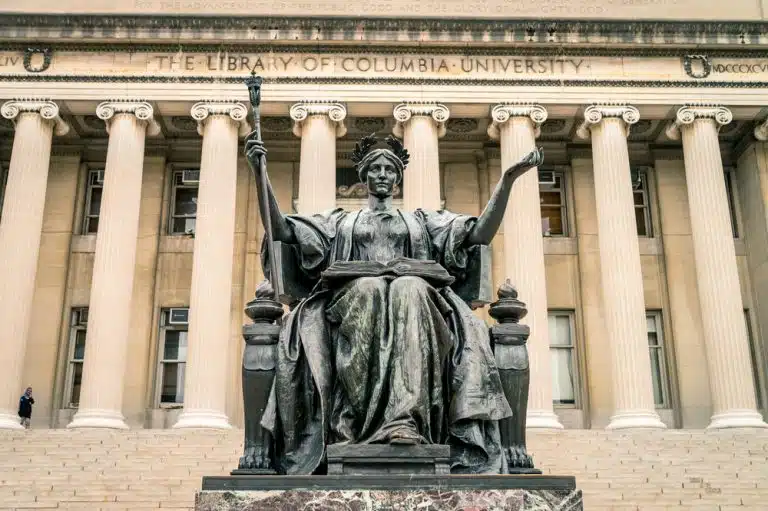 Every student has to write a senior thesis in their last year of school. They pick a topic that interests them and do a lot of research on it to write a 30–40-page argumentative paper with the help of a faculty mentor. Passionate philosophy majors are drawn to extracurricular activities like the Meade Anderson Undergraduate Philosophy Forum.
Any student can come to these casual talks about a wide range of philosophical topics. "The Gadfly," which is Columbia's philosophy magazine, also has work from other undergraduates. Its issues include academic papers, interviews, and other pieces about the rhetoric of American political power, violence, and the phenomenon of the "philosophy bro."
Harvard University (Cambridge, MA)
Suppose you looked into a Harvard philosophy class. In that case, you might hear students talking about the rightness of punishment, how to understand the language in the US Constitution, and the moral problems caused by the climate change crisis.
One of the good things about the department is that it has few prerequisites. Students can take classes in any order they think is best for their goals. Many undergraduates do independent research projects that they pay for themselves. The Harvard-Cambridge Scholarship Committee gives 8–12 undergraduates who want to study at Cambridge University in the UK an eight-week summer scholarship.
On campus, Harvard has many interesting programs, like the History of Philosophy Workshop, which meets at different times throughout the year to talk about things like "Locke on Complex Ideas and the Ethics of Belief" and "Leibniz's Theory of Space and the Newton Affair." The Embedded EthiCS program adds ethics modules to the computer science courses at Harvard. This makes students think about whether or not certain technologies should be made.
Figuring out the best colleges for philosophy can be a big help in your decision in pursuing a philosophy degree. If you have already made your decision, it is important that you also pay attention to your college admissions. You can get help with AdmissionSight in your college admission. With ten years of experience with college admission experts, Admissionsight can help you get into the college of your choice. You can talk to our experts today to get an initial consultation.