The Best Colleges for Physical Therapy
The field of physical therapy is an essential component of the medical system. Patients who have been hurt as a result of activities related to their jobs, participation in sports, or automobile accidents are some of those who benefit from their rehabilitation services. Physical Therapists are employed in a wide variety of contexts including outpatient clinics, schools, hospitals, and private residences. Thus, the best colleges for physical therapy make sure that their students will graduate with the necessary skills to provide top-notch healthcare.
As of the year 2016, there were over two hundred educational institutions in the United States that offered doctoral programs in physical therapy, as reported by the American Physical Therapy Association.
What is physical therapy?
What exactly does physical therapy entail? The purpose of the medical treatment known as physical therapy is to restore functional motions, such as standing, walking, and moving various body parts. When treating injuries or medical disorders that cause pain, movement dysfunction, or restricted mobility, physical therapy has the potential to be a useful treatment option.
Physical therapy, also known as PT, is a form of treatment that tries to reduce pain while also improving a patient's ability to function, move, and live their life. Physical therapy intends to:
Relieve pain.
Enhance your mobility or capabilities.
Fix a sports injury or keep one from happening in the first place.
Avoid getting injured or needing surgery.
Provide rehabilitative care following a stroke, other medical procedure, injury, or accident.
Exercise your balance to reduce the risk of falling.
Take care of a chronic condition such as diabetes, cardiovascular disease, or arthritis.
Recuperate after giving birth to your child.
Maintain control of your bowel movements and bladder.
Adapt to an artificial limb.
Become familiar with the usage of assistance aids such as walkers and canes.
Obtain either a splint or a brace.
This treatment is carried out by licensed medical practitioners who go by the titles of physical therapist, physiotherapist, or PT. These specialists provide instruction, carry out tailored treatments, and make exercise recommendations for each patient in order to enhance the patient's mobility, muscularity, and overall function.
The benefits of physical therapy can be enjoyed by patients of any age and it is effective in treating a wide range of medical conditions.
What does a physical therapist do?
It's not a walk in the park to study for a career as a physical therapist. To become a physical therapist, one must first get a bachelor's degree in a relevant discipline and then complete a doctoral program that typically lasts three years (DPT). In addition to meeting the requirements of their state, physical therapists must pass the National Physical Therapy Examination (NPTE). Thus, what does a physical therapist exactly do?
Physical therapists are able to identify patients by observing their movement patterns and then create treatment regimens that are specific to each individual patient's ailments. Physical therapists not only have an extensive understanding of how the human body moves but also of how the various body systems interact with those motions. They are aware of the ways in which the circulatory, neurological, and endocrine systems each have the ability to influence movement.
They will probably look at more of the patient's body than just the areas where they are experiencing pain in order to identify whether or not the source of the pain is contributing to more systemic problems. For instance, if you come in complaining of knee discomfort, a competent physical therapist will assess not only your knee but also your hip and ankle in addition.
Physical therapists are specialists who diagnose conditions based on movement and their knowledge of how muscles and joints are supposed to work. However, unlike general care physicians, they are not allowed to prescribe surgery or medication.
What are the best colleges for physical therapy?
Let's explore the best colleges for physical therapy in the United States:
University of Delaware College of Health Sciences (Newark, DE)
On campus, Doctor of Physical Therapy (DPT) students participate in unique, hands-on learning opportunities.
The university is home to two comprehensive outpatient physical therapy clinics: the Sports & Orthopedic Clinic and the Neurologic & Older Adult Clinic. Both clinics are open to patients of all ages.
During their Integrated Clinical Education (ICE) classes, students have the opportunity to put what they have learned in the classroom into practice by applying it to real patients in the clinics, which are supervised by faculty members and clinical specialists.
Students also have the opportunity to work with children by participating in pediatric ICE programs, which are typically housed at local children's hospitals.
In addition, students eventually participate in three clinical educational experiences that last for ten weeks each and require full-time attendance.
Moreover, students at UD have the opportunity to participate in research projects that are directed by faculty members, and the university's research program is well regarded, receiving financing from prestigious institutions such as the National Institutes of Health and the National Science Foundation.
When it comes to admissions, the University of Delaware admits only the most qualified candidates. The class that was most recently accepted into the program had an average undergraduate GPA of 3.8.
In addition, prospective students are required to participate in a number of observation hours and an interview with the admissions committee which is an exclusive opportunity.
University of Pittsburgh School of Health and Rehabilitation Sciences (Pittsburgh, PA)
Both the residential and online versions of the Doctor of Physical Therapy (DPT) degree at the University of Pittsburgh, which are both offered on a full-time basis, are classic varieties.
There are a lot of similarities between the two programs. Both begin in August, need 42 weeks of full-time clinical instruction, demand around 50 to 60 hours of work each week, and take seven consecutive terms to finish.
Students enrolled in hybrid courses will be required to physically attend campus for certain lab work during their first five terms, in addition to participating in certain lab activities remotely. Each immersion event that takes place on campus lasts for between six and nine days.
In addition, students pursuing a Doctor of Physical Therapy (DPT) degree must successfully complete four clinical experiences (two six-week sessions and two 15-week sessions).
Alumni of the DPT program have demonstrated that they have what it takes to be successful. Within a period of six months after graduation, the employment rate was one hundred percent for all classes from 2016 through 2020 and over 96% of students in the class of 2020 were successful in passing the licensure exam.
Washington University in St. Louis (St. Louis, MO)
During their time at the prestigious Washington University, students in the DPT program progress through all four stages of growth.
Students at the university in the Midwest have access to what the institution calls a learner-centered approach to education, which provides them with flexible and individualized learning options, as well as mentorship and testing, to assist them in developing into successful adults.
The Doctor of Physical Therapy program lasts for close to three years, and students build their expertise via the use of case studies, classroom instruction, and clinical experiences that can be either part-time or full-time. They are also strongly encouraged by the institution to seek out clinical training opportunities outside of the St. Louis metropolitan area.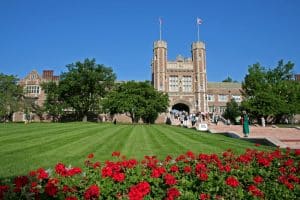 Moreso, students also have the opportunity to participate in research, which can enrich their educational experience. These can include things like submitting an application for an assistantship or taking part in a research study.
Additionally, the School of Medicine has been awarded a pre-doctoral research training grant that is supported by the NIH. This grant makes it feasible for some students to participate in research projects that are directed by faculty members.
Prospective students are not required to take the Graduate Record Examination (GRE), but they are required to have successfully completed all prerequisites as well as any undergraduate science and mathematics classes.
The Commission on Accreditation in Physical Therapy Education (CAPTE) has granted accreditation to the Doctor of Physical Therapy (DPT) program at the University of Washington. This demonstrates that the DPT program's curriculum satisfies the necessary requirements for its graduates to pursue PT licensure throughout the United States and its territories.
Northwestern University Feinberg School of Medicine (Chicago, IL)
Northwestern University, which houses one of the best schools for physical therapy in the country, provides a Doctor of Physical Therapy (DPT) degree program that lasts for two and a half years and is based on an approach that was designed by university staff.
Students are admitted to the program in September and begin taking classes that are based on the Motor Control Framework. These classes teach students how to diagnose and treat a variety of movement disorders.
Beginning in their first year and continuing for the remainder of the program, students participate in four clinical experiences that require their full-time attention. While in the fall of their first year, they also begin participating in integrated clinical education experiences on a part-time basis.
Although applicants are required to meet other academic requirements and complete physical therapy observation hours, Northwestern University has joined numerous other schools in abolishing the requirement that prospective students submit their GRE results.
In addition, the institution provides its undergraduate students with a unique opportunity to participate in a program called the Northwestern Undergraduate Pre-Physical Therapy Scholars Program.
University of Iowa Carver College of Medicine (Iowa City, IA)
Doctor of Physical Therapy (DPT) students at the University of Iowa can complete their degrees in a shorter amount of time than students at many of the country's other top programs.
July is the month that students begin the program, and it takes them a total of two and a half years to finish. The curriculum focuses on a general study of physical therapy, but during their clinical work, students have the opportunity to focus on specialties, which can set them up to pursue specialty certification in the future.
Students take part in half-day or full-day clinical experiences every other week throughout their first semester, giving them the opportunity to get real-world experience from the very beginning of their academic careers.
Students will also be required to perform five full-time clinical experiences throughout the course of their stay in the program. These clinical experiences will total 35 weeks and will include hospital-based clinical work midway through the first year of their education.
All of this contributes, as well, to the outstanding numbers that the university has posted over the past few years. When looking at the average for the classes of 2018 and 2019, the DPT program has a 100% graduation rate, a 100% pass rate on the licensing exams, and a 100% employment rate for its graduates.
Competition for entry into the program is high because it accepts no more than roughly 45 new students each year. In order to be eligible for admission, applicants need to possess a bachelor's degree with a minimum GPA of 3.0, finish specific prerequisites, and submit their GRE scores.
Moreover, those that make it through the program are eligible for a substantial amount of financial assistance. DPT students are eligible for one of around 120 scholarships offered by the university, with a total value of close to $400,000 each year.
University of Southern California Division of Biokinesiology and Physical Therapy (Los Angeles, CA)
Students at the University of Southern California have the option of enrolling in either a conventional on-campus residential Doctor of Physical Therapy degree or a hybrid option that combines online study with on-campus clinical rotations.
The hybrid program allows students to study and get a degree from the University of Southern California (USC) no matter where they are located in the world. Both programs have the same admissions standards, faculty, and three-year curriculum.
In addition, USC students have access to a variety of mentorship options, not only with teachers but also with other students. Each student is given a faculty mentor at the school who is tasked with advocating on their behalf and meeting with them on a semesterly basis. Students in their second year are paired with first-year students in the Doctor of Physical Therapy program to act as a "buddy" for the newcomer and provide assistance and direction as they begin their studies.
It also appears to have been beneficial for recent graduating classes as the average number of students who passed their state licensure tests on their very first attempt was 94% for the classes of 2018 and 2019.
Duke University School of Medicine (Durham, NC)
In order to provide its Doctor of Physical Therapy students with field experience, Duke University employs a novel way.
The STEPs program is a full-time clinical experience that gives students the opportunity to put what they've studied into practice with actual patients in two different settings as part of a team consisting of four people.
Additionally, Duke takes care of its Doctor of Physical Therapy (DPT) students beginning with the admissions process, when the prospective students visit with both existing students and staff. Students join the Big Sib program at the beginning of their academic careers, at which point they are matched with second or third-year classmates.
The clinical component of the Doctor of Physical Therapy (DPT) curriculum takes up the other half of the student's time during the three-year program. After completing the STEPs program during their second year, DPT students then move on to their final year when they participate in three different terminal clinical experiences.
The location of Duke University's Doctor of Physical Therapy program provides students with an additional benefit. In addition to being close to the Duke Medical Center, where students are able to study, conduct research, and make use of various staff facilities, this location is also within walking distance of the Trent Semans Center for Health Education and an anatomy lab.
Also, students who are interested in broadening their understanding of the industry beyond North Carolina have the opportunity to participate in a service-learning opportunity through the global studies program. As part of this program, students travel to another country to volunteer their time in medical clinics, providing assistance to those who are in need.
Emory University Division of Physical Therapy (Atlanta, GA)
At Emory University, students pursuing a Doctor of Physical Therapy find themselves immersed in a culturally rich atmosphere with class numbers that are more manageable.
Students from all over the United States are drawn to Emory's Doctor of Physical Therapy (DPT) program because its graduates have had a 100% employment rate within six months of graduation for the past 11 years in a row.
The DPT course begins in June of each year and continues for a total of three years. Students participate in group activities and labs, which contain mannequins that imitate real healthcare experiences, in addition to the regular lectures that are part of the curriculum. There are also no more than 65 to 70 pupils in each class.
Because the university places a strong emphasis on research, DPT students spend their final year of study working under the guidance of a faculty mentor on a research project.
Some students are even eligible to get funding to work as graduate assistants, assisting professors in their various research endeavors. Students who wish to improve their employment prospects in the future can choose from a number of dual degree programs, including Doctor of Physical Therapy (DPT), Master of Business Administration (MBA), Master of Arts in Bioethics (MAB), and Doctor of Philosophy (PhD).
Prospective students at Emory are strongly encouraged to observe certified physical therapists performing their jobs in a variety of settings while keeping a journal of their experiences. In addition, they are required to have completed the GRE and a number of preparatory courses in order to be eligible for admission.
MGH Institute of Health Professions (Boston, MA)
Not only does the MGH Institute of Health Professions have a well-deserved reputation for excellence, but it also offers a one-of-a-kind program that places students in paid internships in the field, making it one of the best schools for physical therapy
Students at MGH complete their degrees in 32 months, while many other DPT programs take 36. DPT students spend the third and final year of their program conducting a final clinical training after having completed two full-time, 10-week clinical experiences in each of the previous two years of their program alongside their studies. This is the point in time when they have the chance to participate in a clinical internship that is compensated full-time and lasts for a period of one year.
Students who are interested in participating in the paid program will have an interview and then go through a matching procedure to select an internship that best suits them. Eighty percent of students, on average, have successfully matched with and completed a paid internship over the past three years.
Students obtain their doctorates while they are in the middle of their paid internships, after which they take the exams necessary to become licensed physical therapists, completing their education and becoming fully qualified professionals.
Students who are interested in the Doctor of Physical Therapy program are required to have a bachelor's degree, have completed the prerequisite courses, have submitted their GRE scores, and have completed observation hours.
The Doctor of Physical Therapy program at MGH also has very successful outcomes, with a graduation rate of 98%.
Creighton University School of Pharmacy and Health Professions (Omaha, NE)
Creighton University will soon offer a degree program in a new location for DPT students who want to get their degrees. Since 1992, the university in Omaha, Nebraska has run a Doctor of Physical Therapy (DPT) program. Beginning in the fall of 2022, the university in Phoenix, Arizona will also run a DPT program.
Creighton has a distinguished past because it was the first school in the US to provide a Doctor of Physical Therapy degree.
Each August marks the beginning of the three-year, eight-semester curriculum. The students participate in in-class labs that provide them with hands-on instruction, in addition to the 44 weeks of clinical education experiences that begin in the second year of study.
The Physical Therapy Institute for Latin American Concern (ILAC) Program and the China Honors Immersion Program (CHIP) both provide opportunities for students to gain clinical experience outside of the United States. This gives students the ability to gain experience in a variety of settings across the globe. Within a year of graduation, 99 percent of its students have found employment in their field of study.
Applicants are required to submit their GRE scores, enroll in certain prerequisite classes, log at least 60 hours of clinical observation while under the supervision of a licensed physical therapist, and participate in an interview with representatives from Creighton.
How to choose among the best colleges for physical therapy?
The above-mentioned colleges all provide great opportunities for students and choosing the best one for you might be a little bit of a challenge. With this regard, to narrow down your options and be able to choose among the best colleges for physical therapy, here are the things that you need to consider:
Costs involved and potential sources of financial assistance.
The majority of DPT students graduate with some form of outstanding student debt. Ensure that you are aware of your financial situation and be prepared. Many programs provide students with their own unique experiences and range in price.
Duration of the program.
The typical duration of a Doctor of Physical Therapy (DPT) degree is three years; however, some programs condense the necessary coursework into a shorter period of time. This may allow you to reduce the total cost of your education while also allowing you to enter the field more quickly.
Location and demographics.
Your study in physical therapy will need a significant financial commitment from you. Make sure that the program you choose is one in which you will feel comfortable participating.
In order to inquire about the benefits and drawbacks of a certain program, you might want to talk to students who are now enrolled in the program as well as those who have recently graduated from it. Alternatively, you could also conduct interviews with employers who hire recent graduates.
The path to becoming a physical therapist is not the one that is certain to be the simplest, but it is one that is worthwhile if you are truly enthusiastic about the field. Every single day, physical therapists put in the effort to make a positive difference in the lives of their patients.
Attending one of the best colleges for physical therapy will equip you with all the things necessary for you to be successful in the field so be sure to land admission to one.
Over the past decade, AdmissionSight has become an industry leader in helping students gain admission to selective institutions throughout the world. Please feel free to contact us right away to schedule your preliminary consultation.
AdmissionSight can help you put your best foot forward when applying to college. Contact us today for more information on our services.