The Best Dental Schools in Florida
What is a dentist?
What exactly is a dentistry degree? Dentists are highly educated experts who can treat patients' mouths and teeth. Consistently visiting the dentist can help you in preserving a decent level of dental health, which, in turn, may have an effect that is directly on your entire well-being. Those who study at the best dental schools in Florida encourage patients to practice proper oral hygiene. This duty is among the most essential. Doing so reduces the risk of developing issues in your mouth or elsewhere in your body.
In addition, a dentist is trained to diagnose and treat conditions affecting the mouth, gums, and teeth. Dentists use up-to-date technology and equipment, such as X-ray machines, lasers, drills, brushes, scalpels, and other medical instruments, when performing dental procedures. Additionally, they safeguard themselves by donning protective gear such as gloves, masks, and safety glasses to stop the spread of germs and pathogens.
Dentistry encompasses a wide range of practices, including but not limited to the following: instructing patients on proper oral hygiene; filling cavities; removing buildup or decay from teeth; repairing or extracting damaged teeth; examining X-rays and diagnostic data; administering anesthesia; placing fillings or sealants; monitoring the development of teeth and jawbones; and so on.
The practice of dentistry necessitates working in groups, with the dentist serving as the team's captain. Staff members who support dentists include dental assistants, dental hygienists, and laboratory technicians. The collective effort of the team guarantees that patients receive high-caliber dental care.
Why study dentistry in Florida?
There are several reasons why someone might choose to study dentistry in Florida:
Diverse patient population: Florida is home to a diverse patient population, which provides dental students with a unique opportunity to treat people from different cultural backgrounds and gain exposure to a wide range of dental conditions.
Strong job market: The demand for dental services in Florida is high, making it a great place to start a career as a dentist. Graduates of Florida dental schools are likely to have many job opportunities available to them.
Warm weather: Florida is known for its warm weather, making it a great place to live and study. Florida is a great option for those who enjoy outdoor activities and a sunny climate.
Quality of education: The best dental schools in Florida offer excellent dental education programs. These programs are designed to prepare students for successful careers as dentists.
Access to resources: Florida is home to many important resources for dentists, including professional organizations, continuing education programs, and advanced dental technology.
Overall, studying dentistry in Florida provides students with many opportunities to gain a well-rounded education and start a successful career in dentistry.
Best dentistry schools in Florida
University of Florida College of Dentistry (Gainesville, FL)
The University of Florida, College of Dentistry, is a competitive and high-quality educational option for individuals interested in pursuing a career in dentistry. As one of the top dental schools in Florida, the college's admittance rate is 5.8%. The credentials and accomplishments of its graduates are evidence of the institution's excellence and competitiveness in the industry.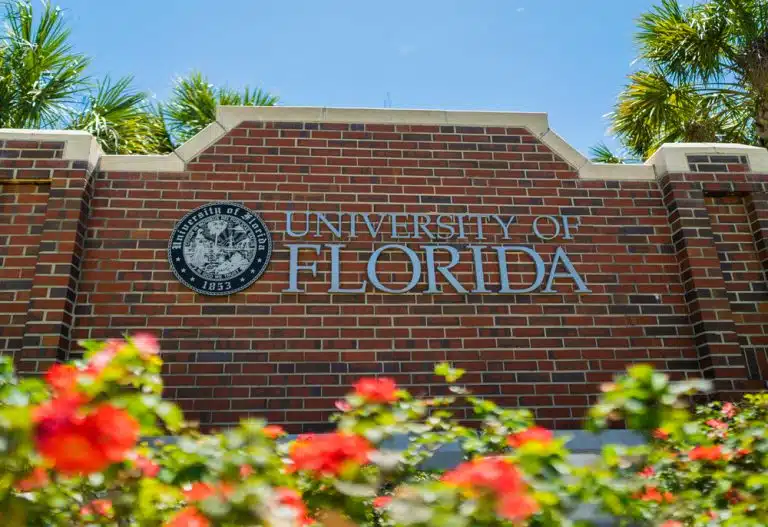 A remarkable 97% of graduates have been successful on their very first attempt at passing the National Board Dental Examination (also known as the NBDE) throughout the last few years. Some people continue their education in dentistry and become general dentists after further training. Others become some of the most renowned clinicians in the nation. Anyone who graduates from UFCD with a dental degree can expect to have a successful professional future in the field of dentistry.
In addition to producing successful graduates and alumni, the UFCD curriculum is exceptional and provides students with various opportunities to get real-world experience. Students receive patient care experience at university-affiliated dental centers in Gainesville, Hialeah, St. Petersburg, and Naples as part of their participation in external clinical rotations.
Patients who live in poverty, either as individuals or as families, make up most of those treated at these institutions. While developing their dental abilities, students volunteer their time to provide a vital service to underserved populations.
As one of the best dental schools in Florida, students can also participate in volunteer work in other countries thanks to partnerships that have been formed with institutions. Some of these include the Universidad San Francisco de Quito (USFQ) in Quito, Ecuador; Universidad Catolica Nordestana (UCNE) in San Francisco de Macoris, Dominican Republic; and Swami Vivekananda University Subharti Dental College in Meerut, India.
The University of Florida College of Dentistry (UFCD) provides exceptional learning possibilities and a concentration in oral biology. Oral biology is one of the areas of study that can be pursued for a doctoral degree in medical sciences through the Department of Oral Biology, which works closely with the College of Medicine.
In 2018, a William J. Gies Award for Vision, Innovation, and Achievement was bestowed upon the Comprehensive Training in Oral Biology program. In addition, it has been awarded a highly desired grant from the National Institutes of Health (NIH) and is ranked as one of the top five initiatives receiving money from the NIH. In addition to more conventional programs, such as a doctorate in general dentistry, the College of Dentistry also confers an M.D. degree and grants a certificate of completion in oral and maxillofacial surgery.
It is noteworthy that the University of Florida College of Dentistry (UFCD) is one of only three dental schools in the United States that offers all of the specializations that are acknowledged by the American Dental Association (ADA). Before deciding on a specific career route, students are given a unique chance to investigate and select from various dental subspecialties. In addition, the course material has an emphasis on patient care, as well as public health and human biology.
The institution is committed to incorporating the latest cutting-edge research and technology, which lends an air of prestige to its educational program and range of available options. UFCD has been participating in AI research efforts, such as an interdisciplinary program using virtual patient simulation involving colleges of engineering, nursing, and several public health and health professions. Given these qualifications, it is without question that the University of Florida College of Dentistry is one of the best dental schools in Florida.
Nova Southeastern University College of Dental Medicine (Fort Lauderdale, FL)
The first private dentistry school to open its doors in Florida was housed within the Nova Southeastern University College of Dental Medicine. It is also the first dental college in the United States to be created in conjunction with a college of osteopathic medicine, making it a historic first.
NSU is a well-regarded educational institution that provides exceptional value to its student body while making a sizeable contribution to Florida's economy. NSU is a leading performer in rankings measuring social mobility and ranks first in the nation regarding awarding Ph.D. degrees to underrepresented groups.
NSU Dental is one of the best dental schools in Florida because it combines intense and thorough classroom instruction with extensive clinical practice. During the first two years of dentistry school, students learn various subjects, including but not limited to anatomy, public health, oral histology, dental biomaterials, complete treatment planning, and training in electronic health record systems. The third and fourth years of the program are broken up with extramural clinical rotations intermingled with academic work.
By participating in these rotations, students acquire the clinical skills necessary for operating a prosperous dental office and providing much-needed dental treatments to communities that existing facilities do not adequately cover. Most of the time, dental students from NSU participate in clinical rotations at HIV clinics, community health centers, special needs clinics, and pediatric centers. Students will gain a more comprehensive awareness of the numerous socio-economic and cultural issues and other aspects that influence patients' dental health and care.
Beyond the clinic, as one of the best dental schools in Florida, the Dental College has a strong commitment to humanitarian causes. Give Kids a Smile Day, oral health education, the Florida Mission of Mercy, and overseas missions are examples of how diverse the community outreach activities have been.
If potential student finds out that any of NSU's dental programs have earned a great reputation, they will likely be pleased with their decision to attend NSU. At the 2019 American Association of Endodontics meeting, the Department of Endodontics was presented with honors for research and diplomate work. This prestigious institution accepts only 3.7% of the students who apply, implying a lot of competition among people who want to become dentists.
LECOM School of Dental Medicine (Bradenton, FL)
The School of Dental Medicine is based within an institution with a reputation for being innovative in its approach to teaching and placing a strong emphasis on its students' needs. With campuses in Florida and Pennsylvania, the LECOM College of Osteopathic Medicine is home to one of the best medical schools in the United States.
Additionally, it boasts the most students of any medical school in the country. LECOM is proud to have faculty members who are not only outstanding clinicians but also prolific researchers who have published in the most prestigious medical publications in their various fields of expertise.
Digital x-rays can be taken of the entire mouth and individual teeth. This is one of the diagnostic tools. Students receive training for a minimum of one year in these practices. During this time, they also participate in community service by giving patients comprehensive dental care that is both inexpensive and high-quality.
A rigorous scientific education presented in a Problem-Based Learning (PBL) fashion is also provided by the LECOM dentistry school, which provides a one-of-a-kind educational program that allows students to gain early experience in dental practice. In these Project-Based Learning workshops, students learn by working in small groups to analyze and discuss case studies.
Using a patient-simulation clinic and a fourth-year curriculum that focuses on providing community care at full-service clinics in Florida contributes to enhancing the student's educational experiences.
The LECOM School of Dental Medicine is an outstanding option for those who wish to pursue careers in dentistry, as it is one of the best dental schools in Florida. LECOM aims to provide the highest level of service to its students, scholars, and patients. It makes significant strides toward improving the standard of living that Floridians enjoy.
Now that you know where to study dentistry at some of the best dental schools in Florida, the next thing you should think about is your college admissions. To ensure that you get into the college you want, you can get help with AdmissionSight. With ten years of experience with college admission experts, AdmissionSight can help you get into the college of your choice. You can talk to our experts today to get an initial consultation.