The Best Film Colleges in the United States
What are film studies?
What is the study of the film? Film studies is an academic field focusing on the serious study of movies, cinematic history, and film culture. Film theory is a big part of this field. Contrary to what some people may think, studying at film colleges is not about making movies or the technical side of making movies. Instead, it is about studying movies like you would study art or literature.
It's more than just looking at what's in a film. It's about looking at how it's put together, what it's about, how it's made, and how it's styled. Not only that, but it is also about what's happening around it in terms of history, politics, economics, and culture.
Why study film studies?
So then the question becomes, why study film? Film studies teach students how to think and analyze in a critical, formal, theoretical, and historical way. The program aims to help people learn how to talk about and write about different kinds of cultural production and how they fit into larger contexts. Students will learn how to look at today's media landscape from a historical and international point of view. They will then be able to work in a media landscape that is always changing.
The film has been the main way to tell stories, show and learn about the world, and engage and shape people's senses, emotions, memories, and imaginations for over a century and in many different cultures. We live in a time when the theater, where movies are shown to paying audiences, is no longer the main place people watch movies. But even though TV, video, and digital media are changing it, cinema seems to still be around, and these media are giving rise to new forms of moving image culture.
The curriculum at film colleges gives college students a framework for looking at the history of film and related media from different historical, critical, and theoretical points of view.
Most film programs focus on studying moving images and the sounds that go with them. This lets students look at how cinema creates meaning through different forms, techniques, and styles, how the industrial organization affects how films are made and watched, and how the social context in which they are made and watched affects how we understand and make sense of them.
What are the best film colleges in America?
American Film Institute (AFI)
The American Film Institute is considered one of the best film colleges in America. AFI is America's promise to keep film history alive, honor the artists and their work, and teach the next generation how to tell stories. AFI is a leader in film, TV, and digital media and is committed to projects that look at the past, present, and future of the moving image arts.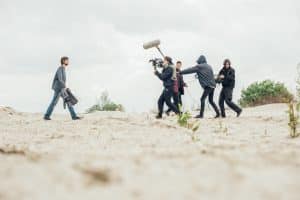 The American Film Institute (AFI), where David Lynch said he would give up everything "in a heartbeat" to go, is one of the most well-known film schools in Los Angeles, if not the whole US. This is because it hosts festivals and events with famous people all year.
During their time at the institute, students can make up to four personal films and get advice from professionals in the field, such as 12 Years a Slave director Steve McQueen. The American Film Institute had 27 Emmy nominations for its alumni in 2017. Anne Garefino, who works on South Park, and Darren Aronofsky, who directed Black Swan, are both alumni.
California Institute of the Arts (CalArts)
Established in 1961 by Walt and Roy Disney, California Institute of the Arts (CalArts) is the nation's first institution to offer undergraduate and graduate degrees in the visual and performing arts. CalArts is committed to training and caring for the next generation of professional artists. It encourages brilliance and new ideas in the widest possible context.
Admission to CalArts is competitive and mostly based on how talented, creative, and dedicated someone is. Other important things to consider are the artist's statement, recommendations, and educational records.
Valencia, California, in the City of Santa Clarita, is 30 miles north of downtown Los Angeles. At the center of campus life is a five-story, 500,000-square-foot building, or 11 acres, that houses all six schools.
There are many notable graduates from what is considered one of the best film colleges. Tim Burton was one of the first people to graduate from CalArts. Since then, several famous Disney animators like Andrew Stanton (Finding Nemo), Brad Bird (The Incredibles), Chris Buck, Jennifer Lee, and others have followed in his footsteps (Frozen). At CalArts, you can get a BA, MA, MFA, or DMA in film studies (Doctor of Musical Arts).
Los Angeles Film School
The Los Angeles Film School is one of the film colleges started by a group of Hollywood pros in the spring of 1999. Their goal was to establish an institution where industry professionals could share their knowledge of film production with a new generation of filmmakers. In 2004, the Los Angeles Recording School's recording engineering certificate program was added to the list of classes at the Los Angeles Film School.
It's easy to see how the Los Angeles Film School got its name as one of the best schools for aspiring Hollywood filmmakers. It's right in the middle of Hollywood, on Sunset Boulevard. The Los Angeles Film School includes the Los Angeles Recording School, which is home to the famous RCA building where Elvis Presley and The Rolling Stones used to record their music.
It also offers bachelor's and associate's degrees in all areas of the entertainment industry. The Los Angeles Film School also has online digital filmmaking, graphic design, and entertainment business courses.
Kanbar Institute of Film & Television, NYU
The Kanbar Institute of Film & Television in New York, which is part of New York University's Tisch School of the Arts, is one of the best film schools in the US outside of Los Angeles. Kanbar Institute of Film & Television is in the middle of one of the world's most culturally rich and well-known cities. It has produced world-class graduates like respected filmmakers Martin Scorsese and Vince Gilligan, who created the US TV show Breaking Bad.
In 2017, six people who had graduated from the Tisch School of the Arts were nominated for an Oscar. The main campus of the film school is in New York City. There is also a campus in Singapore. As well as several undergraduate film studies degrees, the Kanbar Institute of Film & Television offers a postgraduate-level MFA (Master of Fine Arts) in Filmmaking.
USC School of Cinematic Arts
The University of Southern California is a private school that opened in 1880. The University Park campus is the main campus of the University of Southern California. It is in the Downtown Arts and Education Corridor of Los Angeles. USC has campuses all over Southern California, as well as in Sacramento, California, and Washington, DC. It also has campuses in LA. Students can join more than 1,000 groups on campus, from religious groups to sports clubs.
As it is known as one of the best film colleges in the US, many of Hollywood's most famous directors got their start at the USC School of Cinematic Arts. The USC School of Cinematic Arts is one of the most modern film schools in Los Angeles. People like George Lucas give it millions of dollars a year, and it has world-class media facilities like an IMAX theater and a research lab.
Judd Apatow, who writes and produces comedies, and Kevin Feige, who runs Marvel Studios, both went to the USC School of Cinematic Arts. The BA, BFA, and MFA are all degrees in film that can be earned at the USC School of Cinematic Arts.
Now that you know about film colleges, it is now time to decide where you should also prepare for your college admission. Wherever you might want to enter, you can get help with AdmissionSight with the help of our world-class guidance. With the help of experts, choosing the best university that suits you best shouldn't be hard with the help of AdmissionSight. You can talk to us today to get started.