The Best Film Colleges in the World
What is a film major?
What actually is a film major? A film major is a college or university student who studies how movies and TV shows are made and how media is programmed. Students often work alone and with classmates to finish bigger projects, like a whole film production, that may include coming up with ideas, writing a script, and doing other tasks related to making a film. In college, students who study at the best film colleges learn more about film history, film theory, and how to build skills like creativity and writing that will help them get ahead in the industry.
Film majors might take classes like film history, cinematography, screenwriting, film editing, sound production, cinematic production, film theory, film criticism, independent film, color enhancement, lighting, animation, visual effects, and cinematic production.
When you study film in college, you can start working in the film industry. You can join a student-led club that allows you to film and produce small-scale content for platforms like social media or to make content for school advertising, social events, and other campus highlights. Along with their classes, many film majors find freelance or volunteer work that allows them to make their films.
What can you do with a film degree?
Producer
Producers are in charge of the business side of making movies. They have to work long hours to get funding, hire crew members, and keep track of the schedule and budget. A bachelor's degree in film or a related field is common for producers. Those who want to work in production should take business classes as part of their studies.
Camera Operator
Camera operators work in studios where TV and movies are made and on film and TV sets. They often work on location, where they work with directors to adjust their equipment to fit the project's creative vision. Most camera operators have a bachelor's degree in film or a related field.
Film and Video Editor
Those who study at the best film colleges can also consider becoming editors. Film and video editors use computer programs to cut and arrange recorded material in a way that fits the director's artistic vision. Editors organize the shots in a database and work in groups to finish their tasks. Film and video editors often have to stay late at work. Some jobs are tied to specific projects; when those projects are done, editors may need to look for new ones.
Multimedia Artists and Animators
Multimedia artists and animators do technical work in post-production to make animated movies and special effects. Employers want applicants to have a bachelor's degree in film or a similar field, strong computer skills, and a portfolio or demo reel that shows off their skills. Students who want to work as multimedia artists should take computer graphics classes in addition to their bachelor's degree studies.
Screenwriter
One of the jobs that you can do with a film degree is to be a screenwriter. They write scripts for movies and TV shows. They sometimes work in groups to develop new stories or adapt stories from other media, like books, for the screen. Screenwriters can work full-time or just a few hours a week. Freelance writers set their own hours, while writers working on a specific project work together to make sure their schedules fit the project's needs.
What are the top film colleges in the world?
American Film Institute
The American Film Institute, or AFI, is one of the best film schools in the world. It is in Hollywood, which is the world's center for making movies. The AFI was set up to protect the history of American movies. This group cares about moving image art and culture and wants to help an international film community grow.
The AFI Conservatory is where you can take classes on how to make movies. Many of its graduates have won major awards in the film industry, such as Oscars and Emmys. The AFI Conservatory doesn't offer typical degrees or diplomas. Instead, it has a highly structured Master of Fine Arts program in six areas: cinematography, directing, editing, producing, production design, and screenwriting.
Usually, applicants must have a bachelor's degree, but if you don't, you can still apply as an Associate Fellow and get a Certificate of Completion. Small class sizes give students a chance to learn from the best in their field, and they also have access to cutting-edge equipment, facilities, mentors, and production coordinators.
New York University, Tisch School of the Arts
The NYU Tisch School of the Arts is one of the best film colleges in the world. It is a major training ground for artists and filmmakers. The NYU Tisch School of the Arts has always been committed to new ideas and experiments in the arts. The school is well-known for its degree programs in film, theater, dance, creative writing, comedy, and other performing arts.
From a BA to a Ph.D., the school has a lot of programs to choose from. You can study acting, dance, design, animation, games, film performance, film, writing for musical theater, stage, screen, and TV, recorded music, photography, preservation, interactive media, and public policy.
This university has campuses worldwide, including Abu Dhabi, Shanghai, and global academic centers in London, Madrid, Buenos Aires, Prague, Sydney, Tel Aviv, Florence, Paris, Washington, DC, Accra, and Berlin. NYU Tisch is one of the film schools where it is hard to get in. Different departments and programs have different requirements for getting in. Applicants who want the most up-to-date information should check the school's website. Also, choose a filmmaking school in the US.
Los Angeles Film School
If you just graduated from high school and want to work in the film industry but don't have any relevant work experience or background, you might want to look into the Los Angeles Film School. The LA Film School is one of the best film colleges to start a career in this field. The school offers associate and bachelor's degrees in Film, Animation, Entertainment Business, Audio Production, Music Production, and Animation. One of the least expensive schools in LA is the Los Angeles Film School.
It has a small annual fee, and for the third year, all students get a full scholarship. Students must be at least 18 years old and undergo an audition process to get into the school. The school's goal is to give an education that meets the needs of the industry today. For example, it offers classes on how to use a camera, work with sound, lights a scene, edit, and so on.
In addition to the programs at their Hollywood campus, the school offers online programs in Digital Filmmaking, Entertainment Business, Graphic Design, Music Production, and Animation. The historic RCA Building, where artists like Elvis Presley and the Rolling Stones recorded their music, is one of the school's buildings.
Vancouver Film School
Vancouver Film School, or VFS, is a top school for entertainment arts. It is in Vancouver, Canada. Because of how well-known the film school is, the Government of Shanghai chose VFS to help rebuild the creative industry in the country.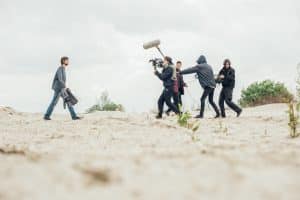 The school has one-year post-secondary programs in Film Production, Makeup Design for Film & TV, Acting for Film & TV, 3D Animation & Visual Effects, Digital Design, Classical Animation, Foundation Visual Art & Design, Game Design, Entertainment Business Management, Sound Design for Visual Media, and Writing for Film & TV.
VFS also offers a 4-month course called "Acting Essentials" and a 6-month program called "Digital Character Animation." To apply to VFS, you must have graduated from high school or be at least 19 years old. At VFS, students learn about the camera, sound, lighting, editing, and script writing.
Concordia University
Concordia College's The Mel Hoppenheim School of Cinema is Canada's largest university-based center for studying film animation, production, and studies. More than 45 programs and degrees are available at the school, which has an academic and a business division, and has more than 2,000 students, including more than 500 from 75 different countries.
It is one of the nine departments in the university's Faculty of Fine Arts, which offers programs in the visual, performing, cinematic, design, digital, and therapeutic arts that are among the best in the world. The prestigious Mel Hoppenheim School of Cinema offers a BFA with majors in Film Animation, Film Production, and Film Studies, an MFA in Cinematic Arts, and an MA and Ph.D. in Film Studies. In addition to film studies, the faculty of arts offers many degree programs in fields like Contemporary Dance, Jazz Studies, Studio Art, and many more.
London Film School
By getting a graduate degree from the London Film School, or LFS, you can improve your filmmaking skills in the center of the European film industry. London Film School is one of the best film colleges in the world. Since its founding in 1935, LFS has become a world leader in teaching filmmaking. Students come from all over the world to live and study at its campus in central London.
The school has various graduate degrees covering every part of making movies, from screenwriting to directing. LFS is a non-profit organization and one of three UK ScreenSkills Film Academy Network graduate schools. It is recognized as a center of excellence and a global film conservatoire, and more than 60 percent of its students come from more than 30 countries.
LFS offers MA, Ph.D., and part-time workshop programs focusing on craft excellence, aesthetic achievement, creative collaboration, and artistic freedom. You can get an MA in filmmaking, an MA in screenwriting, an MA in the international film business, and a Ph.D. in film by practicing. There are also many short-term courses for professional development. Roger Pratt, who was the cinematographer of the Harry Potter movies, and Mark Goldblatt, the editor of the Rise of the Planet of the Apes movie.
National Film and Television School (NFTS), London
The National Film and Television School (NFTS), an English school for film, TV, and games, was named one of the 15 best film colleges by The Hollywood Reporter in 2018. As part of their course work, NFTS students make more than 100 films yearly, more than any other UK film school.
Three NFTS student films have been nominated for an Oscar in the last six years. NFTS has a wide range of programs, such as MA courses in Cinematography, Film Studies Programming and Curation, and Sound Design, Diploma courses in Directing Commercials and Sports Production, and Certificate courses in Character Animation and Producing Your First Feature, to name a few. Many Diploma and Certificate courses are not open to international students, so people who want to apply must follow the program's application requirements.
Sydney Film School, Australia
Australia is a popular place to study abroad. If you want to study film in Australia, you might want to consider the 14-year-old Sydney Film School (SFS). It is a private film school with two one-year programs: Diploma of Screen and Media and the Advanced Diploma of Screen and Media. The Sydney Film School has been around for 14 years and has film studies programs for undergraduates and people who want to learn more.
Students can improve their writing, directing, cinematography, and editing skills at school. The Diploma program is an introduction to filmmaking for people who have never done it before. It covers everything about making movies. The Advanced Diploma is for more in-depth studies, and you can specialize in Production, Cinematography, or other areas to improve your skills. Students from other countries can also get scholarships from the Endeavour Awards for participating countries and study at SFS.
City University of Hong Kong's School of Creative Media
The School of Creative Media at the City University of Hong Kong could be one of the best film colleges for students who want to study in Asia. It is a well-known media university with many different programs, such as Digital Media and Communication, Advertising and Public Relations, and Film and Television Production. It is the first school of its kind in the area. It offers training in various fields, such as computer science, fine arts, visual design, creative writing, cultural studies, and digital technology. The school has programs for BA and BSc in Creative Media, BAS in New Media, MA and MFA in Creative Media, and Ph.D./MPhil. Students can get industry experience through internships and study abroad exchange programs that are built into the programs. Admissions are tough; applicants may have to take written tests, have interviews, or send in portfolios to show how well they fit into the school. Before applying, applicants must check the school's website to see what they need to do.
Lodz Film School
Poland's Lodz Film School is one of the oldest film schools in the world. It is a one-stop shop for people who want to learn about film art, television, photography, and acting. One of the oldest film schools in the world is the Lodz Film School. The school has been around for a long time and is known for turning out some of the most important movie directors in the world.
The school is also called the Polish National Film School in Lodz or the Leon Schiller National Higher School of Film, Television, and Theatre. It has four departments: Film and Television Directing, Direction of Photography and Television Production, Acting, and Film Art Organization. Usually, the school's Master's programs, such as those in Direction, Screenwriting, and Acting, last between 4 and 5 years.
The school also has several part-time programs and Ph.D. programs for people who want to specialize in film, television, or theater. As a foreign student who doesn't know Polish, you have to take a Polish language class because the whole class is taught in Polish. Graduates from Lodz work worldwide in the film industry, including as directors, photographers, animators, cinematographers, production managers, and actors who have won Academy and BAFTA awards.
Now that you know about the best film colleges, it is now time to decide where you should also prepare for your college admission. Wherever you might want to enter, you can get help with AdmissionSight with the help of our world-class guidance. With the help of experts, choosing the best university that suits you best shouldn't be hard with the help of AdmissionSight. You can talk to us today to get started.