The Best Jobs for High School Students
Jobs for Students in High School
AdmissionSight will provide a list of jobs for students in high school below. High school kids can gain useful work experience, transferable skills, a sense of independence, and money through working.
Students who want to work can choose from a variety of jobs, such as seasonal work in the summer and part-time jobs during the school year. In this blog, we provide a list of some of the top jobs for high school students, along with information on their typical incomes and key job duties.
1. Ice cream Scooper – National average hourly wage: $10.76
Ice cream scoopers' main responsibilities include taking orders, providing samples of various ice cream flavors, and preparing orders for clients. Although this would be a great summer job, students can work it all year. Advantages include free ice cream and tip sharing.
2. Server – National average hourly wage: $11.37
The server's main responsibilities include taking orders, delivering food and drinks to tables, and responding to patron inquiries regarding the menu. They are paid an hourly rate plus tips. Servers work in a team environment and develop their customer service skills. Employees who are driven can go from servers to shift supervisors to managers.
3. Barista – National average hourly wage: $11.52
Barista's main responsibilities are to create unique coffee and tea drinks for a cafe. They also learn how to operate a cash register and offer customer service. Free coffee, tea, and unsold food products like cakes are frequently offered as perks. Some multinational corporations provide their employees with benefits like tuition aid programs.
4. Lifeguard – National average hourly wage: $11.74
Primary obligations: lifeguards keep an eye on swimming activities and ensure that everyone is adhering to pool safety regulations. They also respond to any possible emergency. To be eligible to work as a lifeguard, candidates must be at least 15 years old when training is finished. Teens can reapply for this employment each summer, even though training takes around 25 hours.
5. Prep Cooks – National average hourly wage: $12.23
Primary obligations: In the back of a restaurant, where food is prepared, cooked, and served to clients, prep cooks are employed. For chefs and line cooks, prep cooks prepare the food. They might be given assignments to cut vegetables or make sauces that line cooks would use when preparing food for clients.
This is one of the best jobs for high school students, especially those who want to be in the culinary industry. Teens can learn how to cook, receive on-the-job training, and obtain experience in the food service sector by working as prep cooks.
6. An usher or cashier at a movie theater – National average hourly wage: $12.50
Primary obligations: At a movie theater, cashiers work at the concession stand or box office. They provide customers with movie tickets as well as refreshments and food to enjoy while watching the film.
The ushers verify tickets, direct customers to the appropriate theater, and tidy up the theater following the film. Movie theaters allow for flexible scheduling, including evening hours. Employee benefits may include complimentary movie tickets.
7. Front desk concierge – National average hourly wage: $13.20
Receptionists' main responsibilities include answering phones, greeting clients, and carrying out administrative chores, including scheduling appointments. Receptionists can work in a variety of establishments, including doctor's offices and gyms. This is one of the best jobs for high school students, where teens can learn customer service skills and acquire experience working in an office setting by working as receptionists.
8. Worker in the yard – National average hourly wage: $13.23
Primary obligations: Raking leaves, weeding, mowing, and watering plants are all part of yard work. Teenagers can perform landscaping tasks for locals or a company. For high school students who prefer physical labor and being outside, it is the perfect profession. Seasonal work is common for yard work.
9. A dog walker or pet sitter – National average hourly wage: $15.16
Looking for the best jobs for high school students where you get to enjoy and earn at once? This job is perfect! Teens who love animals have great options for working as dog walkers or cat sitters. By feeding cats, cleaning the litter box, and spending time with the cat, cat sitters provide in-home care. In order to ensure that their dogs' basic requirements are addressed and to provide them with exercise outside the home, dog walkers frequently visit their clients' homes.
Due to the fact that working adults frequently want someone to walk their dogs during regular business hours, dog walking may be a preferable summer career option. Since cat owners frequently need assistance when they are away from town, cat-sitting jobs normally offer more flexibility regarding visit times in the morning or evening.
10. Babysitter – National average hourly wage: $15.93
Babysitters' main responsibilities are to temporarily look after youngsters while their guardians or parents are away. It may be necessary for babysitters to change diapers, tidy up play areas, make snacks, and assist kids with getting ready for bed.
High school students can work as babysitters part-time during the school year because parents frequently need them in the evenings or on weekends.
11. Delivery person – National average hourly wage: $16.88
primary obligations: Deliveries of produce, food orders, and other things are made to customers by delivery drivers. Deliveries must be packaged and delivered on time and in acceptable condition by delivery drivers. This is one of the great jobs for high school students who have a driver's license and access to a car. Many businesses give delivery drivers flexible hours.
12. Tutor – National average hourly wage: $21.35.
Tutors' main responsibilities are to provide each student with individualized instruction in order to assist them in comprehending a subject and raising their grades. High school students who excel in a topic academically might use their knowledge to assist other pupils and make money doing so.
13. A grocery store employee – National average hourly wage: $21.70
primary obligations: Employees in grocery stores may stack shelves, operate the register, or work in a particular division, such as the bakery or seafood section. Teenagers can gain valuable work experience with a range of duties by working at grocery stores, where they may be assigned to perform one main task or many tasks.
Now that you have an idea of the different jobs for high school students, continue reading to learn about the summer jobs that high school students can apply to during the summer.
Summer jobs for high school students
Summer jobs for high school students enhance college applications because they demonstrate excellent time and grade management skills.
Don't forget to congratulate yourself once the school year is over. Many of you are undoubtedly looking for work to keep you busy over the summer. There are numerous locations opening up, and a wide range of jobs are currently accessible.
Here are a few different employment categories that students should keep in mind when they begin their search for the best jobs for high school students!
Retail
Working in retail is a terrific summer job for students to consider and is a popular choice for many. There are a ton of options and locations, and there are always possibilities available, whether they are year-round or seasonal.
Even clothing and retail discounts are offered to employees. So, if working at your favorite boutique or bookshop is something you've always wanted to do, think about applying there.
Food-industry
The food business, another well-liked career choice among high school students, is always hiring! Because there are so many fast-food companies and eateries around the nation, your neighborhood favorite might be hiring.
Who wouldn't like to receive a discount on meals as well? Consider applying to your neighborhood fast-food chains and restaurants if you enjoy dealing with people, cooking, or simply want to gain experience working in a restaurant.
Tutor
A summer job as a tutor may be right for you if you are an expert in a subject and believe you can teach others as well. Many pupils can benefit from tutoring because summer school programs are offered by many schools. Additionally, many schools provide summer tutoring programs, and high school tutors can also work for commercial businesses.
If not, you can work as a freelance tutor and set your own fees. You can choose the age group you want to work with and assist someone who is having difficulty succeeding. If you believe you can fully communicate your views to others, this is a flexible job to keep in mind.
Internships
Who among us can overlook summer internships? Many businesses from various industries offer summer internships to college and high school students!
Although some of them are paid and some aren't, they all give you experience that you wouldn't normally acquire through summer work. You may really want to search on Fastweb for local internship possibilities as well as remote work opportunities that you might want to take advantage of.
Remote jobs for high school students
Remote jobs for high school students are well accepted these days, especially during the COVID-19 pandemic, where working remotely is very common. Finding a remote job is the ideal method to obtain experience while working from home as a high school student and to make some extra money.
Here are 10 remote jobs for high school students in 2021, including freelancing and working for a firm remotely.
User research
Giving actual people access to your product during user testing allows them to give input on whether or not it is operating as planned. People are being actively hired by companies to test websites for their various clients. Only those who are at least 18 years old may apply to be testers. Their website states that you can make $4 for each five-minute test, $10 for each twenty-minute test, and between $30 and $120 for live interviews.
Online tutor
In recent years, online tutoring has grown in popularity. This is one of the best jobs for high school students, it's a fun opportunity to develop your skills and raise your earning potential. Tutors are being hired via platforms to help high school pupils succeed in their studies. You may apply for these positions if you are at least 18 years old.
Freelance writer
If you have anything to contribute, writing for others might be a full-time job or an entry-level career. Writing for a living is immensely satisfying since you can see your work being used by both big and small organizations. You can create an account and begin working as a freelance writer as a high school student on websites, where the minimum age requirement is 13.
Freelance graphic designer
There are numerous alternatives available if you want to work as a freelance graphic designer. To learn how to design flyers, t-shirts, or promotional materials for businesses, you don't need to attend school. Thanks to the internet and its services, many high school kids in North America may access lucrative careers.
Web development
A new kind of digital work called website construction doesn't need a college degree and typically pays substantially more than traditional jobs. Nowadays, anyone with a computer and an internet connection can build websites for themselves or for clients. These websites might be anything from blogs to e-commerce sites.
Entry of data
More and more high school graduates will be joining the workforce each year. However, there is still a lot of ambiguity surrounding how these professions are hiring individuals who are unsure of which field they want to follow or who don't have a clear sense of where they want to end up.
If you are seeking to start making some money, data entry is a wonderful place to start. Many organizations are hiring entry-level candidates for data entry positions.
Virtual Assistant
A virtual assistant is what? In essence, it's someone who does your private internet activities, such as taking your calls, setting up appointments, and assisting you with your website.
Marketing and management of social media
High school students who work in social media marketing and management can make a lot of money. Few applicants can meet the networking and effort requirements for these occupations. Opportunities for full-time employment are few and may necessitate working for an established business before getting a foot in the door.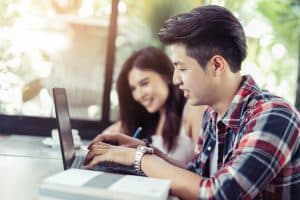 However, there is a need for professionals to help promote and administer social media accounts due to the increase in independent content creators on social media. If you consider yourself to be social media aware, you can start contacting people using direct messages, professional emails, or even freelance sites.
Brand Ambassadors
High school kids are employed as brand ambassadors by corporations to advertise their brands in the communities where they reside. Brand ambassadors are able to promote a company's goods or services through a variety of promotional activities and build an audience through social media and word-of-mouth.
To avoid feeling like you are wasting your time, choose the best jobs for high school students that you truly want to accomplish during the summer. We really hope that you will remember it fondly in the future as a formative experience that helped you succeed in your career, no matter what it is.
However, it shouldn't discourage you from continuing your studies after the vacation is over. You can benefit greatly from AdmissionSight's excellent academic advice from college admission experts. Please get in touch with us right away to schedule your introductory consultation.