The Best Mechanical Engineering Colleges in the World
What is mechanical engineering?
What exactly does it mean to be a mechanical engineer? Mechanical engineering is the application of engineering principles and problem-solving techniques to the design, manufacturing, and sale of any object. Students who graduate from mechanical engineering colleges ensure that designs function safely, efficiently, and effectively while maintaining a competitive cost. They do this by analyzing their work using the principles of motion, energy, and force.
The contributions of mechanical engineers are significant. This is the case because careers in mechanical engineering focus on developing technologies to satisfy human requirements. Mechanical engineers have probably contributed to the betterment of humankind by working on virtually every product or service that is a part of modern life.
This includes finding answers to problems that exist today and developing answers to problems that will arise in the future in areas such as health care, energy, transportation, world hunger, space exploration, climate change, and other areas.
A versatile education in mechanical engineering exposes students to a wide variety of challenges and innovations in various fields. Mechanical engineers can design a component, a machine, a system, or a process to fulfill this extensive demand. This ranges from the extremely large, like cars and satellites, to the extremely small, like sensors and switches. It encompasses everything from the macroscopic to the microscopic. A mechanical engineer's expertise is required to produce everything that needs to be manufactured and everything that contains moving parts.
Why study mechanical engineering?
1. Thrive in the face of difficulties.
You might encounter programs in your line of work as a mechanical engineer that call for a diverse range of specialized skill sets. You might get the opportunity to learn an advanced new manufacturing process, or you might become an expert in a specific field of engineering to find a solution to your current projects and problems. Either way, you could benefit from this opportunity. You might develop additional skill sets due to the diverse range of scientific disciplines involved in mechanical engineering.
2. Have access to a diverse range of professional opportunities
One answer to the question, "Why should someone major in mechanical engineering?" is that your career option is not limited. Mechanical engineering college graduates can get jobs in various fields, including sales, agriculture, chemistry, and construction, which might be available to those who study mechanical engineering. They might also find themselves working in interdisciplinary research fields such as robotics, nanotechnology, or aeronautics. Learning the fundamentals of mechanical engineering can provide you with a foundation for various potential career paths in the years to come.
3. Expand your knowledge in a wide variety of subject areas
It's possible that mechanical engineering will have a larger influence on people's day-to-day lives. As you progress in your chosen profession, you might learn about various fascinating topics. The fields of aerospace, biomedical technology, and automotive work are all examples of possible topics for these courses. Mechanical engineers may gain the opportunity to learn the manufacturing processes from start to finish, allowing them to refine their career goals and interests.
4. Have the ability to make a positive contribution to society
It's possible that mechanical engineering has a greater impact on modern society than other branches of engineering because the processes involved produce such a wide range of useful technologies. Additionally, engineers have the opportunity to play a direct role in the development and improvement of transportation infrastructure.
Working in mechanical engineering may also allow you to work with the systems that support the distribution of food, medicines, and other consumables, providing for the well-being of society. This is one of the many ways mechanical engineers contribute to improving society.
5. Learn how everything mechanical works
There is a possibility that mechanical engineering is a predominantly hands-on field, which may provide the opportunity to actively participate in various projects. This experience in the real world may lead to a better understanding of how the intricate systems of our world work, which will enable you to dissect those systems into components that are simpler and easier to comprehend. Mechanical engineers may learn how to identify and fix problems in these systems, giving them access to a wider range of maintenance skills for the technology they use in their everyday lives.
What are the best mechanical engineering schools in the world?
Massachusetts Institute of Technology
The Massachusetts Institute of Technology (MIT) has been around for a while. During that time, it has produced numerous ground-breaking ideas and technologies, such as the theory that the universe is expanding, the creation of radar, and the development of magnetic core memory.
Simply put, they are known as one of the best mechanical engineering schools in the world. Their work on some of the most difficult and cutting-edge projects, such as researching graphene, the world's lightest and strongest material, making natural fabrics waterproof, and revolutionizing everyday products with artificial intelligence, among other things.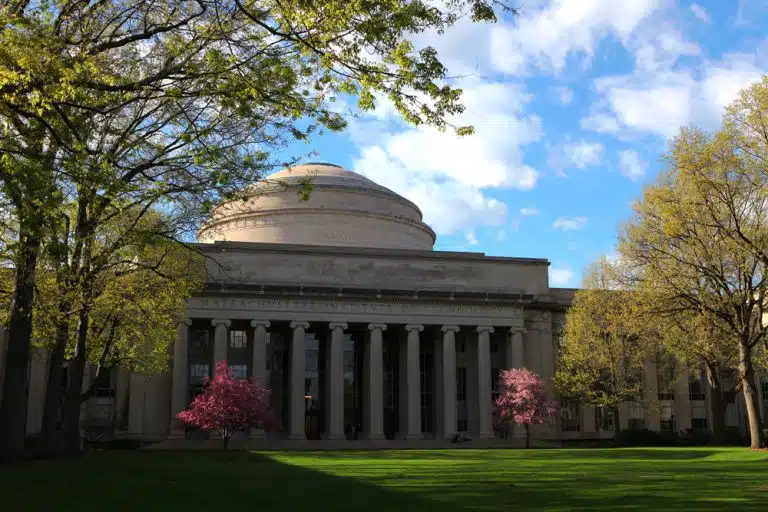 As you can see, MIT significantly emphasizes the here and now as well as the future. Because they are constantly bringing new developments to the world of 3D printing, we talk a lot about them. They have so far developed 3D-printed colloidal crystals that are capable of conductive printing structures, furniture that is manufactured in minutes, and the use of glass as a production material.
Stanford University
The reputation of Stanford University as one of the best mechanical engineering colleges in the world extends far and wide for various reasons and is well deserved. Their academic programs include energy science and technology instruction, propulsion, sensing and control, nano- and micro-mechanics, mechatronics, computational simulation, solid and fluid dynamics, microelectromechanical systems (MEMS), and biomechanical engineering.
Additionally, Stanford University is well-known for its unique application of Additive Manufacturing technologies in medicine. The University places a significant emphasis on 3D-printed devices, organs, and models.
University of Cambridge
The University of Cambridge possesses one of the world's leading mechanical engineering colleges. They believe that the best way to educate young minds is to expose them to various subjects, ranging from mathematics and physics to computer science and engineering. The best results can be achieved by combining all these different learning aspects.
Their mechanical engineering programs emphasize not only some of the most important subfields, such as robotics, material science, and mechanics, but also these subjects. Additionally, they foster cooperative problem-solving strategies, creative thinking, and teamwork. In their 3D printing lab, they experiment with various techniques and components, including cutting-edge InkJet Technology.
Harvard University
Regarding mechanical education, Harvard University is routinely regarded as one of the most prestigious institutions in the world. The origins of the School of Engineering and Applied Sciences at Harvard can be traced back to the middle of the 19th century. Their primary areas of research interest include applied mathematics, applied physics, bioengineering, computer science, electrical engineering, environmental science and engineering, materials and mechanical engineering, science, technology, and public policy.
However, you do not need to choose one because Harvard University is taking an interdisciplinary approach to modern research and does not have traditional academic departments. Their researchers are active in various fields and frequently work with colleagues from the university.
With the use of Harvard University's 3D printing lab, they can show off their research on human organs, 3D bioprinting of living tissues, and even 4D printing of shapeshifting devices. Their objective is to maximize the potential of the technology we already possess while simultaneously expanding on that potential. In one of their most recent projects, the researchers use acoustic forces to produce droplets that were previously impossible to produce.
Tsinghua University
This university has a long and illustrious past. It was founded in 1911 to make an anti-colonialist statement. In 2015, the university's engineering and computer science degree programs were ranked among the best in the world by various publications. Tsinghua University knows the need to maintain compatibility with the technologically advanced and competitive Chinese industry. They provide a diverse selection of academic programs and research opportunities, including biofabrication science and technology, robotics, advanced design technology, and digitalization, as well as intelligent control technology and modern management.
The projects that are being worked on at this university also make use of 3D printing technologies. One of the most noteworthy pieces of research this institution carried out was developing a 3D bioprinting method for producing uniform blocks of embryonic stem cells. If successful, this could pave the way for printing complex living tissue.
The University of Michigan
There is a department at the University of Michigan that is solely devoted to mechanical engineering, and it has over 150 years of combined experience. What makes them one of the mechanical engineering colleges is that they offer a wide variety of engineering technologies. These include advanced energy solutions, hybrid vehicles, nano-manufacturing, biomechanics, engineering acoustics, mechanics of polymers, and many more.
The University of Oxford
Not only does the University of Oxford have one of the most prestigious programs for mechanical engineering, but it is also one of the most established. Since it dates back to the 11th century, it is considered the oldest university in the world that uses the English language. It is a very globalized school, with forty percent of its students coming from other countries. The institution is proud to have many notable alums, including over thirty current world leaders, 120 Olympic medalists, and twenty-six winners of the Nobel Prize.
The Engineering Science department at this institution educates students in six subfields of engineering, namely biomedical, chemical, civil, electrical, and information engineering. After completing their fourth year, undergraduate students select more specialized coursework in preparation for a research project. Because real-world experience is so highly valued at Oxford University, the university provides its students with numerous opportunities to secure sponsorships.
Because Oxford University did not want to fall behind other educational institutions in the mechanical engineering field, it invested in cutting-edge 3D technologies. Their projects ranged from 3D printing tissue from living structures to creating an enclosure for an optical cutter. They also created educational models and historical antiques.
Delft University of Technology
The mission of Delft University's Mechanical Engineering program is to instill in its students the ability to think creatively, design and manufacture products, and have an in-depth understanding of all areas of mechanical engineering. As a result, as one of the best mechanical engineering colleges in the world, the university holds a respectable position among other schools.
Their six programs in mechanical engineering—Biomechanical Design, Energy & Process Technology, High-Tech Engineering, Opto-Mechatronics, Transport Engineering, Logistics, and Vehicle Engineering—allow them to accomplish this goal.
The University of Tokyo
In 1877, when it was first founded, this institution was designated to serve as an imperial university. The university can take great pride in the successful careers of its graduates; 15 of Japan's 62 prime ministers received their education there, and five of the university's alumni went on to become astronauts.
The four fundamental mechanics disciplines that form the foundation of the Department of Mechanical Engineering are mechanical dynamics, material mechanics, fluid dynamics, and thermodynamics, respectively. These aspects, which have made them one of the best mechanical engineering colleges in the world, are covered in a wide variety of courses, some examples of which are system engineering, biomedical design and production, the environment, and energy.
Georgia Institute of Technology
The engineering department at Georgia Institute of Technology is consistently ranked among the top 10 in the country at both the undergraduate and graduate levels. They strongly believe in the importance of learning innovation from other countries and studying abroad, as well as in the value of engaging in experiential learning activities.
Research is conducted at the Georgia Institute of Technology in various disciplines, including mechanics, robotics, thermal sciences, energy systems, bioengineering, fluid mechanics, nuclear and medical physics, acoustics, tribology, design, and manufacturing, to name just a few.
Now that you know where to study mechanical engineering, the next thing you should think about is your college admissions. To ensure that you get into the college you want, you can get help with AdmissionSight. With ten years of experience with college admission experts, Admissionsight can help you get into the college of your choice. You can talk to our experts today to get an initial consultation.