The Best Schools For Accounting In The World
What is accounting?
What exactly is accounting? Accounting is keeping track of money transactions, storing, sorting, retrieving, summing up, and presenting the results in different reports and analyses. Accounting is a field of study and a job that is also about doing these things. Because of its growing popularity, more people are studying at the best schools for accounting.
Accounting is keeping track of the money in and out of business. Journal entries are a way for accountants to sum up what has happened. These entries are used in bookkeeping. Accountants put together the books of accounts based on the rules set by auditors and other governing bodies. The accountants might use the Generally Accepted Accounting Principles (GAAP) or the International Financial Reporting Standards (IFRS) guidelines.
If an analyst looks at the company's book of accounts, he or she can get a good idea of how the company is doing financially. So, the book of accounts is needed for public companies to determine how much the company is worth.
Why should you learn about accounting?
You'll have an enjoyable study experience
Accounting is a pretty hard subject to study. But if you like numbers, the challenge will be fun. You don't have to be good at math to get a degree in accounting. You only need to know how to add, subtract, divide, and multiply, and you should also be good at analyzing.
You just need to find the degrees and certificates in accounting that will help you learn more and have fun simultaneously.
You'll learn skills you can use in many parts of your life.
One big reason you should learn about accounting is that the things you learn in accounting are very practical. When you start your own business, you can use what you know about payroll management, profit and loss ratios, and other business ideas. Your knowledge of accounting can help you run your home better. For example, you can use sheets and ledgers to keep track of your budget and expenses.
You can get other degrees while getting your accounting degree.
It's common for those who study at the best schools for accounting to get another degree simultaneously since many accounting and finance courses are related to other courses. So, here are some examples of double majors:
Major in Accounting and Business Management
Major in Accounting and Finance
Major in Accounting and Business Entrepreneurship
When you have a double degree, you have more credentials to put on your CV and resume, making it easier for you to get a job. Aside from that, you also allow yourself to work in different fields and learn more about them.
You'll get a job right away
Accounting is one job with a high rate of people getting hired quickly. Undoubtedly, job opening rates and the amount of work available are two of the most important things students think about when choosing a career. Everyone wants to find a job quickly that pays well.
Universities worldwide have found that most accounting students get jobs within the first six months after graduation or the first six months after passing their licensing exam.
You'll have chances to travel abroad
One of the best things about accounting is that it can open you up to many different opportunities worldwide. If you want to work abroad, having a degree in accounting will make it easy for you to do so. Most accounting principles and techniques are the same from one country to the next, but some laws may differ in each country.
So, you might only need to take a few more classes and an exam to learn the basic accounting laws of the state or country you want to move to.
What are the top accounting schools in the world?
New York University (NYU)
Location: New York City, New York, USA
NYU is a truly urban college. It is in Greenwich Village, but it also has Abu Dhabi and Shanghai campuses. Undergraduates in accounting attend the Stern School of Business, a well-known and highly selective school with ties to some of the world's wealthiest business people.
A BSc in Business can be earned, of which accounting is one of 13 study streams. In addition to learning the accounting principles needed to become a CPA, the school encourages undergraduates to double major in a related field, such as investment banking, corporate financial management, or securities markets.
University of Chicago
Location: Illinois, Chicago, USA
The Booth School of Business at the University of Chicago is a research institution known for its rigorous pursuit of knowledge and unique way of teaching. It is located in Hyde Park. If a student wants to work in finance or accounting, he or she will be taught a legendary finance curriculum. Here, they will learn how to evaluate economic events and performance more in-depth so that they can understand and make decisions that lead to great results.
What makes them one of the best schools for accounting is that they push their students out of their comfort zones to analyze openly and thoroughly, debate, and solve problems. The university also has resources, research centers, and institutes that can't be found anywhere else. When a student gets an MBA, he or she is fully prepared for a career in accounting in either the private or public sector. Nine BOOTH faculty members have won Nobel prizes for their work so far.
The University of California, Berkeley (UCB)
Location: California, Los Angeles, USA
People think that UCB is one of the best public universities in the United States, and its economics department is one of the most forward-thinking in the world. At UCB's Haas School of Business, students learn much about accounting and gain technical skills. They also have a lot of opportunities to move up in their careers.
In the coming years, the need for accountants and auditors is expected to grow, and many international accounting firms know how talented and skilled UCB alumni are. Students meet recruiters and accounting professionals and attend exclusive networking events. They also visit some of the best accounting firms in the country.
University of Pennsylvania
Location: Philadelphia, Pennsylvania, USA
UPenn's accounting majors get a world-class education because they learn at the world-famous Wharton School. This includes access to the school's highly innovative study facilities, a flexible study schedule with the chance to spend time abroad, and leadership modules designed to make ready-made leaders in the professional services industry.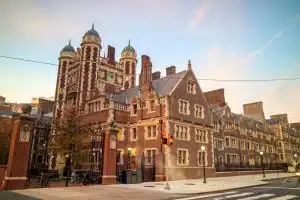 The course combines traditional accounting with modules like predictive analytics and basic programming that show how the field has changed.
University of Cambridge
Location: Cambridge, UK
Cambridge is one of the best schools for accounting because of its excellent education, academic rigor, and research. Students are chosen based on how well they do in school, how hard they work, how smart they are, and how motivated they are.
Students in finance learn the basics of accounting, financial terminology, and analysis techniques. Because they learn important skills that can be used in many different situations, Cambridge graduates are highly employable and in high demand. Cambridge's reputation as an employer is often in the top three worldwide.
University of Oxford
Location: Oxford, UK
When you think of top universities, you can't help but think of Oxford. Oxford is one of the oldest universities in the world. There is evidence that classes were held there as early as 1096. It is a symbol of tradition, excellence, and high educational standards. With a personalized way to learn from some of the best professors in the world, their unique tutorial method is meant to bring out the best in aspiring accountants and finance experts.
There are a lot of great libraries and modern research facilities, and students can work with a wide range of businesses, from small local shops to large international companies. Students are well-prepared for work, and an Oxford degree gives graduates the tools they need for a successful career in accounting.
London School of Economics
Location: London, UK
LSE is high on this list because it is one of the most well-known universities in the world and because it is a school that only teaches finance and economics. Many important political, financial, and cultural figures have studied accounting here. Tony Fernandes, the founder of AirAsia; Zarin Patel, the CFO of the BBC; and Richard Nesbitt, the CEO of GRI, are just a few examples.
The school's BSc in Accounting and Finance is taught from various social science perspectives, and the faculty always tries to be a leader and an innovator in this field. Because LSE is in a great place, you'll also take advantage of academic perks like guest lectures from leaders in your field.
Stanford University
Location: Stanford, California, USA
Stanford University, which is in Silicon Valley, is considered one of the best schools for accounting. It has seven schools and 18 research institutes, including the Graduate School of Business. As an undergraduate, there are a lot of finance and accounting classes to choose from, many of which are unique. Its executive education programs also cover a lot of finance, accounting, and business-related topics.
At Stanford, there are also a lot of extracurricular activities run by students. One of these is Standard Finance, which helps students learn about money. 18 Turing Award winners are among the alumni (an annual prize given by the Association for Computing Machinery). Companies like Google, Hewlett-Packard, Sun Microsystems, and Charles Schwab, started by Stanford students or alumni, bring in more than $2.7 trillion each year.
Massachusetts Institute of Technology (MIT)
Location: Cambridge, Massachusetts, USA
MIT ranks high on almost every list of the best accounting schools in the world, and it's easy to see why. At MIT's Sloan School of Management, you will get real-world experience thanks to its excellent academics, amazing research opportunities, and the best faculty team in the world.
All students are strongly encouraged to pursue their academic and personal interests, and the pace of learning can be fast. Their MBA program is one of the most competitive and well-known in the world, and Sloan MBA students can also cross-register at the Harvard Business School. This is the only partnership of its kind at this level.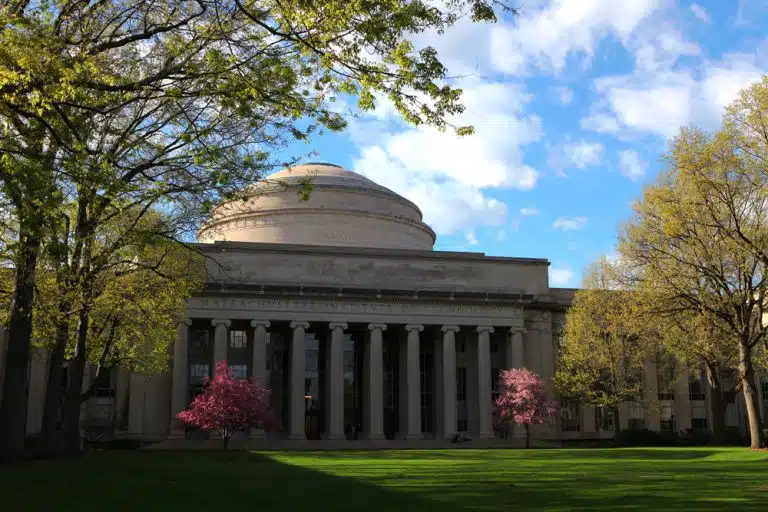 There are many smart, talented, and different students. Letting you join research projects or follow your ideas to work on cutting-edge research. Still, getting into MIT isn't easy because students are judged on their initiative, intellectual curiosity, and ability to work with others.
Harvard University
Location: Cambridge, Massachusetts, USA
This Ivy League school is one of the world's oldest and best schools for accounting. It was founded in 1636 and has had many famous graduates, such as eight US presidents (like John F. Kennedy and Franklin D. Roosevelt) and important figures in finance, like Bill Gates and Mike Bloomberg, to name a few.
Harvard has 13 schools and institutes, including the well-known Business School. It also has large library systems, cutting-edge resources, and professors with a lot of experience.
This is where people can learn and be inspired to make a difference in the world. There are a lot of different finance and accounting classes to choose from, and there are also a lot of chances to meet industry leaders and make connections. Harvard is also known for the career opportunities it offers. Many companies recruit directly from the school and pick the best students by hand.
As you choose the accounting college you want to enter, it is equally important to learn how to enter school. At AdmissionSight, you will be guided as needed in that step. You can get all the right information and guidance from experts at AdmissionSight. Start your journey today with an initial consultation.